Are you thinking about moving to Summerlin, NV? But you want to know what it's like before you relocate?
I'm a local who has lived in Las Vegas for over six years. And while I think Summerlin is the best area in the nation, it may not be for everyone.
So, today's article will examine the pros and cons of living in this master-planned community. And I'll share things I've learned to help you decide if it's a good fit for you!
What It's Like To Live In Summerlin
Summerlin is set against the picturesque backdrop of the Red Rocks. It's only minutes from Las Vegas Blvd, but you won't feel anywhere near it and probably won't go often.
And that's because there are so many fun things to do here. You can go hiking and biking at Red Rock Canyon. Or head to Downtown Summerlin for shopping, dining, or to catch an Aviators game.
The community also has events for residents year-round. And the schools are excellent, too – with ten nationally recognized private and two nationally ranked public.
All these amenities come at a price, though. So you'll have a higher cost of living and many rules to follow. But if you appreciate high standards in a safe community, life here is idyllic.
Here are 15 things you need to know before moving to Summerlin…
1. HOA Rules & Regulations
Owning or renting a home in Summerlin is very different from other cities. Summerlin is a master-planned community with rules that residents must abide by.
So you'll need to follow the regulations of the Summerlin Community Association. And also of the neighborhood you're moving into – which may be even more restrictive.
Here are some community rules that you'll likely encounter:
Yards must be kept weed-free
Trash cans are only allowed in the street 12 hours before pick-up
No street parking for residents
Now, that last example – the "no street parking" is the one I see newcomers to Las Vegas struggle with the most. Typically, you'll need to park your vehicles in the garage first and then in the driveway if you still need room.
Additionally, many community HOAs have contracts with local parking companies. So if you park in the street, you'll get towed. And getting your vehicle out is expensive – around $400 a pop.
So when you're looking for a home, pick a house with enough parking spots on site for your vehicles. Buying a property with ample inside storage space is also a good idea. That way, your garage will have enough room for your cars.
If living in Summerlin sounds too restrictive, consider looking in another Las Vegas community instead. Because not following these rules may result in fines or even liens on your property.
2. Infrastructure Close To Homes
Summerlin is currently home to around 120,000 residents, but the community still has a ways to go. There are about 5,000 acres yet to be developed.
And as more neighborhoods spring up, new infrastructure like power lines and cell phone towers goes in. It's exciting to watch as Summerlin is being built right before our eyes.
Unfortunately, though, this means some surprises for homeowners. For instance, I've seen people move into a house only to find out a power pole is going up just steps from their backyard.
And a similar situation is happening with cell phone towers. The Howard Hughes Corporation is putting them up all over the community. You can find them now in parks, close to schools, and even within a few feet of houses.
Living near one of these structures may not be a big deal for some. But if it concerns you, I encourage you to do your due diligence before buying or renting.
3. Home Construction Issues
Summerlin has some fantastic builders if you want to design your own home. For instance, there's Toll Brothers, Pulte, KB Home, Woodside, and more.
Build times can vary depending on the builder. But, currently, there's an average completion time of 5 to 6 months. This "wait time" is why many transplants to Las Vegas choose resales instead.
But if you decide to build, be sure to factor in the cost of backyard landscaping. Unfortunately, new homes here only have dirt in the backyard, so the owner must pay to landscape it.
Also, before choosing a lot, ask the on-site agent which lots have electrical boxes and fire hydrants. (That is unless you're okay with having these on your property.)
The electrical boxes are big and take up a lot of space in the front yard. And after the neighborhood is complete, a long stretch of curbing near each hydrant gets painted a bright red.
4. Low Property Taxes
A benefit of living in Summerlin is that property taxes are capped at a 3% yearly increase – if it's your primary residence. However, you must respond to the Clark County Assessor's Office to take advantage of the tax cap.
When a home sells, or there's a transfer in ownership, the Assessor's office sends a postcard to the new owner. This form will ask if the property is a primary residence. Answering yes qualifies the property for the 3% tax cap.
Just remember that the onus is on the homeowner to notify the Assessor. And that's again because the 3% tax cap is NOT automatically applied when there is a change in ownership.
5. Excellent Schools
Although Nevada ranks at the bottom for education, Summerlin is another story. In fact, the excellent schools in this community are a top reason why families choose to move here.
Summerlin currently has 25 schools, including public, charter, and private. And many of the public schools in Summerlin West have a GreatSchools rating of 8/10 and higher.
Although property taxes in Summerlin are lower than in many states, newcomers may encounter four other costs:
Special Improvement District (SID) assessments
Summerlin Community assessment
Neighborhood HOA dues
Higher energy bills
Special Improvement Districts
Summerlin is divided into Special Improvement Districts that fund projects like roads and utilities. Usually, a municipal bond will be issued to pay for these improvements.
But these bonds need to be repaid by someone. So the property owners in each district pay back part of the bond. This repayment is made with principal and interest payments twice a year.
Every home in Summerlin, Nevada has a SID assessment with payments lasting for several years. So if you're buying a new construction home, you'll make payments for around 10 to 15 years.
If you're purchasing a resale, the previous homeowner may have paid off the SID assessment. But buyers of newer builds (usually less than ten years old) may still have to pay installments.
SID assessments run with the property making them transferrable to a new owner. So there's little incentive to pay them off early unless you're in your forever home.
But paying your SID on time is vitally important as it's a lien on your property. So failure to pay can result in foreclosure.
HOA Dues
If you buy a home in Summerlin, you'll also pay homeowners association dues. And the cost of that varies depending on which community you buy into. But typically, the monthly HOA dues for a single-family residence are about $60-90.
Summerlin Community Assessment
And then you'll also need to make community assessment payments depending on your zone, i.e., South, North, West, or Centre. These typically run around $55 a month.
Energy Costs
Another expense that has gone up significantly this year is Las Vegas energy costs. They've almost doubled, with air conditioning bills around $300 to $400 in the peak of summer. And that's not turning the thermostat down too far, either.
So, if you're considering purchasing a home, you may want to ask to see the seller's electricity and gas bills.
7. Scorpion Encounters
Unfortunately, there are scorpions in Summerlin. And quite a few in certain areas too.
For those moving into a resale or an apartment that's been around for a while, you likely won't see many. And that's because residents and local pest companies have been getting rid of them for years.
But new construction, well, that's a whole other story. You'll find scorpions in the yards, garages, inside the walls, and possibly falling out of vents.
Luckily, I've found an easy fix. All you need to do is put diatomaceous earth on your property every three to four months. It works well if you spray it close to the outer walls. And it's safe for kids and pets, too.
8. Summerlin Community Events
Community events are among the best things about life in Summerlin, Nevada. There are so many fun-filled happenings year-round. And many of them are exclusive to Summerlin residents.
Starting with the 4th of July, locals enjoy American flags all around the suburb. And because of the area's elevation, you can watch the fireworks from hills high above the valley.
The summer also has movie nights in the parks with occasional campouts for families. On Saturdays, you'll find a farmer's market where you can get local produce or even meet a celebrity.
When winter comes, it's outdoor ice skating in Downtown Summerlin at the Rock Rink. Open from November to January, this 8,000 SF ice rink is set up annually on The Lawn.
You'll skate under the stars while festive holiday music plays in the background. White twinkle lights cover the rink, too, and there's even a hot cocoa food truck.
9. Low Walkability Score
Most neighborhoods in Summerlin, Nevada have a low walkability score. So walking to a retail or grocery store will take a while. And realistically, nobody does it.
So be prepared to drive everywhere. But with all the driving in the heat, car batteries don't last long. You can usually get about two years of battery life before replacing it.
That said, one area that may be an exception to the low walkability is Summerlin's newest village, Kestrel.
Some acreage here will have mixed-use with residential, commercial, and retail development. So if you're looking for a more urban atmosphere with places to walk to, check out Kestrel.
10. Close To NV Recreational Areas
One of the best features of living in Summerlin is how close you are to Red Rock Canyon. It's literally in your backyard!
The canyon is home to a 13-mile driving loop with scenic stops. You can also rock climb here or go hiking on the 26 scenic trails.
There are a lot of great educational resources at the visitor's center, too. And the cutest turtles you've ever seen wandering around the outside.
If mountain biking is more you're speed, you'll want to head to Lee Canyon. This is also your spot for some excellent skiing and sledding in the winter. Lee Canyon is only a 45-minute drive from Summerlin.
And, if you're up for a day trip, Summerlin is just about 2.5 hours away from the Grand Canyon West Rim!
11. Cooler Nevada Temperatures
Don't get me wrong, Summerlin is hot! But it's not as hot as other parts of the valley. And that's all thanks to its location near the Red Rocks and being at a higher elevation.
The community averages 3,500 feet above sea level, with some areas as high as 4,000 feet. And that translates into 5 to 10 degrees of cooler temperatures year-round.
So in the summer, you won't be nearly as hot as visitors on The Strip. And in the winter, you may even catch a snowfall or two.
12. Recycled Las Vegas Water
Because we're in the desert, Las Vegas does everything it can to conserve water. We even have a unique system that recycles almost 100% of indoor water.
All the unused water flowing out of the faucets gets carried back to a city water treatment facility. Once treated, it's returned to the Colorado River, where we can use it again.
That means you won't find use restrictions on indoor water living in Summerlin. But, of course, it's always a good idea to conserve where you can.
Outside water, though, is another matter. Water used outdoors is gone forever and isn't recycled back to the Colorado River. So residents are asked to limit their usage by adhering to assigned watering days.
13. Shopping in Downtown Summerlin
You won't have to drive to Las Vegas Blvd to go shopping. And that's because Downtown Summerlin has a fantastic outdoor shopping mall.
There are over 125 retail stores here. Some of the most popular include Sephora, Macy's, Apple, Anthropologie, and Lululemon.
And if you want to grab a bite, there are more than 30 eateries to choose from, including the local hot spot, Jing.
Downtown Summerlin is also where you want to go for entertainment like Dave & Buster's or to see a new movie. The Las Vegas Ballpark is here, too, where you can catch an Aviator's game during the summer.
14. Nearby Gaming
Las Vegas, Nevada is a great place to live if you don't have any vices. Otherwise, its easy access to gaming, alcohol, and other distractions can be too tempting. And that goes for Summerlin, too.
Even though The Strip is about 25 minutes from the suburb, Summerlin is home to three hotels with casinos:
JW Marriott
Suncoast
Red Rock
And that last one, Red Rock, is a favorite among locals. It has exceptional restaurants, an IMAX movie theater, and a bowling alley.
15. Abundant Walking Trails & Community Parks
Summerlin in Las Vegas has the most beautiful parks and trails you've ever seen. And thanks to the Howard Hughes Corporation, one-third of the acreage is reserved for open space.
Currently, there are more than 150 parks around this Nevada community. And each playground offers something unique to its visitors.
For instance, one park has a zipline and disc golf course, while another features a splash pad for the kiddos. Still, others have sprawling fields for soccer and even pickleball courts.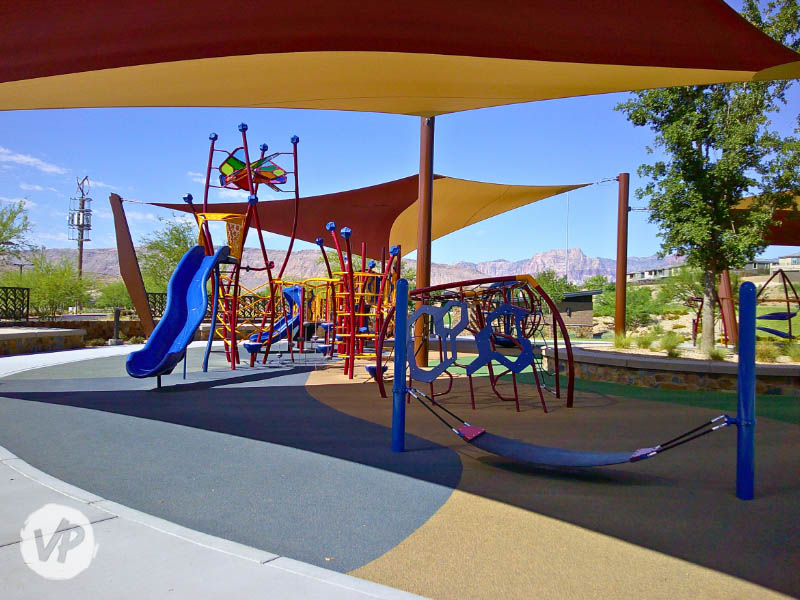 And then there's the Summerlin Trail System that features over 200 miles of paths. Some are on the main roads, but many connect the villages or are hidden within.
They're perfect for walking, riding a bike, or running. But the best part is that you'll feel safe on them wherever you go.
Summerlin Las Vegas: Pros & Cons
Summerlin has many more positive attributes than negative.
Pros
Protection of home values
Feeling of community
Gorgeous valley & mountain views
Excellent Nevada schools
Newly built
Clean & safe for families
Lots of outdoor recreation
Close to excellent shopping & restaurants
Cooler temperatures
Cons
Higher than average Las Vegas home prices
Additional home costs like SIDs and HOAs
Scorpions
Car dependent
My Final Thoughts About Summerlin
I used to say that the Summerlin suburb is the best-kept secret in town. But all that's changing now. According to Redfin's 2023 search data, Las Vegas is the top relocation city in the country.
Summerlin offers many features that a larger city can't compete with, like safety and a sense of community. And it's all set against the beautiful backdrop of Red Rock Canyon.
With over 300 days of sunshine a year, there's always something to do here. You're just minutes from The Strip, but far enough away that it feels like you're not even in Las Vegas.
So as long as you're good with following the rules and regulations, I don't think you'll find a better city to live in!