Terrace Pointe Café at the Wynn is one of my favorite spots for breakfast in Las Vegas. I enjoy it so much that I go at least once a month. And I always recommend a visit to my out-of-town guests.
The breakfast items are delicious. And the view from the restaurant of the manicured gardens and pool is gorgeous. But what also makes this café stand out is the phenomenal service.
In this review, I'm sharing my tips on where to sit, what to order, and how to limit your wait time at this popular restaurant. So if you're looking for a great brunch place, keep reading!
Terrace Pointe Café Overview
Days open: Mon-Sun
Hours: 7:00 am-3:00 pm
Price: $$
Food: American (breakfast & lunch)
Special Menus: Gluten-free, vegan, low-calorie
Attire: Resort casual
Location
The Terrace Pointe Café is inside the Wynn hotel at 3131 Las Vegas Blvd S., Las Vegas, NV 89109. The café is located on floor 1 near the Wynn Casino.
from wynn's main valet
From the main valet, enter the hotel through the main entrance and turn left to walk along the pathway. You'll soon pass by the Wynn Race & Sports Book, and then a few steps after that, you'll see The Café in front of you.
Take a right at The Café and continue walking until you get to the Cashier. Turn left here, and Terrace Pointe Café will be about halfway down the corridor on the right.
from wynn self-parking
From the Wynn self-park garage, enter the hotel on the Hertz rental car side. Walk past the Hertz booth and turn left to walk along the pathway. You'll soon pass by Allegro restaurant and the Wynn casino floor.
Once you get to the Cashier, take a left again to walk down the Fairway Esplanade. Continue walking past The Buffet and the restrooms. Terrace Pointe Café will be a few steps after La Cave on the right.
Terrace Pointe Café Menu
Terrace Pointe Café offers two menus daily: breakfast and main (lunch). And no matter when you arrive, you can order from either menu. Just remember that Terrace Pointe Café closes at 3:00 pm daily, so if you want to eat here, be sure to arrive before then.
I've posted a few menu pages below so you can see the current prices and offerings. Please note that these menus may be subject to change.
---
---
Restaurant Features
Wynn's Terrace Pointe Café has several features that stand out from other brunch spots in town. And top among these is the restaurant's design. The café also focuses on guest comfort and provides food options to suit dietary needs.
Indoor & Outdoor Experience
Terrace Pointe Café offers two distinct dining experiences. So you can request seating inside the main room or, when weather permits, outside on the patio.
Now, the cafe's outdoor section is what makes it stand out from other breakfast spots. For instance, the outside patio overlooks the Wynn pool, and the view from here is gorgeous! It almost feels like you're not even in Vegas but on some tropical getaway.
The outside section also has two levels. There's the upper level, which is completely covered. And a lower level that has umbrellas at the tables for shade. Between these, I prefer sitting as close to the pool as possible, so I like to request lower-level seating. But you can't go wrong with any table on the patio!
Additionally, most of the seating on the terrace is chairs with padded seat cushions. But there are some benches next to the exterior windows of the restaurant if you prefer booth-type seating.
Inside, you'll find chairs and booths in the main dining area. So if you prefer indoor seating, I recommend asking for a table as close to the windows as possible. That way, you'll still be able to see the beautiful manicured lawns and pool.
Misting System & Shade
Eating outside in Vegas isn't usually the best idea during the summer months. Particularly in July and August when temps often reach over 105 degrees.
But once the café gets the okay from the city (usually in May), the Vegas restaurant turns on its water misting system. And let me tell you – the mist does a lot to help keep you cool! So you can enjoy patio dining even during the hottest times of the year.
Now, the Terrace Pointe Café's upper level also has sun shades that lower as the angle of the sun changes. So you'll always be in the shade if you're sitting up there. And then, on the lower level, each table comes equipped with a large umbrella.
Special Dietary Needs
For those with special dietary needs, the Wynn's Terrace Pointe Café offers many options. For instance, there's a gluten-free menu, vegan menu, and even specialty items like plant-based protein smoothies!
The best part is that you won't need to ask to see any special menus. For gluten-free offerings, the seating host will ask if you'd like to see a gluten-free menu as soon as you're seated.
And then, on the regular menus, vegan options are marked with a "V" next to each item. In addition, some of the most popular food items, like the Berry Waffle, can be made into a vegan option upon request.
There are also lighter, low-calorie versions of some of the café's most popular offerings. These include the Garden Vegetable Frittata (my favorite) and Smoked Salmon. And these, too, are designated on the menu by a red Wynn symbol.
Lastly, the servers always ask about food allergies before submitting your order.
Breakfast All Day
With Vegas's amazing nightlife scene, you may not feel like getting up early for breakfast! Thankfully, if you're a late riser (or just in the mood for breakfast), the Terrace Pointe Café has you covered.
Their breakfast menu is served all day until closing, which is 3:00 pm daily. So you can choose from all their breakfast items no matter when you arrive.
There's also a special Power Brunch menu posted at the entrance to the café. This is around $40 per person and includes juice, coffee, fruit, and your choice of one of four entrees. And you can even add on a mimosa for a few dollars more.
Bird Patrol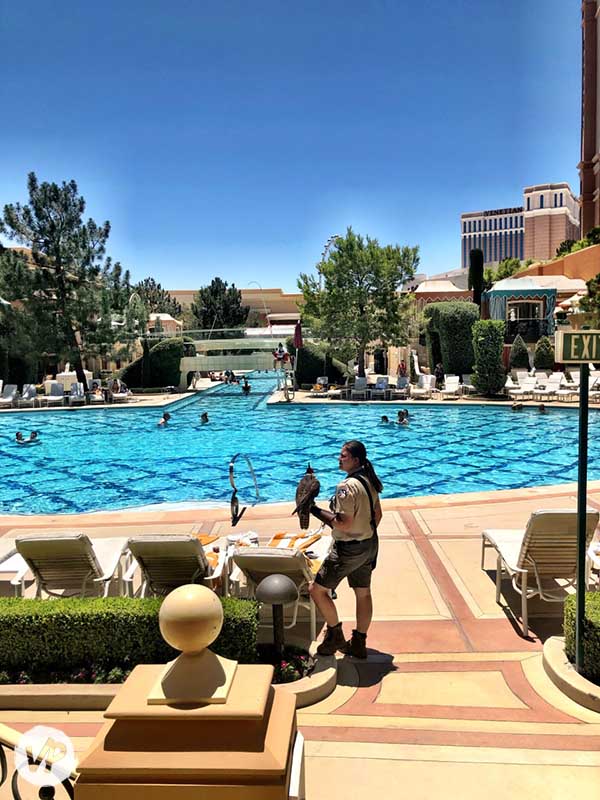 You won't have unwanted visitors stealing your food at Terrace Pointe Café! The Wynn employs some winged team members (aka trained raptors) to ensure guests enjoy their meals outside undisturbed.
So you may see a hawk flying overhead while on the Wynn property. Or one might hang out poolside with a falconer. If you want to spot one, you'll likely see a trained raptor during peak dining times.
But don't worry; these winged team members are trained not to attack other birds. Their mere presence alone keeps other fowl like pigeons and grackles away.
And I can confirm that the Wynn raptors do an excellent job! I've never had any birds steal food off my plate there. Of course, that's not to say you'll never see birds at Terrace Pointe Café. I often see a smaller variety while dining, but I think they add a lot to the overall patio ambiance.
Tips & Food Recommendations
For the fastest seating, it's best to get to Terrace Pointe Café by 9:30 am or after 1:30 pm on the weekends.
There's often a 20 to 30-minute wait for outside seating during peak dining hours. But for an inside table, you can typically get seated within a few minutes. And often with no wait time at all.
The relaxing vibe of the patio beats inside seating by a mile! But the outside section is usually only open from spring to fall.
I like the tables by the window best if you want to sit inside. The tables and booths close to the Fairway Esplanade (hotel walkway) don't have the same ambiance.
Even with the shade and misting system, sitting on the patio on summer afternoons can get very hot! So during these times, it's best to come early in the morning if you want to sit outside.
My breakfast recommendations:
Garden Vegetable Frittata – the potatoes that come with this dish are amazing.
Croissant French Toast – excellent if you're in the mood for something sweet.
Huevos Rancheros Skillet – very flavorful!
Avocado Toast – a healthier option.
MY Top lunch picks:
Smoked Salmon Burger
Carne Asada Tacos
Frequently Asked Questions
Here are some of the most asked questions about dining at Terrace Pointe Café.
What's The Terrace Pointe Café Dress Code?
The Terrace Pointe Café's official dress code policy is "resort casual." So you can wear shorts, dresses, short-sleeve shirts, dress pants, and even jeans. The only items the restaurant does not allow are tank tops and swim attire.
Does The Café Offer Takeout?
Terrace Pointe Café offers takeout daily. And you don't need to wait in line to place your order either. Instead, you can walk up to the bar and place your to-go order there.
Does Terrace Pointe Café Take Reservations?
No, unfortunately, Terrace Pointe Café does not take reservations. So you'll need to go to the restaurant and get in line for seating. The wait isn't typically long during the weekdays, though, usually around 15 minutes or less. But, on the weekends, expect a longer wait time.
Conclusion
As a local, I typically never feel like I'm on vacation in Vegas. But when I eat outside on the patio at Terrace Pointe Café, I forget I'm anywhere near The Strip.
It feels like I've been transported to some tropical locale, and I'm on island time! So if you get a chance to eat on the patio, I highly recommend it – as long as it's not too hot outside.
The food at the café is also always excellent. But if you're deciding between lunch and breakfast, I would go with breakfast. There are just so many delicious options that you can't miss! And the miniature jams that come with the toast are too cute. 🤍
---