I write about things I love to do in Las Vegas. If you click a link and make a purchase, I may receive a small commission, which helps to support my work. Learn more
Are you thinking about driving from Las Vegas to the West Rim? Since moving to Vegas, I've been four times now, so I pretty much know the drive by heart!
And I have some tips to help you have a stress-free and enjoyable drive. So in this guide, you'll find directions and my recommendations for fun stops along the way.
I'll also be sharing road hazards to watch out for. And I'll give you trip itineraries to help you make the most of your Grand Canyon experience.
Let's roll.
Distance between Las Vegas and Grand Canyon West Rim
The Grand Canyon West Rim is only about 130 miles from Las Vegas. So it'll take roughly two hours and 15 minutes (without stops) if you're leaving from Las Vegas Blvd.
But it ends up being around two hours and 45 minutes if you need to stop for gas. Or if you'd like to visit any scenic viewpoints along the way.
Driving Directions From Las Vegas
Assuming you're using a phone GPS for directions, you'll want to input "Grand Canyon West" or "Grand Canyon Skywalk" into the search bar.
The Grand Canyon West Rim does NOT have a postal address. So it's important to input a location term instead. Otherwise, you may end up going to the wrong location.
Starting from Las Vegas Blvd:
Follow signs to merge onto I-15 South
Take exit 34 to merge onto I-215 East toward Henderson
Keep left to merge onto I-215 E (11.5 mi)
Take exit 1 to merge onto I-11S/US 93 S toward Boulder City (keep right)
Continue to follow I-11S/US 93S (23.3 mi)
Continue onto US-93 S (40.5 mi)
Turn left onto Pierce Ferry Rd (28.8 mi)
Turn right onto E Diamond Bar Rd (16.7 mi)
At the roundabout, continue straight (2.9 mi)
The entrance to the Western Rim will be just ahead on the right.
Stops Along The Way
If you have extra time in your day, there are some great stops on the way to the rim. The first one is a scenic overlook. And the second is the largest Joshua Tree Forest in the world!
Avoid the line and get tickets before you go:
First Stop: Lake Mead Overlook
You'll find the Robert L. Mendenhall overlook off the right side of the road – about 35 miles outside Las Vegas. There's also a sign for it on the highway, so you'll have some notice before you exit.
The scenic overlook offers an excellent view of Lake Mead. And you can read historical information about Hoover Dam there, too.
You'll also learn about the formation of the lake and its shrinking water levels today. And you'll even be able to see how the water level has changed by looking out over the terrain.
Second Stop: Joshua Tree Forest
About 25 minutes before you reach the rim, you'll find the Grapevine Mesa Joshua Tree Forest. It'll be on the right-hand side of the road near the corner of Pierce Ferry Rd and Diamond Bar Rd.
This forest is a National Natural Landmark. And it's the largest and densest of its kind in the world, spanning almost 45,000 acres. There's also a trail if you want to see some of the Joshua trees up close.
Be sure to check out the information board before you enter the trail. You'll read some interesting facts about the trees – including their average life span. And how they can reach a height of almost 50 feet.
Optional: Hoover Dam
Although some visitors try to visit Hoover Dam on the same day as the West Rim, I don't recommend it. To fully experience the Grand Canyon, it's best to allocate a day to it.
That said, if you want to try to do both, the exit to Hoover Dam is on the way. You'll find exit 2 just after the Robert L. Mendenhall Scenic Overlook.
Gas Stations
If you fill your tank before leaving Las Vegas, you may not need to stop for gas again on the drive. But if you end up needing more or want a great place to rest, I recommend Last Stop on US-93.
It's just about an hour outside of Vegas on the right side of the road. And although there are a few more gas stations on your way to the Grand Canyon West Rim, the name sure is memorable!
There are over 40 pumps, so you won't wait to fill your car. But the last time we went, the prices were about $0.20 higher per gallon than at other nearby stations.
The restrooms are clean, though, and there's an excellent food and beverage selection. So even if it is a few cents more, I still think it's worth stopping here.
Food & Snacks
Last Stop Travel Center is also home to the "World Famous Last Stop Kitchen," where you can grab a meal. There's Steel's Hot Dogs & Sausages, Last Stop Burger, Brooklyn's Best Pizza, and Arizona Hot Wings. And for dessert, there's ice cream.
Last Stop has tons of cool and unusual souvenirs, too. And it offers the most extensive beverage and snack selection I've ever seen. They even have alkaline water – which is hard to find on road trips!
Coffee Shops
Unfortunately, there aren't any coffee shops on the route to the West Rim. So if you want a vanilla iced latte or other made-to-order coffee drink, it's best to get it before leaving Las Vegas.
Of course, there's drip coffee at gas stations. And Last Stop also sells Starbucks Frappuccino bottles in the refrigerated section.
Once you arrive at the Grand Canyon, you can buy espresso drinks inside the Skywalk Building. Just head to the Skywalk Café on the first floor. All drinks are custom-made, and there are even flavors.
Road Hazards
There are a few hazards to be aware of on your road trip. You'll find these once you turn off the highway and continue onto N Pierce Ferry Rd and E Diamond Bar Rd.
So first, the hazard that's most important to know about is cattle crossings. I've seen a lot of cattle crossing the road and walking along the sides whenever I've gone to the West Rim.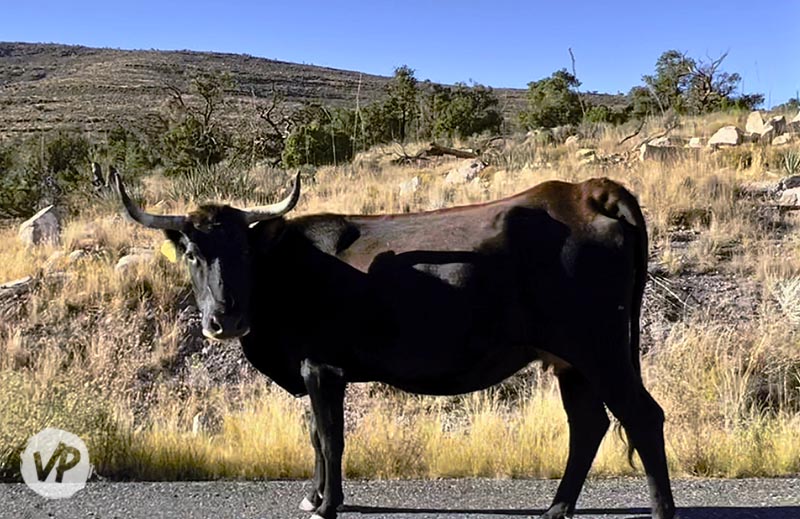 I was told the fine for hitting one is in the thousands of dollars. So please be on the lookout for these beautiful animals.❤️
Secondly, the speed limit changes between 25 and 55 mph – often fluctuating within a short distance. Typically, you'll find slower speeds near residential and commercial buildings.
Additionally, both roads are two lanes and have lots of curves, making passing difficult. And some cars go fast, especially on E Diamond Bar Rd. It's often better to pull over and let them go by to avoid being tailgated.
Lastly, there are grates in the road – if you hit these at too high of a speed, they'll give you quite a jolt! So I like to slow down before reaching them. You can spot their locations by looking for the yellow warning signs on the right side of the road.
Parking Your Car At Grand Canyon West
You'll know you've arrived at the West Rim when you see the Pillow Building on the right. It's easy to spot because it looks like a big white tent.
If you're coming on the weekends or during peak times, there may be a backup of cars turning into the parking lot. And that's because an attendant stops each vehicle to ask if anyone has drones, weapons, or alcohol.
Don't worry; this process doesn't take long. Once you've confirmed that you do not have these items, you can park your car anywhere in the paved lot. There's no fee for parking either, which is fantastic.
If you need to buy tickets, you can do so inside the Pillow Building. Or, if you already have them, you can head straight to the hop-on, hop-off shuttle.
Vegas Day Trip Itineraries
Below are some trip itineraries I've put together to help you plan out your day at Grand Canyon West.
Remember that whatever you decide to do, everyone must buy a General Admission (GA) ticket. But children ages four and younger get in for free.
I also recommend buying tickets in advance if you want to do any add-on experiences. That way, you can get your preferred time slot and won't risk them selling out.
Itinerary #1: GA only
If you only want to pay for Grand Canyon West admission and don't want to do an add-on, you'll still have a great time! With a GA ticket, you'll go on a self-guided canyon tour.
You'll have access to the hop-on, hop-off bus service that will take you to the viewpoints at Eagle Point and Guano Point. You can also stop off at Hualapai Point, which is an old Western town.
And, of course, you're welcome to dine at any of the West Rim restaurants.
Time spent at GCW: approx 3-4 hours
Suggested departure: 9-10 am
Estimated return to Las Vegas: 6-7 pm
Itinerary #2: GA + Skywalk
With this itinerary, I'd hop on the shuttle to Eagle Point first and then get in line for the Skywalk. Afterward, you can grab a bite to eat at the Sky View Restaurant. Or head to Guano Point for some outdoor BBQ.
Next, take the trail at Guano Point to the remnants of the tramway.
And then, if you have some time left in the day, you can get on the bus to Hualapai Point to see the cowboy town. But it's faster if you drive to Hualapai Point on your way out.
Time spent at GCW: 4-5 hours
Suggested departure: 8-9 am
Estimated return to Las Vegas: 6-7 pm
Itinerary #3: GA + Helicopter + Skywalk
For itinerary #3, I recommend booking the Helicopter tour as your first activity. Then, you can take the bus to Eagle Point for the Skywalk, followed by a hike at Guano Point.
Time spent at GCW: 5-6 hours
Recommended departure: 7-8 am
Estimated return to Las Vegas: 7-8 pm
Itinerary #4: GA + Zipline + Helicopter + Skywalk
With itinerary #4, I like scheduling the Zipline first (10 am), followed by the Helicopter at noon. You can drive straight to Hualapai Point for the Grand Canyon Zipline. And then drive to the Main Terminal for the Helicopter tour.
After that, hop on the bus to Eagle Point to walk the Skywalk or get lunch at Sky View Restaurant. Finish up the day at Guano Point.
Time spent at GCW: 8-9 hours
Recommended departure: 6:30-6:45 am
Estimated return to Las Vegas: 7:30-8:30 pm
West Rim Road Trip FAQs
Below are some of the questions I often get asked about driving from Vegas to the West Rim.
Is the road to Grand Canyon West paved?
The roads to Grand Canyon West from Las Vegas are all paved. The first part of the trip is on highways, and then a couple of two-lane roads take you into the West Rim.
Can you drive your car in West Rim Grand Canyon?
Unfortunately, you can't drive your car through the West Rim. But there's complimentary parking outside the main entrance on the Hualapai Reservation.
And from there, you can take the free shuttle service to the viewpoints and add-on experiences.
Multiple shuttles are also running daily. And the shuttles are big buses with air conditioning, so you'll stay cool as you travel to each stop. Or warm if you're visiting during the winter.
Is it easy to drive from Las Vegas to West Rim Grand Canyon?
Yes, it's an easy drive from Las Vegas to Grand Canyon West Rim. The only annoying part to me is the fluctuating speed limit on the last half of the trip.
Also, it's hot on the drive there if you're going during the summer. So ensure you have good air conditioning and bring lots of water so you don't get heat stroke.
skip the ticket line
Get Your Tickets Now
Thanks so much for checking out my Vegas road trip guide! I hope you've found it helpful. If you'd like to help support my website, the button below is my link where you can get tickets. Buying through me is at no extra cost to you, so thank you if you do! 🤍 Jenna
Conclusion
Driving to the Grand Canyon West Rim from Las Vegas is a fun and exciting day trip. It's also a nice change of pace from all the noise on The Strip.
But I recommend buying your tickets before you head out. Speaking from experience, the last thing you'll want to do after driving from Vegas is stand in a long ticket line.
So it's much better to hop on the shuttle and start your adventure right away. Plus, you'll usually get a better deal if you buy online.