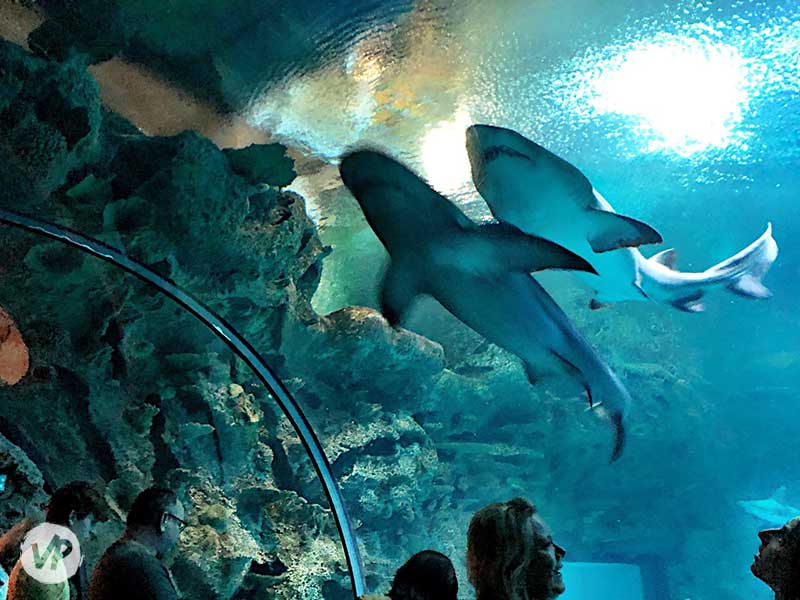 I write about things I love to do in Las Vegas. If you click a link and make a purchase, I may receive a small commission, which helps to support my work. Learn more
Did you know there's an aquarium inside the Mandalay Bay hotel? It's called Shark Reef, and from the outside, you might not think there's much to it.
But once you step foot inside, you'll feel like you're entering a new world full of land and marine animals. And you'll even get to interact with them, too!
The Shark Reef Aquarium is a fun daytime activity for all ages, and it's reasonably priced. So in this guide, I'll cover ticket options, the exhibits you'll see, and tell you how you can dive with the sharks. Plus, much, much more!
About Shark Reef
Shark Reef at Mandalay Bay isn't just an aquarium! It's an ancient sinking temple that leads you through a jungle full of reptiles and exciting fish. And then an underwater tunnel takes you deep underground to the bottom of the ocean floor.
Over 2,000 animals call Shark Reef their home, including reptiles like a crocodile and a python. And you'll see plenty of cool fish, such as the Arowana, which some cultures believe brings about good luck.
You'll also encounter sharks and stingrays as you make your way through a shipwreck. So you'll get to see a decaying vessel that'll make you feel like an underwater explorer!
VIDEO: See Inside Shark Reef
Where Is The Aquarium?
The Shark Reef Aquarium is at the Mandalay Bay Resort & Casino. The address is 3950 S. Las Vegas Blvd, Las Vegas, Nevada 89119.
You'll find the aquarium entrance inside the hotel next to the South Convention Center and Food Court. And I'm going to warn you now – the walk to the aquarium takes a long time!
It took us about 15 to 20 minutes to get there from the parking garage. And, there aren't any Shark Reef signs above you in the casino area to guide your way either.
So the first thing you'll need to do is find your way to the restaurant corridor. And then, from there, you'll have directional signs overhead that'll lead you to the aquarium.
From The Front Desk:
Walk towards the casino and follow the pathway on your left. Keep walking straight until you get to the restaurant corridor (the flooring will change to tile here).
Then, follow the signs to the Mandalay Bay Convention area. You'll soon pass by Kumi and Starbucks. Next, you'll see the Wedding Chapel, and Shark Reef will be immediately after that, just ahead on your left.
From The Parking Garage:
Enter the hotel through the parking garage doors and walk past the now-closed Light Nightclub and Citizens Kitchen + Bar. Then follow the signs overhead to the Convention area. (Be careful not to head into the casino here, as doing so will add about five minutes to your walk time.)
Next, you'll walk through the restaurant corridor, passing by Starbucks and Border Grill. The Shark Reef Aquarium will be on your left, just after the Mandalay Bay Wedding Chapel.
Days Open & Hours
Shark Reef is open seven days a week from 10:00 am until 6:00 pm. So you'll be able to catch all the aquarium action no matter what day you're in town!
Just remember that the last entrance time into the aquarium is at 5:00 pm daily. So you can't arrive any later than this or you won't be allowed in.
Shark Reef Tickets
Tickets to the Shark Reef Aquarium are quite affordable! To get the lowest rates on tickets, you'll want to purchase a Timed-Entry ticket. These give you a one-hour window to get to the aquarium on your selected date.
As of the date of this article, advance sale Timed-Entry ticket prices start at $24 for kids (ages 5-12) and $29 for adults. Children four years of age and younger get into the aquarium for free!
And aquarium tickets now include an Undersea Explorer VR Experience in the convention center, too.
Buying your tickets online will also save time at the door since you won't have to get in line at the box office to buy them. But there's still a short wait at the entrance – whether you've pre-bought your tickets or not.
And that's because the aquarium limits the number of people they let in so as not to overcrowd the exhibits. But don't worry; you won't be waiting in this line long – it moves pretty quickly!
Aquarium Exhibits
There are so many exciting exhibits to see at the Shark Reef Aquarium. For instance, you'll encounter crocodiles, piranhas, snakes, and marine life like jellyfish and sharks. And that's only naming a few! So here's a quick summary of some of the most popular exhibits.
Stingray Touch Pool
The Stingray Touch Pool exhibit is one of my favorites at the aquarium. You'll find this exhibit in the center of Shark Reef. Here, you'll encounter about a dozen stingrays swimming around in a shallow pool.
Both kids and adults are welcome to interact with these smaller ray species. So you'll get to touch them and see them up close! Just keep in mind the rules below for your safety (and the stingrays).
Touch Pool Guidelines:
Keep your camera and electronics out of the water
Children should lie on their stomachs to touch the rays
Only use one finger to touch a stingray gently
Do NOT touch the eyes or tail
Sanitize your hands after you're done
An aquarium staff member will also be on hand to teach you all about the rays and answer any questions you have. And don't worry about getting stung! All of the stingrays in the touch pool have their barbs trimmed.
Komodo Dragon
One of the first exhibits you'll see when entering Shark Reef is the Komodo dragon. And let me tell you – this guy is enormous. He must be at least eight to nine feet long!
Now, getting to see a Komodo dragon in person is a rarity. This is because they're an endangered species with less than 5,000 left. And an interesting fact about the aquarium's dragon is that it came from the largest group born in captivity. There were 28 in total!
Be sure to check out the educational signage at this exhibit too. There's some fascinating information about these giant lizards that you don't want to miss. For instance, you'll learn how a Komodo dragon finds and hunts down its prey. And how much they can eat in a single feeding!
Octopus
The Shark Reef's octopus is quite the hit with aquarium guests, but he's a little hard to find. So when you're near the Touch Pool, head to the starfish tank (next to the jellyfish), and you'll likely find him hiding there.
He looks quite similar to some of the starfish, too, so you'll have to look carefully. But he tends to hide in the corners of the tank. When I was there, we found him hanging out in the upper right corner.
Shipwreck
In the Shark Reef Shipwreck exhibit, you'll get to see some predators of the deep – like sand tiger sharks and giant stingrays. I even saw a shark swimming around that had a bite taken out of him!
You'll also be closer to these animals than at most other aquariums in the country. And with 30 different sharks to see, it's fun to take some time here to experience them in their "natural" habitat.
As you're exiting the exhibit, you'll have marine life swimming all around you. The sharks swim over your head and underneath your feet, so don't forget to look down.
While you're there, you may notice that you can see the sand tiger sharks' teeth. And that's because they have so many that they can't even shut their mouths! In fact, they'll lose and replace thousands of teeth during their lifetime.
The Shipwreck exhibit is also home to the Mandalay Bay aquarium's green sea turtles. And it seemed like when we were there that everyone was trying to find one!
We finally got to see one super close-up as it swam by the glass. It was well worth the wait, so if you don't see one right away, stick around for a while, and you should be able to spot one.
FAQs: Mandalay Bay Aquarium
Below you'll find some of the most asked questions about this Las Vegas aquarium.
When's The Best Time To Go?
The Shark Reef attraction tends to be less busy Monday through Thursday. So you'll have a bigger crowd on Friday, Saturday, and Sunday.
I've been a few times now, and I've noticed that the peak hours are generally late mornings until around 2:30 pm. And then it tends to clear out some.
So if you want to experience Shark Reef with fewer people, the later afternoon times are usually the best. Based on what I've seen, I'd recommend visiting the attraction between 2:30 pm and 5:00 pm.
Remember, though, that 5:00 pm is the last entry time each day because the aquarium closes at 6:00 pm.
Can You Feed The Animals?
Unfortunately, feeding the animals is not included with a Timed-Entry or Anytime ticket. But Shark Reef does offer Animal Encounter tickets. You can choose from a stingray, sea turtle, or shark feed with these.
Stingray Feed: 9:15 am daily, $45 for kids (ages 5-12), $65 for adults
Sea Turtle Feed: 1:45 pm (Mon-Sat), $99 per person (ages 13 and up)
Shark Feed: 12:45 pm (Mon, Wed, Fri), $99 per person (ages 13 and up)
The above prices may be subject to change, and additional rules may apply. And if you're interested in an animal encounter experience, you can purchase a ticket from the box office.
Are Outside Food And Drink Allowed?
Unfortunately, no food, drinks or glass containers are allowed inside Shark Reef.
Is Shark Reef AZA Accredited?
Yes! In fact, the Shark Reef Aquarium is the only AZA-accredited facility in Nevada. So you can have confidence knowing that the animals here are getting the very best care possible.
How Long Is Shark Reef?
If you want to get through the aquarium quickly, you can do it in about 30 minutes. But if you'd like to read the educational information and watch the animals, it's about an hour.
You're welcome to stay as long as you want, though. Just keep in mind that Shark Reef closes at 6:00 pm daily.
Why Does My Ticket Have A Seat Number?
Depending on where you buy your ticket, it may list a seat number. But Shark Reef is a walking tour only.
So know that it's not going to be a typical Las Vegas show where you'll be watching the action from an assigned seat. Instead, you'll be walking through the exhibits and standing.
But there are a few areas with open seating if you want to take a break or watch the animals. For example, you'll find bench seating in the glass tunnel and some wooden boxes in the Shipwreck exhibit.
Are Photos Allowed?
Yes! You can take as many photos and videos as you'd like.
Can I Dive With The Sharks?
You most certainly can! The Shark Reef Aquarium offers a "dive with the sharks" program. It typically starts at $650 for one diver or $1,000 for two. But, keep in mind that all divers need to be 18 years of age or older.
The shark dive includes a tour, orientation, dive experience with a guide, and a keepsake video. The entire experience will take you about three to four hours. You can make reservations by calling the aquarium box office.
Are There Souvenirs?
Upon exiting Shark Reef, you'll enter the aquarium's gift shop. There are tons of fun souvenirs like t-shirts, hats, stuffed animals, and even home decor.
Also, before you enter the aquarium, you'll have the opportunity to get your photo taken in front of a green screen. Then, after you're done with the tour, you can stop by the photo pickup booth and see your pictures.
There are some silly photo backdrops, too – like getting eaten by a shark! Prices usually start at $29 for one photo.
Is It Cold In Shark Reef?
When you first enter Shark Reef, you'll be on the jungle side of the aquarium with the reptiles. In this area, it's warm and humid! So if you're coming during the wintertime, you'll want to take off your coat here.
As you make your way into the "sea," it'll cool off some, but I wouldn't say it's cold. So you shouldn't need to bring an extra jacket or sweatshirt with you.
SHARK REEF LAS VEGAS
Get Your Tickets Now
Thanks so much for checking out my Shark Reef guide! If you've found it helpful, I'd greatly appreciate your support. The button below is my affiliate link where you can get tickets. It doesn't change the price you'll pay, but it helps support my work. ♥ Jenna
Conclusion
I've been blown away each time I've gone to the Shark Reef Aquarium at Mandalay Bay! The attention to detail is incredible, and nothing was overlooked in the temple's design. I also loved hearing all the sounds, like birds chirping and a creaking old ship.
Some guests may think that the aquarium is on the smaller side. And I understand that – I've been in larger ones, too. But we are in Vegas, in a hotel. And, I think how close you can get to the animals more than makes up for its size.
You also get out of this experience what you put in. So if you want to rush through the aquarium, you can. But I recommend staying awhile and taking your time at each exhibit. There's so much to learn and observe about these animals.
Overall, Shark Reef is fun whether you're with the kiddos, going as a couple, or with a group of friends. And you really can't beat the price to see a Vegas attraction, either!
---
May your journey here fill you with natural wonders and an appreciation for the beauty of the world in which we live.

-Shark Reef Aquarium at Mandalay Bay