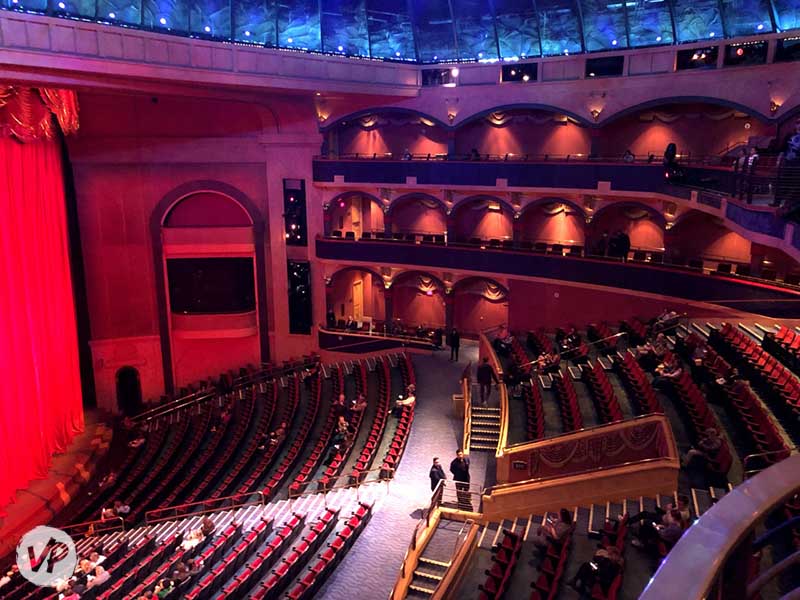 I write about things I love to do in Las Vegas. If you click a link and make a purchase, I may receive a small commission, which helps to support my work. Learn more
Do you want to go to Cirque du Soleil's O but are unsure where to sit? I saw the show a few weeks ago and am here to help!
Before the show started, I checked out all the different sections and the seating views. And I also spoke with the staff there to get their recommendations. Then I compiled everything I learned into this review.
Below you'll find my thoughts on the best seats and the sections that offer excellent value. I'll also share which tickets to avoid so your view isn't blocked!
O Theater At The Bellagio Hotel
The O Theater at the Bellagio hotel is gorgeous. It's designed in an opera house style and has 1774 seats. And despite there being many ticket options, this Las Vegas show is almost always sold out.
When you're in the theater, the seats feel closer to the stage than the map illustrates. But the theater is still large, so knowing where to sit is essential to get the whole O experience.
For instance, there's a lot of action on the sides of the stage. And the cast sometimes goes into the audience as well. But most importantly, you want to ensure you have an excellent view of the 1.5 million-gallon pool!
"O" Seating Chart
There are five seating areas at O Cirque du Soleil:
Lower Orchestra
Upper Orchestra
Loggia
Balcony
VIP Suites
Lower Orchestra
Sections 101, 102, 103, 104, and 105
You'll get outstanding sightlines of the O stage sitting in section 103. But try not to sit too close because you'll have a much better view if you're a few rows back. So I recommend getting tickets in Rows D through N instead.
Sections 102 and 104 are also fantastic options. I sat in 102, row J, seat 18, and thought the view from here was excellent. However, if you want to see all the action, I wouldn't go too far over on the sides in sections 102 and 104.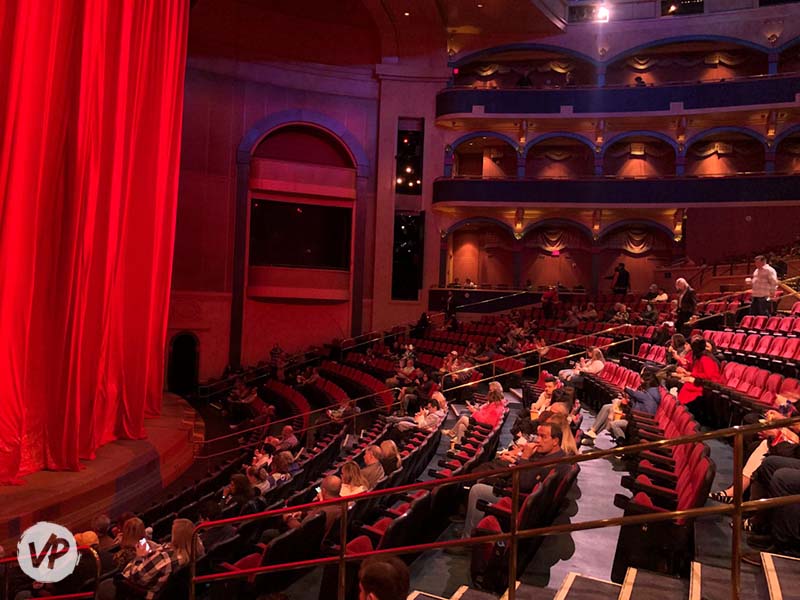 Wet Seats
The Lower Orchestra's first three rows (A-C) are in the O show's Wet Zone. That means you could get wet if you sit here.
Of course, the performers always try their best to limit splashing when they enter the water. But guests may experience some sprinkles from time to time. Don't worry – you won't be soaking wet!
Limited View: Lower Orchestra
The first five rows in Sections 101 & 105 are Limited View. And that's because of the angle. So you may miss out on some of the performances sitting here. But I still think these are a good option, and I would choose them over the balcony (more on this coming up).
My recommendation: get tickets in rows D or E and seat numbers close to the aisle for a better sightline.
Seat Angle Limited View
Section 101: Rows A-E
Section 105: Rows A-E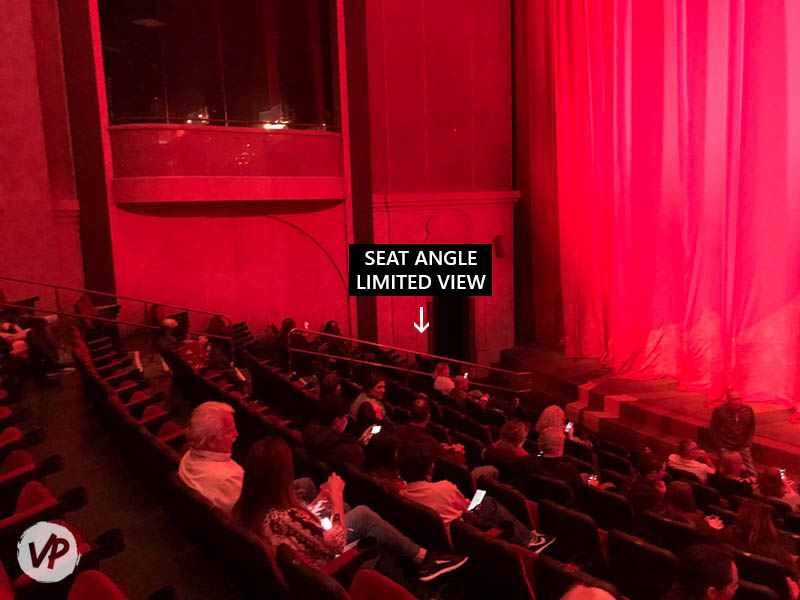 Upper Orchestra
Sections: 201, 202, 203, 204, and 205
Most seats in sections 202, 203, and 204 are just as good as tickets in 102 and 104. And they're usually priced the same, too. But as compared to the Lower Orchestra, the Upper Orchestra offers a more panoramic view.
And at the beginning of O, you'll have a better vantage point of the walkway performance. So you won't have to turn around as the Lower Orchestra does.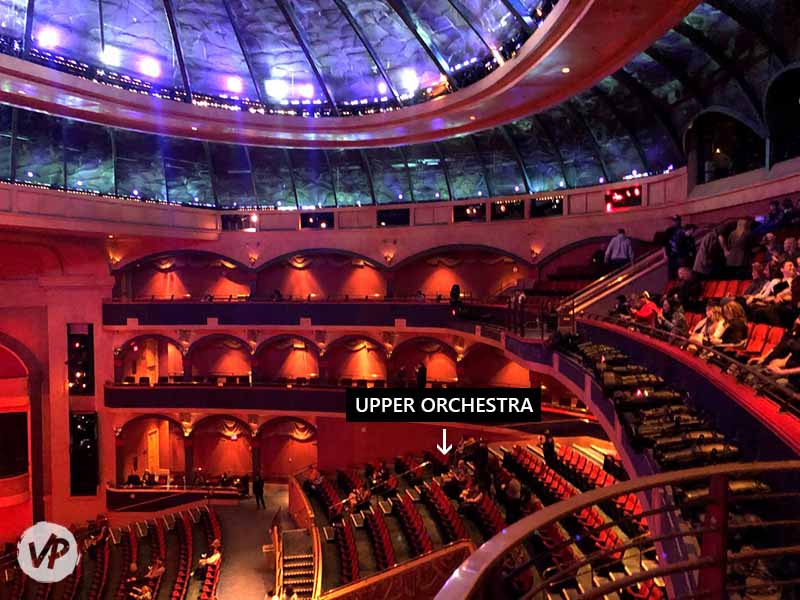 Limited View: Upper Orchestra
Some chairs in the Upper Orchestra have a restriction because of safety railings in the line of sight. So if you get these O tickets, you'll have a handrail in your vision. And you'll also need to adjust your body frequently to see what's happening.
Although they offer a reduced price, I don't think they're worth it. So if you want a lower-priced option, I recommend the Limited View seats in the Lower Orchestra instead.
Upper Orchestra: Safety Rail Limited View
Section 201: Row O 6-9, Row P 7-8
Section 202: Row O 1-4, Row P 1-2
Section 203: Row O 1-2 & 11-12, Row P 1-2 & 11-12
Section 204: Row O 7-10, Row P 10-11
Section 205: Row O 1-4, Row P 1-2
Loggia
Sections 100, 200, and 300
You'll find the Loggia on the right and left sides of the venue, spanning three levels. And because the Loggia is on the outer edges, all the chairs are at an angle to the stage.
The first Loggia level is next to the Lower Orchestra. And it's reserved for accessible seating and ADA companion seats.
Then there are Loggia Luxe seats on the second floor, near the VIP Suites. With these tickets, you'll be about the same height as the back rows of the Upper Orchestra. And like the first Loggia level, you'll get to sit side by side.
The third level of the Loggia is on both sides of the balcony. But when I went to the show, I noticed that the chairs on this floor were positioned so that one was in front of the other.
This setup isn't ideal if you want to talk with other people in your group. So if you're interested in the Loggia, I prefer the Luxe tickets in section 200 L or R instead.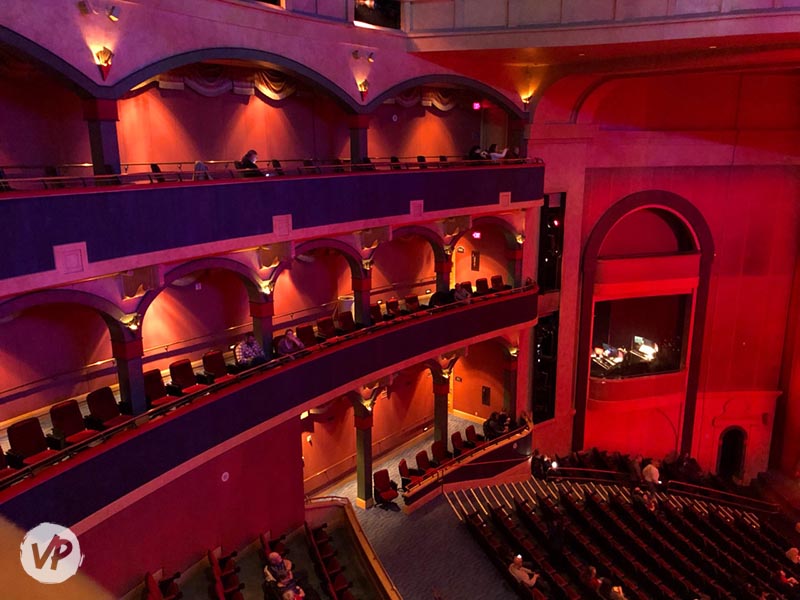 Balcony Seats
Sections 302, 303, and 304
The balcony offers some of the lowest ticket prices in the O Theater. And that's because these seats are furthest from the stage. So you'll be high above the crowd if you sit here.
But because of the balcony's extension over the Upper Orchestra and steep row design, it can be hard to see what's happening below.
For instance, you might miss some of the action when the cast performs in the audience. And thanks to the lighting setup, you may also have some lights in your sightline. This can make it challenging to see what's happening on the stage.
Additionally, I noticed that the air quality up there wasn't great. It tends to get stuffy, and the venue is already quite warm.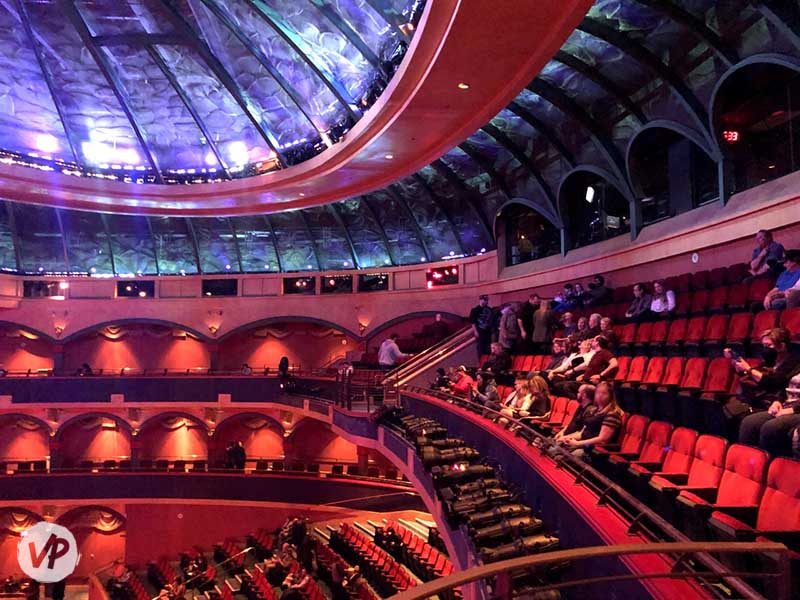 Limited View: Balcony
The following balcony seats have a safety rail blocking the sightline. I do NOT recommend these. And that's because it's hard enough to see from the balcony without a handrail in the way too.
Section 302:
Row BB 11-12
Row CC 12-13
Row DD 9-10
Row EE 7-8
Section 303:
Row AA 1-2 & 27-28
Row BB 1-2 & 28-29
Row CC 1-2 & 29-30
Row DD 1-2 & 29-30
Row EE 1-4 & 32-35
Section 304:
Row AA, BB, CC, DD 1-2
Row EE 1-4
VIP Suites
Also known as the La Grande Experience, O's VIP Suites offer a more private show experience. With a ticket in this section, you'll be centrally located. And have an elevated view above the Upper Orchestra level.
In total, there are seven VIP boxes with four chairs in each box. So if you don't have enough people to buy out the entire space, you may have to share the suite with guests you don't know.
The La Grande Experience is also the most expensive 'O' by Cirque du Soleil seating option. But it's because of what your ticket includes rather than the location itself.
For instance, you'll enjoy champagne, hors d'oeuvres, and a cast meet and greet. But if those extras aren't something you're interested in, I think your money is better spent on the Lower or Upper Orchestra.
Related: View the seating options for KA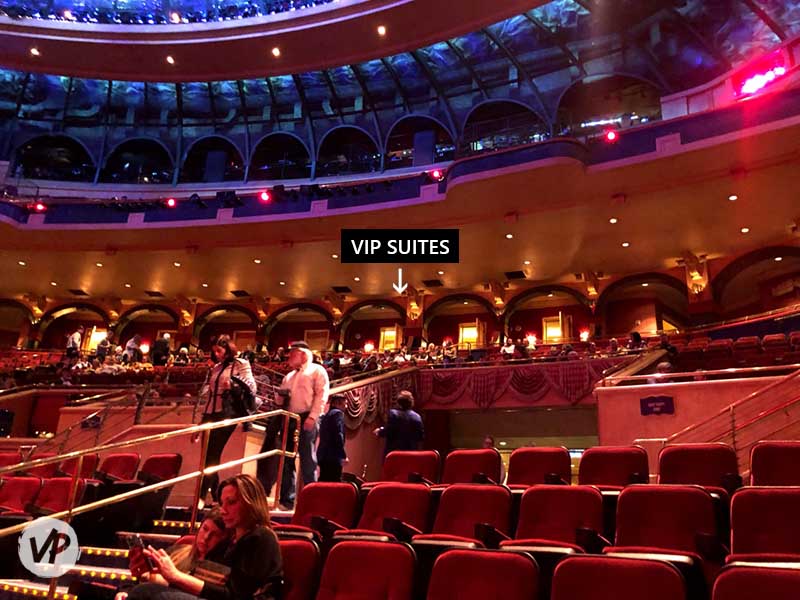 FAQ: O Vegas Show Seating
Below are some of the most asked questions about the seating at O.
Are There Bad Seats For O In Las Vegas?
Yes, there are a few seats you'll want to avoid at the O Show in Las Vegas. These include chairs with visual field obstructions due to the theater's hand railings.
I also do not recommend sitting on the balcony because it's hard to see when the cast performs in the crowd. Additionally, the show's primary lighting system is on the balcony level. And the light beams can sometimes make it difficult to see the stage from there.
Where Is The Best Place To Sit At Cirque du Soleil O?
The best places to sit at O are in the Lower Orchestra (sections 102, 103, and 104). Or the Upper Orchestra (sections 202, 203, and 204). These areas offers a great view of the stage and the performances in the pool.
What Is The Best Seat To Watch 'O'?
The best seats for Cirque du Soleil's O show are in section 103, rows M & N, seat numbers 1-8. These are the Producer Seats, which are at an almost perfect distance from the stage. They also offer an exceptional overall experience of lighting, sound, and special effects.
A close runner-up is Category A tickets, aka "Golden Circle Tickets." These are in section 103, rows D-L. Any seat number here is excellent.
O by cirque du soleil
Get Your Tickets Now
Thanks so much for checking out my review! If you found it helpful, the button below is my affiliate link where you can get tickets to see O in Las Vegas. Purchasing through my link is at no extra cost to you, but it really helps to support my work! ♥ Jenna
Conclusion
Where you sit at the Cirque O show makes a big difference in your overall experience. Although my tickets were pricey, I'm happy I sat in the Lower Orchestra.
Being so close to the stage was amazing. And I could even see the performer's faces! Additionally, the view of the pool from my seat blew me away. All in all, this is one Las Vegas show you do not want to miss!