I write about things I love to do in Las Vegas. If you click a link and make a purchase, I may receive a small commission, which helps to support my work. Learn more
Have you ever wanted to see your AGT favorites all in one place? Well, you're in luck because now you can! America's Got Talent Live is a new Las Vegas show featuring talent from previous seasons.
It's more than just a show, though – it's an entire AGT experience. There are red carpet photo opportunities, and the theater is incredible. It feels like you're actually in LA going to the TV show!
So in this guide, I'll give you a sneak peek at who you might see. And I'll cover important stuff like show dates, times, and the best seating locations.
About AGT Las Vegas
At America's Got Talent Las Vegas Live, you'll see some of the most popular AGT acts live and in person! The show features finalists and winners from different seasons – like Duo Transcend and Kodi Lee.
But instead of competing against each other, they're performing in one fantastic variety show at the Luxor hotel. There's magic, comedy, acrobatics, singing, and even death-defying stunts.
You'll feel so many different emotions during the show, too. I laughed, cried, and held my breath, fearing for the performers' lives! But the best part – it leaves you feeling hopeful and inspired, believing that anything is possible.
Location
AGT Vegas is located in the Luxor Theater on the first floor of the Luxor Hotel and Casino. The address is 3900 S. Las Vegas Boulevard, Las Vegas, NV 89119.
from the Luxor main entrance
From the main valet, enter the hotel and walk straight ahead to the casino. Then, follow the pathway on your left to head towards Tender Steakhouse. Continue walking straight until you get to the Box Office. And the AGT Las Vegas show entrance will be on the right.
From the parking garage
Getting to the Luxor Theater from self-parking is quick and easy! So from the Luxor West Parking Garage, walk along the walkway towards the hotel. Then, enter the Luxor, go down the stairs, and turn right.
You'll soon pass by the Race & Sports Book. Next, you'll see the theater box office in front of you. Take a right just before getting to the box office, and that's where you'll find the entrance.
AGT Vegas Live Dates & Times
The production runs on Wednesdays through Sundays. And there are typically two showtimes to choose from – 6:00 pm and 8:30 pm. The earlier time is a fantastic option for families or if you want to eat dinner after the show.
Occasionally, though, there's only one showtime at 7:00 pm on Thursdays and Fridays.
The AGT Vegas show is pretty long. So, you're definitely getting your money's worth! When I was there, it lasted over 90 minutes. But the runtime can vary depending on which performers are at your show.
2023 Non-Performance Dates
Mondays & Tuesdays
May 15-23
Jun 26-28
Sep 10-12
Nov 27-30
Dec 1-19
Luxor Theater Information
The Luxor Theater is excellent! And the AGT experience begins even before you get to your seat.
As soon as you pass by the box office and walk down the hallway, it feels like you're at a live taping. And there are plenty of red carpet photo opportunities along the way, too.
Next to the theater entrance, you'll see a big bar on the left with lots of beverage and food options. And you can bring any snacks or drinks you buy into the theater to enjoy during the show.
Once inside, there are tons of seats! In fact, it's one of the biggest theaters I've been in for a Las Vegas show. And although everyone will have a view, thanks to the stadium-style seating, seat selection is still important.
For instance, guests in the back might have difficulty seeing what's happening on the stage. There are two screens on either side of the stage, though, so that helps a lot. But if you don't want to watch the show on a screen, it's worth paying up to be closer to the performers.
Seating
The seats at AGT Las Vegas are super comfortable! And, in fact, they're better than any show I've been to in town. They're all velvet, nicely padded, and have lots of legroom.
Of course, there's substantial seat space, too. And the seat backs are high, so you can rest your head during the show. But my favorite feature is the cupholder attached to every chair.
And again, because the theater has stadium seating, you won't have someone's head blocking your view. There's a substantial height difference between the rows, so even when people are in front of you, they'll be much lower.
Tickets
The Luxor Theater is divided into eight sections: 101, 102, 103, 201, 202, 203, 204, and 205. And within each section, you'll find different pricing based on the view and how close you are to the stage.
For instance, in section 203, you'll pay more per ticket sitting in row BB than in row GG. And sometimes, there can even be different prices in the same row depending on the seat number.
Most days, standard ticket prices start around $50 and go up to about $130 per person, plus applicable taxes and fees. Pricing is always subject to change, though, based on demand.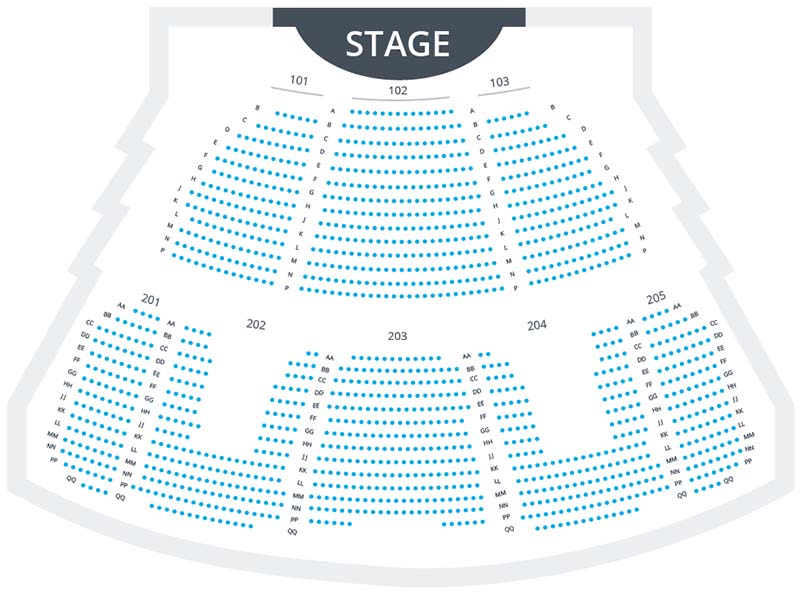 Best Seats
Seats in the front center of the theater (section 102) are my favorite spots. And within this section, I'd say the best seating is in rows H through P.
These aren't too close to the stage, but they're still close enough that you'll have an excellent view. And you won't have to look at the screens on the right and left sides to watch the performers either.
If you want to be in the middle of a row, look for seat numbers nine to 15. When I went, we were seated in seats 13 and 14, and I thought these were great.
So if it's within budget, I'd try and sit in section 102 first. If not, I'd get seats close to the inner aisles in sections 101 or 103. Or the first three rows (AA to CC) in section 203. If you go much further back than that, it'll be harder to see what's happening on stage.
America's Got Talent Las Vegas Performers
Although the cast rotates, you'll likely get to see most of the same performers I did. And since I don't want to give too much away here, I'm only including a short description of a few of my favorite acts to give you a better idea of the show.
In addition to the following talent, other AGT Super Stars that you may get to see include:
The Clairvoyants (mentalist duo)
Deadly Games (knife throwing)
Preacher Lawson (comedian)
Jimmie Herrod (singer)
Léa Kyle (quick-change artist)
Light Balance (dance group)
Brandon Leake (spoken-word poet)
Vicki Barbolak (comedian)
Duo Transcend
Tyce Nielsen and Mary Wolfe are the husband and wife acrobatic duo known as Duo Transcend. They're finalists from Season 13 of AGT, and in 2020 they were also on America's Got Talent: The Champions. If you haven't seen them, their trapeze skills and physical strength are mind-blowing!
At AGT Las Vegas Live, you'll watch them perform high above the crowd. And some of their act is even done blindfolded! It's a little nerve-wracking to watch (at least it was for me), and it had me worried the entire time.
Now, if you've watched Mary's frightening drop on the AGT TV show in 2018, then you already know all about Tyce's eye. But if you haven't, he tells his story again. It's genuinely inspiring, and hearing everything he's been through makes their performance that much more impressive!
The Silhouettes
The Silhouettes are a dance group from Colorado, led by the talented Lynne Waggoner-Patton. They were on Season 6 of America's Got Talent and were the Golden Buzzer winners in the 2020 Champions show!
The group's performance is unlike anything you've seen before. (Unless, of course, you've watched the TV show.) The mostly all-kids group combines acting, dance, shadow work, and mime. And it's all choreographed to music that tells a beautiful story.
Watching the dancers is incredibly moving – you might even shed a tear or two. But they'll leave you feeling hopeful and believing in a world full of possibilities.
Kodi Lee
Kodi Lee is the winner of America's Got Talent Season 14 and a Golden Buzzer recipient. He's a genius musical savant with extraordinary singing, songwriting, and pianist abilities.
Kodi is also blind and autistic. So hearing his story of overcoming obstacles and his determination to achieve his dreams is incredibly uplifting.
When I was there, he performed two songs – "A Song For You" and "Lost Without You." From the lighting to the music, the entire performance is breathtaking. I can pretty much guarantee it'll give you all the feels!
For most audience members, Kodi Lee was the star of the entire show. He got a standing ovation – twice! And getting to see Kodi shine on stage was the show's highlight for me, too. I'd go back to see him again. That's how good he is.
Dustin Tavella
Dustin Tavella is a magician and the winner of AGT Season 16. He's also the headliner for the Vegas show, so he was the last act when I went.
What sets Dustin apart is how he weaves his personal life stories into his magic. So you'll instantly feel connected to him – like he's an old friend.
Another cool thing about Dustin's magic is that he involves the audience. For instance, he may randomly choose an audience member through a "free choice" ball toss. Or he'll have everyone write down a word on a piece of paper and throw it to the center of the theater.
Dustin's illusions involve him somehow knowing in advance what people will say. (If you've seen Colin Cloud at Shin Lim's show, Dustin's magic is similar to his.)
Watching Dustin perform is incredible, and you'll likely ask yourself, "how did he do that?!" as you leave the theater.
video: watch dustin stun the judges on agt
FAQs: AGT Las Vegas Live
Here are some of the most asked questions about America's Got Talent in Vegas.
Can You Eat And Drink During the Show?
Yes, there's an ultra-cool bar before you enter the theater, where you can get drinks and snacks. You're welcome to take anything you buy here to your seat and enjoy it during the show.
The show's menu has a lot of beverages to choose from, too. There's beer, cocktails, wine, and non-alcoholic beverages. And there's even a drink called the "You Call It," where you pick the brand, and the bartender makes it.
The prices are reasonable as well. At least for Vegas standards, anyway. For instance, beer starts at around $10, wine at $16, and bottled water at $7.
If you want something to eat during the AGT Vegas show, you can get popcorn for $8. Or choose from assorted candies, which are around $5.
Can You Take Video or Photos?
You're welcome to take any photos or videos during the show. In fact, I recorded parts from every act because I enjoyed it so much. But just make sure that if you are taking photos, your flash is off during the performances.
Is Super Stars Live A Kid-Friendly Show?
For the most part, the AGT Las Vegas production is kid-friendly. The comedian host, though, is the only part of the show that I might have some hesitation with for children.
When I went, Vicki Barbolak was the emcee that night. And although I loved every minute of her, and thought she was hilarious, some of her jokes were a little risqué. So if I had to give her a rating, I'd say her routine is PG-13.
Now, if you want to preview some of the things she might say during the show, you can check out her comedy on YouTube. But sometimes the hosts rotate so you might not see her on the night you're planning on going.
Is America's Got Talent In Vegas The Real Show?
No, the America's Got Talent television show is filmed in Pasadena, CA. And AGT Las Vegas Live is a variety show at the Luxor hotel that features talent from past seasons. There also aren't any judges present at the Vegas show.
Are There Photo Opportunities?
Yes! Although it's not a live taping, they sure make you feel like it is. And one of the reasons for that is because there are so many photo opportunities at the show.
For instance, the first picture spot is on the left after you pass by the box office. And this location has a bunch of cool AGT sets! Of course, there's a cost for these photos. When I was there, it was around $40 per group for the digital images.
Further down the hallway, you can get in line to have your photo taken on an actual red carpet. You'll stand against a black backdrop with the Luxor and America's Got Talent Vegas logos.
And then, a staff member will take your picture and give you a Stori card with a QR code. You can scan the card to open the album on your phone. Or go to the kiosk next to the red carpet to see your pictures on a monitor.
The red carpet backdrop functions as a green screen, so you'll have six different backdrops in your album. There's even one that makes it look like you're the recipient of the golden buzzer!
If you're interested in purchasing any, you can buy them at the kiosk. Currently, it's $25.00 for all the digital files. Or if you're undecided, you'll have 60 days from the event date to purchase them online.
How Many Performers Are There?
When I went to America's Got Talent Las Vegas, there were eight acts during the show, including the comedian host. So I got to see Light Balance, Vicki Barbolak, Duo Transcend, The Clairvoyants, Deadly Games, Silhouettes, Kodi Lee, and Dustin Tavella.
Are There VIP Tickets?
Yes! If you're a big America's Got Talent fan, you'll want to check out the VIP tickets. These give you an AGT Vegas show experience that you won't get with a standard ticket. And, from my research, I was only able to find them on the Luxor website.
With A VIP, you'll be in the first two rows of section 102 (rows A & B). And with B VIP, you'll also be in section 102, but a little further back in rows J and K.
VIP tickets typically range in price from $150 to $170, not including taxes and fees. But again, rates are subject to change. With either VIP category, you'll get the following benefits:
Premium seating
AGT souvenir
VIP room access
Photo opportunities
Meet and greet with Light Balance
AGT Las VEGAS
Get Your Tickets Now
Thanks so much for checking out my guide! If you've found it helpful, I'd greatly appreciate your support. The button below is my affiliate link where you can get tickets to America's Got Talent Super Stars in Vegas. It doesn't change the price you'll pay, but it really helps to support my work. 🤍 Jenna
Conclusion
Full disclosure: I don't watch much TV anymore, so I've only seen the AGT television show a few times. But I enjoyed this Vegas show anyway! So that just proves you don't have to be a super fan to have a great time.
The entire experience was a lot of fun with the red carpet, and it felt like I was really in LA. The talent I got to see was also phenomenal. Kodi Lee alone was worth going for – he's incredibly inspiring. And I LOVED Vicki!
Another great thing about the AGT Super Stars Las Vegas show is that it's a variety show, so there's something for everyone to enjoy. It was also cool to see how America's Got Talent has changed the lives of these performers. And just how grateful they are for their newfound success.
Overall, it's a feel-good, high-energy show. And it'll have you feeling like you can accomplish anything!
---