I write about things I love to do in Las Vegas. If you click a link and make a purchase, I may receive a small commission, which helps to support my work. Learn more
Do you want to see a Cirque du Soleil show, but you're wondering if you should go to Ka or O? I'm here to help! I went to both in February to figure out which one was better.
And let me tell you right now – they're very different. So in today's guide, I'll compare and contrast them to help you pick the right one for you.
Then at the end, I'll share my two checklists you can use to assist in your decision-making process. So if you don't want to risk going to the wrong production, keep reading!
What Are KA and O?
Ka and O are two of Vegas's most popular Cirque du Soleil shows. If you haven't heard of Cirque before, they're a live entertainment group. And their productions combine circus acts with a theme.
For instance, O is an aquatic production. So the entire show revolves around acrobatics in a 1.5 million-gallon pool for the stage.
And then KA takes inspiration from the Egyptian belief in "Ka" – the spiritual double of every human. This spirit connects the show's young heroes as they engage in stunts and aerial battles.
Storyline Differences
First up in the Ka vs O showdown is the difference in storylines. KA has a story you can follow, while O's is more about your interpretation of the acts.
KA Story
Ka is a tale about royal twins and their extraordinary coming-of-age journey. The show begins at a pageant in the kingdom when the twins and their guests are attacked.
As the twin brother and sister escape, they get split up. And they find themselves on separate adventures where they encounter conflict and love.
The twins' travels are not without danger, though, as spearmen and archers hunt them at every turn. In the end, will they fulfill their destinies and prevent the empire's fall?
O Story
In contrast to KÀ, O doesn't have much of a storyline. But that's how the show is intended to be. It's like a dreamlike escape that takes guests on an emotional journey unique to each person watching.
For instance, the acts transport you to new worlds that parallel the ups and downs of life. One performance may make you uneasy, while the next will leave you joyous. But no matter the feeling, it'll keep you believing anything is possible.
Types of Acts
O combines traditional circus performances with water. And KA blends circus acts and martial arts with high-end technology.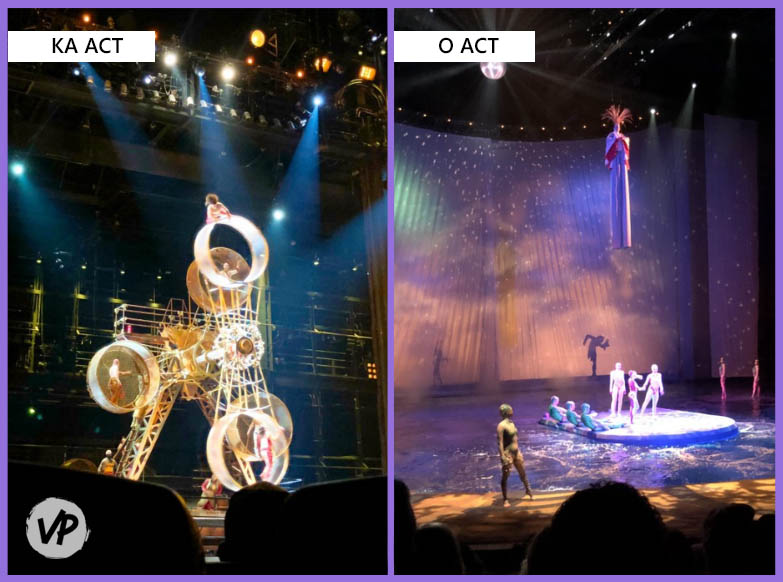 KA Acts
At KA, you'll be immersed in gravity-defying feats with interactive video projections. The artists scale vertical walls and engage in epic martial arts battles. There's also an aerial ballet, bungee performers, and acrobatics on terrifying spinning wheels.
Other performances you'll see at KÀ include:
Puppetry (life-size sea creatures)
Storytelling with shadow puppets
Flamenco dancing
Swordplay
O Acts
O features traditional gymnastics and circus acts but with a water twist. Sometimes the artists are submerged in the pool, while others are on the water or high in the air.
The production also pays tribute to the "magic of theater." So with O, you'll see street acts and real opera singers, too.
Performances at "O" include:
Trapeze
Contortion
High dive
Synchronized swimming
Aerial hoops
Balancing acts
Clowns
Stages
Both Las Vegas shows do not have a typical stage, but that's what makes them so unique.
KA Stage
Ka's stage doesn't have any floor. So instead, the show uses two moving platforms – the Sand Cliff Deck and Tatami Deck.
The Sand Cliff Deck is a 360-degree rotating platform that measures 25 by 50 feet and is 6 feet thick. This performance space also extends vertically during battle scenes.
For other parts of the show, the Tatami Deck is used. This platform is 30 by 30 feet and weighs almost 75,000 pounds! The Tatami Deck is like a drawer slide that appears to float in the theater.
O Stage
O is known for its "water stage" – a 1.5 million gallon pool. Acrobats perform in, above, and on the water during the show. But sometimes, the lifts rise, and the pool disappears to showcase acts on a dry 140×80-foot stage.
Theater Comparison
The KA and O Theatres are custom-designed for each show, which helps to bring the productions to life.
Ka Theater
The KÀ Theatre in Las Vegas feels like you're stepping into another world in the Far East. It's nine stories high and has enormous columns throughout. There are also catwalks on the sides where the artists perform.
The venue seats about 1,950 people, making it one of the largest performance spaces in Vegas. In addition, seating here is all in one area, so you won't have ticket options on separate floors like there is at O.
But even though everyone is in the same room, some seats are far away from the stage. So if you're sitting too far back, it can be hard to feel immersed in the story.
Related: Where to Sit at KA
O Theater
The O Theater is almost as large as Ka's and holds roughly 1,800 guests. But this venue is designed as a 14th-century opera house, and it's incredible!
There are plush red seats throughout. And windows on the second level, where you can see singers and musicians.
You'll also find many seating sections at O, including VIP Suites. And with three floors to choose from, where you sit makes a big difference. For instance, some seats have a limited view, while with others, you may get wet.
Related: Best Seats & Seating Chart for O
KA or O: Which Show Has The Lower Prices?
Demand for O is typically higher than it is for Ka. From what I've experienced, O is often completely sold out, or there are only a few open seats nightly.
So because more people are interested in O, starting ticket prices are usually at least 30% higher. And in some cases, O tickets may be double that of Ka's for a comparable section.
Both shows' rates stay fairly consistent no matter which day you go. That means you won't find much difference in ticket prices on weekdays vs. weekends.
Cirque du Soleil Ratings: O vs KA
Cirque du Soleil's O has a slightly higher overall rating than KÀ.
O ratings
Tripadvisor: 4.5/5 (11,850 reviews)
Vegas.com: 4.6/5 (2,960 reviews)
Yelp: 4.5/5 (1,780 reviews)
KA ratings
Tripadvisor: 4.5/5 (8,530 reviews)
Vegas.com: 4.5/5 (2,650 reviews)
Yelp: 4/5 (2,125 reviews)
Standout Features
Besides the incredible stages, here are some standout features at Ka and O.
Crowd Performances
At both shows, there are times when the artists perform in the audience, making you feel like you're part of the acts.
For instance, with Ka, archers appear on the catwalks and in the aisles close to the stage. These villains shoot real arrows through the air and onto the deck.
With O, the show starts with a performance between the lower and upper orchestra levels. And the cast also makes surprise appearances in the crowd throughout the night.
Preshow
The preshow at Ka features over 120 fireballs, reaching heights of 30 feet or more. At O, clowns entertain the audience (and interact with the crowd, too) in their makeshift boat.
Between the two, though, O's is more interesting.
Special Effects
Because Ka mixes high-end technology in the show, you'll get more special effects here. For example, there are interactive video projections, so as the artists move, the stage "reacts."
Then there's the phenomenal sound quality at Ka. There are roughly 5,000 speakers in the venue, with every seat having a pair of speakers at ear level.
Since the O show is about water, you won't see as many high-tech effects from your seat. But you'll experience other cool things, like – rain on the stage and a man on fire.
Live Music
KA has live musicians performing with the cast, but I couldn't see them from my seat. However, you can see real opera singers and musicians playing instruments at O.
An opera singer will appear on the water stage during the "O" show. And from your chair, you can watch the vocalists and players on the second level of the theater.
How To Decide: Kà vs. O in Las Vegas
After going to Ka and O, I think both shows are worth seeing! But if you only have the time or budget for one, here are two quick decision checklists to help you decide.
Choose KA if you:
like action and adventure
want to see a production with a storyline
find high-tech machinery impressive
enjoy seats that feel like you're in the show
don't want to spend as much on a Cirque ticket
Choose O if you:
want a surreal and emotional experience
love water and pools
like to interpret art and performances
want an upscale, elegant evening
enjoy live music
FAQ: Is KA or O Better for Kids?
First, a warning – both shows have loud sounds, periods of darkness, and flashing lights. Now that that's out of the way, if you'd still like to take your kids to Ka or O, I recommend Ka!
And that's because it's action-packed and reminds me of Indiana Jones. I think children will also enjoy the show's puppetry and storytelling with shadow puppets. Additionally, I didn't see anything inappropriate during this production.
At times, though, spearmen shoot arrows from the aisles and catwalks. And the music can often get intense during the fight scenes, too. So if those things frighten your little one, you may want to pick another Las Vegas show instead.
With O, some scenes are different – almost eerie. For instance, one act features headless and bottomless mannequins hanging from strings. Additionally, O is more of a surreal experience, so some kids might find it boring.
But no matter your choice, there are some age requirements to keep in mind.
Age Restrictions
Ka: 3 years of age and up
O: 5 years of age and up
---
My Final Thoughts
In comparing Ka and O, I enjoyed O slightly more than Ka. And that's because I was blown away by the water stage! However, I didn't find the clowns that entertaining, but the rest of the performers were fantastic.
Ka would've been a better experience had I known the storyline. So if you choose this production, I recommend reading the story of Ka before you go. That would have made all the difference for me and may have even bumped this Cirque show into first place.