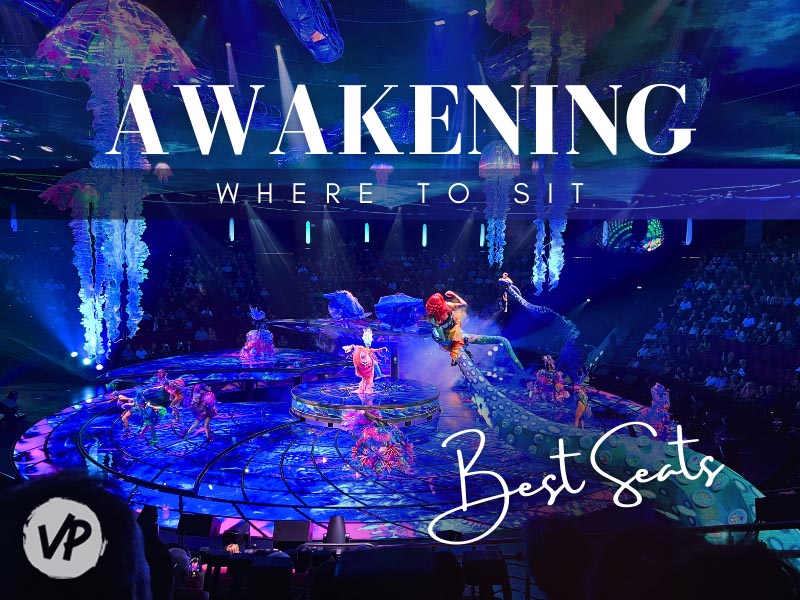 I write about things I love to do in Las Vegas. If you click a link and make a purchase, I may receive a small commission, which helps to support my work. Learn more
Hi there! You've stumbled upon my seating guide for Awakening at the Wynn. That must mean you're thinking about going, but you're not sure where you want to sit.
Don't worry; I've got you! I saw the show last weekend and took photos of all the sections. I also got pictures of the views from a bunch of different seats.
So check out all the images below. And be sure to read my recommendations at the end on the best places to sit!
About the Awakening Theater
Wynn's theater has been completely revamped for its new show, Awakening. So everything in it is brand new – from the plush chairs to the stage, lighting, and sound.
The updated venue is one of the most technical and visually stunning theaters I've ever seen in Las Vegas. For instance, it features over 1,600 seats with personal speakers aimed at your ears.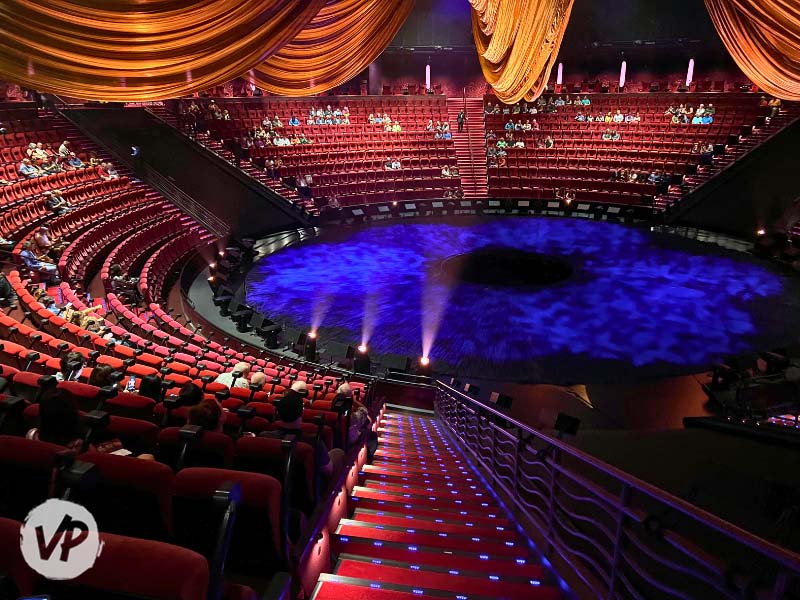 There's also a gorgeous glass stage that moves throughout the performance. And a light show that happens all around you. Some out-of-this-world puppets wander throughout the room, too.
Although the theater can fit a lot of people, its circle design ensures that everyone has a great view. But I did notice a few places you may want to watch out for, which I'll cover below.
Wynn Seating Chart
The Awakening Theater has six seating areas: A, B, C, D, E, and F, with five pricing categories in each section.
The row you choose in a section determines the ticket price, but all Awakening seats within a row typically cost the same.
For example, on my seating chart below, you'll find higher rates in the first three rows and lower prices towards the back. The only exception is VIP, as these chairs are in the last row and the most expensive.
Ticket Pricing Categories
VIP: $$$$$
Diamond: $$$$
Emerald: $$$
Ruby: $$
Sapphire: $
Seat Photos & Views
Before the show started, I took photos from chairs in all five ticket categories so you can see what the view is like.
Although these pictures are all from section C, you can expect the same distance to the stage in the other areas. For example, row H of section C will offer an equal view to row H in section F.
And as far as the section goes, it doesn't really matter because the stage rotates. So it's more about how close you want to sit.
Diamond
Diamond seats are in the first three rows of the theater (A-C) and are the second most expensive ticket option. They're also the closest you can get to the Awakening cast.
Here's the sightline from section C, row A, at about seat number 4. This is a front-row experience:
This next photo is another view example from Diamond-level seating. I took this from row C at chair number 17:
Emerald
Emerald seats are behind the Diamond section in rows D, E, and F. These chairs are a mid-price ticket option. And they're also the most popular choice.
The following photo shows the line of sight from section C, row F, at chair 18.
As you can see, row F is just about halfway up, offering a great view of the stage and the glass bridges above:
Ruby
Ruby seats are in rows G, H, and I. They're an intermediate-priced ticket but further back than Emerald. Chairs in this category still offer a fantastic view as you'll be mid-level.
Here's the line of sight from row I at seat number 27: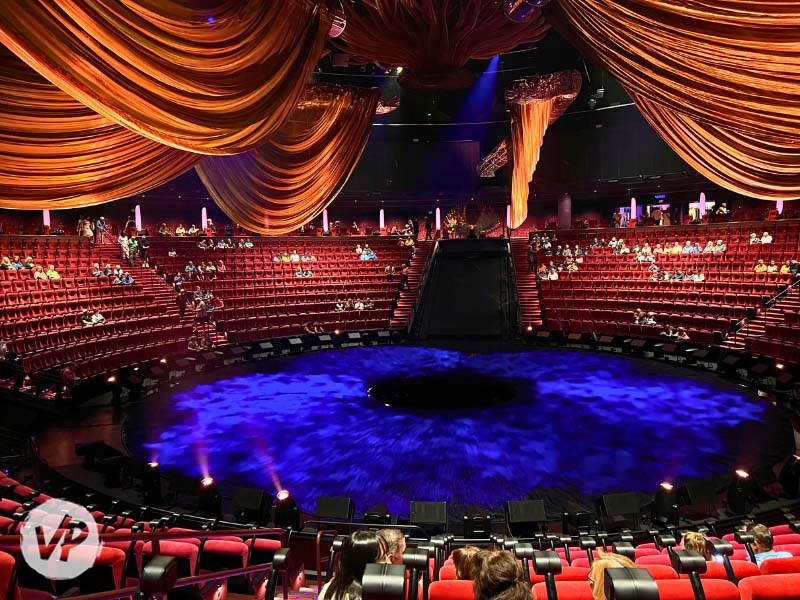 Row I is also where my friend and I chose to sit. To give you an idea of how far away we were from the stage, this is the view from my seat during the show: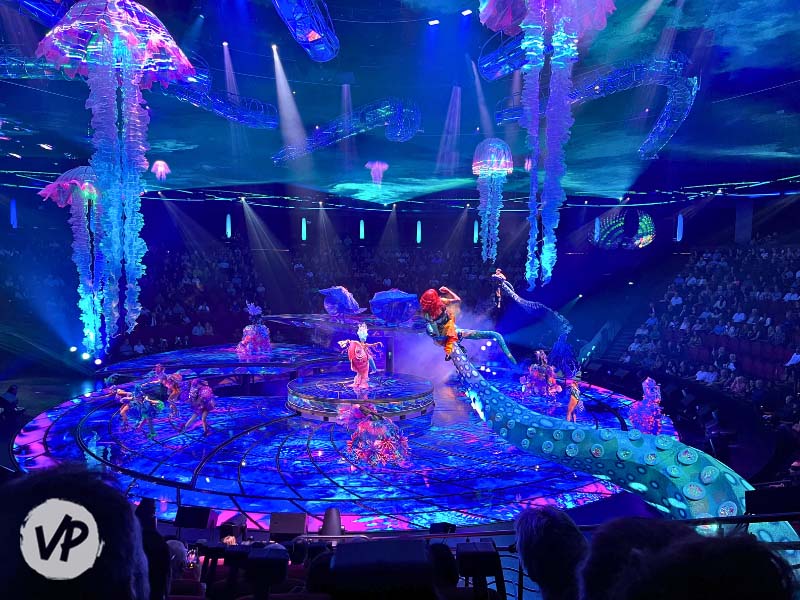 Sapphire
The Sapphire section is rows J and K in the Wynn Awakening Theater. Even though these chairs are some of the furthest from the stage, you'll enjoy sweeping views from here.
So that means you won't miss out on seeing the show action between the sections or in the air – like you might in the lower rows.
The following photo shows what the line of sight is like from row K at about seat 26: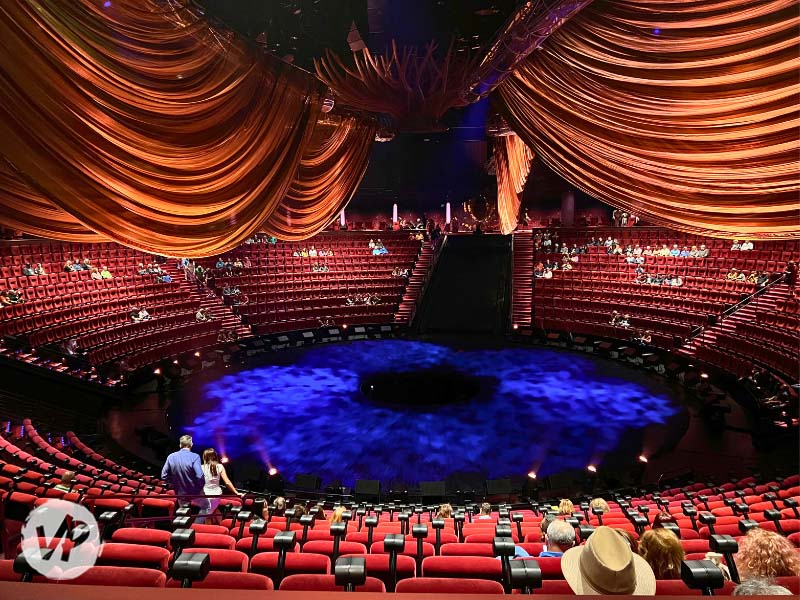 Awakening VIP
VIP chairs are in row L – the last row of the theater. Sitting here, you'll have essentially the same panoramic view as row K in the photo above.
Although a VIP ticket costs quite a bit more, these seats have some excellent benefits. For instance, you'll get a free program, a glass of champagne, and dessert during the show.
There are also cupholders at every seat, which you won't find in the other sections. And I noticed the VIP chairs have more legroom and spacing, so it doesn't feel nearly as cramped.
But my favorite part about sitting here is that you won't have to wait long to leave as you'll be closer to the exit.
Here's what the VIP experience seats look like: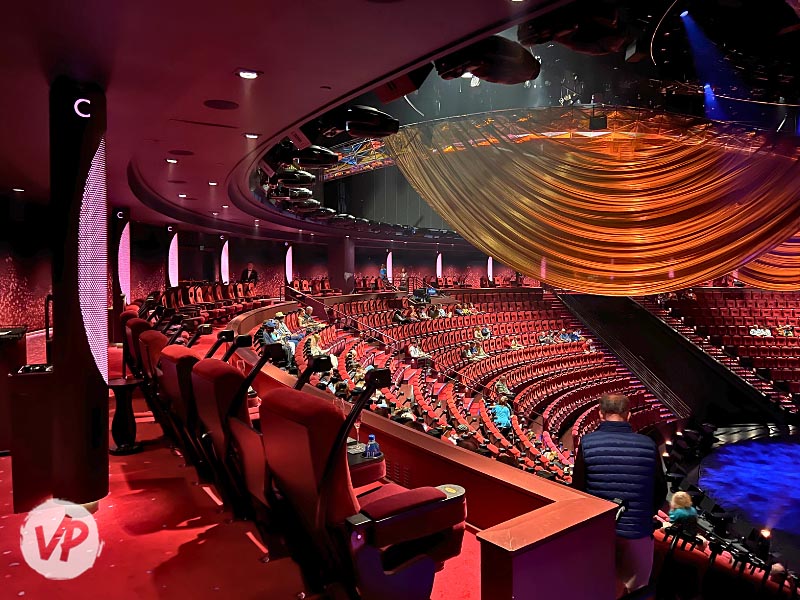 My Recommendations
After my theater tour and watching the show, I've compiled a short list of my favorite places to sit. I've also included a few locations that you might want to avoid.
Best Places To Sit At The Wynn Show
To me, the best seats are in row F of the Emerald section or row G of the Ruby section.
I suggest these seats because the show doesn't just take place on the glass stage in the center of the theater.
Instead, it takes place all around you – with a light show, flying puppets, and even some cast members in the audience.
So, to fully experience all these incredible elements, watching it from mid-level is better. You'll still feel like you're in the action sitting there, too.
And again, it doesn't matter which section you choose because of the rotating stage. But I will say that I thought sitting in section C was fantastic.
Best Value Seats
What's great about the Wynn Theater is that there is no upper level like you'll find with Ka seating or in the "O" Theatre.
That means every guest at Awakening will be pretty close to the stage – no matter the ticket category.
So, it likely won't surprise you when I tell you that I think rows J and K offer the best value.
Yes, they're the lowest-priced seats. But it's more than that:
If Wynn is charging almost 3x as much for VIP chairs behind Sapphire, how could J and K not be the best deal ever?!
Awakening Seating To Avoid
You won't find any locations with an obstructed view in the Awakening Theater. But I did still spot two areas you might want to look out for.
Row A
Although sitting in the first row (A) is often an excellent choice at other shows in Las Vegas, I noticed some lights in front of this row at Awakening.
For instance, this photo shows the view from a seat in row A. As you can see, there's a pretty big light near this chair: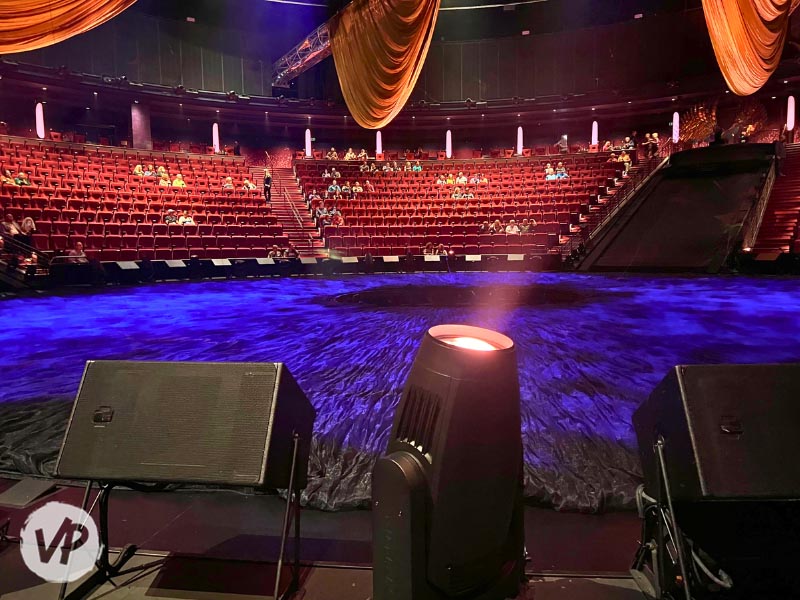 I always try to avoid lighting sources when picking a location so I don't have any glare. I'm unsure if the guests seated here had any, but I think it's better to play it safe.
So because of this, if you want Diamond seats, I'd go with tickets in rows B or C instead.
There was also one other problem I noticed sitting in row A. And that was the concrete block along the floor.
You can see it in this photo here: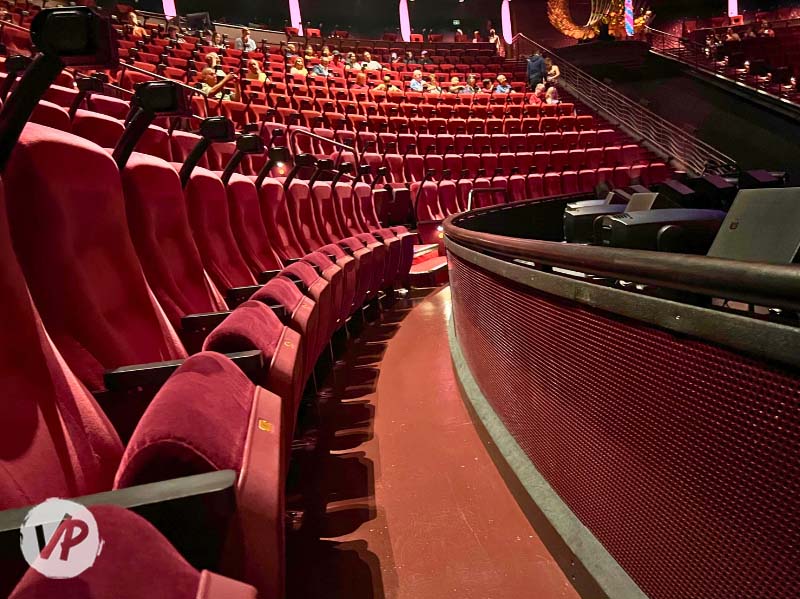 These few inches of concrete may be fine for some guests, but it could cause a problem for tall folks. I'm 5'8″, and it felt a little cramped when I tested out the seat.
So here again might be another reason to get seats in rows B or C instead – if you want to maximize your comfort level in the Diamond section.
Sound Booth
The last location that I don't recommend sitting near is the sound booth in section D. You can see what it looks like in this picture: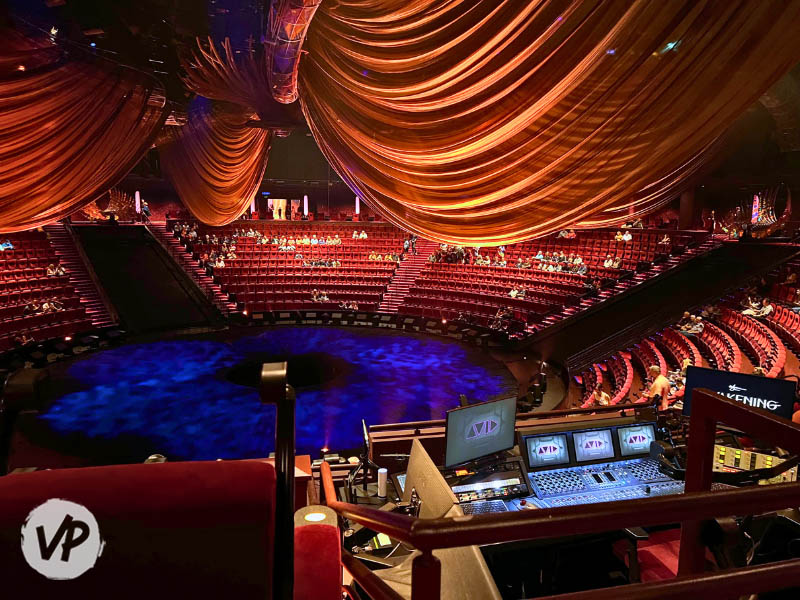 Although it doesn't take up a lot of space in the venue, it may be distracting if you're seated near it. At least, that's been my experience at other Las Vegas shows I've gone to.
For instance, you may notice the lighting from the screens or hear the sound engineer during the show. So, to ensure a distraction-free zone, I'd avoid sitting in the following places:
Section D, row L, seats 7, 8, 9 & 10
Section D, row K, 7-12 & 13-18
Section D, row J, chairs 8-23
AWAKENING las vegas
Get Your Tickets Now
Thanks for checking out my Awakening seating guide and review! If you'd like to help support my site, you can check for discount tickets by clicking the button below. Buying through my link is at no extra cost to you, so thank you very much if you do! ♡ Jenna
My Final Thoughts
The Wynn Theater is gorgeous! And the in-the-round design makes for an excellent show experience for all.
But, I think it's best to sit where you can capture the entire Awakening Las Vegas production. That way, you'll get the full effect of the aerialists, puppetry, music, and acrobats.
So, rows A, B, and C are too close for me, but anywhere between D and I is a good seat.
But even if you go for the cheapest rows (J & K), you'll still be decently close – as no one is ever more than 12 rows from the stage!