I write about things I love to do in Las Vegas. If you click a link and make a purchase, I may receive a small commission, which helps to support my work. Learn more
The Mac King Comedy Magic show is a ton of fun! But trying to pick seats for it based on the seating chart alone is challenging.
That's because there are some "unique" table orientations. And it's hard to determine if the seating is even elevated.
So in this article, I'll tell you where to sit to maximize your view and comfort. And I'll share some pictures I took at the show.
Theater Info
Mac King's Comedy Magic Show is in the Thunderland Showroom at the Excalibur Hotel. The theater feels intimate, but there are still a lot of seats for Mac's show. Four hundred and eleven, to be exact.
And with so many guests packed into a small space, it makes for a high-energy and fun-filled afternoon.
Most of the seating isn't raised, though, so choosing good seats is vital to maximizing your view. For instance, although the stage is higher than the crowd, you could have many heads in your sightline, making it difficult to see.
Seating Chart
There are two ticket choices for the Mac King Comedy Magic Show in Vegas:
VIP
General Admission (GA)
VIP is priced higher than GA, but not by much. On average, it's about a $10 difference in the base price.
The Mac King Excalibur seating chart below shows VIP seats in purple and General Admission in magenta. A VIP ticket will get you as close as possible to the stage. In contrast, GA seating is towards the back or on the sides of the theater.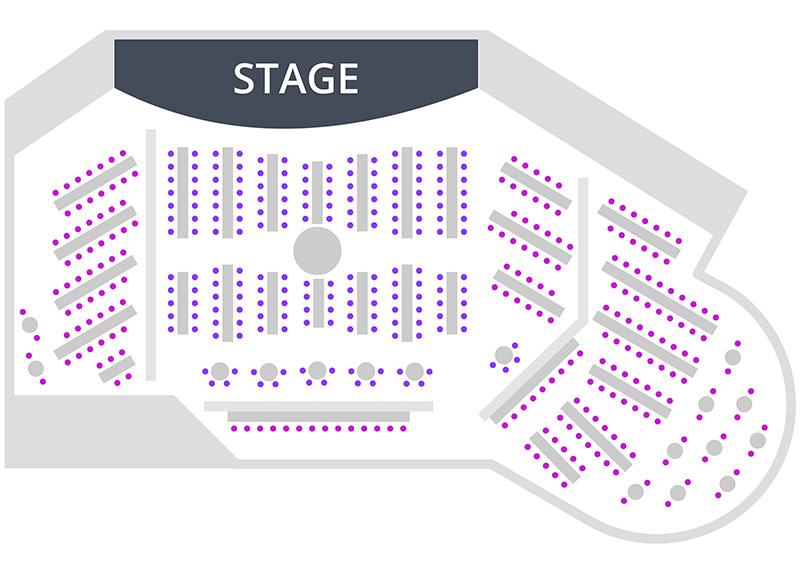 There are also two levels in this showroom, but they're only a few feet difference. On the map, I've added some lighter gray lines to identify the elevation changes.
Mac King Seating Options
With a VIP ticket, you can sit at a table or booth. But in the General Admission area, seating is only available at tables.
In this next section, I'll show you both options. And I'll cover how to choose comfortable seats that provide a good view – whether you get VIP or GA.
Comedy Magic Show Tables
Most of the Mac King seating in the Thunderland Showroom is chairs at tables. So the vast majority of show attendees will be sitting here.
And almost everyone will get the same type of seat, too – a metal chair with a cushion.
But like the Piff the Magic Dragon seating, the tables are awkwardly positioned. For example, Mac King tables are at a 90-degree angle or diagonal to the stage, with chairs that face forward.
So on both sides of the long rectangular tables, guests sit in front of each other in a straight line.
And since all of the VIP table seating (and some GA tables) aren't elevated, you could have a lot of heads in your sightline, depending on where you sit.
There are however some tables that are on the upper level in the GA section. But, again, these are only a few feet above the main level.
For instance, the following photo shows GA seats at tables 23, 24, and 25. You may notice that the chairs are different at these tables too.
On the upper level, there are also some two-person circle tables in the far corners. With these, you'll sit side-by-side, but because they're so far back you may still have heads in your line of sight.
Booths
Six booths are available in Mac King's VIP section, each with seating for up to four guests. The booths are located behind the tables on the main level.
They're slightly elevated, although not as high as the upper level. But you'll still sit up higher here, giving you an excellent view over the heads in front of you.
And thanks to all the padding, the booths are the most comfortable seats in the venue. But they can feel tight when four people are sitting here.
So if you get a booth ticket, know that you may have to share the space with other people if you're not buying all the seats.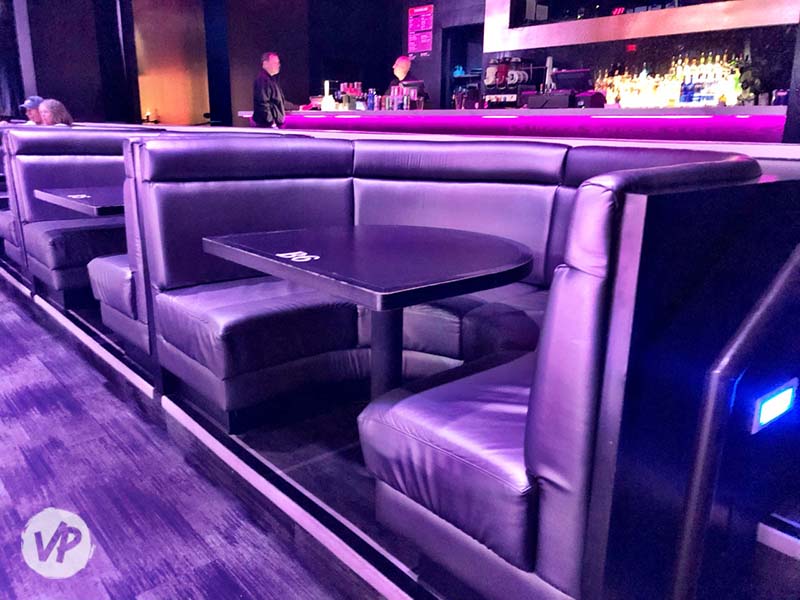 Also, two booth seats face forward, and two are turned sideways. But if you're sitting on the ends, you can turn your body so that you're facing forward and dangle your legs over the side.
Where Should I Sit For Mac King?
Since there's not much of a price difference between VIP and GA, I think upgrading to VIP tickets is worth it.
I recommend this because there aren't any video screens you can watch during the show. So sitting in the center of the theater will allow you to see more of what's happening on stage.
You also have a better chance of participating by sitting in VIP – at least, that was my experience at the show. For instance, Mac walked into the crowd on the main level and selected guests seated at the VIP tables.
But no matter where you sit, the seats in VIP and GA can feel cramped.
So, to help you out, the following are my recommendations for where to sit in each section. These locations offer a good view and will maximize your seating space and legroom.
Best VIP Tickets
In the VIP section, any chairs at table numbers 2, 3, 4, 5, and 6 are great. I also like the booths.
Or, in the second row (tables 8-14), the seats at the front of the tables are excellent. These are seat numbers 1, 2, 3, and 4.
But in the second row of tables, sitting in seats 1 and 2 will offer the best vantage point. And that's because you won't have anyone sitting directly ahead of you. You'll also have plenty of space to stretch out.
However, I would avoid getting tickets at table number 11, and that's because there's a circle stage in front of it. Although it's not used during the Mac King Comedy Magic show, sitting in the chairs here may feel tight.
Tables on either side of the circle stage are fine, though. For example, I sat at table 12 in seat 1, and this was the view from my seat:
Best GA Seats
I like tables 15 and 18 the best in the General Admission section. And the reason for that is although these tables are off to the right side, they're still on the main level.
Tables 15 and 18 are also at a decent angle to the stage. And there's quite a bit of space between them and the VIP rows, which helps to maximize your view.
For a second choice, I like GA tables 29 & 30 on the left side of the theater. These aren't too far from the stage, and they're on the upper level, so they're elevated.
Overall, I think tables 15 and 18 offer the best value in the venue. But here again, I'd get tickets for the first four chairs (if possible), so you won't have as many heads in your line of sight.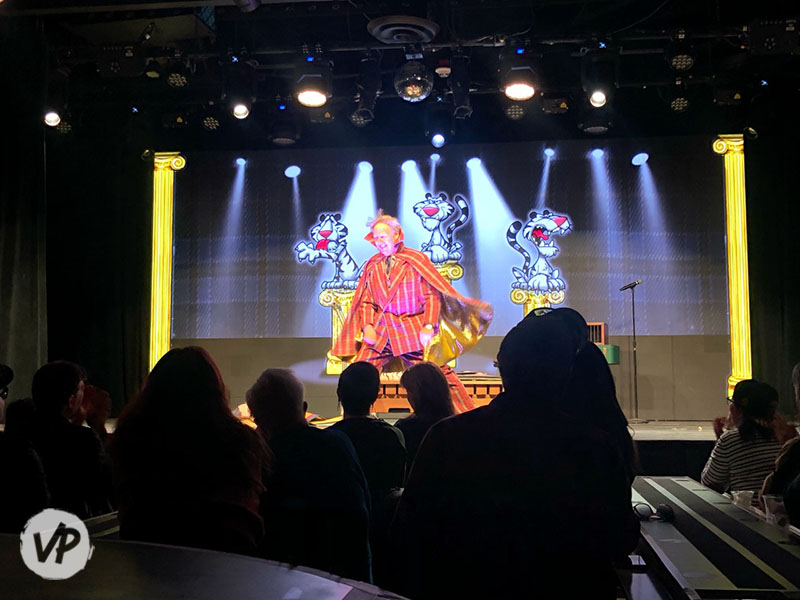 MAC KING comedy show
Get Your Tickets Now
Thanks so much for checking out my article! If you've found it helpful and would like to help support my site, you can check for discount tickets by clicking the button below. Purchasing through my link is at no extra cost to you, but it really helps me out! 🤍 Jenna
Conclusion
I hope my review helps you pick some excellent seats for the Mac King Comedy Magic show!
Although the venue packs guests in, it's more fun that way because it creates a high-energy environment. But it's essential to sit in a good location so that you can see everything that's happening.
Also, if you're interested in another afternoon magic show, I really enjoyed Nathan Burton Comedy Magic.