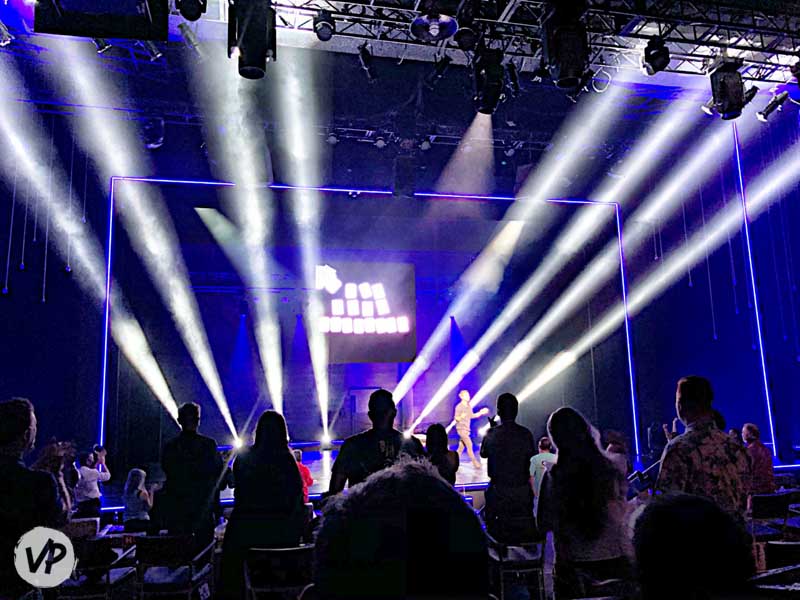 I write about things I love to do in Las Vegas. If you click a link and make a purchase, I may receive a small commission, which helps to support my work. Learn more
Mat Franco's show is much different than other magic productions in town. It's interactive, fast-paced, and you won't see old tricks like a car disappearing behind a sheet! There's also improv, which means you'll never get the same show twice.
And you likely won't see this coming, but Mat is super funny! So you'll get to laugh a lot during his performance too.
The show is so good that you'll be thinking about how the tricks are done long after you leave. But, perhaps most importantly, you'll be captivated the entire time.
So in this Mat Franco review, I'll fill you in on the best seats, ticket options, the types of acts you'll see, and much more! Plus, I'll answer your most frequently asked questions.
Where Is The Mat Franco Show?
Magic Reinvented Nightly is at the LINQ Hotel inside the Mat Franco Theater. The address is 3535 Las Vegas Blvd S, Las Vegas, NV 89109.
Directions
From the LINQ's main valet, enter the hotel and take an immediate left. Then, turn left again before you get to the front desk and go up the escalator.
You'll see a bar in front of you when you get to the top. Feel free to order any drinks here and take them into the theater with you.
Now you can't miss the entrance to the theater – the doors will be on your left after you get off the escalator. There will also be ropes showing where to line up for entry.
Dates & Times
Mat Franco's show runs almost every night of the week. Most often, he performs Monday through Wednesday and Friday through Sunday. But there are occasions when Mat takes other days off during the week too.
Performances are at 7:00 pm. But occasionally, he'll do two a night, with a second one at 9:30 pm. Although more kids and families go to the earlier one, there isn't much difference in the acts you'll see.
Theater
The Mat Franco theater is intimate and feels new. And it has stadium seating with each row elevated above the one before it, ensuring everyone has a view.
There's also a lot of space between the seats, so it doesn't feel too cramped. And if you need to leave to grab a beverage or use the restroom, there's a convenient walkway in the middle.
I like the design of the theater a lot because most of the seats have a straight-on view. However, there's some seating along the sides of the room at more of an angle. When I was first looking at tickets, I was concerned about these, so I selected middle chairs instead, even though they were further back.
But, after being in the theater, I wouldn't hesitate to get side seats, especially in the preferred and premium sections. Of course, you'll have to turn your head some during the night, but they're still a great location.
Tickets
No matter where you get your tickets, there are three main sections to choose from:
Reserved
Preferred
Premium
The theater also has tables and booths available. Tables are 30-38 and 21-28 on the map below, and booths are 1-8. If you'd like to sit at a table, look for seats in section T and row T. For a booth, check out ticket options in section BH and row BH.
How Much Do Tickets Cost?
The tickets are priced based on your location inside the theater. So the closer you are to the stage, the more it will cost. For instance, a preferred ticket will cost more than sitting in the reserved section.
On most nights, tickets start around $60 and go up to about $110. There are nominal fees, though, like processing and service fees added to each ticket's cost.
Now, when you're looking at ticket options, the theater seems pretty big. Because of this, you might get concerned that some seats will be too far away.
I had the same worry, but I was pleasantly surprised when I arrived. The theater was smaller than I expected. And looking around, I couldn't find a bad location.
So no matter where you get seats, you should still have a great view. Plus, Mat's crew does a ton of video work, so even if you're in the back, you'll be able to see the acts close up on the screen.
Where Are The Best Seats?
Most of the seating at the show is bar stools. They're pretty comfortable, as they have a decent amount of padding. Some seats also have a table in front of them. These are great if you want a place to put your drinks or belongings.
The best seats in the house are in the first few rows of the theater. Here you'll find plush, oversized chairs and booths. So if you want to see the production in luxury, these are worth checking out.
Overall, if I had to make a seating recommendation, I'd say anywhere in the preferred or premium sections are fantastic.
What's The Show Like?
You may already know of Mat Franco and his magic from America's Got Talent. He won the whole show in 2014! But in case you haven't heard of him, he's unlike any other magician in Las Vegas.
Not only is he self-taught, but he's super laid-back and will change things up as he goes. He also involves the audience in his acts which creates a lot of unplanned comedic moments. This guarantees that you'll never get the same show twice!
Mat tells personal stories throughout his performance as well. So you'll get to hear all about how he started as a youngster and would practice every day, recording himself on VHS. You'll even get to see him trying to turn a bird into a glove at just 14 years old.
But what'll likely surprise you the most is how funny Mat is – he's a serious hoot! He had me laughing almost the entire time.
Magic Tricks
The following are just a few of my favorite acts from the night I went. In addition to these, you'll also get to see a cell phone disappear and a guest win a lifetime supply of Top Ramen. And Mat uses his masterful storytelling skills to take you on a hilarious pub adventure.
Additionally, Mat debuts his newest trick that he came up with during the shutdown. He had a lot of time on his hands and wondered if he could make something that was already invisible disappear. So get ready to see how he makes two unseen things trade places!
3 Card Monte
First of all, never play 3 Card Monte because you'll lose. Unfortunately, though, Mat plays this game anyway, so you won't have much choice in the matter. But, who knows, maybe you'll be the one to finally find the queen of spades!
Basically, for this trick, all you have to do is follow the queen's location as Mat moves it around the table. There are only three cards in total, making it seem easy enough. But, I assure you – it's not. I got it wrong every time.
Mat even gives you another chance and makes it much easier to follow with bigger playing cards. So you're sure to find it this time!
Special Toast
Next, Mat performed my favorite trick of the entire night. Unfortunately, I don't remember the name of it, so I'm just going to call it "special toast" for now. But, of course, this one's my favorite because it involves wine!
So, with this trick, Mat starts with an empty glass and a wine bottle. He then says the magic word, and the glass and bottle switch places! He does this many times and even pours a drink that mysteriously moves around the table too. And then somehow, by the end of the act, he's made all these wine bottles appear out of nowhere!
This trick will absolutely blow your mind. I have no clue how Mat did it, and I still think about it today. I just wish he would've invited us up on stage to help him drink it all!
Hankie & Egg
For this illusion, Mat teaches YOU how to do it! So you'll get to learn a new magic trick that you can practice at home and show to your friends and family. This educational component was a fun change of pace during the show, and the kids especially loved it.
Take good notes here if you want to remember the steps. But essentially, Mat will teach you how to turn a blue handkerchief into an egg. You'll also need a second blue cloth (you'll find out why when you're there). And you'll learn all about using misdirection in your act too.
FAQs: Magic Reinvented Nightly
The following are some of the most frequently asked questions about Magic Reinvented Nightly.
Is Mat Franco OK for kids?
Yes! In fact, I can't think of a better production to take kids to in Vegas. There was nothing inappropriate, and it was all good, clean fun. Mat also goes out of his way to make children feel welcome. And, when I was there, he even selected a child from the audience to assist with his final act.
The kiddos will love participating in the card shuffle that happens at the end of the night too. Cards will fly all over the theater, and they can help pick up the cards and put them back in the nets.
Or you can do what I did and keep the cards as a souvenir. I even picked up a straight and didn't know it. What are the odds?!
Are There Any Age Restrictions?
Kids must be at least five years old to see Mat Franco's Las Vegas show.
What's The Dress Code?
The venue is pretty open with its dress code. So if you want to wear casual attire, that's perfectly acceptable. Or you're welcome to dress up too.
I'd say that when I went, about half of the audience wore dress clothes, and the other half kept it casual.
How Long Is The Show?
Mat's show lasts for approximately 80-90 minutes or roughly 1.5 hours. So you'll definitely feel like you're getting your money's worth!
I can't say the same about V The Ultimate Variety Show, though, which is also a good production but only lasts about an hour.
The magic show starts promptly, too, so please don't be late! You don't want to miss out on all the fun.
Is Mat's Show Really Reinvented Nightly?
Yes! Although the tricks are pretty much the same, the ending is always different because of crowd participation. For instance, there's some improv in his acts, as Mat never knows what someone will say in advance.
And the reinvention part of the show comes at the end of the night. So after a card "explosion," he recaps everything that happened. It's pretty incredible to watch as he lays out cards that have been randomly collected throughout the theater. And then somehow tells the story of the entire night, connecting the cards back to the guests in the audience.
Other Tips
Here are a few tips that might be helpful when seeing Mat Franco at the LINQ hotel.
Volunteering for magic tricks
At the show, Mat only selects audience members that want to volunteer for the acts. So if you'd like a chance to be part of the magic, make sure you raise your hand high so he can see you. And if you'd prefer not to assist with any tricks, keep those hands down.
Now, this is just my observation and what happened at the show I went to, so I can't say if this will be the case at yours. But I noticed that audience members in rows closer to the stage were often chosen for magic tricks.
So, if that's true, it may be worth getting tickets in the preferred or premium sections. But, again, it's only a guess. I'll have to go back a few more times and let you know!
Photos & Videos
As it seems to be the case at all magic shows in Las Vegas, you can't take any photos or videos. I assume they have this rule because you might figure out the tricks! But whatever the reason, it's not allowed, so you'll need to put your phone away during the show.
But, if you'd like to take some photos or videos before or after, that's perfectly fine to do.
Restrooms
In Mat Franco's theater, getting to the bathroom is easy. So if you're at your seat, all you need to do is go back out the same way you came in and turn left before the bar.
You'll find men's and women's restrooms with plenty of stalls and sinks at the end of the hall on the right.
Even better, you won't need to get in any lines or have your ticket ready for re-entry.
Beverages
You're welcome to get drinks at the theater's bar and bring them into the venue with you. You'll find the bar just outside the theater's main entrance.
Comfort Measures
In terms of air conditioning, it's a bit cold in the theater. At least it was when I was there, and I went in May. So you might want to bring a jacket or sweater with you. Many women wore dresses or shorts and tank tops when I went, but I was freezing in jeans and a long-sleeved shirt!
The theater's bar stools also weren't super comfortable, but that seems to be the case at most Vegas shows. If you want softer and more comfortable seating, check out the booth tickets or chairs in the premium section.
LINQ Dining
Mat's production isn't a dinner show, so you can't eat during the performance. But, the theater is conveniently near the LINQ Promenade, which is home to some excellent eateries.
A couple of my favorites are Yard House and In-N-Out burger. There's also a Ghirardelli ice cream shop for a treat after the show. Or if some comfort food is what you're after, check out Hash Hash A Go Go on Level 2 of the LINQ Hotel and Casino. You've never seen portions like these!
Conclusion
So, overall, the Mat Franco production is a definite must-see! I'd give it five out of five stars.
And as I was leaving the theater, I heard many guests agree, saying that the show was mind-blowing and spectacular. I even talked with a family who had come back to see it for a second night. And interestingly, they got called up on stage!
Magic Reinvented Nightly is so good that it's been voted "Best Magic Show" twice by the Las Vegas Review-Journal. It's also one of the top family-friendly productions in town, so it's a fantastic choice if you have kids (over the age of five).
That said, if you've been a Mat Franco fan since his days on America's Got Talent, you may see a few familiar tricks. It's still worth going and seeing live, though, in my opinion.
And then, if I can offer one last piece of advice, if you get called up on stage, please remember your card. The tricks work a lot better that way!
Trust in the impossible.

Mat Franco