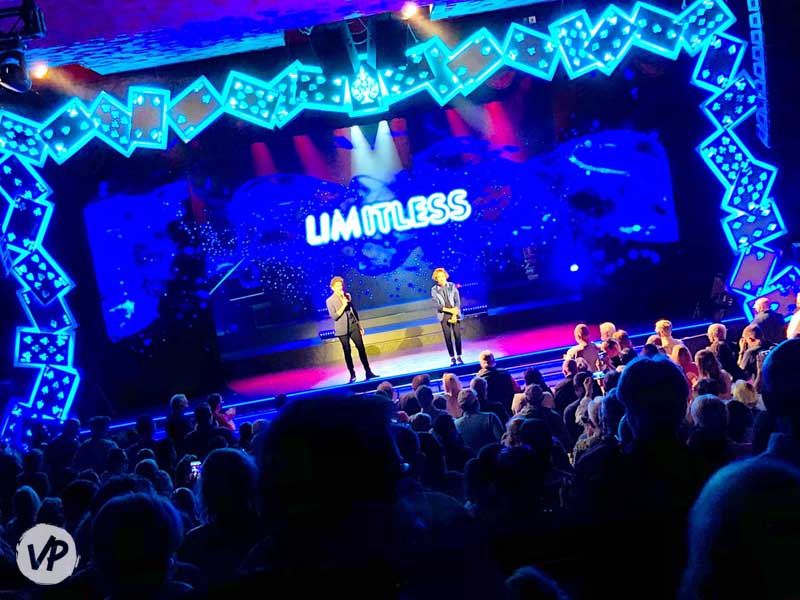 I write about things I love to do in Las Vegas. If you click a link and make a purchase, I may receive a small commission, which helps to support my work. Learn more
Are you thinking about getting tickets to see Shin Lim? But you're on the fence about going? Well then, this review is for you!
Shin Lim may just be the best card magician ever. And his Vegas show features him doing all card tricks. So if you're not into close-up magic, you might want to pick another show.
But if you want to be blown away by sleight of hand and see the only person in the world to win America's Got Talent twice, keep reading.
Oh, and there's another surprise during the performance too. You won't just get to see one magician, but two!
About Shin Lim
Although Shin was interested in magic at a young age, his life goal was to become a concert pianist and play for people every night.
But he got severe carpal tunnel syndrome in college, which ended his piano career. So he put all of his attention and time into magic instead.
In 2015, he went to FISM, the world championship of magicians, and became the world champion in close-up card magic. Then, in 2018, he appeared on America's Got Talent and won the show. He was invited back a year later for AGT's Champions and won that too!
Shin's piano experience has influenced how he performs magic. You'll notice that his illusions are choreographed to music, and he rarely speaks during his acts. This gives a mysterious quality to his artistry.
Colin Cloud
Colin Cloud's magic lies in his mentalist capabilities. And he may just be the closest thing to a real-life Sherlock Holmes that you'll ever see!
Growing up in Scotland, Colin often compared himself to the famous detective and was inspired by Sherlock's ability to observe and predict human behavior.
Colin wanted to be just like Sherlock when he grew up, so he studied forensic science and became a criminal profiler. But after some time, he gave it all up to pursue his love of magic. And he's been quite successful at it too.
His psychology background helped him make it to the semi-finals of America's Got Talent Season 12. And he was even on the Champions show with Shin a few years ago.
Cloud's a guy who can ask a series of questions and determine a person's most embarrassing moment, what they ate for dinner, or even the name of their first pet. But watch out; he also knows your deepest and darkest secrets!
Where Does Shin Lim Perform In Las Vegas?
The Shin Lim Limitless show is at the Mirage Theatre inside The Mirage Hotel. The address is 3400 S Las Vegas Blvd Las Vegas, NV 89109.
Directions To The Mirage Theatre
Getting to the theatre is a pretty long walk through the hotel!
So, if you're getting dropped off at the main valet (which is also the Las Vegas Blvd entrance), you'll go past two mermaid statues. Then, you'll walk through the Atrium and take a right. The Atrium features waterfalls and lots of foliage, so you can't miss it.
Next, take a left to walk through the casino floor until you get to the Retail Promenade. Once there, continue straight until you see Roasted Bean. Take a right here and walk past the men's and women's restrooms. The theatre will be ahead on your right.
If you're self-parking in the Mirage parking garage, enter the hotel and take a right after the check-in area. Go through the Atrium and follow the directions above.
Show Dates & Times
Limitless runs on Mondays, Thursdays, Fridays, Saturdays, and Sundays. Currently, there's only one showtime each night, and that's 7:30 pm.
2023 Non-Performance Dates
Tuesdays & Wednesdays
Aug 15-23
Oct 24-31
Nov 18
Dec 5-20
Theater Information
The Mirage Hotel's theatre is massive. And it's just like being in a movie theater, too – right down to the seats. You can even buy drinks and popcorn before the performance. But, I should warn you, it smells so good that you'll instantly be craving popcorn!
Once you're ready to take your seats, you'll get in line to have your ticket scanned. Then you'll go up the escalator to the theatre. And a door host will direct you to your seat.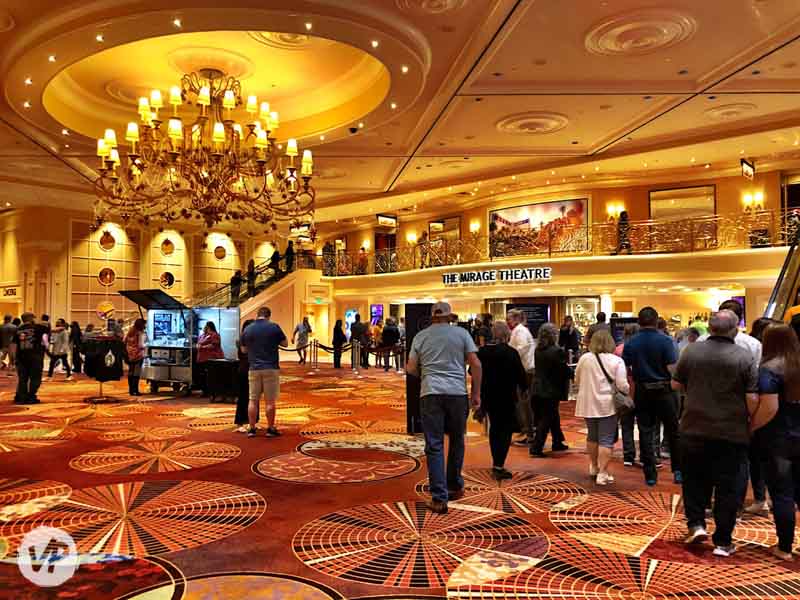 What Are The Seats Like?
Almost all of the seats are movie theater-style. There are a few seats like dining chairs, though, in the back of the theatre. These are in row P, and they're great if you'd like more space for your group or want convenient in and out access.
Overall, the seats are comfortable and have a nice cushion. The legroom is okay. I'd like more, but it's decent compared to other Las Vegas shows.
You'll also have armrests (although you'll share those with the people next to you) and a cup holder for your drinks too.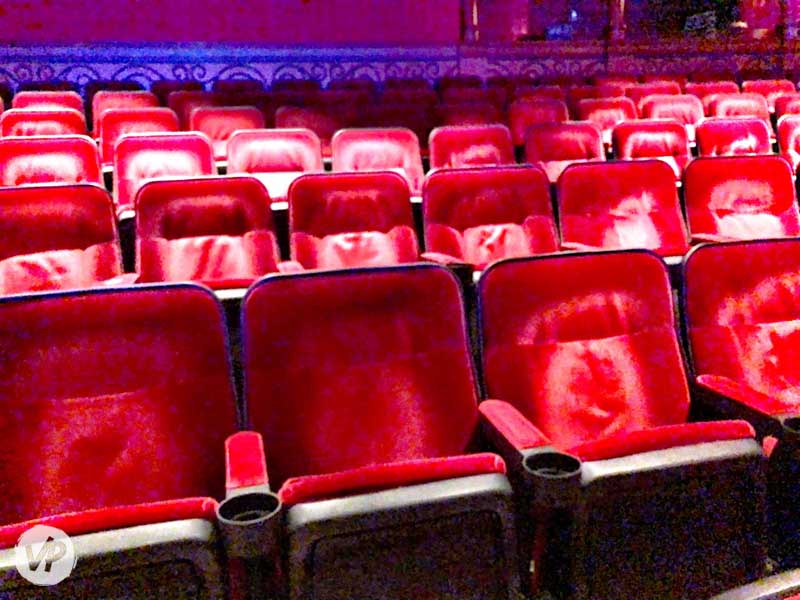 I will say that the seats are pretty narrow. So if you don't select an aisle, expect it to feel like you're in the middle seat on an airplane.
Additionally, there are so many seats in each row that it's pretty difficult to leave during the performance. So if you need to use the restroom or want beverages or food, it's best to get that taken care of before you sit down.
Shin Lim Tickets
Like most shows, tickets are priced based on your proximity to the stage. So the closer you are to the performers, the more it'll cost.
On average, tickets for the Shin Lim show start around $45 plus applicable taxes and fees. But prices can always fluctuate based on demand.
There are also VIP tickets that include a post-show "meet & greet" and a complimentary photo. With these, your seats are centrally-located and typically within the first few rows of the stage.
When you're purchasing tickets, you'll see that the theater is divided into three sections: 101, 102, and 103. If you're facing the stage, section 101 is on the left, 102 is in the middle, and 103 is on the right side.
Seating in sections 101 and 103 are at an angle. So if you want a straight-on view of the stage, I recommend purchasing tickets in section 102.
In my opinion, seat selection is pretty important at this production. And that's because the theater is HUGE, and the view from the seats varies considerably.
To give you a better idea of just how big it is – there are over 1,100 seats in the theatre!
Additionally, Shin Lim's magic is all card tricks, so everything he does is shown on the theater's screens. For instance, there's one screen at the front and two more to the right and left sides.
Even with the tricks on the screen, I felt it was challenging to follow from where I was sitting. (For reference, my seats were Section 102, Row H, 11 and 12.) Shin also spoke softly, making it somewhat hard to hear and understand him.
So because of these reasons, if budget isn't an issue, I'd reserve seats closer to the front. I think you'll have a much better experience from there.
Colin Cloud Tickets
With a Limitless ticket, you'll also get to see Colin Cloud. So you don't need to purchase additional tickets for him as he'll be performing throughout the night too.
Best Seats
Because it's a big theater, it's worth paying up for seats that offer a better view. So any tickets that are close to the stage in sections 101, 102, and 103 are great, in my opinion.
The further back you go, the harder it is to see the card tricks and the more challenging it is to hear Shin speak.
Overall, I think any seats in section 102 and row H or lower are good. For example, section 102, row D would be an excellent location. From here, you'll have a direct view as they're in the middle of the theater.
Also, seats in sections 101 and 103 that are close to the main aisles will offer a similar viewing angle to 102. So I wouldn't hesitate to get tickets in this area either.
What's Limitless Like?
The Limitless production features rotating acts from Shin and Colin Cloud. And their magic couldn't be more different!
The real-life Sherlock Holmes is vibrant and full of life, always involving the audience with his mentalist feats. And all of Colin's acts are a demonstration of his uncanny mind-reading ability.
In contrast, Shin focuses on close-up card tricks choreographed to music, so you'll rarely hear him speak. As a result, his illusions feel dramatic and mysterious.
Where Shin specializes in sleight of hand, what I do is more sleight of mind."

-Colin Cloud, America's Got Talent: The Champions
So even though they're seemingly incompatible magicians, the show is phenomenal with the pairing. And it helps to keep the show moving along with some much-needed variety. It would be hard to carry an entire performance with just card tricks, or mind-reading, for an hour and a half!
Video: Watch Shin Lim & Colin Cloud On AGT
Magic Tricks
Four Card Shuffle
Now, I don't know the exact name of this trick, so I'm just going to call it a "four card shuffle." This illusion happens at the beginning of the night with Shin. And everyone in the audience gets to participate.
Trust me when I tell you – you don't want to miss this trick. So please get there on time. It's so good that Limitless could've ended after this act, and I would've been satisfied!
So in your cup holder, you'll find four playing cards in a plastic bag, and every seat has a different set of cards. (I also confirmed this by checking the chairs around me before the show started.)
Shin will ask you to take out the cards and tear them in half. Unfortunately, my grip strength is terrible, so if you're like me, you can ask a neighbor to assist you.
You'll then get to shuffle the cards and throw some around in the theater. And essentially, the trick involves finding a matching card, and I'm just going to leave it at that! 🙂
But what's mind-blowing about the trick is that it's all free choice, and everyone is making a different decision. Yet somehow, everyone comes up with the same result. So let me know if you figure out how to do this illusion because I'm still stumped!
Clue: Solve A Mystery
With Colin, you'll get to play an adaptation of the classic game, Clue. And he'll need your help to solve a crime. Here again, everyone in the audience gets to participate. So get ready to yell and shout during this whodunit caper!
When I went, Colin invited a child on stage to assist him with this trick. His name was Sawyer, and Colin asked him to think of any object in a store.
Then, Sawyer got to choose someone from the audience. He selected a woman, and Colin asked her to pick her favorite city or place she's always wanted to go.
Next, Colin asked everyone in the audience to shout their name all at the same time. And Sawyer picked the one that stood out most to him. Honestly, I was impressed he could hear one. I couldn't make out any name with all that yelling!
So did John steal a bag of Doritos in Dallas? And did Colin know that before the game even started? And what does a refrigerator have to do with the crime? I guess you'll just have to attend the show to find out!
Other Acts
When Shin's on stage, you'll also witness entire decks disappear and cards that change suits. And you'll see him pull playing cards out of his mouth in smoke. Or even change places inside a plastic bag!
Shin admits that he's not trying to deceive with his tricks. But instead, his acts are well-rehearsed sleight of hand illusions. I haven't caught how he's done any of them yet, so just going to see his artistry is well worth it.
Colin will ask you questions, have you find a word in a book, or he might ask you to hold up your hands. Then he'll tell you what you do for a living, where you ate dinner, and what date you were born. I left the show wondering if Colin was even human! He's THAT good.
FAQs: Limitless
Here are some of the most asked questions about Shin's Limitless show in Las Vegas.
How Long Is The Show?
The production is pretty long! It's 90 minutes (an hour and a half). So you'll feel like you're getting your money's worth here.
I kept thinking the show would end, but it just kept going. It almost felt a little too long to me, like one trick too many, but I'm probably the only person that felt that way. Everyone else seemed to enjoy every minute of it!
Are There Any Age Restrictions?
Yes, children need to be five years of age or older.
Can You Take Photos And Videos?
You're welcome to take photos at any time before or after the show. Also, towards the end of the production, Shin will let you snap a few pics during one of his illusions.
At all other times, though, the theater won't allow any pictures or video.
Where Are The Restrooms?
The Mirage Theatre's restrooms are enormous! So I can pretty much guarantee that you won't have to wait in any lines.
Unfortunately, though, they're not inside the theater itself. So if you need to go during the show, you'll want to head back out the main doors and down the escalator. Then, take a left off the escalator, and the restrooms will be ahead on your right.
Are Beverages And Food Allowed?
Yes, you can eat and drink during the show. There are cupholders at each seat to hold any beverages too. And the popcorn is so good you won't want to miss out on enjoying some during the show. Just be sure to buy the popcorn before the show starts.
What's The Dress Code?
You can pretty much wear whatever you'd like to Shin Lim's show (within reason, of course). So you're welcome to dress up or come in more casual attire.
Are Souvenirs Available For Purchase?
Yes! If you get to the show early, a photographer goes around the theatre and takes photos. He'll come to you in your seats and take pictures of your entire group.
And then, after the show, you can stop off at the photo stand and take a look at them. They're all printed out, too, so you can buy any pictures and take them home with you.
There's also a pop-up souvenir shop where you can get t-shirts and posters.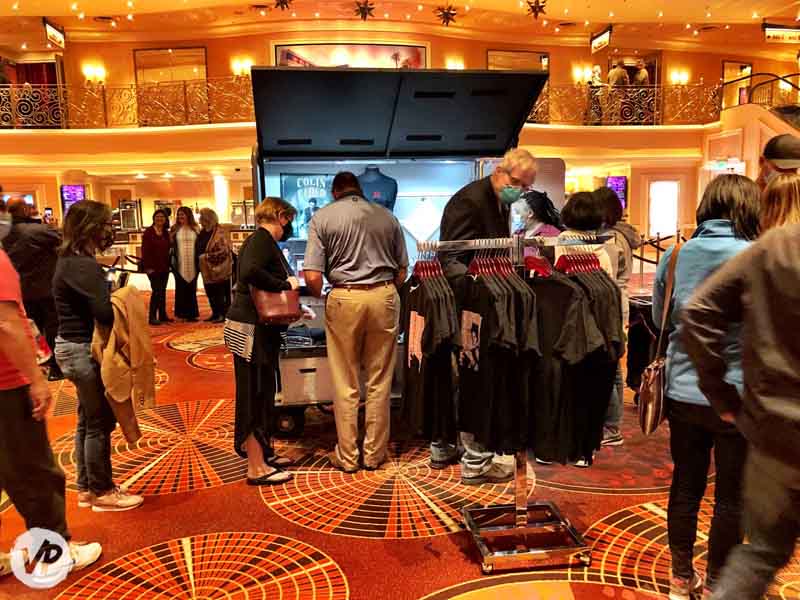 Can You Meet Shin Lim?
You can! You'll need to buy a VIP ticket, though, for an after-show meet and greet experience. And, of course, you'll get a free photo with Shin and excellent seats during the show too.
Can You Buy The Magic Tricks?
If you're impressed with Shin's illusions, you can purchase them! For instance, you'll get to see "52 Shades of Red" during the show, and if you like it, you can buy the trick on Shin Lim's website.
I would want a trick for myself as an adult, but this is a fun idea for kids. And it's especially great if you're taking them to see Shin Lim while in Vegas. Getting to learn an illusion is such a fantastic way to remember their show experience!
Unfortunately, I didn't see any tricks for sale when I went. So if you want to get some, you'll need to head over to Shin's site and see what's available there.
SHIN LIM in VEGAS
Get Your Tickets Now
Thanks so much for checking out my review! If you've found it helpful, I'd greatly appreciate your support. The button below is my affiliate link where you can get tickets. It doesn't change the price you pay, but it helps me to keep making content. So thank you if you do!
Conclusion
Overall, I thought Shin Lim's production was excellent and worth getting tickets. However, at times, I did find it hard to follow what was happening on-screen during the card tricks.
But that was likely due to where I was sitting rather than everyone in the audience having that experience. I'm sure closer up would have been even more mind-boggling.
My favorite card trick was the first one that Shin performed. So make sure you get there on time! It'll blow your mind, and you get to participate in the illusion too.
I also really enjoyed Colin Cloud. He was the biggest surprise for me. I had no idea I would get to see two magicians during the show, and his larger-than-life personality made Limitless so much fun.
The magic duo works incredibly well together. And I loved how Shin and Colin mixed up the acts. It kept the show interesting, and you never knew what would happen next.
So if you're on the fence about going, I wouldn't miss out on seeing Shin and Colin. It was an enjoyable night!
---