I write about things I love to do in Las Vegas. If you click a link and make a purchase, I may receive a small commission, which helps to support my work. Learn more
Are you considering attending the Tournament of Kings and want to know what's for dinner? Or maybe you're wondering – is the food any good?
I went to the show a few days ago, gathered all the menus, and taste-tested the meals for you! So in this guide, you'll see every food option and learn how to make special dietary requests.
I'll also share the *unpublished* drink menu and give you my dining review. Now, let's raise our tankards and get started!
Before I cover the menus, here are some important things to know about eating at the Tournament:
All meals include your choice of a complimentary soft drink: Pepsi, Diet Pepsi, or Sprite. If you don't want soda, you can get water (it's tap, though, and not bottled).
The production takes place during King Arthur's time in the medieval era. And apparently, people didn't use utensils back then. So to keep things authentic, you'll also eat with your hands. Don't worry; there are wet napkins at every seat.
Cocktail servers are in each section. So if you want an alcoholic (or non-alcoholic) drink, you can buy them before and during the event.
Tournament of Kings Regular Menu
The Tournament of Kings regular menu is nut-free and peanut-free.
Roasted Seasoned Cornish Game Hen
Lemon Pepper Roasted Red Bliss Potatoes
Corn on the Cob
Apple Square
Dinner Roll
This is a photo I took of my meal (regular menu) while at TOK:
Special Meal Requests
Unless you make a special meal request, you'll get the food on the regular menu. Currently, the venue offers three alternative menus. These include gluten-free, vegetarian, and children's.
Unfortunately, you can't just arrive at the Excalibur Arena and ask to see a different menu. So if you want a dietary accommodation, you'll need to notify Excalibur beforehand.
All requests must be made at least four hours in advance of showtime. So for the 6 pm show, your request needs to be in by 2 pm, and for the 8:30 pm show, by 4:30 pm.
Gluten Free
Roasted Seasoned Cornish Game Hen
Lemon Pepper Roasted Red Bliss Potatoes
Corn on the Cob
Fresh Fruit
Vegetarian
TOK's vegetarian menu is also vegan, dairy-free, nut-free, and peanut-free.
Pasta with Marinara
Lemon Pepper Roasted Red Bliss Potatoes
Corn on the Cob
Fresh Fruit
The following is a picture I took of my friend's dinner. She requested a vegetarian plate: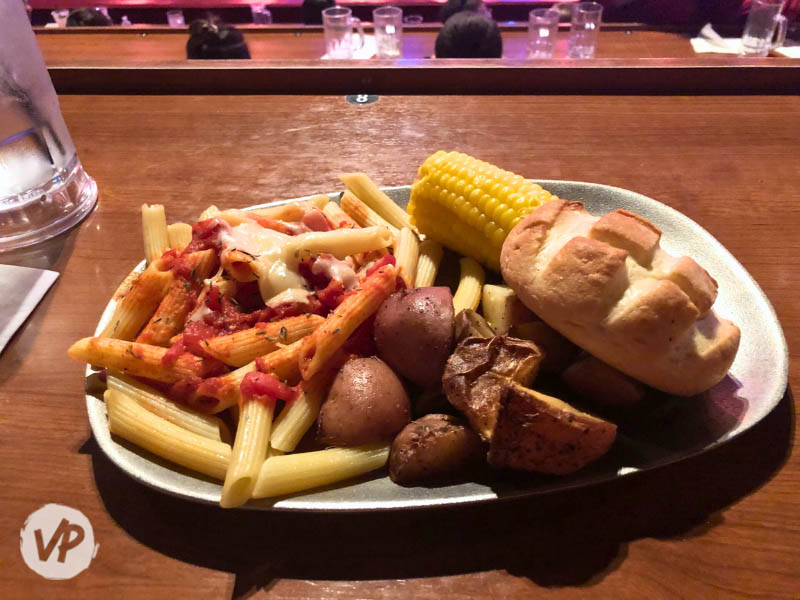 Kosher
Children
Chicken Tenders
Fries
Apple Square
Dessert
All regular dinners and children's meals include an apple turnover for dessert. It tastes like apple pie, and it's easy to eat with your hands at the Tournament of Kings.
Here's a photo of my apple square dessert:
Drink & Alcohol Menu
For guests that would like alcoholic beverages, you'll find a separate menu at your table. The venue offers a great selection of specialty cocktails, wine, beer, and Jello shots.
And if you don't drink, the frozen beverages are also available in non-alcoholic versions. I recommend getting the virgin Strawberry Daiquiri – it's super tasty!
When I went, beer was around $11, wine was $12, and cocktails were $18. But keep in mind that prices and offerings are subject to change.
Here's a photo I took of the drink menu at the Tournament:
My Tournament of Kings Food Review
I don't know what it is with me and low expectations, but I wasn't expecting the food to be that good. It turns out, though, that I was pleasantly surprised.
The chicken at Tournament of Kings was actually delicious! It was tender and came out hot. And I didn't have any difficulty eating it with my fingers.
I enjoyed the chicken the most of all the items. But the potatoes were a close second, followed by the apple square. Of course, I ate all of that!
My friend got a vegetarian meal. And even though we reminded our server about it when we arrived, she was still given the regular dinner. Not a huge deal, as our server swapped it out within a couple of minutes.
But then my friend's pasta came out cold. (I assume that's because it was a special request instead of a regular meal.) I tried the pasta, which was still good, but it would've been so much better warm – especially with the melted cheese!
We weren't sure how far they'd take the "no eating with utensils" rule, so she ate the pasta with her fingers. However, the server brought her some silverware a few minutes later. So they have utensils in the back – if you'd prefer not to eat with your hands. 🙂
And then lastly, we noticed that the venue might substitute menu items. For instance, my friend's vegetarian meal was supposed to come with fruit, but she didn't get any. She did receive an apple square for dessert instead, though, which she was very happy about!
Dinner FAQs
Does Tournament of Kings come with dinner?
All tickets purchased online include dinner with the show. And unless you request a dietary accommodation or a kid's meal, you'll get the food on the regular menu.
However, if you prefer not to eat at the show, the box office has dinnerless admission for their 8:30 pm showtime. These tickets are unavailable online, so you must visit the box office to purchase them.
I don't recommend the non-dinner tickets, though. And that's because eating with King Arthur and his Knights is a big part of the experience.
Do people dress up for Tournament of Kings?
Most people dress casually – in jeans and a T-shirt or even shorts. A few guests on the night I attended wore Merlin costumes. So feel free to come in medieval attire if you'd like.
But if you're going to dress in costume, I recommend checking with the box office before you arrive. And that's because some Las Vegas venues have restrictions on what guests can wear.
What time is the food served?
The Tournament of Kings dinner is served at the beginning of the show. So for the 6:00 pm showtime, the plate was at my seat by 6:05 pm.
I also noticed that the server started in the back of my section and then worked her way down to the front row. So if you want to be one of the first to eat, check out tickets in rows C, D, or E.
see the ultimate battle
Get Your Tickets Now
Thanks for checking out the TOK menus! If you'd like to help support my website, you can get tickets by clicking the button below. Buying through my link is at no extra cost to you, but it helps me to keep creating content. So thank you very much if you do!
My Final Thoughts
I got tickets for the 6:00 pm show, and I thought the food served during this showtime was excellent. The chicken was perfectly timed to come out hot!
Honestly, I wasn't sure if I'd enjoy the performance, but I ended up LOVING it. It's rowdy and fun, and feasting with the King makes you feel like you're a guest at the Round Table.
I can't say enough good things about this production. It's one of my favorite Las Vegas shows ever! So if you're wondering if you should go – I'd say TOK is a can't-miss event!