I write about things I love to do in Las Vegas. If you click a link and make a purchase, I may receive a small commission, which helps to support my work. Learn more
I saw the Tournament of Kings last weekend and had a fantastic time. Honestly, I was surprised by how much fun it was!
But I do have one regret about going, and that's where I sat. Although I had a great view, my experience differed from guests seated in other lands.
So in this guide, I'll share where the best seats are and show you pictures of the views from each section. And then, at the end, I'll tell you the locations I'd avoid.
Table of Contents

[Hide]

[Show]
About The Excalibur Arena
The Tournament of King's Theater transports you to the Medieval era with King Arthur and his knights. With over 900 chairs at long rectangular dinner tables, you'll eat while enjoying the show.
Perhaps the venue's coolest feature is the all-dirt stage for the horses and competitions. But there's also a beautiful castle where a lot of the action happens.
Where you sit will determine the knight you'll cheer for during the games. But not all locations offer the same amount of participation. So choosing a "good" country is essential to maximizing your fun.
Seating Chart
Tournament of Kings offers eight seating sections, each representing a different land. For instance, there's Ireland, Romania, Norway, Spain, Austria, Hungary, Dragon, and France.
And unlike most shows in Las Vegas, every chair within each area is priced the same. So the amount you pay for a ticket won't change if you're sitting in the front or back row.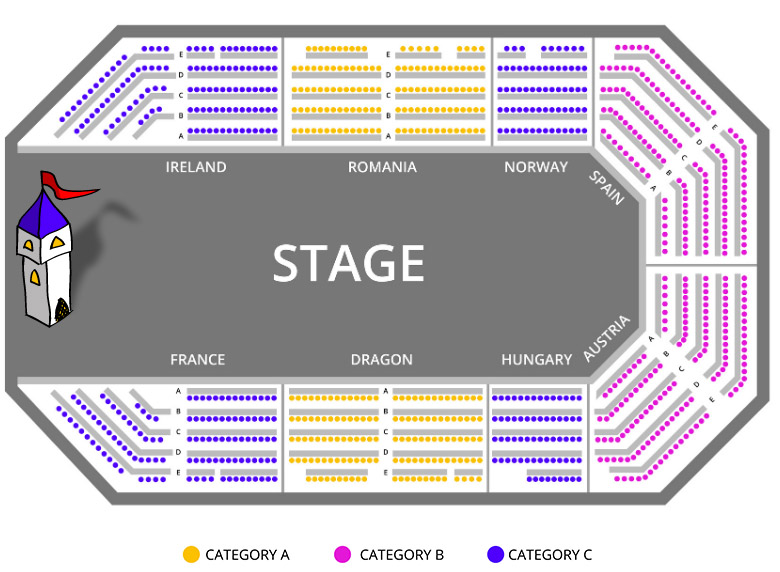 But as my seating chart shows, each country is assigned a price based on its viewing angle of the castle. And also on the section's proximity to the action on the main stage.
Category A: $$$
Category B: $$
Category C: $
Sections & Views
It's about more than choosing a location with a great view at the Tournament of Kings. You'll also need to decide on the experience you want. For instance, some spots will have you rooting for good, while others will put you on the side of evil.
In this next part, I'll help you determine the right spot for you. And I'll share my photos to give you a better idea of the views you can expect in each ticket category.
Ireland
Sitting in Ireland, you'll have a great view of the shenanigans at the palace. And you'll still be able to see everything happening in the middle of the theater too. But it's harder to see the cast when they're at the opposite end, near Spain and Austria.
Like most of the other countries, Ireland has two seating areas. One is at an angle and almost parallel to the castle, while the other is next to Romania.
View From Seat: Ireland
Here's a photo I took from the back of Ireland, row E, at about seat number 7. This is a Category C ticket:
Romania
Romania is one of my favorite locations at the Tournament of Kings. And that's because tickets here are in the middle of the venue.
So not only will you have a fantastic view of the Round Table and the games, but you'll also catch the action at both ends.
I also like this section because it's the closest to the entrance – making getting to your seat fast and easy.
View Examples: Romania
All chairs in Romania are Category A tickets, the highest-priced option. The following photo shows the sightline to the middle from Row D:
And this is the line of sight from Romania's row A at about seat number 2:
Norway
Seats in Norway are Category C – the lowest-priced option available. And that's because of Norway's location in the theater.
By sitting here, you'll need to turn your head for most of the show to see what's happening in the center and at the castle.
But, towards the end of the night, a pretty incredible fight scene occurs in front of this section. So with a Norway ticket, you'll have one of the best views to witness this battle.
Photo Example: Norway
The following photo shows what the view is like from Norway, seat 4, in row D:
Spain
Spain is at the opposite end of the theater from the castle. And the seats in this section are all Category B, making them mid-price tickets.
I like this section because it provides guests with a mostly straight-on view. So you won't have to do much head turning because everything takes place in front of you.
But I did notice a small stage set up near Spain and Austria at the show I attended. And because of this, the cast and horses couldn't get as close to the audience in this part of the arena.
So although looking straight ahead while eating is a big positive, you'll be a tad farther away sitting here.
Sightline Photos: Spain
Here's a photo I took showing the perspective from Spain in row B at about chair number 24: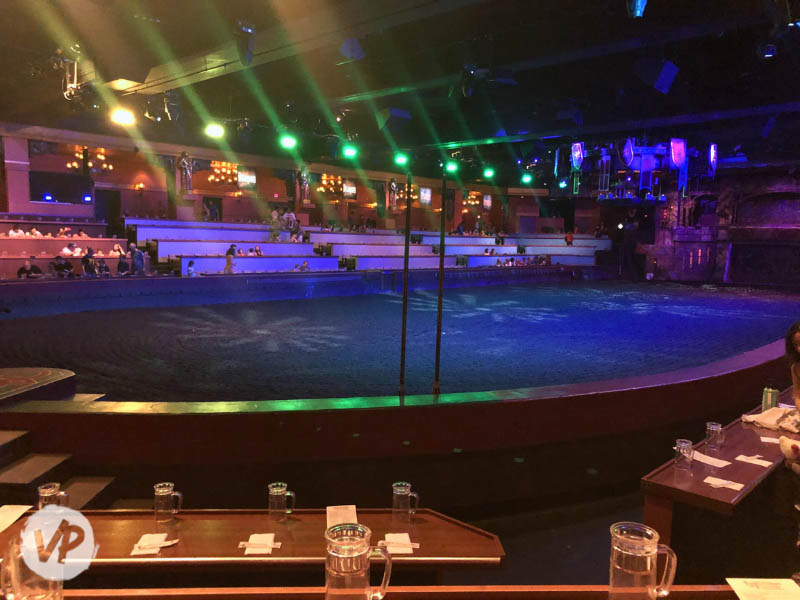 And this is the line of sight from Spain, row A, at approximately seat 7:
Austria
Austria is situated next to Spain, so it's also opposite the Excalibur palace. Once again, most seats here will have you facing forward, giving you a direct view of the action.
My favorite feature of this section is its exciting perspective on the horse races. You'll get to see them galloping straight at you during the games!
All chairs in Austria are category B, so they're the middle-priced option.
Example photos: Austria
To give you a better idea of the view from Austria, here's a picture from row E, at roughly chair number 32: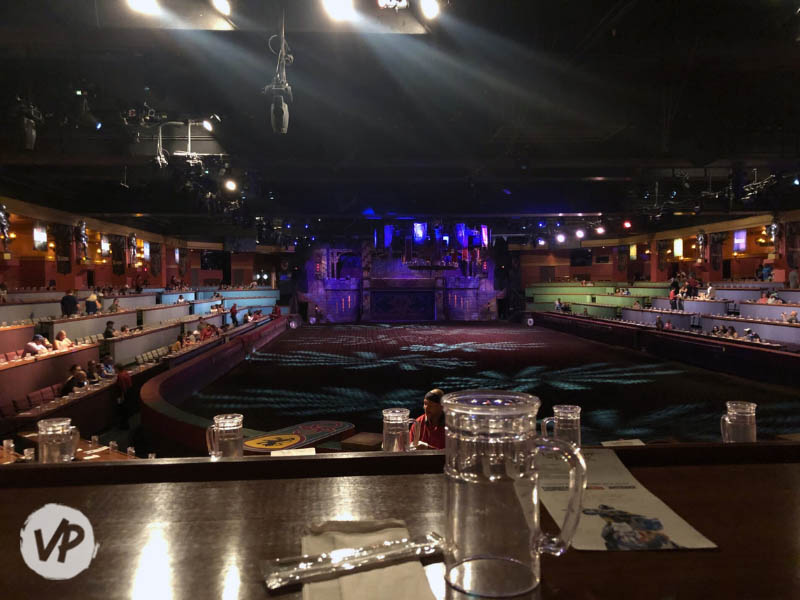 And then this next photo is also in Austria, row B, at about seat 5. As you can see, it's more at an angle than the photo above, but you'll be closer to the horses and performers here:
Hungary Tickets
Hungary is directly across the stage from Norway. Seating here is all Category C, the cheapest ticket option. And that's again due to the viewing angle, as most of the show will take place to your left.
Although this zone features the lowest-priced tickets, it's still a decent location. For instance, you'll be close to the finish line for the races. And, like in Norway, you'll have one of the best views of the final battle scene.
View example: Hungary
Below is a photo I took standing in the Hungary section. This is from row C, seat 2, looking towards the center of the theater:
Dragon
Situated in the middle of the Excalibur theater across from Romania is the premier location of Dragon. And it's the section I chose when I attended the dinner show.
In this area, you'll have a fantastic view of the tournament and the feast at the Round Table. You also won't miss out on seeing what happens at the palace, as you'll be at the optimal viewing distance.
Being this centrally located, though, comes at a higher price. But not by much – you'll only pay a few dollars more for Category A.
Dragon View Photos
The following photo shows the view from the first row (A) of Dragon at seat number 1. As you can see, this location offers a fantastic vantage point of the castle:
This next photo is the sightline to the center of the Excalibur arena from my seat in row C at chair number 8:
France
France is next to the Tournament of Kings' castle. And similar to Ireland, there are two seating areas here – an angled and non-angled section.
If you're sitting in the non-angled part, you'll be able to see the actors when they're performing at the castle. But in the angled zone, seats closest to the palace are almost parallel or even a little behind it.
France Photo Examples
Here's the perspective from the non-angled area of France. I took this photo from row C at number 20:
And this is the line of sight from a chair in the angled part – row E, at about chair 12. There's quite a big difference in the viewing angle between this photo and the one above.
Las Vegas Show FAQs
Below are some of the most asked questions guests have about TOK in Las Vegas.
Where is the best place to sit in Tournament of Kings?
My choice for the best place to sit is Romania. And although I prefer rows A through C, any location in this section is excellent and will offer a phenomenal view.
Sitting here, you'll be able to see everything that happens in the middle of the theater and at both ends. But perhaps most importantly, you'll be on the good guys' side, so you'll have a knight to cheer for during the games.
I also like this zone because you won't have to wait in line to leave the arena as the exit is directly behind you. And you'll be close to the souvenir stand, too.
What seats offer the best value?
A few tickets in Norway, Hungary, Ireland, and France offer tremendous value. And that's because some chairs in these sections border the highest-priced category.
So if you can find tickets close to Dragon or Romania, it'll be almost the same view as getting a category A. But you'll only be paying a category C price.
For instance, I like chairs 1 through 4 in rows A-D in Hungary and Ireland. And in Norway, 11 through 14 in rows A-D are also excellent.
France's chair numbers are done differently. So any of the first four seats in rows A through E (closest to Dragon) is where I would sit.
Are there bad seats at TOK?
I don't recommend sitting in the angled seats closest to the castle in the France and Ireland sections.
And that's again because if you sit here, you'll be just about parallel to the castle or even a little behind it. So you may miss out on seeing some of the performers.
So, in Ireland, I'd skip 25-31 in row D and 23-29 in row E. And in France, I'd avoid sitting in 1-7 in rows D and E.
But the rest of the seating in these sections is decent. When I was there, it looked to me like they all had some view of the palace.
How many seats are in the Tournament of Kings?
By my count, 913 seats are inside the Tournament of Kings Excalibur Arena. The venue is divided into "lands," so you'll choose the country you want to sit in when you buy a ticket.
Here's the breakdown of the number of chairs in each land:
Ireland: 116
Romania: 131
Norway: 65
Spain: 143
Austria: 141
Hungary: 65
Dragon: 135
France: 117
Is alcohol served at Tournament of Kings?
Tournament of Kings in Las Vegas offers a large selection of alcohol. Prices start around $18 for specialty cocktails and frozen drinks. And about $12 for beer and wine.
Tournament Of Kings in vegas
Get Your Tickets Now
Thanks for checking out my TOK guide! If you'd like to help support my website, you can get tickets by clicking the button below. Buying through my link is at no extra cost to you, but it helps me to keep creating content. So thank you if you do!
My Final Thoughts: Where I'll Sit Next Time
I was genuinely surprised by the Tournament of Kings attraction. I enjoyed every minute of it and can't wait to see it again!
But as I mentioned in the introduction, I think I'll choose a different place to sit next time. Because even though my location in Dragon was pretty perfect, I wish I had sat in another land instead.
Without giving too much away, I prefer rooting for good over evil. And I would've liked to have had a knight to cheer for during the games. So if that sounds like what you'd like to experience, I recommend picking a different spot.
That said, if you enjoy cheering for the bad guys, you'll absolutely LOVE Dragon!