Are you pondering a visit to Wet Republic? Well, you're in good company. You and 20,000+ other club-goers search for information about this ultra pool every month.
A few of the reasons why the search volume is SO incredibly high is because Wet Republic is the longest running pool party in town. It's also because the day club frequently occupies the top two spots on Saturdays and Sundays thanks to its exceptional talent.
But maybe those two tidbits alone aren't enough to get you there. So let me tell you why we love Wet Republic.
The club has CALVIN HARRIS. (Really, that's probably the only thing I need to say, but I'll keep going.)
DJ Shift loves his hip-hop beats making Wet Republic the best hip-hop pool party on Fridays. (Don't worry EDM fans, you'll catch house music here on Saturdays and Sundays.)
If you're down for bottle service, Wet's cocktail servers are outgoing and friendly. Want to see for yourself? Head on over to the 'Gram and check out #babesinblue.
So, buttercup, have I convinced you to go? I thought I might've. 😉
Read also: Coronavirus Pool Party & Nightclub Update
Wet Republic MGM
What It's Like
With its clean lines and modern color scheme of linen and blue, Wet Republic is one contemporary beauty. It's also one of the largest pool parties in Las Vegas with over 54,000 SF including:
6,000 SF of pool space
Six private VIP dipping pools
2,500 SF in the club's shaded, open-air lounge
And all those pools come with a pretty impressive feature – saltwater. So you'll get a safer pool experience here, and your skin will thank you too!
Not to mention, the day club could even set a Guinness World Record for having the longest bar. Okay, maybe I'm exaggerating a little, but it would be a contender for sure. Just look at this thing!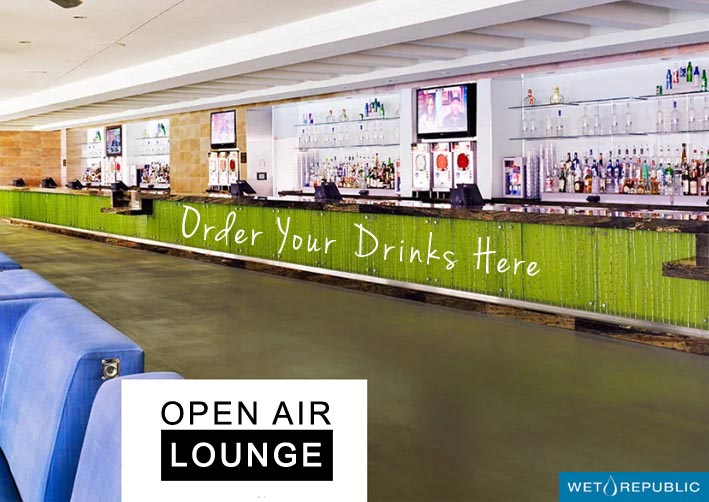 Now if all that square footage makes you worried that you won't get to see your fave DJ up close and personal, don't be. Wet Republic has you covered with their 1,200 SF LED "Wall," providing visuals for every club-goer to see.
MGM Grand Pool Party Quick Facts
Days Open: Monday, Thursday, Friday, Saturday, and Sunday
Hours: 11 am – dusk
Bottle Service: $$$ – $$$$ (weekends)
Music: Hip-hop (Fridays), EDM (Saturdays & Sundays)
DJs: Calvin Harris, Tiesto, Zedd, Martin Garrix, Steve Aoki, Chantel Jeffries, and more
Special Events: Hot 100
How To Get To Wet Republic
From MGM's main lobby, walk through the casino towards The District. (You'll also see signs overhead guiding the way to the Grand Pool complex – this is where you want to go.)
Soon, you'll pass by a plethora of restaurants and fast food spots. Ideal if you've been partying all night and want to grab a bite before heading to the pool club.
When you can't walk any further, there'll be an escalator and stairs in front of you. Head down and then outside. Enter the pool complex and follow signs to Wet Republic. The entrance to the ultra pool will be on your left.
If you'd prefer not to walk outside, you can turn right after you go down the escalator and walk inside along the Convention Walkway. Then take a left when you reach the Conference Center and exit out the doors at the end of the hallway. Wet Republic is on your left.
If you want to avoid that 10 – 15 minute walk, check out this tip.
Vegas Primer Tip: For the shortest walk to the day club, have your ride share driver drop you off in the Top Golf parking lot off Koval Lane. The entrance to Wet Republic is only a few steps away.
Wet Republic Dress Code
The dress code for a pool party would seem simple enough, but perhaps surprisingly, it's one of the most misunderstood rules. In particular, numerous guests show up in regular street clothes including (gasp) jeans!
So, then what's Wet Republic's dress code? It's swim attire. And like all day clubs in town, Wet Republic takes this very seriously. For instance, if you don't wear a swimsuit, you'll be turned away at the door. You'll then have to go back to your hotel room and change, or find a store and purchase a bathing suit. You'll also have to pay a $20 check-in fee when you return and stand in line all over again.
Now you certainly don't have to walk through the hotel or hang out in your ride share wearing only a bikini or swim trunks. You're more than welcome to wear a shirt, cover-up or shorts over your swimwear.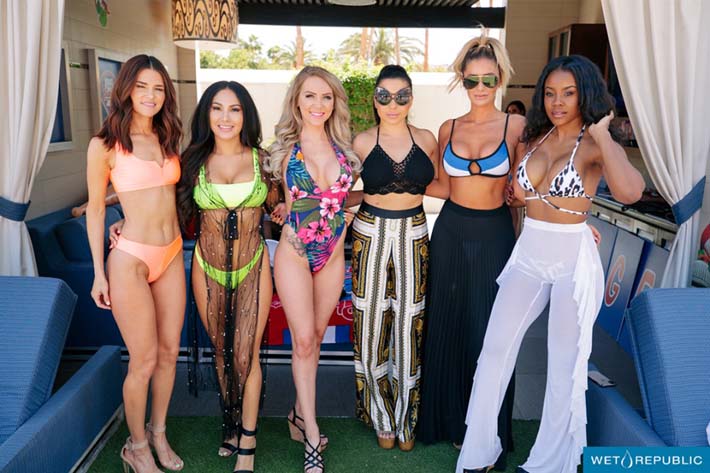 The most important thing is that you have swim attire underneath any clothes. But if your swimsuit isn't readily apparent, be prepared to show it at the door. You don't have to undress, but you'll need to show that you're wearing a suit.
If you're wearing too much clothing though, but still have a swimsuit on, they may direct you to the restroom immediately upon entering and ask you to take off your clothes. (Yes, I speak from experience.)
For shoes, flip flops, sandals, boat shoes, heels, and wedges are all perfectly acceptable. We recommend that you don't show up in Jordans or Nikes though.
Oh, and one last thing I want to add. Please don't wear any jerseys, basketball shorts, attire with a sports team's logo, or anything see-through as security won't let you into the club.
Wet Republic Tickets
There are two essential things to know about Wet Republic tickets.
1) Ticket prices at the door are often much higher than purchasing them in advance from the club's website. And I'm not just talking a few dollars more either. Prices are sometimes two to three times higher. For example, depending on the DJ, expect prices at the club to run $150 – $250 for guys. Ladies are less. (The exact cost is determined by management at the door and often fluctuates throughout the day.)
2) Online ticket sales close a few hours before the club opens, so please don't wait until the last minute to buy them. If you miss the cut-off time, you'll have to go to the club to get your tickets.
Pre-Sale Ticket Prices
Please note that the prices below are not inclusive of the admission tax and surcharge. Also, although these are the current online ticket prices, they may be subject to change.
Friday: $25 (female) & $30 (male)
Saturday: $30 (female) & 50 (male)
Sunday: $25 (female) & $30 (male)
Wet Republic Guest List
On most days, getting on Wet Republic's guest list will get ladies into the club for free. Guys in groups that have at least an equal number of women may also receive free entry or pay a reduced rate. Please keep in mind though that Wet Republic's guest list is never guaranteed.
To sign up for Wet Republic's guest list, you'll want to reach out to a promoter at least a day in advance. You can also sign up on Wet Republic's website for entry on Mondays and Thursdays.
Vegas Primer Tip: Make sure to check with your promoter the day before the event to ensure that you're on the guest list. Although rare, sometimes promoters forget to add people.
Now, on Calvin Harris days, the guest list is severely limited. For instance, guest list admission is often restricted to the first 30 minutes to an hour only. Additionally, the guest list is always subject to change – meaning the club can close it off at any point or even cancel it entirely (without notice).
For these reasons, we suggest purchasing tickets from Wet Republic's website when Calvin Harris performs. It's just not worth it in our opinion to wait in line only to find out that the guest list is no longer available and that ticket prices are now three times higher than what you could've paid online.
Vegas Primer Tip: On high-demand days, expect your wait time in the guest list or ticket lines to take an hour or more. For the fastest entry, we recommend arriving a few minutes before the club's opening.
Bottle Service at Wet Republic
If you want to party like the real VIP that you are, then nothing beats making a table reservation at Wet Republic. Not only do you get your very own spot to party (with seating), but you won't have to lift a finger while you're there.
All VIP table reservations include the following.
A cocktail server to take your food and bottle orders
Your choice of three unlimited and complimentary mixers (like orange, cranberry, and pineapple juices)
Complimentary tonic water
Bussers to keep your area clean and well-stocked with glasses and ice throughout the day
A security team to ensure your group's safety and prevent any unwanted visitors from entering your area
So how much does all this fun cost? Well, Wet Republic's VIP table prices are quoted in terms of a minimum spend. The "minimum spend" means you need to spend at least that amount at the club.
For instance, if you want to get a daybed and the price is $2000, then you'll need to spend at least $2000 at the club. (We've included the approximate cost for all VIP tables in the section below.)
If you don't buy enough though to meet the $2000 requirement, you'll still be charged the remaining spend amount as a table fee. And if you exceed the minimum, then you'll be responsible for the total cost of everything you purchased.
Keep in mind though that the minimum spend is not the total cost you'll pay. Wet Republic also charges approximately 37% on top of the minimum or total spend amount (if higher) for their service charge, sales tax, and server gratuity.
Wet Republic VIP Tables
Due to the club's generous size, Wet Republic offers a wider variety of table options as compared to most pool parties in Las Vegas. Overall, there are 23 daybeds, 12 bungalows, ten cabanas, ten dance floor tables, nine deck tables, seven lounge tables, and four stage tables. Although priced the highest, the cabanas and bungalows typically sell out the fastest.
Below I've summarized each Wet Republic VIP table option including the estimated cost, the number of guests allowed at walk-in, and a short description. I've also included photos so you'll know what you can expect on your day.
Please note that the prices below are subject to change. They're included here for informational purposes only.
Daybed
Cost: $500 – $750 (Fri), $2000 – $3000 (Sat), $1000 (Sun)
# of Guests: 6
Description: The majority of Wet Republic's king-size daybeds are on the right side of the stage, directly in front of the Bungalows. You'll find five rows in this daybed wonderland complete with umbrellas for shade and safes at each table too. There are also two premium daybeds that are on the opposite side of the pool party, close to the stage. These daybeds are highly sought after as they extend into the pool. Of course, premium means a higher minimum spend so if you want one of these, get ready to pay up (and come early).
---
Lounge Table
Cost: $1500 (Fri), $3500 – $4000 (Sat), $1500 – $2000 (Sun)
# of Guests: 10
Description: The lounge tables are plush couches located behind the DJ booth in Wet Republic's open-air lounge. From here, you'll feel like the DJ as you look out over the crowd and pool. We recommend these tables for clients wanting a mid-priced bottle service option offering complete sun protection. They're also close to the main bar and an ideal spot for mingling.
---
Dance Floor Table
Cost: $1500 (Fri), $3000 – $5000 (Sat), $1500 – $2000 (Sun)
# of Guests: 10
Description: Wet Republic's dance floor banquettes are our pick for the best value tables in the entire club. These booths are supremely located on the dance floor itself, giving you a front row seat to the headlining DJ. If you want to be in the action, there's no better spot than here. You'll also enjoy proximity to the main pool as you're only a few steps away. All dance floor tables also include a large umbrella for shade.
---
Deck Table
Cost: $2000 (Fri), $4000 – $6000 (Sat), $2000 – $2500 ( Sun)
# of Guests: 10
Description: The U-shaped deck tables are aptly named for their location along the pool's edge. From this vantage point, you'll be across from the DJ booth and LED screens, giving you an exceptional view of the entire club. The deck tables are also one of the closest options you can get to the pool, so if you want to take a step and jump right in, the deck tables are for you. Oh, and it's also totally fine to stand up and dance on the booth too!
---
Wet Republic Cabana
Cost: $3000 (Fri), $6000 – $7000 (Sat), $3000 (Sun)
# of Guests: 15
Description: Okay, so the lounge chairs out front leave a little to be desired, but hey when you've got a TV, a spacious L-shaped couch, misters to keep you cool, and complete shade, what more could you want? You'll also have a fantastic view from here as the cabanas are located in the heart of the club – directly across the pool from the DJ booth. Wet Republic's cabanas are an excellent option for larger groups like bachelor and bachelorette parties or for anyone who wants a more intimate party experience.
---
Wet Republic Bungalow
Cost: $4000 (Fri), $10,000 – $12,500 (Sat), $5000 – $7000 (Sun)
# of Guests: 20
Description: Wet Republic's bungalows are the most spacious and exclusive table option on the property. Although the bungalows flank the sides of the club and run perpendicular to the DJ booth, you'll experience one of the best parties here. Not only will you have access to three private dipping pools, but you'll also enjoy dedicated restrooms, a couch, king-sized daybed, flat screen TV, ceiling fan, and a remote-controlled misting system.
---
Wet Republic Floor Plan
Below you'll find the VIP table map. Please note that Wet Republic won't guarantee a specific table number. Getting to the club close to opening though can often help with your table location.
Bottle & Food Menu
To get a better idea of the prices, we've included a few pages from the current Wet Republic bottle and food menus. Please note that pricing and offerings are subject to change without notice.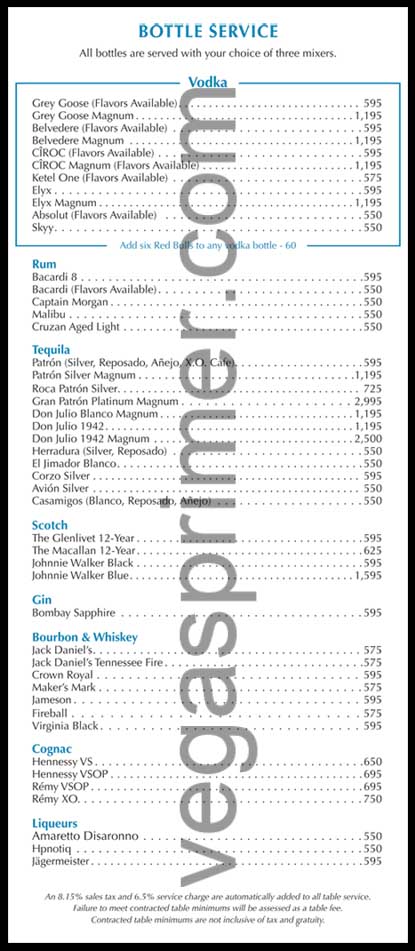 Other Things To Know About VIP Tables
Extra Guests
If you see a VIP table option that you're interested in, but you're over the maximum number of people, you can still consider getting that table. Keep in mind though that there'll be an additional cost. Generally speaking, Wet Republic increases the minimum spend by $250 per person over the maximum number.
For example, let's say you're a group of eight guys and you want to book a daybed on a Sunday. Let's also say that the club's current pricing lists daybeds at a $1000 minimum spend for up to six guests.
Since your group has two guests over the maximum allowed, if you want to book a daybed, then the minimum spend will need to increase by $500 ($250 x 2). So instead of a $1000 minimum spend, the daybed will now cost $1500, and the service fee, tax, and gratuity will be calculated on the higher minimum as well.
Table Locations Aren't Guaranteed
Wet Republic is a demand-based club, so there's always a chance on the high-demand days that prices for some VIP tables will increase at the door. Because of this, it's best to think of table locations as a "request only." (And by table locations we mean the section, i.e., deck table.) So to give your group the best chance of getting the table section you want, we recommend getting to Wet Republic early (11 am).
Vegas Primer Tip: VIP table locations at Wet Republic aren't guaranteed until the point of arrival.
Bottle Service Deals
If you're looking for a deal, head to Wet Republic on a Monday or Thursday. For instance, you'll find the minimum spends drastically reduced on these days. Specifically, bungalows usually start at $750 and daybeds at a $250 minimum spend. Compared to some Saturdays, that's over a 90% savings!
Of course, you won't have nearly as big of a crowd on the weekdays, so it's more of a lounge-type vibe. You also won't get to see the most in-demand DJs. But if you want to relax and indulge in some of the most coveted tables at a fraction of the cost, it just might be worth checking out.
A Few Notes About Calvin Harris At Wet Republic
On Calvin Harris days at Wet Republic, we highly recommend getting bottle service, especially if you have a group size of six or more people. (Yes, bottle service prices are quite a bit higher on Calvin days, but hear me out…)
If you go the general admission route, then you'll most likely be waiting an hour or more to get inside the club. And if you didn't buy your tickets in advance, then at the door you could be paying over $200. (As we mentioned before, it's not a good idea to count on guest list entry as it's severely limited if even available at all.)
Once inside, you'll need drinks so you'll head to the bar and find another ridiculous line waiting for you. You'll also pay out the wazoo for your alcoholic beverages because, well, they're anything but cheap at Vegas pool parties. By the time you add all that up (not to mention the cost of your time), it's almost the same per person price as compared to bottle service.
On the other hand, with a table reservation, you'll get expedited entry into the pool club with an average wait time of only five to ten minutes. And, as I mentioned before, you'll have a cocktail server, busser, and security team to cater to your every need, including pouring your drinks.
If you still decide to go with tickets, then we encourage folks to get to the club early. Specifically, no later than 11 am on Calvin days.
P.S. You can also see Calvin Harris at Omnia.
What's Cool About Wet Republic
Hot 100 With Chantel Jeffries & DJ Shift
On most Fridays during the summer, Wet Republic hosts their Hot 100 party. For those of you new to the Vegas club scene, the Hot 100 bash features ladies in bikinis strutting their stuff. Winners are selected by the crowd each week with some pretty awesome cash prizes. And, what's more, anyone can participate even if you're not a Vegas local.
Shade
You'll have sun protection at every VIP table whether it's an umbrella or you're under a covered structure. And if you don't make a bottle service reservation, you can still escape the heat in Wet Republic's open-air lounge that's "more than a quarter of the length of a football field."
Lockers, Safes & Bag Check Services
Need a place to store your belongings for the day? Well, good news – Wet Republic has lockers available to rent. The rate is around $60 for the day, and they're first come, first served. They're also generously sized at 18″ x 12." You'll find the rental kiosk on the right side of the bar.
Additionally, for bottle service guests, you'll get a complimentary safe at Wet Republic's daybeds, cabanas, and bungalows. Since safes aren't provided at the other table types, if you want storage space, then it might be worth considering renting a locker as well.
Lastly, please make sure that you don't bring bags larger than 12″ x 12″ x 6″ as they won't be allowed inside the venue. If you do, then you'll be required to check your bag. The bag check fee is around $10 for the day.
Keep in mind though that you'll want to take everything with you that you'll need as you won't be able to access it throughout the day. And please don't leave any valuables inside the bag either. Wet Republic's bag check is also available to any guest (not just those with over-sized bags).
Bottle Presentations
Now it's no secret that the Hakkasan Group's family of clubs have some of the best bottle presentations on the strip. For example, their assortment of bottle displays includes your name spelled out in letters to tigers, pirate ships, tanks, and more. Additionally, on most days, you can even get a presentation with the purchase of a champagne bottle or a display may be provided complimentary at specific minimum spend amounts.
If you'd like a presentation, then the best thing to do is to speak with your cocktail server. When you arrive at the day club, she'll let you know what the prices are because the cost may vary on the higher demand days. Of course, the more you spend, the more elaborate and attention-grabbing the presentation will be.
Now, this is a bit off topic, but I also want to point out that Wet Republic's "food presentations" are fantastic. For instance, with select snack purchases at VIP tables, your food items are carried out to you on a yacht. Seriously, who wouldn't want this on the reg?!
---
Conclusion
If you want to party at one of the best day clubs in Vegas, you won't want to miss Wet Republic. The pool party ranks in the top two venues each weekend, going head-to-head with Encore Beach Club.
Since Wet Republic is a premier spot, it has top DJ talent. So, you'll pay up to be here. Expect prices for both bottle service and tickets to increase at the door on the most popular days. You may want to consider prepaying for tickets or table service to lock in your rate.
The club was also renovated recently and now has updated amenities and VIP tables. So it's a new experience for everyone!