Seven hundred and fifty dollars. That's the price of the "cheapest" bottle of Vodka at Encore Beach Club. If after reading that, you're wondering if all bottles at Vegas day and nightclubs are this pricey, they're not. In fact, no other club has bottle menu prices this high.
So then why would Encore Beach Club charge more than any other venue? The short answer: because they can.
Encore Beach Club (also known as EBC) is, without a doubt, one of the BEST POOL PARTIES in Las Vegas. The beach club has top-level DJs (like The Chainsmokers, David Guetta and Diplo), the most beautiful bungalows and cabanas, the most extravagant bottle service presentations, and the hottest crowd.
So today, I'm going to share with you everything there is to know about the finest pool party in Las Vegas to turn you into an Encore Beach Club expert.
Encore Beach Club
There's just something about the Wynn properties, isn't there? They're clean, beautiful and the epitome of high-end without being too stuffy. And Encore Beach Club, well, it's no exception. It's day club perfection.
With the club's bright red and white color scheme and striped awnings, EBC puts you in a good mood the moment you step inside the club. It might sound unbelievable when I say you'll have one of the best days of your life here. But it's true. EBC is just that good.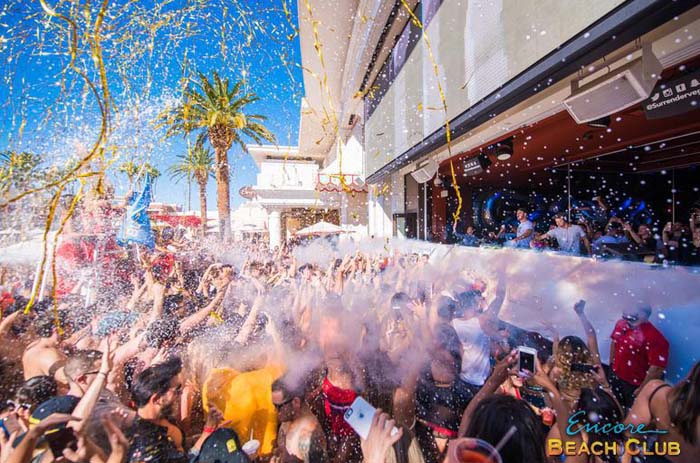 Property Info
Encore Beach Club spans 60,000 square feet and features three pools separated by winding walkways. One of the day club's most unique features is its covered gaming area. (In fact, it's the only daytime pool party in Las Vegas where you can gamble.)
Everyone is welcome in the gaming pavilion too, so if you want to escape the heat, this is the place to come. And don't forget to grab your drinks while you're there. The large bar tucked in the back is decently fast.
EBC also comes equipped with a generously-sized LED screen that rests above the DJ booth, so every guest has a fantastic view. And, there's even a dance floor between the DJ and the main pool. When the headlining DJ comes on, this is where you'll find the most action.
If table service is what you fancy, there are bungalows (four with a private pool), cabanas, a slew of lily pads and water couches that are in the pools themselves, L-couches, DJ tables, and a multitude of daybeds and beach couches. With so much table variety to choose from, Encore Beach Club has one of the most diverse collections of bottle service options in town.
WATCH OUR VIDEO: 13 THINGS YOU NEED TO KNOW ABOUT ENCORE BOTTLE SERVICE
Quick Facts
Days Open: Friday, Saturday, and Sunday
Hours: 11 am – dusk (Friday and Sunday), 10:30 am – dusk (Saturday)
Bottle Service: $$$ – $$$$
Music: Mostly EDM
DJs: The best of the best – The Chainsmokers, Alesso, David Guetta, Kygo, and more
Special Events: Encore Beach Club Nightswim and Art of the Wild
Where Is Encore Beach Club Located?
Encore Beach Club is at the Encore hotel. The address is 3131 Las Vegas Boulevard South, Las Vegas, NV 89109. From Encore's Main Valet, enter the hotel and make a right at Encore's front desk, then follow the signs to Encore Beach Club.
If you know where the poker room is or Andrea's, head that direction. Additionally, there's an entrance to the beach club from the parking garage.
Dress Code
Encore Beach Club's dress code is simple – wear swim attire. Cover-ups are allowed, but you must have a swimsuit underneath. Also, almost any shoes go although you'll want to avoid wearing Jordans or Nikes.
There are some prohibited items that you'll want to keep in mind. For example, please don't wear basketball shorts, jerseys, jeans, pants, undergarments, torn or cut-off clothes, see-through swimsuits, offensive prints, chains, baggy clothing, athletic gear, or attire with rivets, hooks, and studs. Additionally, you'll want to avoid wearing anything with a sports team's logo.
Tickets
It's best to purchase tickets for Encore Beach Club Las Vegas on their official site. And it's a good idea to buy your tickets online in advance as prices are usually much higher at the door.
Who Should Buy Tickets
Tickets are the right option for you if you're a group of guys (without a table reservation) or if you're not on the guest list. (I'll discuss guest list reservations next.)
There are two ticket options at Encore Beach Club: general admission and expedited entry. Of the two, general admission is the more budget-friendly option.
With a general admission ticket, you'll need to wait in line to get into the club. Wait times vary depending on the day, but you should expect to wait at least 30 minutes to an hour (unless you're arriving near club opening). Encore Beach Club is, after all, one of the best beach clubs in Las Vegas, and the crowds are BIG.
Alternatively, an expedited entry ticket gets you into the club faster. If you don't want to wait in the general admission line, then this is the option for you.
Now we frequently get asked if expedited entry is worth it. Unfortunately, there's no way for us to answer that question as it depends on quite a few factors. For instance, if you're arriving around 1:00 pm, then the line will be longer than if you arrive at 10:30 am. Or if you come on a Friday, then the crowd won't be as big as Saturdays. Further still, wait times are considerably shorter in the spring as compared to the summer months.
Ticket Prices
Here are the current ticket prices at Encore Beach Club Las Vegas. Keep in mind that rates are lower on weekdays and higher on weekends.
Ladies: $25 – $45 general admission tickets, $45 – $70 expedited entry tickets
Guys: $45 – $55 general admission tickets, $65 – $90 expedited entry tickets
Guest List
On most days, if you're on EBC's guest list, you'll get free entry into the club (or pay a reduced admission). To get on Encore Beach Club's guest list, you'll want to reach out to a promoter. The list closes before club opening, so it's a good idea to reach out at least a day in advance.
Encore Beach Club's current guest list cut-off times are listed below. Please note that you need to be at the front of the line (not just in line) by these times. Also, times may be subject to change.
Ladies free before 1:00 pm
Guys in even ratio parties free before noon (an even ratio means having at least the same number of women in your party as men).
Vegas Primer Tip: Encore Beach Club gets packed! If you want to avoid a possible hour (or two) wait, we recommend arriving at the club's opening for the fastest entry into the club.
Encore Beach Club Table Reservations
The beach club offers a variety of bottle service options to suit every budget. And, the good news is that no matter where you sit, we're confident you'll like your table location. For instance, the club is designed with tables surrounding EBC's pools, so everyone feels like they're part of the action.
Table service options include beach couches, daybeds, lily pads, gaming tables, L-couches, water couches, DJ tables, cabanas, and bungalows.
What You Get With A Bottle Service Reservation
All Encore Beach Club bottle service reservations include free VIP expedited entry, unlimited mixers (like orange, pineapple, and cranberry juices), a cocktail server, security staff, and a busser to keep your area clean and well-stocked throughout the day.
Additionally, with a cabana or bungalow reservation, you'll enjoy a flat-screen TV, refrigerator, safe, fan, misting system, and a private daybed too. There are also shared private pools at the lower level bungalows.
Encore Beach Club Table Map
Below is the 2021 table map for Encore Beach Club. Please refer to the key to see the locations of the different bottle service options.
Also, Encore Beach Club has recently added a new pricing structure for its L-couches and lily pads. For example, you can select between a center or standard location. The center locations are at a premium price as they're in the middle of the club.
Encore Beach Club Table Service Options
To assist in your day club preparations, we've included a brief description of all the bottle service options as well as the number of guests allowed at walk-in. We've also added photos so you can easily select the best table option for your group. Of course, if you would like assistance with choosing a table, please don't hesitate to reach out. We're always happy to help.
Now, an excellent way to understand how Encore Beach Club's tables are laid out is to divide the club in half. There are two sides to the club – north and south. When you split the pool party down the middle, the sides are pretty close to a mirror image of each other.
For example, daybeds on the north side are in the same location as they are on the south side. As to which section is better, they're both fantastic. I wouldn't have any hesitation about getting a table in either area.
The prices shown below are averages based on Fridays and Sundays. Table minimums are usually higher on Saturdays. The following minimum spends are provided for informational purposes only.
Beach Couch
Cost: $750+
Guests: 6
Location: Main level
Description: EBC's beach couches are aptly named. They're actual couches that come with stools for extra seating or a place to put your drinks. You'll find most of the beach couches near the club's grill and dance floor.
---
Gaming Table
Cost: $1,000+
Guests: 6
Location: Main level
Description: Encore Beach Club's gaming tables are located in the gaming area in front of the card tables. (They're perfect if you want shade all day.) They're also in the middle of the club, so you'll be just a few steps away from the pool and have a direct eye line to the DJ. In this photo, the gaming tables are up the stairs to the right and left.
---
Lily Pad
Cost: $1,000+
Guests: 6
Location: Main level (in the pool)
Description: Lily pads are a favorite among EBC guests. These tables are located in the shallow section of the Encore Beach Club pools. They're an excellent choice for hot days because you can dip your feet in the pool (or jump in) and dance while enjoying your drinks.
---
Daybed
Cost: $1,500+
Guests: 6
Location: Main level
Description: EBC's daybeds are comfortable and spacious. They're an attractive option because you can sit or lay down easily (or dance on top of them). Daybeds also offer prime seating – right along the edges of the Encore Beach Club pools.
---
DJ Table
Cost: $3,000+
Guests: 10
Location: Main level
Description: Encore Beach Club's DJ tables are beach couches that are excellently located in the heart of the pool party, right next to the DJ booth. If you want a true party experience with the most action, these tables are for you.
---
Water Couch
Cost: $3,000+
Guests: 10
Location: Main level (in the pool)
Description: Water couches are couches that are located in the shallow part of the Encore Beach Club pool. Similar to the lily pads, they're a crowd favorite because you can easily wade in the water. They're also superbly located in the venue as they're centrally located in front of the gaming tables.
---
Cabana
Cost: $2,500+ (upper cabana) & $3,000+ (lower cabana)
Guests: 10 – 12 guests
Location: Upper and main levels
Description: Cabanas are one of the most sought-after bottle service locations at Encore Beach Club. With a reservation here, you'll get two tables for the price of one thanks to the complimentary daybed located in front of your cabana. You'll also have a flat-screen TV, refrigerator, safe, and a misting system to help keep your group cool.
---
Bungalows
Cost: $4,000+ (upper bungalow) & $10,000+ (lower bungalow)
Guests: 15 – 20 guests
Location: Upper and main levels
Description: Perfect for larger groups, EBC's bungalows are the ultimate party option. The lower level bungalows feature private pools while the upper bungalows have private restrooms. Similar to cabanas, you'll also get a refrigerator, safe, flat-screen TV, and a daybed for lounging in front of your bungalow. Additionally, bungalows offer a fantastic view of the DJ.
---
Best Table Locations At Encore Beach Club
One of the most asked questions we get is: what are the best table locations at Encore Beach Club? Now, if budget is not a factor, you may want to consider a cabana or bungalow. Both of these options offer a plethora of amenities.
Cabana vs. Bungalow
One of the coolest features of cabanas and bungalows is that they have doors opening to the strip. So you can take in the view while you party at the same time. They also both offer daybeds to lounge in that are located out front. Having an additional seating area is a nice luxury if you're partying with a large group or want to invite other guests to join you.
Where the Encore Beach Club cabanas and bungalows differ though is in their square footage. Bungalows are bigger than cabanas, so if space is of the utmost importance, you'll want to book a bungalow.
Additionally, the lower level bungalows are the only table option in the venue with a private pool. And you won't find your very own VIP restroom inside a cabana like you will with a bungalow either.
Best Value Table Locations At Encore Beach Club
Encore Beach Club is one of the most expensive beach clubs in Las Vegas. On average, their table service options start at least $250 – $500 higher than the majority of other clubs. And the same goes for their bottle menu too.
And, if you're looking for the lowest priced table option here, then you'll want to take a look at the beach couches. These typically start at a $1,000 minimum spend on Fridays. Prices are generally higher on Saturdays and Sundays.
Best Combination Of Location And Price
Now, if you want the best combination of location and price, we're big fans of the lily pads. In my opinion, there's nothing better than wading and sipping on some bubbly. (And I'm not ashamed to admit that I frequently do this in my backyard with a baby pool, too!)
The lily pads come with umbrellas as well, so you'll have no problem escaping the Vegas heat between the pool and the shade the umbrella provides. There's one essential thing to know about the lily pads, though.
Vegas Primer Tip: Bottle service minimums for lily pads (or water couches) are beverage minimum spends only. This means that food purchases will NOT count towards your spend requirement as food isn't allowed in the pools. If you want food, you'll need to order it at the walk-up grill, pay for those items separately, and eat it away from the pools. There are no exceptions to this rule.
How To Calculate The All-In Bottle Service Cost
Once you've decided on a table for your day of partying, you need to know the final amount you'll pay. Now, the industry standard for quoting table service is to state the price in terms of a minimum spend requirement.
For example, let's say you're interested in making a daybed reservation, and you're quoted $1,000. This means that you'll need to spend at least $1,000 at the club.
But, $1,000 isn't the total cost you'll pay. There are three other fees that all Las Vegas day and nightclubs charge. These include a venue fee (may also be called a service or admin fee), tax, and a gratuity. In total, a close estimate of these fees is 37% of the bottle service minimum spend (or total spend, if higher).
So, in our example above, you'll want to add 37% to the $1,000 minimum to calculate the final price. Keep in mind that if you go over your minimum, you'll be responsible for the overage as well. Alternatively, if you don't spend at least $1,000, then you'll be charged $1,000 anyway, so it's best to get to celebrating!
Here's how the calculation works.
Bottle Service Minimum: $1,000
Plus: 37% (venue fee, tax, and tip): $370
Total Approximate Price: $1,370
Encore Beach Club Bottle Menu
When it comes to bottles, your money won't go as far at Encore Beach Club as compared to other day clubs in Las Vegas. For example, EBC's vodka options are up to $200 more for the same brand at other venues. These higher prices are why we always recommend that our clients review the bottle menu before they go, so there aren't any surprises.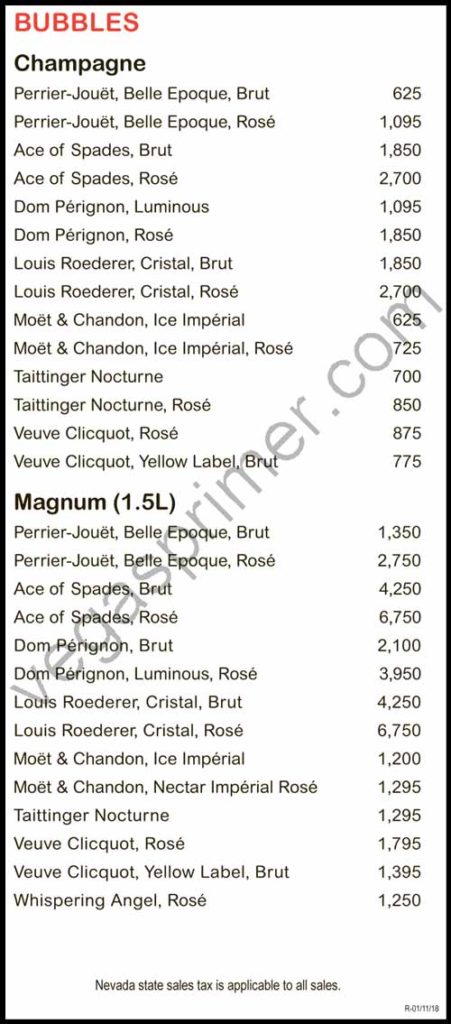 Encore Beach Club Bottle Presentations
EBC has some of the most elaborate bottle presentations. In fact, I might even go so far as to call them mind-blowing. You'll be hard-pressed to find other clubs in Vegas taking their presentations this far.
For those of you who've never seen one, a bottle presentation is when a big display is made over a bottle order. If you spend a certain amount on a bottle or if your minimum exceeds a set amount, Encore Beach Club rewards you by drawing all eyes in the club to you. There's also a special bottle presentation menu.
Your bottle can be delivered via a Ferris wheel, helicopter, firetruck, or a Harley Davidson motorcycle. (Yes, you get to keep the bike.) There are even presentations that include meeting the DJ. Of course, they don't come with a low price tag. Get ready to spend some serious cash for one of these.
On the other hand, if you're looking for a bottle presentation that's a little less over the top, EBC offers those too. For example, you'll find more traditional bottle presentations with sparklers and signs that are perfect for birthday and bachelor (or bachelorette) celebrations.
What's Cool About Encore Beach Club
Celebrities Go To EBC
Celebrity sightings at Encore Beach Club are almost a weekly occurrence during the summer. And some are even regulars. For instance, if you like fighting, you'll be thrilled to know that Connor McGregor comes to Encore Beach Club frequently.
Shower Rain Pavilion
There are three dance pavilions at Encore Beach Club. These pavilions are located on both sides of the club as well as in the middle of the main pool. And if there's any confusion as to what a dance pavilion is, let me clarify. They're poles on platforms that you get to dance on!
Now, stripping isn't allowed, but the ladies are free to dance on them as much as they want. Oh, and water shoots out of the main pool pavilion, making that one a crowd favorite.
Incredible Talent
In our opinion, the only other day club that rivals Encore Beach Club regarding EDM talent is Wet Republic Las Vegas, and that's mostly because of Calvin Harris. But, overall, we still think that Encore Beach Club wins this race. Just look at all this incredible talent for 2021:
The Chainsmokers, David Guetta, Dillon Francis, Diplo, Deux Twins, Kat Nova, Alesso, Kygo, and RL Grime
Encore Beach Club At Night
I love a nighttime pool party, and (lucky for me), so does Wynn. So much so, that there are two night swims at the Encore hotel: XS Las Vegas and Encore Beach Club Night Swim. You'll find lower prices during the nighttime pool parties too, and you'll still get to party with the top DJs. Even better, there's no chance of sunburn. Be sure to ask us about our bottle deals at EBC at Night, too!
Other FAQs
Does Encore Beach Club Have Lockers?
Yes, they're available to rent for around $40 – $60. Pricing may vary depending on the day, though. Lockers are first come, first served so you'll want to get to the club early before they sell out. You can find the lockers at the main entrance to the club (after you go through security).
What's The Encore Beach Club Bag Policy?
Some bags are allowed inside the venue. For example, drawstring bags, purses, small backpacks, and fanny packs (those are cool again, right?) are all permitted.
You'll want to avoid duffle bags or suitcases. If your bag happens to be considered "oversized" by the club, then there is a bag check available. On most days, the cost is $20 – $40.
Please note that all bags will be subject to a security search at entry.
Are There Discounts For Guests Staying At Wynn Or Encore?
The Wynn concierge offers "preferred entry" for guests of either hotel. For additional information, you can contact the concierge directly by sending an email to conciergeservices@wynnlasvegas.com.
Closing Date 2021
We're lucky in Vegas when it comes to the weather. Well, except for those two or three weeks in the summer that are almost unbearable with temperatures of 115 degrees or more!
But, besides that, we enjoy a beautiful, long summer that spans late March to October. This means you've got seven months of pool party bliss to enjoy!
---