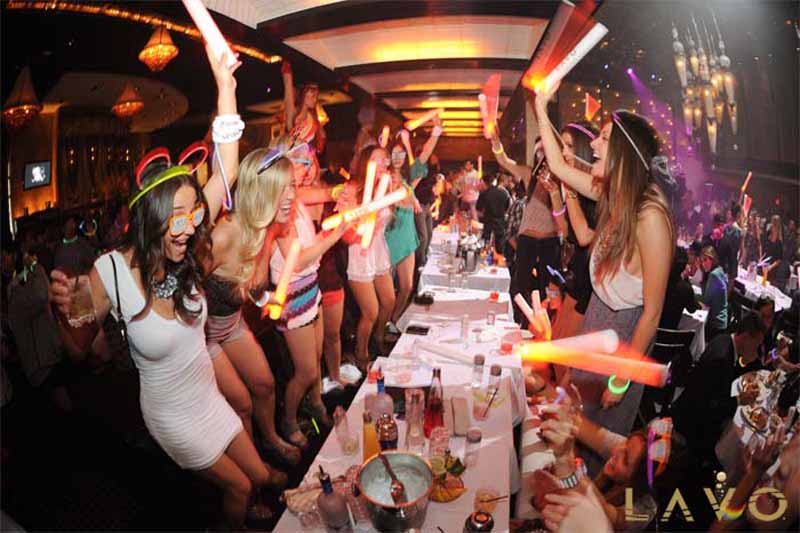 One of the best-kept secrets in Las Vegas is Lavo Party Brunch. It's not even a secret, really. It's that most people assume that once summer's over, there aren't any more dayclubs.
Unfortunately for these guests, they're seriously missing out!
Lavo is a unique club concept that combines some pretty cool things. For example, you'll enjoy brunch, champagne, and dancing on tables. And there are props, too, like glow sticks, sunglasses, and even sashes.
See, what more could you want?
Now I've been to Lavo Party Brunch A LOT. I mention this because I want you to know that this guide has all the latest information available. And it's full of my best advice too!
Lavo Dayclub: Overview
It's brunch, it's a club, it's Lavo Party Brunch. And it's the only brunch club in Las Vegas. It's also considered the best dayclub that isn't a pool party.
Months Open: October through March
Days Open: Saturdays
Hours Open: 12:00 pm – 6:00 pm
Bottle Service: $$ – $$$
Music: Top 40, EDM & Hip Hop
NEW VIDEO: 6 THINGS YOU NEED TO KNOW ABOUT LAVO PARTY BRUNCH!
Las Vegas Location
Lavo Party Brunch is at The Palazzo hotel inside Lavo Restaurant.
From Palazzo Guest Parking, head straight through the casino to the Palazzo lobby. From there, Lavo will be on your left.
If you're getting dropped off at the Palazzo Valet, enter the hotel through the main doors. Lavo will be immediately on the left.
For your convenience, I've provided a map below.
Dress Code
You won't hear me say this about most clubs in Las Vegas. But you can pretty much wear whatever you want to the Party Brunch. And that's because it's much more casual than your typical nightclub.
So for the ladies, you can wear dresses, skirts, and heels. Or if you'd like, you can wear jeans with a tank or a sweater. Even ripped jeans are acceptable. Overall, I'd say it's about a 50/50 mix of casual to dressy.
For guys, most wear jeans and a collared shirt or t-shirt. And, of course, you'll want to pair that with some clean, nice-looking sneakers like vans or dress shoes.
And then, when there's a theme party, such as Lavo's Halloween Brunch, it's fine to come in costume. In fact, it's encouraged!
Prohibited Items
Security will go through all bags and purses, so make sure you don't bring anything into the club that would be considered questionable.
Also, please only bring small purses. Larger bags and backpacks are prohibited and you won't be allowed to enter the venue with one.
There are no selfie sticks allowed or weapons of any kind. Additionally, you may want to consider limiting makeup products. For instance, face powder can sometimes be an issue.
Lastly, it's a good idea to leave all medication at home or back in your hotel room. Unless, of course, it's a prescription, life necessary medicine.
Party Bunch Tickets
Lavo Party Brunch has presale general admission tickets available for purchase. The following rate includes all taxes and fees. Please note that pricing may be subject to change.
General admission – Male: $67.00
General Admission – Female: $40.20
Drink Ticket Package
The club is offering a ticket package for bachelorette parties. It's $30 per person. But after the sales tax, admin fee, and recommended gratuity, the total cost ends up being about $42.
The "She Said YAAAS" package includes expedited VIP entry and three premium cocktails. Please note that this ticket does NOT include seating.
This ticket package is valid for ladies only.
Lavo Guest List
On some days, there may be a brunch guest list available. You'll enjoy complimentary entry or a reduced admission charge if you're on the list.
Guest list admission is typically valid until 3:00 pm. There may also be an open bar for women on select days.
Typically, guys need at least an even ratio of women to make it on the list.
Bottle Service Reservations
Making a table service reservation is my favorite way to enjoy Lavo Dayclub. It's also the only way to partake in Lavo's famous Las Vegas brunch.
So if it's within budget, I highly recommend making a seating reservation. In my opinion, it's beyond worth it – even more so than at any other club because space is much more limited here.
What's Included
You'll get the following benefits with a bottle service reservation at Lavo Party Brunch.
Expedited and complimentary VIP entry
Table for the entire afternoon
Seating for your party
Brunch and bottle service
Free juice and soda mixers
Cocktail server, busser, and security team
The venue quotes its bottle service prices as a minimum spend requirement. (You can think of the table as being free for agreeing to spend a specific amount at the club.)
Of course, if you buy more than the minimum required, then the venue will charge you for the additional amount. And if you don't meet the minimum, then you'll get charged for it anyway, so you might as well make the most of it and spend it.
You can order any items from the bottle and food menus, and they'll count towards your required spend.
Lavo Table Cost By Section
Bottle service at Lavo Dayclub is comparable to other clubs in Las Vegas. But, prices often increase the closer it gets to the event date.
I've listed some sample table pricing below to give you a general idea of the bottle service minimums.
Please note that the following prices are starting prices for November 2023. Rates may be higher or lower depending on the date.
Terrace: $1,000
Entry Level: $2,500
Standard: $4,000
Prime: $5,000
Center of the Room: $8,000
How To Calculate The Total Bottle Service Cost
As with all clubs in Las Vegas, prices are quoted without the venue fee, tax, and gratuity. (Please note that the venue fee may also be called the "admin fee" or "service fee.")
At Lavo, the total of these fees is 42.19%. So, if you reserve a table with a $1,000 minimum, then you'll need to add this percentage to calculate the final cost.
Here's the math.
Bottle Service Minimum: $1,000
Plus: 42.19% admin fee/sales tax/tip: $421.93
Total Cost: $1,421.93
Party Brunch Table Map
Tables on the terrace are located outside, while the club's inside space has four options to choose from – entry level, standard, prime, and center of the room.
If you select an entry level table, you'll typically be off to the side or in front of the club's bar. With a standard, prime, or center of the room table, you'll be more centrally located.
I've identified the table options and their corresponding locations on the map below. Please note that these locations are subject to change at the club's discretion.
Best Lavo Tables
Since Lavo is a smaller venue, almost all tables are in the action (if you're in the main room). The absolute best tables are located in front of the DJ booth. These are the center of the room tables and will come at a premium price.
Value Tables (Most Bang For Your Buck)
I'm a big fan of the standard tables located next to the platform where the dancers perform. The location is fantastic, and it's my top pick for the best value tables in the club.
You'll still have an excellent view from here. (The platform is low so that you can see the entire club.) And you'll feel like you're in the action too.
What's more, you may pay around $1,000 less for these as compared to the prime and center of the room tables.
It's worth pointing out, though, that these tables may be priced as prime tables on high-demand days.
Lowest Cost Tables
The least expensive bottle service options are any tables located on the terrace. These tables are on the patio (outside) overlooking Las Vegas Blvd.
Now, if you think that getting a table out here means you'll be far from the action, you might want to reconsider.
While it's true that the terrace tables aren't in the main room, you're welcome to go inside at any time. All you need to do is tell your cocktail server, and she'll hold your table and bottles for you until you return.
There are also quite a few tables on the terrace, so it's often packed.
And if there's inclement weather, the club does its best to accommodate reservations and move them inside.
Lavo Brunch Bottle Menu
Below are a few pages from the Party Brunch bottle menu. Bottle prices usually start in the $500s and go up from there. Mixers, like juices and soda, are complimentary.
While I always try to keep the menus current, the club determines the offerings and prices. So these menus are also subject to change.
Food Menu
If you want to get brunch at the daytime club, it's a good idea to arrive by 12:30 pm.
I recommend coming then because you need to allow enough time to get seated and eat. Typically, around 2:00 pm is when the lights go down, and the club starts.
Lavo Bottle Presentations
Lavo has some of the best bottle presentations. And since Lavo's a smaller venue, all eyes will be on you and your guests. Trust me, no one can miss the giant display of sparklers parading across the main room!
If you want a presentation, it's best to speak with your cocktail server upon arrival.
Lavo also provides table service guests with a parade menu. You'll find many options at different price points, including those that even come with dessert!
Things To Know About Lavo Party Brunch
Lavo is a unique club that always draws a big crowd. And it's easy to see why. There are quite a few things that make it stand out from the other venues in town.
Only One Of Its Kind In Vegas
There's no other club on the Las Vegas Strip like Lavo Party Brunch. For example, it's the only one that allows you to order food while you party.
And it's also the only club that lets you dance on your table.
Be careful, though, and dance at your own risk! The table cloths can get caught in your heels (speaking from experience). And it can get quite slippery, too, if something spills.
Excellent Food
The food is honestly really, really good. I've been fortunate enough to have it quite a few times and always opt for the breakfast choices. (The white polenta pancakes topped with whipped Nutella butter and hazelnut are exceptional!)
If lunch is more your speed, some go-to favorites are the truffle fries and the penne seafood alfredo.
Of course, there are healthier options too. You can check out the menu posted above for a full listing of food offerings.
Best Girl-To-Guy Ratio
Hands down, Lavo has the best girl-to-guy ratio of any club in Las Vegas. By my estimate, it comes in at a whopping 3:1.
So if you're interested in meeting women, this is the place to go!
Dancers
Lavo also has an excellent dance team. The girls' moves are all freestyle, and they don't just dance for a little while and then leave. Instead, they're dancing the entire time. This creates a high-energy environment that adds a lot to the Las Vegas Party Brunch.
Even better, the dancers are actually in the crowd with you, dancing on a platform in the middle of the main room.
Lighting
Because Lavo is a smaller club, the lighting is all-encompassing. For example, the beams are stronger, and the colors are brighter than at the other clubs.
Lavo's light show is so close, it feels like you can reach up and grab the beams.
Party Favors
Lavo is heavy on favors. (Real party favors, not the other kind.) In fact, they offer the most of any club.
For instance, you'll get glow sticks, glow necklaces, sunglasses, and even sashes. These are typically available only to bottle service guests, though.
The club is also big on confetti, so be sure to cover your drink when the confetti showers start!
Theme Parties
Lavo frequently throws some epic theme parties. The most popular ones include the club's Halloween bash and lingerie brunch.
There's even a Halloween costume contest with prizes for the winners.
And ladies, if you come dressed for the lingerie event, you might score an open bar for about an hour. The open bar typically happens earlier in the day, so make sure you get to Lavo on time.
Photo Ops
One of my favorite spots to take pictures is on the Rosè Terrace. Not only is there a view of Las Vegas Blvd, but there are some super cute backdrops. Prime example, take a look at this photo with flowers in the shape of a heart.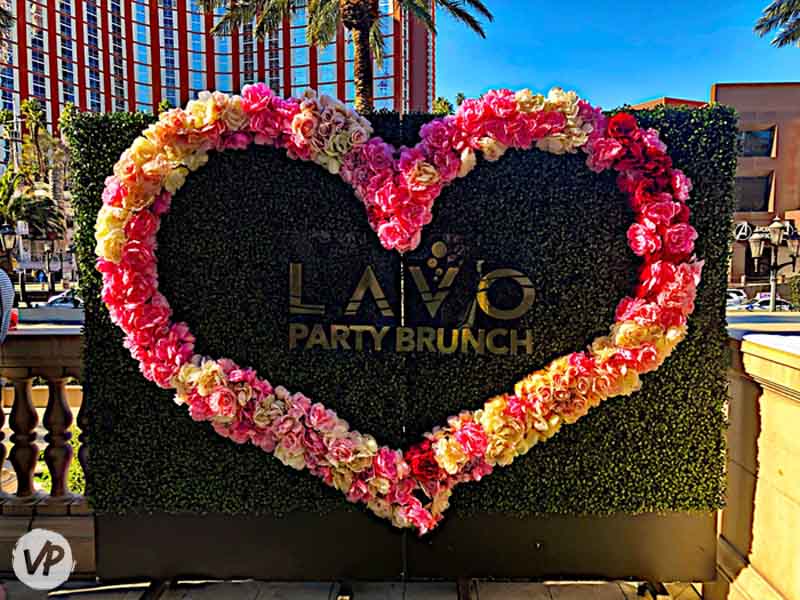 You also may want to check out the mini red carpet with the venue's logo backdrop. This is inside the main room at the base of the stairs.
And then there's a photo spot inside the Palazzo before you enter the club. Here you'll find a large-scale gold frame with flowers and an oversized champagne bottle.
Unique Beverages And Desserts
Lavo has some of the coolest shareable drinks I've ever seen. These drinks come in huge glasses with as many straws as you need so you can share them with all your friends.
Additionally, if you're celebrating a birthday and you'd like a treat, you might want to try the ice cream at Lavo. It's gigantic and arrives in an ice bowl with sparklers shooting out of it.
Party Brunch Sponsors
On most Saturdays, there's an alcohol company sponsor at the brunch. You may see promo models walking around with free alcohol on trays.
Or, more often, there will be a station next to the VIP entrance. The staff will hand out shots until they run out, typically within the first half-hour of the club's opening.
There aren't many clubs in Las Vegas that offer free alcohol, so get there early to take full advantage!
Lavo Restrooms
Although the restrooms are a decent size for a restaurant, they're too small for the party brunch (in my opinion).
For example, in the women's, there are only a few stalls. And the line is almost always out the door. It's almost impossible to touch up your makeup, too, thanks to the dark lighting and limited space.
So, if you want to have plenty of room and fantastic lighting, exit Lavo and head diagonally to your left. You'll find excellent loos here with lots of stalls, sinks, bright lights, and mirrors.
Conclusion
If you're coming to Las Vegas during the fall and winter, I highly recommend going to this daytime party. In fact, if I had to choose only one day or nightclub to go to, it would be Lavo. That's how much I love it, and that's why I always recommend it.
The best way to experience the Champagne Party Brunch, though, is with a VIP reservation. There just isn't that much space to stand or dance without booking a table.
If table service isn't within budget, you'll still have a fantastic time. But you might want to consider arriving closer to when the club starts. Otherwise, you'll be standing around watching everyone eat, waiting for the lights to dim.
See you at brunch!