One of the best-kept secrets in Las Vegas is Lavo Party Brunch. It's not even a secret really. It's just that most people assume once summer is over and the pool parties end that there aren't any more dayclubs. So naturally, they don't even look for them. How wrong they are though. In fact, if I had to choose any dayclub to go to it would be Lavo Party Brunch. That's how much I love it.
Lavo is a unique club concept that combines my favorite things – clubbing during the day, brunch, champagne, themed parties, dancing on tables, and lots of party favors like glow sticks and sunglasses. See, what more could you want? It's so incredibly fun that I always recommend a visit when Lavo Party Brunch is open. (Lavo runs October through March each year.)
Now we go to Lavo Party Brunch a lot. (We're there almost every weekend.) I say this because I want you to know that this guide has the latest information available and it's full of some of our best insider secrets.
Lavo Party Brunch
It's brunch, it's a club, it's Lavo Party Brunch. And it's the only brunch club in Las Vegas. It's also considered the best dayclub that isn't a pool party.
Months Open: October through March
Days Open: Saturdays
Terrace Opens: 11 am
Main Room Opens: 12:30 pm
Bottle Service: $$ – $$$
Music: Top 40, EDM & Hip Hop
Special Events: Theme parties (Halloween, superheroes vs. villains, lingerie, football, etc.)
(One thing I do want to point out is that a lot of people get confused about the difference between Lavo the restaurant and Lavo Party Brunch. Lavo Party Brunch takes place inside Lavo Restaurant at the Palazzo hotel. And although the restaurant serves brunch on the weekends too, it's only on Saturday afternoons that the restaurant transforms itself into an actual party brunch. And that's what this guide is all about – the party brunch itself.)
WATCH OUR VIDEO: 11 THINGS NOBODY TELLS YOU ABOUT LAVO PARTY BRUNCH!
Location
Lavo Party Brunch is inside The Palazzo hotel. From Palazzo Guest Parking head straight through the casino towards the Palazzo lobby and Lavo will be on your left. If you're getting dropped off at the Palazzo Valet enter the hotel through the main doors and Lavo will be on your left as well. For your convenience, we've provided a map below.
Dress Code
You will never hear us say this about another club in Las Vegas. But you can pretty much wear whatever you want at Lavo. Based on what we've seen the dress code is open. Sneakers, jeans, and t-shirts are all perfectly acceptable. That said, a lot of guests dress up too.
Although the dress code is open we still get frequently asked by women "what should I wear?" Well, oddly enough a lot of women wear rompers to Lavo. Yes, rompers are the outfit of choice for Lavo Party Brunch.
We have no idea why this is. It must be what women wear to brunch. Although I brunch and I've never worn a romper so who knows.
Anyway, I digress. If you want to match all the ladies in the club, then wear a romper. If you don't want to match every girl, then wear something else, anything else.
Prohibited Items
Security will check all bags so make sure you don't bring anything that would be considered questionable. There are no selfie sticks allowed or weapons of any kind. Other than that, you'll be just fine. I did have an issue with some face powder once, but they let me inside after the security guard examined it. So, with this in mind, maybe limit the amount of makeup you bring.
Tickets
Here are the current ticket prices for Lavo's 2020 season. Note that these are the presale tickets prices and include all taxes and fees. If you want to purchase tickets, we recommend buying them online in advance as door prices may go higher. You can get your tickets on Lavo's official site.
Female: $20
Male: $30
Guest List
Here are the current guest list rules for the 2020 Lavo season.
Women
If you're a woman and you're on Lavo's guest list, you'll get free entry into the club. And, as an added bonus, Lavo is also offering an open bar to ladies on their guest list from 1 until 2 pm. The open bar is inside Lavo's main room. (If you were at Lavo last season, the open bar was on the outside terrace. This is not the case this season.) Please note that the open bar may be subject to change at management's discretion.
Men
This season, Lavo Party Brunch is offering a reduced cover to men on their guest list. (There's no free entry for gentlemen unless you've made a bottle service reservation.) If you're on the guest list, you'll save $5 off the online ticket prices and pay only $25 for entry.
Vegas Primer Tip: Lavo's guest list closes at 4:00 pm, so we recommend arriving at Lavo Party Brunch by 3:30 pm to be safe. (The line can sometimes get long.) If you come too late, then you'll put yourself at risk for having to buy an entry ticket. Plus, there's always the risk on the high demand days that the club reaches capacity and they stop letting guests inside.
Bottle Service At Lavo Party Brunch
Making a table service reservation is our favorite way to enjoy Lavo Party Brunch. It's also the only way to partake in Lavo's famous brunch and have a place to sit down. That's right – if you're on the guest list or a ticket holder, you'll be standing and ordering your drinks from the bar while you watch everyone else savoring Lavo's insane food offerings. If it's within budget, we highly suggest making a bottle service reservation. In our opinion, it's beyond worth it.
What's Included
With a bottle service reservation at Lavo Party Brunch, you'll have a designated table for partying, a cocktail server, busser, and a security team nearby. The table will be yours from the moment you arrive until you decide to leave or the club closes (whichever comes first).
Lavo quotes their bottle service prices in terms of a minimum spend requirement. You can think of the table as being free for agreeing to spend a certain amount at the club. Of course, if you purchase more than the minimum, then Lavo will charge you for the additional amount. And if you don't meet the minimum, then you'll get charged for it anyway so you might as well make the most of it.
Additionally, you can invite other guests to join your table, and the club won't increase the minimum spend requirement. For instance, if you're a bachelor party wanting to meet some ladies, it's perfectly okay to invite them over for some drinks. Just be sure to keep your guest count within reason.
For an in-depth look at how bottle service works in Las Vegas, check out our complete guide to bottle service.
Cost
Overall, bottle service at Lavo Party Brunch is quite reasonable compared to other clubs in Las Vegas. For instance, bottle service minimums can start as low as $500 and go up to around $3,000 – $4000 for a table near the DJ. Of course, these prices may change based on how many people are in your party or if it's a big event like a theme party.
How To Calculate The Total Bottle Service Cost
As with all clubs in Las Vegas, bottle service prices are quoted without the venue fee, tax, and tip. This means that if you make a reservation for a $1,000 minimum, you'll want to add approximately 37% to calculate the final amount you'll be required to pay.
Bottle Service Minimum: $1,000
Plus: 37% service/tax/tip fees: $370
Total Cost: $1,370
To give you a general idea of the bottle service minimums, I've listed some sample table pricing below. Please note that these prices are for informational purposes only and are estimates based on late 2019 prices. Minimum spends may be higher depending on how many people are in your party and if it's a high demand weekend.
Table Cost By Section
Rosé Terrace: $500+
Main Room: $1000+
Prime: $1500 – 2000+
Center of the Room: $3000+
Bottle service tables on the Rosè Terrace are located outside while the club's inside area has three options to choose from – main room, prime, and center of the room. If you select a main room table, you'll be off to the sides. With a prime or center of the room table, you'll be more centrally located. For your convenience, I've identified the various tables and their corresponding sections on the map below.
Table Map
Best Tables
Lavo is a smaller club, so almost all of the tables are in the action (if you're in the main room). The absolute best tables are located in front of the DJ booth. These are the center of the room tables and will come at a premium price.
Value Tables (most bang for your buck)
We're big fans of the main room tables that are located near the platform where the dancers perform. The location is fantastic, and it's our top pick for the best value tables in the club. You'll still have a great view from here (the platform is low so that you can see the entire club), and you'll feel like you're in the action too. What's more, you may pay up to $1000 less for these as compared to the prime and center of the room tables that are on the other side of the platform.
Budget-Friendly Tables
The least expensive bottle service options are any tables located on the Rosè Terrace. These tables are on the patio (outside) overlooking the strip. Now if you think that getting a table out here means you'll be far from the action, you might want to reconsider.
While it's true that the terrace tables aren't in the main room, you're welcome to go inside at any time. All you need to do is let your cocktail server know, and she'll hold your table and bottles for you until you return. There's also quite a few tables on the terrace, so it can get packed out here as well.
Lastly, if you'd like to smoke, you'll want to reserve a table on the terrace as smoking isn't allowed inside the main room.
A Note About The Upstairs
For those of you who have been to Lavo Party Brunch before you might remember that there was an upstairs section of the club with a different DJ. It was fantastic because you could get bottle service here starting at $100 per person. Unfortunately, Lavo has closed the upstairs section of the club this year leaving only the main room and terrace available for bottle service. On the one hand, it's nicer because everyone will be on the same level. But on the other, you'll find prices for bottle service to be somewhat higher than last year.
That said, depending on demand, the club may offer smaller tables on the upstairs glass walkway. From here, you'll be able to see the party below, and you can quickly head downstairs too. These tables are usually priced at a discount as compared to other main room tables.
Bottle Menu
Here are a few pages from the current Lavo Party Brunch bottle service menu. The lowest-priced bottles start around $425.
While we do our best to keep menus up to date, please keep in mind that the club determines offerings and prices. Menus are also subject to change without notice.
Food Menu
If you're looking to grab a bite during the dayclub, you'll want to arrive at 12:30 pm. We recommend coming then because you need to allow enough time to be seated and eat before Lavo turns itself into a full-on party. (Between 2 and 2:30 pm the lights go down, and the club starts.)
And like I mentioned in the bottle service introduction, brunch is reserved exclusively for table service patrons. This means that only guests with bottle service reservations can order food.
That said, Lavo does offer brunch starting at 10 am. (Lavo operates as a restaurant before and after the party brunch.) You're welcome to dine at the restaurant earlier in the day and then return at 12:30 pm for the party. This is one of our favorite tips for enjoying Lavo's famous brunch without having to purchase bottle service.
Bottle Service Presentations
Lavo has some of the best bottle service parades. The main reason for this is because Lavo is a smaller venue so when you order a bottle and the waitresses come out with sparklers everyone's eyes will be drawn to you.
If you want a presentation, it's best to speak with your cocktail server upon arrival. Lavo also provides table service guests with a parade menu. You'll find a variety of options at different price points.
Girl Complimentary Tables
Because Lavo is a boutique club and a lot of women like to come here, girl comp tables are few and far between. And girl comp availability is even worse this season since Marquee's Dayclub Dome is closed making Lavo the only dayclub option now. Not to mention that Lavo has decided to close the upstairs section of the club, so there are fewer tables available.
For those of you new to Las Vegas, a girl comp table is when a club offers a complimentary table (free alcohol) to a group of women (sometimes for an hour or two) or possibly for the entire day or night.
Promoter Table
Although challenging to land a comp table given the limited number available this season (or possibly none at all), there may be some available in the form of a promoter table. This is when a promoter hosts multiple girl groups at one table. (A comp is when you get the entire table to your group.)
Like a comp table, a promoter table is not guaranteed for the whole time, and everyone is encouraged to provide a tip for the waitress. Here again, the table can last a few minutes to a few hours. It all depends on when the table gets sold to a paying client. There's absolutely no guarantee how long you'll have the table.
Please note that we're not currently doing promoter or complimentary tables.
What's Cool About Lavo Party Brunch
Only One Of Its Kind
There's no other club on the strip like Lavo Party Brunch. For example, it's the only club that allows you to order food while you party. And it's also the only club to let you dance on the tables. Be careful though and dance at your own risk! It can get slippery if something spills.
Food Is Excellent
The food is honestly really, really good. I've been fortunate enough to have it quite a few times. The white polenta pancakes topped with whipped Nutella butter and hazelnut crunch are amazing. If lunch is more your style, some go-to favorites are the crispy truffle fries and the penne seafood alfredo. Of course, there are healthier options too. Check out the menu posted above for a full listing of food offerings.

Best Girl To Guy Ratio
Hands down Lavo has the best girl to guy ratio of any club in Las Vegas. By our estimates, it comes in at a shocking 3:1. This means that if you're looking to meet some women, you won't have any trouble at Lavo.
Dancers
Lavo has an excellent dancing team. The girls' moves are all freestyle, and they don't just dance for a little while and then leave. They're dancing the entire time. It creates a high energy environment that adds a lot to the party brunch.
What's more, the dancers are in the middle of the action dancing on a platform right next to the tables. So if you appreciate women's booties, you'll enjoy the view.
Lighting
Because Lavo is a smaller club, the lighting is all-encompassing. For example, the beams are stronger, and the colors are brighter than at the other clubs. It's almost like you can reach up and grab the lights.
Party Favors
Lavo is heavy on favors. (Real party favors, not the other kind.) In fact, they offer the most of any club. At Lavo, you'll get glow sticks, glow necklaces and sunglasses. They're also big on confetti so be sure to cover your drink when the confetti showers start.
Theme Parties
Quite often, Lavo throws epic theme parties. Some of the most popular ones include their Halloween party and lingerie brunch. We're also big fans of the superheroes vs. villains party. And ladies, if you come dressed for the occasion, Lavo will reward you with an open bar for about an hour. The open bar happens earlier in the day around 2-3 pm so make sure you get to Lavo early.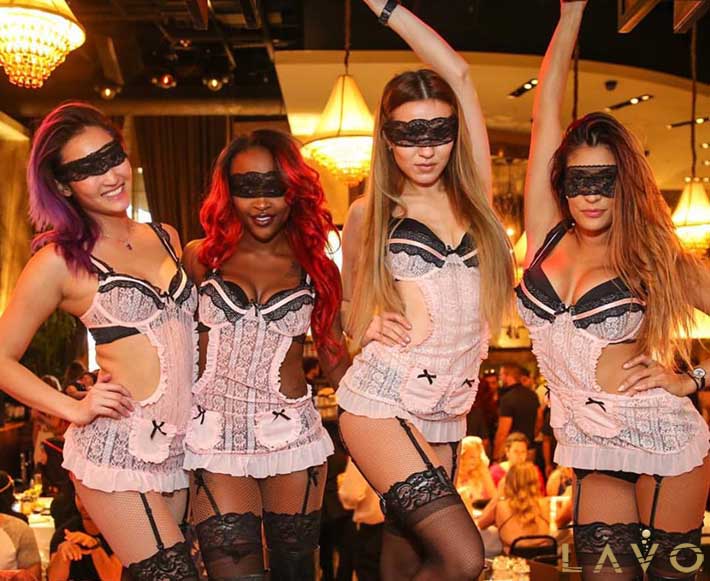 Photo Ops
One of my favorite spots to snap some quick pics is out on the Rosè Terrace. There's a super cute backdrop with flowers in the shape of a heart.
Also, check out the mini red carpet with the Lavo logo backdrop inside the main room at the base of the stairs. There's also a fun photo opportunity inside the Palazzo before you enter the club. There you'll find a large-scale gold frame with flowers and a champagne bottle.
Unique Beverages And Desserts
Lavo has some of the coolest shareable drinks we've ever seen. These drinks come in a huge glass with as many straws as you need so you can share with all of your friends.
Additionally, if you're celebrating a birthday or any other special occasion and you're in need of a cake we recommend ordering one at Lavo. They have some of the most massive, insane cakes in Las Vegas. Not only that but they're crazy good as well.
Now if ice cream is more your speed, they have that too. Of course, the ice cream is humongous and arrives in an ice bowl with as many spoons as you need.
Alcohol Sponsors
On most Saturdays, Lavo has an alcohol company sponsor the brunch. You'll see promo models walking around with free alcohol on trays. There aren't many clubs in Vegas that offer free alcohol so take full advantage of this.
Open Bar
Often, Lavo Party Brunch offers a champagne open bar for guest list ladies from 1:00 – 2:00 pm.
An Important Note For The Ladies
Restrooms
Although a decent size for when Lavo operates as a restaurant, the bathrooms are entirely too small for the party brunch (in my opinion). For example, in the women's loo, there are only two or three stalls. And the line is almost always out the door.
Be careful when you wash your hands too. You'll have to touch the foot bar to turn the water on, and if you do it too forcefully, you'll get water all over you in a not so great place. (Obviously, this has happened to me one too many times.)
Further still, if you want to touch up your makeup, you won't be able to do so. With the line of women behind you and the dark lighting, you can't move or even see yourself let alone throw away a paper towel. Do yourself a favor and exit Lavo to get to a bathroom (please check with security though upon leaving to make sure you'll be allowed back inside once you return).
Vegas Primer Tip: Don't bother going to the bathrooms at Lavo Party Brunch. They're too small and full of guests. Exit Lavo through the main entrance and head diagonally to your left. You'll find a very spacious bathroom with lots of stalls, mirrors, sinks and decent lighting. Just make sure to exit Lavo at least an hour after club opening so getting back inside will be a breeze.
Lavo Brunch Changes For The 2021 Season:
Instead of opening at 1 pm, the main room now opens at 12:30 pm. The terrace still opens early, though, at 11 am.
Lavo is no longer hosting an open champagne bar on the outside terrace. However, there's an open bar for guest list ladies inside the main room from 1 until 2 pm. (Please note that this may be subject to change.)
The table map has changed (kind of). Tables located in the "birdcage" may be considered prime or standard (aka main room) depending on if you pay in advance or not.
The terrace is incredibly cute this season! Not only will you get gorgeous views of the strip, but just take a look at these beautiful swags.
And that completes our primer on Lavo Party Brunch. We obviously love this club a lot!
See you at brunch!
(For more dayclub options, check out our other guides to some of the biggest pool parties in Vegas: Daylight Pool Party and Encore Beach Club.)
---
Save
Save
Save
Save
Save
Save
Save
Save
Save
Save
Save