I write about things I love to do in Las Vegas. If you click a link and make a purchase, I may receive a small commission, which helps to support my work. Learn more
Absinthe is often referred to as the best show in Las Vegas. The production was even named "#1 greatest show in Vegas history." And if you ask most locals, they'll likely tell you the same thing. Absinthe is a must-see.
But is it right for you?
You may have seen mixed reviews about the production and wonder if it's worth watching. I've seen it twice so far, and I'm going to tell you right now – you'll either love it or hate it.
So in this guide, I'll help you figure out if you should go. And I'll cover important things to know, like tickets, finding the best seats, and the acts you'll see!
Absinthe Show: Overview
The production is a burlesque and circus variety show with raunchy humor. And the best part – it all takes place inside a tent!
So you'll see incredible acrobatics, juggling, balancing acts, and even roller skaters that defy gravity. Of course, almost all of the performers are scantily-clad too. And that goes for both the men and women in the show.
Then mixed between the acts is a comedy production of sorts. The humor should really come with a warning, though, as this is the part that some guests might not like. So instead of finding out at the show, I'll alert you now.
Now that that's out of the way, if it sounds like your thing, then keep reading. I'm about to fill you in on everything you need to know about this Vegas show!
Where Is Absinthe In Vegas?
Absinthe is at Caesars Palace. The address is 3570 South Las Vegas Boulevard, Las Vegas, NV 89109.
It's important to note that the production isn't inside the hotel. Instead, you'll find the Absinthe show in the Spiegeltent on the Roman Plaza. This is outside near Gordon Ramsay's Hell's Kitchen – at the intersection of Flamingo Road and Las Vegas Blvd.
If you're getting dropped off at Caesar's main valet, all you need to do is stay outdoors and walk towards the bell desk and taxi stand. There, you'll find a walkway to the Roman Plaza. Soon you'll see a big red and white striped tent in front of you. And this is where you'll find the tent!
Las Vegas Tickets
One of the best features of the Spiegeltent is that it's a smaller venue with the main stage in the middle. So all of the chairs and tables surround it, giving everyone a fantastic view of the acts.
But even though it's a more intimate space, tickets are still priced based on how close you are to the main stage. So the further back you go, the less it will cost.
Section 1: $150 and up
Section 2: $220 and up
Section 3: $150 and up
Section 4: $130 and up
The rates above are averages. Prices are subject to change and vary depending on the day.
There's about a $40 difference between the back and front rows on average. So, for instance, a back row ticket might cost $150, while the front seats will go for around $190. And then everything between those rows is somewhere in the middle.
Seating Chart
The Spiegeltent has four sections. Sections 1 and 3 have the most seats, while Section 2 offers tables or a VIP experience with a bottle of champagne. And then Section 4 is next to the Throne Stage towards the back of the tent.
All the sections are good, but a performer will appear on the Throne Stage a few times during the night. So if you're sitting in the front rows of Section 4, you may have to turn around to see the performance. Or, if you're in the back rows of this section, you'll be looking at the performer's backside.
What Are The Seats Like?
Unfortunately, the seating at Absinthe isn't the best. Almost all seats are either metal folding chairs or wooden chairs and barstools. And there isn't any padding on them either.
So by the end of the show, your neck and back might be hurting some. That said, I still think it's worth seeing despite a bit of pain.
Generally speaking, you'll find the barstools towards the back of the tent, and the chairs are in rows closer to the stage. The chairs, though, aren't elevated, so unless you're in the first row, you'll have people's heads in front of you.
Not a super big deal since the stage is pretty high, and many of the performer's routines are in the air. So it's safe to say that other guests won't entirely obstruct your view during the night.
If you want an elevated view, my seats were pretty good the second time I went. We had one wooden and one metal barstool. And they were in Section 3, row K, seats 40 and 41. These barstools were close to the back, but I didn't have any visibility issues sitting here.
Seating is always subject to change, though, and at the venue's discretion. So I can't guarantee that you'll have the same stools I did if you get tickets here.
Best Seats For Absinthe
Since it's a small venue, you really can't go wrong sitting in most seats inside the Spiegeltent. So the best seats in the house are more a matter of personal preference.
For instance, the closer you are to the center, the more likely you are to get roasted or even brought up on stage. So if you don't want to be singled out, it's better to get tickets further back. You should be safe after the first three rows.
Overall, if you're not getting VIP tickets, I like seats in Section 3 the best. I feel they offer fantastic value for the money. And I thought the performers and host gave a lot of attention to this side.
Sitting in the middle of Section 3 is also great because the view of the Throne Stage is pretty good.
Gaz Reserve VIP Experience
Absinthe offers a VIP Experience in Section 2. These come with a higher price tag, but you'll get a reserved table and a complimentary bottle of Champagne.
You'll also enjoy what the venue considers one of the best views in the house as both stages are in front of you.
There's a lot of space between the tables, too, so it won't feel nearly as cramped as compared to chair or barstool seating. And you'll have an elevated view here as well.
Most of the VIP tables only accommodate two people, though. But there is one table that seats four.
Dates & Times
The production is so popular that it runs 365 days a year! So no matter what day you're in town, you'll have a chance to see it. But even better, there's more than one showtime each night.
Sunday through Thursday: 8pm & 10pm
Friday and Saturday: 7pm, 9pm, & 11pm
The length is roughly 80 minutes, and there isn't an intermission.
What's The Show About?
Absinthe is a variety show. But it's not just any variety show with a random magician and a juggler. Instead, the talent is phenomenal! And I'd even go so far as to call the entire production jaw-dropping (in more ways than one) and death-defying.
Acrobats & Entertainers
Many of the performances are similar to Cirque du Soleil-type acts, but they're on a much smaller stage. So it'll have you on the edge of your seat, genuinely worried about the safety of the performers.
For instance, you may watch an acrobat build a chair tower and climb to the top. Or a roller-skating duo that spins so fast you think one of them might actually land in the audience.
There are also contortionists, an artist that falls from a plastic tube, mind-blowing balancing acts, dancers on poles, and my favorite – the tap-dancing brothers.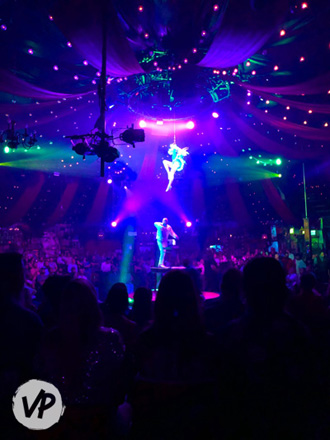 And then there's the Green Fairy, who drops from the ceiling and performs a seductive burlesque number to "Come On-A My House."
I'm sure it comes as no surprise that her rendition is well-received by many men in the audience. And if you're in the front row, you may even get chosen for some one-on-one attention.
Comedy
Between the acts, you'll hear the most outrageous and over-the-top comedy you could ever imagine. And that's all thanks to the host of the show, the Gazillionaire (Gaz) and his assistant Wanda.
Gaz is as politically incorrect and inappropriate as they come. And Wanda likes to give an account of her "personal activities" throughout the evening. So be prepared for indecent topics and bad words galore!
Towards the night's end, Gaz selects some audience members to come up on stage to show off their moves. And then you'll get to choose a winner by cheering and clapping for the dancing you like the best. (This segment was hilarious – it was hands down one of my favorite parts of the entire night!)
Frequently Asked Questions
Here are some of the most asked questions about Absinthe in Vegas.
Does Absinthe Show Have A Dress Code?
Many guests like to dress up, especially at the later shows, but it's not required. So resort casual wear like jeans and a t-shirt are acceptable.
Is There An Age Limit?
Absinthe is an adult production – ages 18 and up only.
Is There Any Nudity In The Show?
When I saw the show for the second time, all performers' private areas were covered. The acrobats dress sexy, though, and reveal their bodies in many acts. For instance, one of the ladies wore pasties, and others were in leotards and two pieces.
The guys also took their shirts off, and a few even sported underwear-like garments. So if that's too much skin for your liking, then it's best to skip this show.
Can You Drink During The Show?
No outside food or beverages are allowed. But you can buy drinks at the truck outside before heading into the tent. It's not cheap, though. To give one example, it was around $10 or $12 for a bottle of water.
There are also servers inside the venue to take your alcohol and beverage orders anytime during the show.
Conclusion
Absinthe in Vegas is hilarious, and I recommend seeing it for the acrobatics alone. The stunts are terrifying, making the entire production feel fun and fast-paced.
However, there's A LOT of dirty talk. In some of the reviews, a few guests even walked out because of the humor. But if you can deal with that, not take it too seriously, and aren't easily offended, it's a fantastic show.
I'd say that the most controversial character is Wanda. So again, if you're on the fence about going, check out some videos first so you can get a better idea of her comedy.
The Gazillionaire also picks on people in the audience. So if you don't want to be "chosen," don't sit in the front rows. Additionally, no topic is off-limits for Gaz, including politics, race, stereotypes, etc.
If you think you're okay with all that, I can pretty much guarantee you'll laugh your head off the entire night! Sure, some of it is a bit over the top, but it's definitely worth going.
---
If you only see one show in your entire life, make it Absinthe!

-Huffington Post