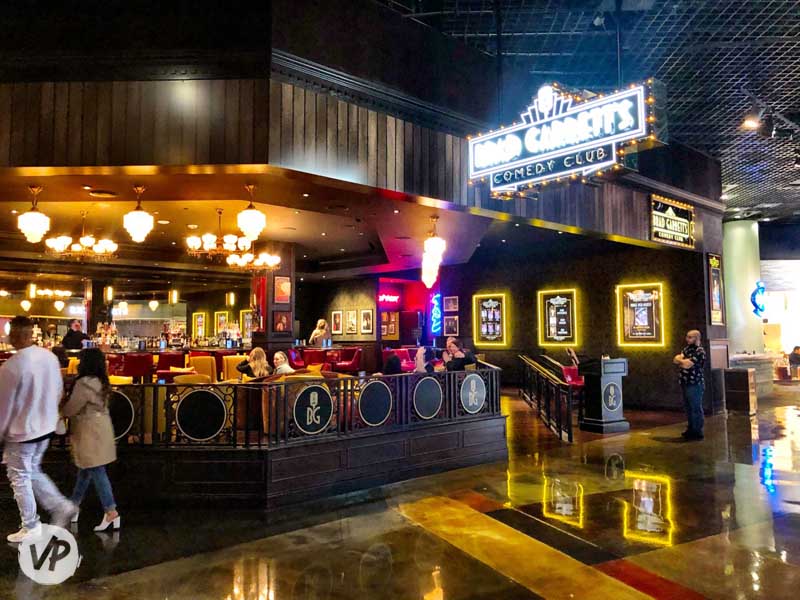 I write about things I love to do in Las Vegas. If you click a link and make a purchase, I may receive a small commission, which helps to support my work. Learn more
Brad Garrett's Comedy Club in Vegas is popular! The venue is always packed and brings in top talent from the national comedy circuit every night.
You'll see top names like Michael Loftus, Kevin Bozeman, and Omid Singh. And, of course, on select nights, you'll see the big man himself – Brad Garrett.
So, in this guide, I'll give you an in-depth review of the club. And I'll answer your most pressing questions like, is there a two-drink minimum, and how long is the show?
Let's get started!
About Brad Garrett
You may know Brad from his role on the hit sitcom Everybody Loves Raymond. But he started in entertainment long before that. After attending college for only a few weeks, he left school to pursue stand-up full-time.
And boy, did it pay off. In 1984, Brad won Star Search, launching him onto the national scene. He appeared on The Tonight Show and then went on to open for the biggest acts in Las Vegas.
But it was always his dream to open a comedy club someday. And that's why he started the Brad Garrett Comedy Club in Vegas in 2012. He wanted to return to where his career began and help other comics from around the country.
And now, Brad's club is often referred to as the best comedy club in Vegas, thanks to its impressive talent lineup.
Location
Brad Garrett's Comedy Club is inside the MGM Grand hotel in The District. The address is 3799 S Las Vegas Blvd, Las Vegas, NV 89109.
Directions To The Comedy Club
Now that it's in its new location, Brad's Las Vegas club is a little tricky to find. And unfortunately, when you're walking through the hotel, you won't be able to look at the signs above for directions to the show. But you can follow the overhead signs to The District, which will take you to the comedy club.
From MGM's Front Desk:
So starting at the MGM Grand's main lobby entrance, go past the front desk and walk into the casino. Then, take a right after the Lobby Bar and walk past Wolfgang Puck's restaurant. Next, stay right to head towards The District.
You'll soon walk by Ambra Italian Kitchen and Morimoto. And then the venue will be just ahead on your left, across from Emeril's Seafood.
From Rideshare Dropoff/Self-Parking Garage:
Now, if you're getting dropped off by a rideshare service (or you're self-parking), you'll enter the hotel from the parking garage. Walk straight until you see an escalator in front of you and go up one level to MGM's front desk. And then just follow the directions above.
Show Dates & Times
The Brad Garrett Comedy Club is open every night of the week except for some holidays. So no matter what day you're in town, you'll have the opportunity to see some of the biggest names in comedy.
There's only one show nightly, though, at 8:00 pm. But each show has an opening act, featured performer, and a headliner.
Read Also: Brad Garrett Comedy Club Schedule
Comedy Club Information
The Brad Garrett Comedy Club is elegant. It's designed in a roaring 20s style with a throwback Vegas vibe.
And it's a brand new space, too, with comfortable seating and tables for everyone in the audience. Even the menus light up, making ordering drinks from your seats easy.
The room features an intimate setting with the stage in the middle, so everyone has a view of the performers. And there are also autographed photos on the walls, which are fun to look at after the show.
Brad Garrett Comedy Club Tickets
There are three seating sections at the Brad Garrett Comedy Club. Tickets are priced based on how close you are to the stage and who the headliner is for the event.
Category A: Side and middle of the room seating, mid-price
Category B: Back of the room and sidewalls, cheapest
Category C: Closest to the stage, premium price
On average, tickets cost around $70 per person, plus applicable fees. But when Brad's performing, rates are higher. Based on what I've seen, each section costs roughly $35 more on a Brad night.
The comedy club is on the smaller side, so everyone will have some view of the stage. But if you're willing to spend more, I think it's worth getting upgraded tickets.
You can check out my Brad Garrett Seating Guide to see the locations of the ticket categories. In the guide, I also share my recommendations for the best seats.
Drink Menu
Below is the current drink menu at Brad Garrett's Comedy Club. This is just a sampling of some of the offerings available. There's also a full beer menu you can view at the club.
You may notice that there aren't any drink prices listed, and that's because they're subject to change. But when I was there recently, drinks were around $15 to $20.
Unfortunately, there isn't a food menu because the venue doesn't have a kitchen. But if you're hungry, the club has some fantastic popcorn. (And it's all made locally in Vegas, too, and fresh for each show.)
You can choose from many flavors, like Kettle Corn, Sea Salt Caramel, and Cinnamon Toast. Just make sure you bring some cash if you want to get popcorn.
How To Order Drinks
Ordering drinks at the club is convenient. Every table has a light-up menu making it easy to see all the offerings, even in the dark.
So if you'd like to order a beverage or some popcorn, all you need to do is press the button on your menu, and it'll turn red. And a server will come by to take your order.
Towards the night's end, your server will come back to close out your bill. You'll sign for everything at your table, and it's all done electronically in front of you, so you won't have to move at all!
FAQs
Here are some of the most asked questions about the Brad Garrett Vegas show.
Is There A Two-Drink Minimum?
Since it's a comedy club, many people think there's a two-drink per person rule, but this is NOT the case. So you won't have to buy any beverages while at the Brad Garrett Comedy Club. But please remember that no outside food or drink is allowed inside the venue.
What Do You Wear To Brad Garrett Comedy Club?
You don't need to dress up to see the comics at Brad Garrett's Comedy Club. But, of course, you're certainly welcome to if you'd like. When I went, most people were in casual attire like jeans and a t-shirt. And that's what I wore too.
Just make sure you're wearing shoes and a shirt; otherwise, you won't make it into the club.
Do I Need To Pick Up My Tickets?
There's no need to stop at the box office to pick up your tickets before going to the club. Tickets are sent via email, so all you need to do is show your ticket's bar code on your phone, or you can print it out, too.
Once you're at the door, a staff member will scan your tickets, and then a host will show you to your seats.
How Long Are Brad Garrett Comedy Club Shows?
The show was about 75 minutes when I was there, but it can vary depending on the acts. So you can expect the show to last anywhere between 60 and 90 minutes.
And again, you'll typically get to see three comedians – the host of the night, a featured comic, and then the headliner.
Are There Souvenirs?
Yes! If you order one of the club's specialty drinks, you'll receive a complimentary 15oz souvenir glass. You can also buy extra glasses for around $10 each.
Additionally, you can purchase playing cards and hats autographed by the big man himself. All proceeds are donated to Brad Garrett's non-profit organization, Maximum Hope. The foundation helps assist families with children in need.
What's The Brad Garrett Comedy Club Lounge?
The BGCC lounge is just outside the comedy club doors. There's lots of comfortable seating with live jazz music on Fridays and Saturdays starting at 5:30 pm. Even better, there's no cover charge for the entertainment.
It's a great spot to hang out before or after the show. But keep in mind that there's a one-drink per person minimum to sit in the lounge.
Are There Any Age Restrictions?
Yes, all attendees must be 21 years of age or older.
Is It Worth Going If Brad Isn't Performing?
I think so! You'll still get to see some top-notch talent at the club. For instance, when I went, I got to see Steven Roberts, Dave Burleigh, and Michael Somerville.
Dave's impressions were phenomenal, but I enjoyed Michael Somerville the best. If you'd like to see Michael's work, here's a take on one of the comedy bits he did at the show.
Additionally, on nights when Brad isn't performing, ticket prices are more reasonable. So there's yet another reason you might want to consider going on a non-Brad night instead.
And according to some reviews, the big guy tends to focus his jokes on the audience, making his humor a bit edgier. But if you've seen the Absinthe show, and you can handle that, you'll be just fine during one of Brad's sets.
Are Photos And Video Allowed?
Unlike other shows in Vegas, you're welcome to take photos or record videos on your phone. Unfortunately, though, the club doesn't allow cameras with detachable lenses. Also, please don't use your phone's flash when the comics are on stage.
What Are The Best Restaurants Nearby?
The club is in The District with most of the other MGM restaurants. So it's easy to grab a bite to eat before or after the show. Some popular spots near Brad Garrett's Comedy Club are Emeril's Seafood and Wolfgang Puck Bar & Grill.
If you're looking for more of a fine dining experience, Hakkasan Restaurant is one of my favorites. It's a bit of a walk from the comedy club but still on the MGM property.
brad garrett las vegas
Get Your Tickets Now
Thanks so much for stopping by my site and checking out my review! If you've found it helpful, I'd greatly appreciate your support. The button below is my affiliate link where you can get tickets. It doesn't change the price you'll pay, but it helps me out a lot! 🤍 Jenna
Conclusion
I loved every minute of my Brad Garrett Comedy Club experience, and I laughed the entire time. Although I didn't get to see Brad, the comics at the show I saw were outstanding. It left me wanting more, and I wish it had been a little longer.
We didn't get there until right before the club started, which was a mistake. And because of that, I recommend arriving at least 30 minutes in advance.
This way, you'll have plenty of time to order drinks and enjoy them before it starts. And again, your seating location will also be better with an early arrival.
The comics you see will determine your overall club experience. So if you have your heart set on seeing Brad, be sure to check the club's schedule before purchasing your tickets.
I definitely plan on going again soon. The Brad Garrett Comedy Club is one of my favorite Vegas shows to date!
---