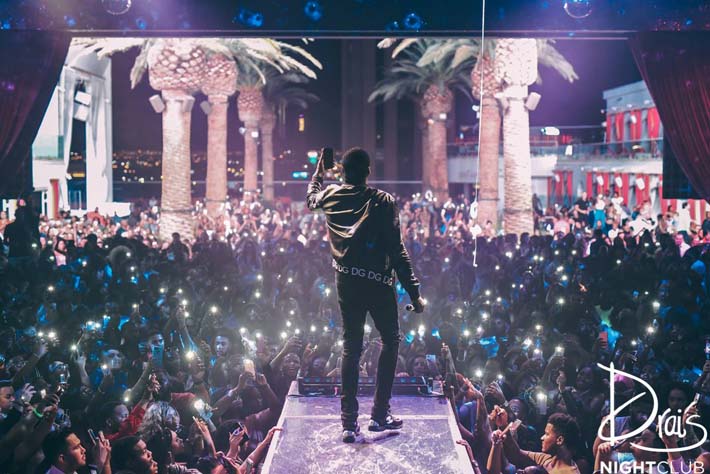 Without question, Drai's Nightclub is the best hip-hop club in Las Vegas. And I'm sure that won't come as a surprise to those of you who have been before.
The club has a fantastic indoor/outdoor design with gorgeous views of Las Vegas Blvd. And its enormous stage features the best dancers in town.
But where the venue stands out, though, is in its event lineup. For instance, Drai's is more than your typical DJ-based club. It's a performance club. Sure, they have DJs that play hip-hop music on some nights. But you'll also get to see megastars like 2 Chainz, Ludacris, and Big Sean.
Yes, I'm talking LIVE ON STAGE.
There aren't any clubs in Vegas that offer an actual concert experience with top acts like these on the reg!
About Drai's Nightclub
If you were to ask any of the Drai's Group partners how they came up with the concept for the club, they'd tell you it was inspired by their favorite nightclub experiences around the world.
They took what they liked best at these venues and re-created it on the rooftop of the Cromwell hotel. And they spared no expense.
When you step foot inside Drai's Nightclub, you'll immediately notice that you're in a monstrous mega-club with a view that's quite possibly the best in Vegas.
The club features 30,000 SF of indoor and outdoor space, four bars, 7,000 SF of LED screens, 75 bottle service tables, and a phenomenal sound system.
And let's not forget the crown jewel of the club – an 80-sided LED disco ball that hangs from the ceiling in the center of the dance floor.
Quick Facts
Nights Open: Friday, Saturday, and Sunday
Hours: 10:00 pm – 4:00 am
Bottle Service: $$$ – $$$$
Music: Hip-hop
DJs: DJ Esco and DJ Franzen
Residents: 2 Chainz, 50 Cent, Big Sean, Gucci Mane, Rick Ross, and more
Special Events: Swim Night
Location
Drai's Nightclub is inside the Cromwell hotel in the middle of The Strip. The address is 3595 S Las Vegas Blvd.
Fortunately, it's easy to find the club. From Cromwell's main valet, enter through the casino doors. You'll see the entrance to Drai's Nightclub just off to the right.
Dress Code
For guys, we recommend pants, a button-up shirt, and dress shoes. Jeans are okay as long as they look nice and aren't baggy.
For ladies, a dress and heels are always encouraged. But you have much more leeway in your fashion choices than the guys do. For example, you can pretty much wear whatever you want except for anything see-through.
Also, please don't wear flip-flops unless it's Drai's Swim Night.
If you're told to change an item of clothing, please don't ask to speak to a manager. It won't do you any good. It'll probably just get you kicked out of the club.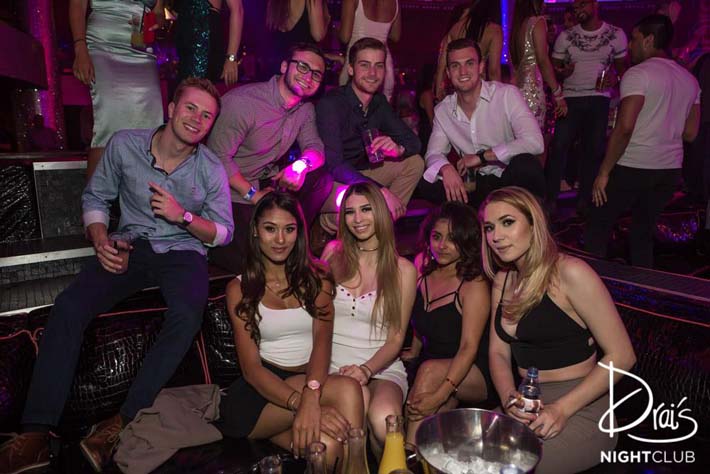 Prohibited Items
The following items are not allowed inside Drai's Nightclub. So please leave them in your hotel room. If you bring any of these things to the club, Drai's management may take and discard them without reimbursement. Even worse, you may be denied entry.
eye drops
gum
outside food and drinks
liquids
vitamins or supplements
over the counter medicines
medications without a prescription
cameras and GoPros
selfie sticks
vapes
Tickets
Ladies: $20+ on DJ nights and $40+ on performance nights.
Guys: $30+ on DJ nights and $75+ on performance nights.
The prices listed above are averages and do not include tax and processing fees. So you'll want to add roughly 25% to the ticket price to calculate the total amount you'll pay. Also, cover charges are higher on holiday weekends.
Guest List
Drai's offers a guest list on most nights. To get on the list, you'll need to reach out to a promoter.
Women receive free entry with a guest list reservation.
Men may also get complimentary access into the club with at least an even ratio of women to men in the group.
You'll want to adhere to the guest list rules, though, to ensure entry. These rules include arriving before the guest list cut-off time (we recommend at least an hour before) and sticking to the club's dress code.
Drai's Nightclub Table Service
Making a bottle service reservation at Drai's Nightclub gets you the ultimate VIP treatment.
For instance, you'll receive the following benefits.
Complimentary and expedited entry into Drai's Nightclub for your entire group
Your choice of three unlimited mixers (i.e., orange, pineapple, and cranberry juice)
Designated table for the night
Cocktail server
Security staff to keep any unwanted guests away
Busser
Storage space for purses, cell phones, and wallets
You can make a table reservation in the club's outside area, on the second level, or in the main room.
On non-performance nights, prices typically start around $700 and go up to $5,000+ for the most sought-after table locations.
Drai's outdoor section features poolside banquettes, bungalows, and patio dance floor tables. Upstairs, you'll find VIP balcony tables and mezzanine booths. And in the main room, there are elevated VIP booths, banquettes, upper dance floor tables, dance floor tables, stage tables, and the coveted owner's table.
On Drai's Swim Nights, more bottle service table locations open up around the pool. These additional table options include day beds, panorama booths, pool deck booths, and cabanas.
Bottle Service Minimum vs. Total Cost
Prices for Drai's bottle service are quoted as a minimum spend amount. In exchange for a dedicated table, you'll need to agree to spend a certain amount on bottle service.
To explain further, if you select a banquette table that has a $1,000 minimum, then you'll need to spend at least $1,000.
Now, if you go over that amount, you'll be responsible for the overage. Conversely, if you spend less, then you'll still have to pay $1,000.
You can spend your minimum however you'd like. All items on the bottle menu will count towards your spending requirement. And yes, that includes bottles of water and energy drinks.
But, keep in mind that bottle prices in Vegas are MUCH higher than what you'd find at your typical liqueur store. Plan on spending at least $600 a bottle.
Drai's Nightclub Table Map
The prices listed below are averages based on non-performer nights only. Prices may be higher or lower depending on the night.
Poolside Banquette
Cost: $700+
Capacity: 4 guests
Description: Located on the pool deck in Drai's outside area, you'll party the night away under the stars. From here, you'll still get a great view of the entire club. And although not in the main room, you can see what's happening on the main stage by looking up at the LED screens. Poolside banquette tables are one of the most budget-friendly bottle service options at Drai's Nightclub.
VIP Balcony
Cost: $700+
Capacity: 4 guests
Description: VIP balcony tables provide a sweeping view of the main room. And you'll also be at eye level with the impressive disco ball. These tables are a fantastic spot to watch the confetti and blasts of cold fog rain down on the crowd. They're an excellent option for doing bottle service on a budget.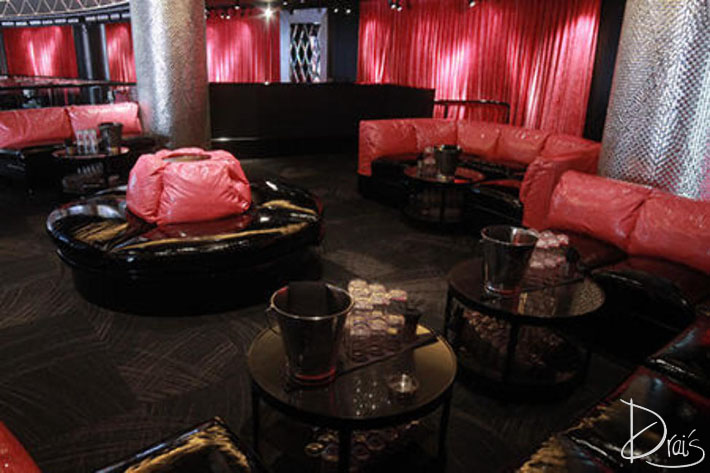 Mezzanine Booth
Cost: $1000+
Capacity: 6 guests
Description: The mezzanine booths offer privacy and are ideal if you want to be away from the crowd. Like the VIP balcony tables, they're on the second level overlooking the dance floor, so you'll get a birds-eye view of the entire venue.
Bungalow
Cost: $1000+
Capacity: 8 guests
Description: You'll find bungalows in Drai's outside section, along the edge of the main pool. They're equipped with top-notch amenities, including couches, a flat-screen TV, and a cabinet for storing your belongings. (You can't go swimming in the pool, though, unless it's a swim night.)
Banquette
Cost: $1000+
Capacity: 4 guests
Description: Banquettes are along the back wall of Drai's main room. These are the perfect option for smaller groups. The tables also come at a fantastic price for being on the main level of the club. For instance, you'll get a comfy leather couch to sit on, and you're just a few short steps away from the dance floor. You'll be behind a walkway here, though, so if you don't want people walking in front of you all night, choose the elevated VIP booth tables instead.
Elevated VIP Booth
Cost: $1500+
Capacity: 6 guests
Description: On the north and south sides of the club, you'll find elevated VIP booths behind the banquette tables. These provide an all-encompassing view of the main room. The booths are roomy and comfortable, and they're decently close to the dance floor and DJ booth, too. The elevated VIP booths are our top pick for best value tables at Drai's.
Patio Dance Floor
Cost: $2000+
Capacity: 6 guests
Description: Patio dance floor tables are just shy of the main room on Drai's outdoor patio. Here, you'll be in the center of the club and get a real indoor/outdoor experience. These generously sized tables are just like Drai's dance floor tables. But you'll save a few grand by opting for this location over the dance floor.
Upper Dance Floor
Cost: $3000+
Capacity: 10 guests
Description: Directly behind the dance floor tables are the upper dance floor tables. You'll have an exceptional view from here and be ultra-close to the dance floor and DJ booth too. There's also only one way to enter these booths, so you'll know who is coming and going at all times. The upper dance floor tables are another of our top picks for best value tables at Drai's.
Dance Floor
Cost: $4000+
Capacity: 10 guests
Description: The dance floor tables are considered the best table location in the entire club. They're right on the dance floor, so you're only a step away from the action. You'll have an outstanding view of the DJ and performers too. Hands down the ultimate spot to experience the party, confetti showers, and cryo fog raining down.
Stage
Cost: $5000+
Capacity: 6 guests
Description: Stage tables are behind the DJ booth giving you an all-encompassing view of the entire party, including the sights of The Strip. You'll also feel like you're the ultimate VIP here with the DJ, performers, and dancers so close that you can almost touch them. Additionally, entry to this secluded area is protected by security guards, which means that you won't have to worry about any uninvited guests. It may be harder to meet people here, though.
Owner
Cost: $5000+
Capacity: 12 guests
Description: The owner table (also called The King's Table) is where the owners sit when they come to the club. Its location is purposefully selected to offer one of the best sensory experiences in the entire venue. It's also one of the largest booths. And, similar to the stage tables, it comes with a high minimum spend.
Best Tables At Drai's Nightclub: Upper & Lower Dance Floor
In our opinion, the best table locations at Drai's Nightclub are the dance floor and upper dance floor tables. (This recommendation includes the super-sized owner table too.)
We like these tables the best because it's easy to invite other guests to join you as you're only inches from the dance floor and conveniently located near the walkways.
Best Value Tables: Elevated VIP Booths
Without hesitation, the elevated VIP booths are our top pick for the best value. (We define "best value" as a superior combination of location and price.)
Like we mentioned above, these booths are located along the nightclub's back wall, where you'll have an elevated view of the entire club and be relatively close to the dance floor.
Now you might be wondering why we didn't choose the banquette tables directly in front of the elevated VIP booths. These are a good option as well, but the banquette tables aren't elevated. And they're along a walkway, so everyone will be walking by you all night long and may even obscure your view at times.
Drai's Bottle Menu
Below you'll find the current bottle menu for Drai's Nightclub. The following menu is for informational purposes only. Prices and offerings are subject to change without notice.
What's Cool About Drai's In Las Vegas
Drai's stands apart from the other nightclubs in more ways than one. From its swim night events to the after hours party, you won't want to miss it!
Swim Night
Drai's has a nighttime pool party during the summer months. On these nights, you can go swimming in the pool, all while enjoying the best hip-hop talent in town.
For event dates, check the official Drai's Nightclub calendar.
It's important to note that the dress code is more relaxed on Swim Night as most people come in swim attire.
Bottle Service Presentations
Drai's is the only venue that has fireworks as a bottle presentation. And, even better, you get a detonator!
Known as "fire in the sky" presentations, you'll receive a fireworks package. The fireworks shoot off the rooftop of the Cromwell and an exquisite bottle of champagne is also included. Fair warning, though – the cost is about $20,000 for one of these!
For the most high-roller experience, Drai's even offers a private jet charter (737), a fireworks display, and multiple bottle selections for you and your friends. Prices for this experience start around $250,000.
Of course, the club's other bottle presentations start at much more budget-friendly amounts. So if you're interested in getting one, all you need to do is speak with your cocktail server upon arrival, and she'll let you know the available options for that night.
Prices and packages are subject to change.
Vibe
The energy at Drai's is electric. I know that might sound cheesy, but it's true. There's no other club in Las Vegas that has this high of energy.
For example, you'll see DJ Esco and DJ Franzen take to the stage and dance. And they'll be on their mic getting the crowd going as well.
And on the performance nights, the hip-hop talent draws such huge crowds the energy is off the charts.
Guest Experience
Drai's Nightclub focuses a lot on the overall guest experience. Rather than the DJ being the sole focal point of the nightclub, it's only one of many.
For instance, Drai's ensures that all guests are well cared for with their exceptional customer service.
They've also succeeded in making the club a destination in itself. Just head to the outside section and take in the breathtaking panoramic views.
And although the DJs certainly draw a crowd, you'll see top hip-hop artists that are exclusive to Drai's. These performances are part of the club's Live series that features choreographed dancing and full production with lighting and sound.
In short, you're getting a concert experience in a nightclub. There's nothing else like it on The Strip.
Table Service
If you're planning on getting bottle service at Drai's, the table selections are fantastic. There aren't just one or two excellent locations at Drai's. There are a lot!
That's why you'll often hear us say "any of the dance floor tables" or "any of the back wall tables."
So you don't need to request specific table numbers, as almost all locations are excellent in each section.
After Hours
If you're looking to get your party on after you're finished with Drai's Nightclub, head to Drai's After Hours. Although not technically inside the nightclub itself, After Hours is to the right of Drai's main entrance.
Keep your eyes peeled for a gold elevator. That's the entrance to this underground after-party.
We recommend everyone give After Hours a go at least once (or twice). It's incredibly fun – as long as you're willing to stay up until 6 am!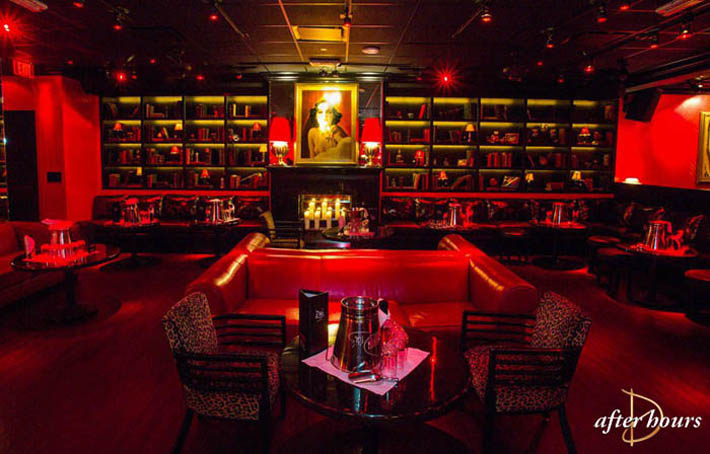 Conclusion
Drai's Nightclub is the right club for you if you want to catch a concert with a top hip-hop artist or if you're looking for a club that plays hip-hop music.
Bottle service is also moderately priced, which we definitely appreciate! Although rates do tend to increase the closer it gets to the event date. Sometimes too certain table sections sell out a few days in advance.
Tickets are reasonable (if you purchase in advance), and the guest list typically gets even ratios of men and women into the club for free.
Drai's gets packed, though! So make sure to get there early to grab your spot on the dance floor. Otherwise, you'll be in the back of the club watching all the action on the big screen.