Tao Las Vegas is one of the most famous nightclubs in town thanks, in part, to its celebrity following. And although it's not the youngest club on the strip (it's actually one of the oldest), it remains a top contender.
The venue's success is due to its reasonable bottle service prices, music mix, and fast entry times. There's also the convenience of the legendary Tao Restaurant next door.
And then, of course, there's the club's latest bottle service invention – VI.We. This table-sharing experience has skyrocketed Tao's popularity.
So, in this primer, we'll cover all of the above and show you why Tao might be the right nightclub for you!
Tao Nightclub: Overview
Days Open: Thursday, Friday, and Saturday
Hours: 10:30 pm – 4:00 am
Bottle Service: $ – $$
Music: Hip-hop, Top 40, EDM
DJs: Chuckie, Sheck Wes, Ruckus, Eric Dlux, Justin Credible, and more
Special Events: Worship Thursdays
What It's Like
Tao has one of the most original club layouts in Las Vegas. The nightclub is deep and wide, so you'll have plenty of space for dancing and meeting other guests. There's also an upstairs section and window views of the Las Vegas Strip.
If you want to take a break from the party, there's a fantastic outdoor balcony overlooking the gondolas. Trust us; it's one gorgeous sight!
The venue attracts various ages, too. You'll find lots of people in their 20s, 30s, and 40s+. So no matter your age, you won't feel out of place.
And getting drinks is always a breeze at Tao, as at least two large bars are operating nightly. (Over the corner bar, there's even dancers performing inside a birdcage!)
But our absolute favorite part is the music. On most nights, you'll hear a mix of hip-hop, EDM, and Top 40 hits, so everyone in your group is sure to be happy.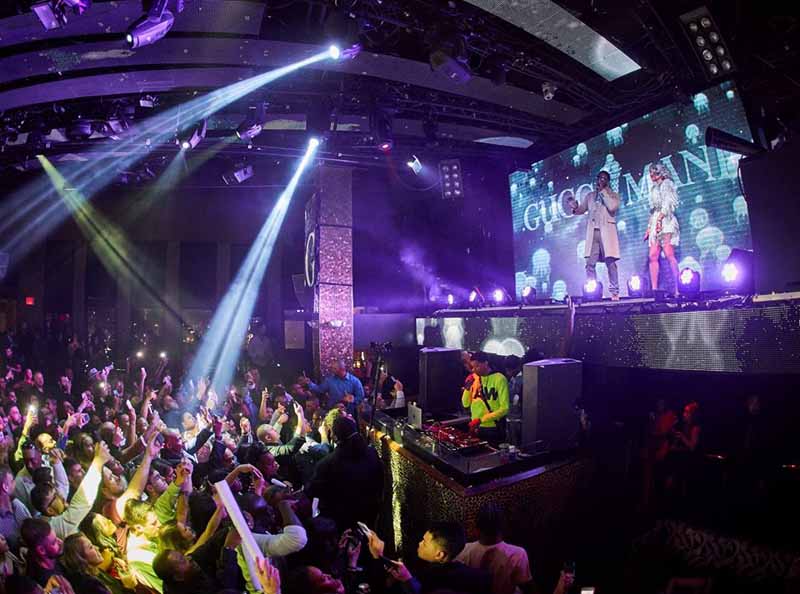 Location
You'll find Tao Nightclub inside the Venetian hotel. The address is 3377 South Las Vegas Blvd.
Directions
From the Venetian's main valet, walk straight through the casino until you see the escalators on your left.
Proceed up the escalators, and you'll find Tao Nightclub in the corner on the right.
You'll know you're in the correct spot if you look up and see the fantastic masterpiece shown below. The famous ceiling is also visible from the casino floor.
Dress Code
Tao Nightclub's dress code is like most other clubs in town. As with all venues, the shoes tend to be the most important, so make sure those look nice, and you should be just fine.
Men
Tao's official dress code for men is:
Upscale-casual, button-down collared shirts and dress shoes.
Please do NOT wear any of the following items.
Shorts
Sneakers
Flip-flops
T-shirts
Tank tops
Hats
Sports Apparel
Women
Tao Nightclub doesn't haven't as many exclusions for ladies.
Jeans and a top are acceptable to wear with heels. Most of the time, though, women come to the club in dresses or skirts.
It's best to avoid wearing sneakers, flip-flops, or anything see-through.
Tickets
Tao Nightclub tickets are an excellent option for guys not getting bottle service. Or for men that don't have enough ladies in their group to qualify for the club's guest list.
They're also a good idea for women that didn't get on the guest list in time or won't make it to the club before the guest list closes.
You can buy your tickets in advance or at the door.
Purchasing tickets through the club's website will typically get you the best price. If you wait until you arrive at Tao, the cover charge may be higher.
The following are the current advance sale ticket prices. Please note that these rates are subject to change. In addition, all ticket sales are also subject to the Live Entertainment Tax (LET) and a processing fee.
Female: $20
Male: $30
VIP Admission
Tao Nightclub may also offer VIP Admission tickets on select nights. These tickets are priced higher – usually around $100 plus applicable tax and fees. But these tickets offer excellent value because they include a bar card you can use throughout the night.
Tao Nightclub Guest List
If you're on Tao's guest list, you'll get free admission into the venue.
The club is also known for having one of the fastest lines in town. So you shouldn't have to wait more than five to ten minutes.
Women
All ladies get complimentary entry on Tao's guest list. On most nights, women also get access to an open bar from 11:30 pm until 12:30 am.
Please note that Tao Las Vegas determines the alcohol offerings. Additionally, open bar availability may be subject to change.
Men
Guys can also get on Tao's guest list as long as there's at least an even ratio of women in the group.
For example, if you have two guys and two girls in your group, then you'll get in for free. Or if you have three girls and two guys, that would land you complimentary entry as well.
Bottle Service At Tao Las Vegas
Tao has some of the most reasonable bottle service rates on the Las Vegas Strip. And thanks to the club's unique design, you'll find a variety of table experiences to suit your taste and budget.
Like all nightclubs, Tao's table service pricing is based on a few factors.
Table location: The closer you are to the DJ, the more you'll pay.
Group size: Larger parties will need to spend more than smaller groups.
DJ: If it's a top DJ, expect to pay up.
Day of the week: Fridays and Saturdays are usually priced higher than Tao's Thursday rates. Holiday weekends will also cost more.
On average, Tao's VIP pricing generally starts at a $600 minimum spend for entry-level tables and goes up to about $2,000 for dance floor booths.
We'll cover each table section, including its average cost, in our table summary below.
What You'll Get With A Tao VIP Table
With a bottle service reservation at Tao, you'll receive the ultimate VIP treatment. For instance, you'll get free and expedited entry through a dedicated table line.
Once you're at your table, a cocktail server will take your order and pour your drinks. And, throughout the night, a busser will make sure your table stays clean and stocked with glasses.
All reservations also include your choice of three unlimited and complimentary mixers. And if you have any unwanted visitors or need any help, security staff is always close at hand.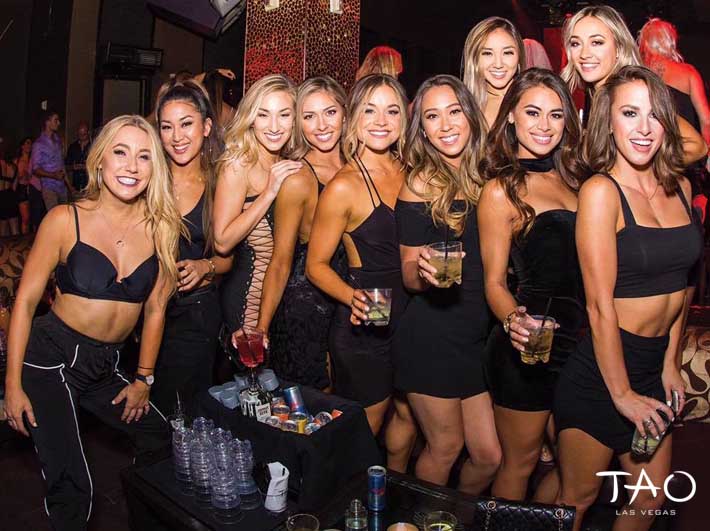 ---
Entry Level Tables
Number of Guests: 3-6
Description: Tao's entry-level tables are in the Voyeur hallway, along the club's back wall, and on the mezzanine level. Tables in the Voyeur hallway are typically only available on high-demand nights. So most of the time, you can count on getting seated in the main room or on the mezzanine. The back wall tables enjoy proximity to the 360-degree bar, which is a fantastic spot for mingling. And the mezzanine level will give you an excellent view of the DJ, thanks to the glass railings.
---
Standard Tables
Number of Guests: 10
Description: Tao's standard tables are in the main room, typically along the walkway. Sometimes though, if there are a lot of reservations, Tao may seat standard reservations on the mezzanine level. It's also possible for smaller groups to have a table in the Moat. The Moat is in the center of the club and elevated, so you'll have expansive views of the venue. Table locations in the Moat are equivalent to the upper dance floor or 3rd tier tables at other clubs.
---
Prime Tables
Number of Guests: 10-15
Description: Prime tables are considered the best tables at Tao Las Vegas due to how close they are to the dance floor and DJ booth. With a prime reservation, you'll get sat at an upper or lower dance floor table. The upper dance floor tables are in the Moat, and the lower dance floor tables are on the dance floor. If you want to experience the most action, the lower dance floor tables are a perfect choice. There's only a rope separating you from other guests here.
---
---
Tao Nightclub Floor Plan
Below you'll find the bottle service table map that shows the sections and tables at Tao Las Vegas.
---
Tao Bottle Menu
Bottle prices and offerings may be subject to change without notice.

---
Tao Las Vegas Table Share Experience
If you're looking for a lower price on bottle service, you're in luck! Tao Nightclub has brought back its shared table service experience.
Pricing varies depending on the night, but rates currently start at $50 for females and $100 for males (plus sales tax and applicable fees).
Pros:
The club replenishes bottles throughout the night.
Three different types of alcohol are available.
Mixers like juices and tonic water are complimentary.
You're free to sit down at any of the shared tables.
It's often cheaper than making a table service reservation.
Cons:
The club determines the alcohol brands and offerings.
Seating is shared, so you don't have a table to call your own.
Only shared bottle service ticket holders are allowed in the shared section.
There's no guarantee as to where the shared table service section will be. So if you want a table in a specific area, it's best to make a bottle service reservation instead.
What's Cool About Tao Las Vegas
Tao Nightclub has quite a few features that make it stand out from the other clubs in town.
Best Dinner & Club Combo
We always suggest finding a restaurant that's in the same hotel as the club you're attending. It's so much less stressful and time-consuming than going to different properties. Not to mention that you'll save your feet some severe pain if you're wearing heels.
So if you're going to Tao Nightclub, anywhere in the Venetian is ideal. But, there's one spot that's a no-brainer – Tao Restaurant.
Located next door to the nightclub, Tao Restaurant is an award-winning Asian Bistro. Here you'll experience culinary masterpieces from Japan, China, and Thailand.
(The restaurant is also known for its beautiful women bathing at the entrance.)
After you've finished your meal, you can head up the stairs for entry into the nightclub. That's right – the restaurant and club connect!
Exceptional Views
Few clubs in town offer an indoor and outdoor experience, so we love that Tao has a balcony. The spot is excellent if you want to take a break from the party and talk with other guests.
That said, there may be people smoking, so if you're allergic, it's a good idea to steer clear. But if you're not, it's definitely worth checking out.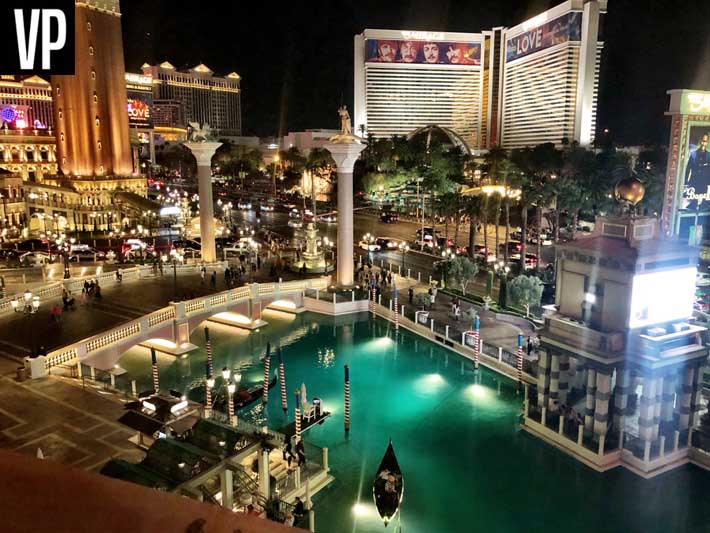 You can find the entrance to the balcony next to the birdcage bar. And although the balcony is on the smaller side at Tao, this baby packs a big punch when it comes to the view! We'd even say it's one of the best in Vegas.
We also appreciate how you can see the gondolas make their way through the water below. Doesn't it just make you want to take a ride before heading to the club?!
VIP Perks
Not only does Tao offer a great price on tables, but you can get some fantastic bottle presentations too. For example, a $2,000 bottle display at Tao would cost $5,000 or more at some of the other venues in town.
Additionally, the table line isn't that expedited at clubs like XS and EBC Nightswim. Wait times at these venues can exceed 30 minutes or more.
At Tao, though, the bottle service line moves fast! So if you want to feel like a real VIP, this is the place to come.
Restrooms
Ladies, it's worth going to Tao Nightclub for the bathrooms alone. (I'm being serious.) There isn't any other club in Las Vegas that offers private restrooms. So you'll get a loo, wash station, and mirror – all to yourself. And the line tends to be short too.
To take advantage of this women's only amenity, head upstairs from the main room to the mezzanine level. Stairway access is in the middle of the club near the 360-degree bar.
There'll be a security guard blocking the stairs. But just let him know that you're going up for the restroom, and he'll let you through.
Unfortunately for the guys, though, your restroom situation is a little less ideal. There's a small bathroom next to the stairs as well, but there's usually an extensive line that forms. So, if you can't wait, head downstairs to Tao Restaurant and use their restrooms instead.
Diverse Crowd
There are a lot of guests that are concerned with the age demographics at a club. And we understand why. Nobody wants to feel uncomfortable or out of place.
Some Vegas nightclubs indeed attract a specific age range. For example, you'll find a lot of guests in their 20s at XS and Omnia. But at Tao Las Vegas, it's a different story.
The venue is one of the only nightclubs where you'll find a wide range of ages. So if you're in your 20s, you won't feel out of place. And if you're in your 30s or 40s (and up), then you'll also feel like you fit right in.
At Tao, you'll also notice that there's a wide variety of ethnicities. One of the reasons for this is due to the club's music selection. Other clubs' headlining DJs only play one genre on a given night, but Tao's DJs tend to feature a mix of EDM, hip-hop, and top 40.
Fast & Convenient Bars
It's so much easier to get drinks at Tao as compared to other nightclubs. You won't find yourself having to work your way to the front or struggle to get a bartender's attention either.
The best spot to grab a drink fast is at Tao's 360-degree bar. This is the largest bar inside the nightclub, and it's located in the corner to the right of the DJ booth. It comes well-staffed too.
There's also a bar on the left side of the club over by the balcony. If you're not sure where to go, look up, and you'll see a birdcage hanging from the ceiling. There's a bar directly beneath it. This bar is smaller, but you'll still receive decently fast service here.
Overall, we'd say that Tao has the fastest bar service of all the clubs.
Conclusion
Tao is the right choice for you if you're looking to party in a setting that doesn't only attract 20-year-olds.
The venue offers some of the best pricing on bottle service. And there are even nights when you can score a comp bottle!
We love Tao's new shared bottle service experience as well. It makes getting table service more reasonable for smaller groups. The program is attracting many guests, so you'll have a bigger crowd than in years past.
If you want to see a big DJ, though, like Calvin Harris or The Chainsmokers, Tao isn't it.