I get asked a lot for nightclub recommendations. But lately, it seems like more inquiries are coming in about lounges. In particular, many guests are asking where to go to see a live band with a fantastic crowd.
Now I have a favorite spot in town that I always suggest. And even though it's been open for four years, it's still a well-kept secret. That's because it's a hidden speakeasy called The Barbershop Las Vegas!
So I put together this guide to tell you all about this grand saloon. In it, you'll discover what it's like, the best nights to go, and most importantly – how to get in!
About The Speakeasy Barbershop
First, let's get something straight – The Barbershop is a real barber shop. So, if you want a cut, beard trim, or shave, you can schedule a service during the day.
But the real fun begins at night when you can access the hidden speakeasy through the back of the shop. From the moment you step inside, it feels like you've returned to the Prohibition era!
The speakeasy features gorgeous chandeliers and swanky couches in an intimate setting. Tables are available for bottle service reservations, or you can hang out at the bar and order drinks.
As far as the music goes, the bands play mostly rock – unless you're coming on a country or karaoke night. But no matter when you go, the dance floor in this place is always packed.
see inside: Surprise show from Bruno Mars & Anderson Paak
Where Is Barbershop Cuts And Cocktails?
The Barbershop Las Vegas is on the first floor of The Cosmopolitan on the Boulevard Tower side. The address is 3708 S Las Vegas Blvd, Las Vegas, NV 89101.
The speakeasy is closest to the hotel's Las Vegas Blvd Entrance. But if you're taking a rideshare service, you won't be able to get dropped off on Las Vegas Blvd. So you'll need to enter the hotel from the Main Valet entrance instead.
Once inside, walk through the lobby and go past Clique Bar & Lounge. Continue straight until you see The Chandelier bar in front of you. But, just before reaching The Chandelier, head diagonally left. And then The Barbershop will be directly ahead.
Now, if you're walking on The Strip, you can enter from the Las Vegas Blvd entrance. From there, you'll need to walk through the hotel doors, and The Barbershop will be on your right.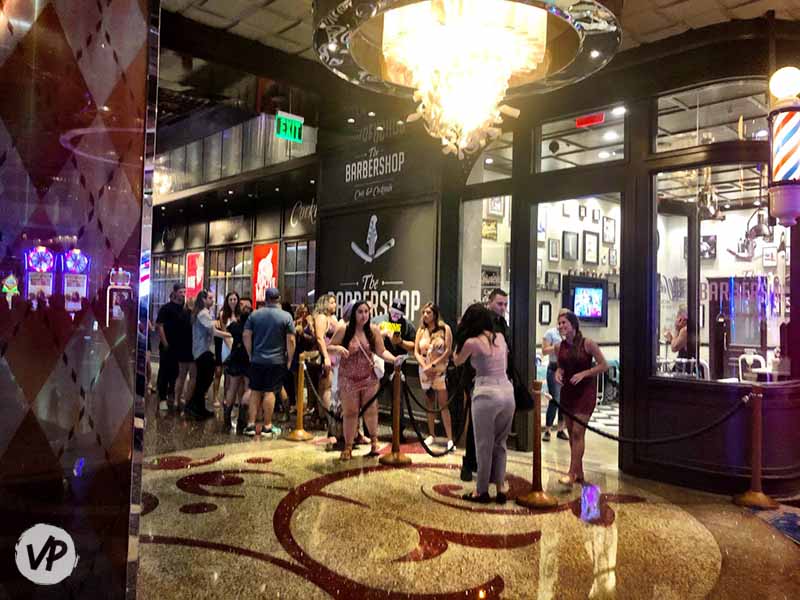 Speakeasy Hours
The following are the current hours of operation for The Barbershop Saloon. But keep in mind that private events may change these hours. So it's always a good idea to call The Barbershop to verify the opening time for the night you want to attend.
Sunday – Wednesday: 8:00 pm – close
Thursday – Saturday: 6:00 pm – close
Dress Code
The Barbershop has an appearance code for all guests. The official policy is "business casual and fashionable" attire. But since The Barbershop is a classy lounge, many people dress up – similar to what you see guests wearing at Vegas nightclubs.
So if you dress like you're going to a club, you won't have any issues. And even if you don't, you'll likely still get in as long as you're not wearing any of the following clothing items.
Men's Prohibited Clothing: Beachwear, sleeveless shirts, athletic wear, flip flops, and sandals
Women's Prohibited Clothing: Beachwear, sportswear, and see-through clothing
How Do You Get Into The Barbershop?
There are three ways you can get inside The Barbershop Speakeasy at The Cosmopolitan:
Walk-in
Get on the guest list
Make a table reservation
Walk-In & Guest List
Entry into the speakeasy is typically free during the week. So you can just walk up and go inside. And then, on the weekends, there's usually a cover charge around $25 per person.
It's a good idea to arrive early if you're going on the weekend because the line gets long. So typically, if you're coming around 10 pm, there won't be much of a wait. But if you're arriving closer to midnight, it'll be a while.
For weekend guest list reservations, you can fill out this form on The Barbershop's website. But heads up – you may not get a response from the venue because the guest list is often reserved for guests of employees.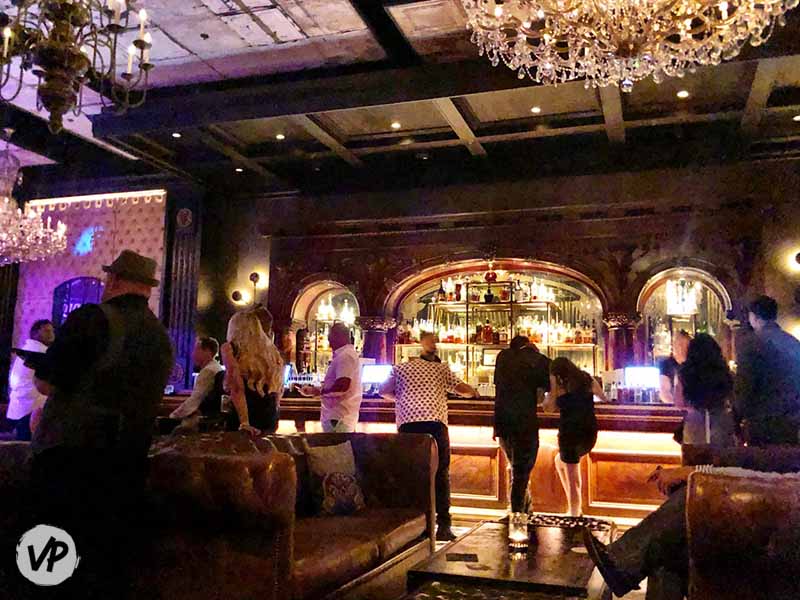 Drink Menu
The speakeasy features a large selection of scotch and whiskey. I've included a few pages from the current drink menu below so you can get an idea of the offerings and prices.
In addition to these, you'll also find Rye Whiskey, American Whiskey, Canadian Whisky, Single Malt Scotch, and Blended Scotch. There's also beer starting at around $10 per bottle.
And if you like craft cocktails (or what the speakeasy calls "Spiced Juices"), the venue has some amazing ones! My favorite is the "Black Beauty." It's made with Bulleit Bourbon, strawberry syrup, lemon juice, honey, and Peychaud's Bitters.
Table Reservations
Most of the tables inside the saloon are high-end, luxury couches. So if you book one of these, you'll have seating for the entire evening. And a designated cocktail server to take your bottle orders. You'll also get expedited entry into the venue.
Similar to Vegas clubs, tables at The Barbershop are priced as minimum spend requirements. So you'll need to spend at least the specified amount while you're there. But keep in mind that with all reservations, there are extra fees – like sales tax and the server gratuity.
Pricing
During peak times, The Barbershop table rates typically start around $1,000 on weekdays and $1,500 on weekends. But pricing is also based on the number of people in your party. So the more guests in your group, the more it will cost.
How To Get A Quote
If you're interested in booking a table, you can get a quote by filling out the reservation form on The Barbershop's website. But, here again, you might not get a response doing it this way. At least I didn't get one when I tried to request pricing for my group.
So I recommend calling instead. And if nobody picks up, keep trying. I finally reached someone in the afternoon and got quotes for multiple dates.
Bottle Menu
Bottle prices are much more reasonable at The Barbershop speakeasy than at the clubs. For instance, most bottles start in the $400s, but some wine and champagne options are even less. And you can order food, too, which will also count towards your spending requirement.
Barbershop Las Vegas Events
The Barbershop at The Cosmopolitan is open seven days a week. So no matter what night you attend, you'll get to see a live local band. And let me tell you, the talent is phenomenal! Many of the musicians have toured with big stars – like Avril Lavigne and Savage Garden.
The saloon also has theme nights that draw big crowds. These include Wild West Wednesdays, where you'll hear country music. And All Request Sundays, where you can request your favorite songs. But my favorite night is Karaoke Tuesdays, which I'll cover in detail next.
Faded Karaoke
Tuesday's Faded Karaoke is my favorite night to attend The Barbershop. And that's because it's the best spot in Las Vegas for karaoke. Nowhere else can you sing with a live band and live out your rock n' roll dreams in front of a big crowd!
You'll get to choose from over 100 songs, and there's even an iPad on the stage so you can see the lyrics. That means no memorization is required unless, of course, you already know the song by heart.
Faded Karaoke events are also the nights when celebrities often show up. So scope out the crowd because you never know who might jump on stage next.
Now, if you like to prepare, I've included the current song menu for Faded Karaoke below. But keep in mind that you might want to pick a backup song – just in case someone else chooses the same one.
Conclusion: Is The Barbershop Right For You?
The Cosmo Barbershop is a fun spot, and it's not nearly as big as a typical nightclub. But it still gets packed – especially on the weekends.
It has a great atmosphere with everyone dancing together and singing with the band. And there's a small dance floor for guests that really want to get their groove on.
The open seating at the bar is a nice feature because not many places offer that. Additionally, the drinks here are excellent – there are even cocktails with guitar ice cubes!
So, that said, I think you'll enjoy The Barbershop Las Vegas if you:
want a club alternative
enjoy a smaller, intimate venue
want to see a live band
love rock songs
don't want to party with a bunch of 20-year-olds
enjoy craft beers or a fine whiskey
like speakeasies
---