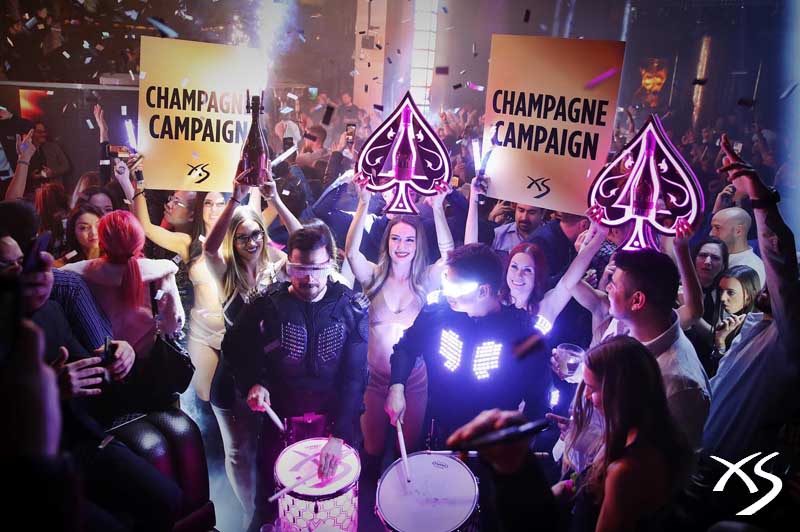 So you're interested in making an XS bottle service reservation? Excellent! In this guide, I'll cover everything you need to know about getting a table at XS Nightclub in Las Vegas.
For instance, you'll learn all about the different tables, including some new VIP options. And you'll get to see photos and the views from each table section too.
I'll also show you the current bottle menu, table map, and I'll fill you in on the price ranges you can expect. Plus, you'll get answers to your most asked questions like – how many bottles will I get? And what are the best table locations?
Let's get started!
Overview: XS Bottle Service
XS Nightclub has two areas for bottle service. So you can choose a table in the club's main room or the outside section.
And if you're wondering which location is better, most guests prefer the main room. (The only exception is during Nightswim events when everyone wants to be near the pool.)
There are a few reasons why tables sell out faster in the main room.
First, the inside section is smaller and fills quickly, creating a high-energy environment. Second, although the DJs give attention to both areas, most performers favor the main room. And then lastly, it's just a better show inside. For instance, you'll get a complete club experience with all the lighting and effects.
That said, there are still some fantastic table options outdoors. These are great if you want a more laid-back vibe. Additionally, if you're visiting from spring to fall, you'll find a big crowd no matter which section you choose. And recently, the club added an outdoor dance floor space as well.
Read also: Top tips for seeing The Chainsmokers
Video: See The XS Seating Options
How Much Is Bottle Service at XS?
On average, bottle service at XS starts around $1,000 and go up to about $10,000. Pricing often varies, though, depending on the time of year, DJ, and the number of people in your group.
I'll cover all table options and their average starting rates next. But, first, there are a few things to know about the cost of bottle service.
Table prices are quoted as a minimum spend requirement. This means that you'll need to spend the specified amount while you're at the club. If you don't meet the spending stipulation, the club will add the difference to your bill as a table fee.
You can buy any items on the club's bottle menu, and they'll count towards your table's minimum spend.
All purchases are subject to 8.375% sales tax and a 12.75% venue fee. It's also customary to tip your server at the nightclubs in Vegas.
The industry standard for gratuities is 15%-20%, but, of course, how much you tip is at your discretion. At XS Nightclub, the recommended tip is 15%. You can check out my article, how much to tip for bottle service, for more information.
XS Tables & Prices
So now, let's go over the different bottle service options and average prices. I'll cover the main room seating options first, and then I'll head outside and show you XS's outdoor tables.
When reviewing each table type, please keep in mind the following.
The prices below are averages of the starting rates only and vary depending on the day. (Rates are also different on Night Swim evenings.)
The following photos are NOT representative of the number of people at XS. These images were taken before the club's opening (or, in some cases, after the nightclub closed). Rest assured, XS always has a fantastic crowd.
Some table photos may show guests in swim attire. This is because XS has a Nightswim event during the summer. You can get in the pools and wear swimsuits on these nights. On all other evenings, you'll need to wear standard nightclub attire, i.e., dress up.
Some seating options may not be available on all nights. For example, the upper cabanas are often blocked off during the winter season as fewer guests are in town.
Is bottle service out of budget? Check out the XS Guestlist instead.
XS Nightclub Seating Chart: Main Room
XS's main room floor plan features a DJ booth and a dance floor in the center. Elevated booths form a semi-circle around the dance space, so no matter where your table is, you'll have a view. There are also two bars and easy access to the club's restrooms.
---
Owner's Booth
Cost: $7,000+
Guests: 15
Pros: XS's owner's booths are the best tables in the entire nightclub. They offer a superior view of the DJ, lighting, and effects. And that's because this bottle service option is in the middle of the lower and upper dance floor sections. It's quite easy to meet people from here, too, as they're along the main walkway to the dance floor.
Cons: Typically, the most expensive bottle service option at XS Nightclub.
---
Stage
Cost: $3,500-$10,000+
Guests: 8+
Pros: If you want to be close to the DJ, the stage booths are a fantastic choice. These are on the stage itself, right next to the DJ booth. And, better yet, you may even find yourself among famous people in this section! XS offers two different table sizes to choose from based on your group size.
Cons: The stage tables get crowded. So if you don't want to be with a ton of people, then these aren't for you. In addition, these are typically one of the most expensive options at the club. And even though they're listed as a main room table, they're somewhat outside since they're on the stage.
---
Lower Dance Floor
Cost: $5,000+
Guests: 12
Pros: If you want to be fully immersed in the action, a lower dance floor table is for you! These booths are along the edge of the main room's dance space. So you'll easily be able to meet other guests from here. And you'll have a fantastic view of the DJ booth, too.
Cons: The lower dance floor is one of the most expensive options in the entire venue. Also, if you don't want people in front of your table all night, you might want to consider another option instead.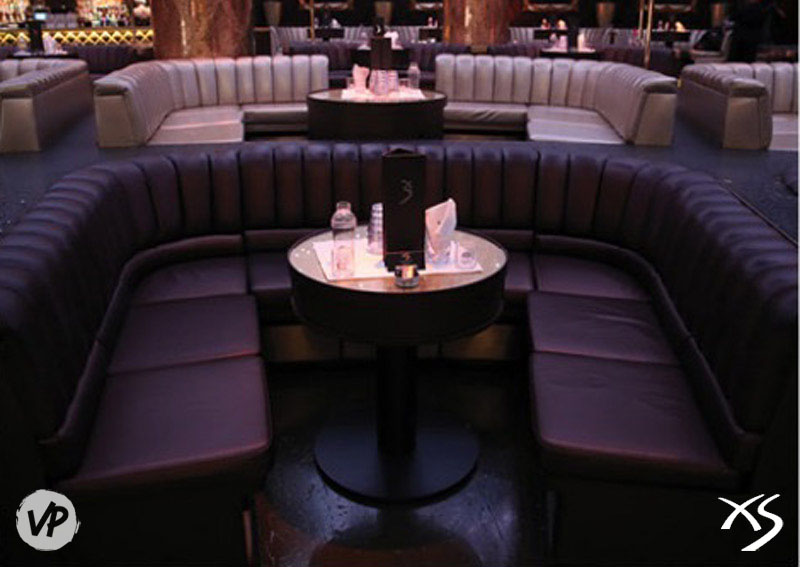 ---
Upper Dance Floor
Cost: $5,000+
Guest: 12
Pros: The upper dance floor is one of my favorite locations at XS. And, it seems the club agrees as they're often priced as high as the lower dance floor tables. With an upper dance floor table, you'll have an elevated view of the entire nightclub. And you'll be just a few steps away from the dance floor too.
Cons: Sometimes, guests at the lower dance floor booths stand on the ledge between the upper and lower tables. So, if this happens, your view may get partially blocked. Select the lower dance floor instead if you don't want to risk this happening. That said, it might just be a fantastic way to meet people!
---
Large 3rd Tier Section
Cost: $3,500+
Guests: 12
Pros: One of the best features of the large 3rd tier section couches is their size. The booths are so spacious your entire group will be comfortable here. You'll also get an exceptional table placement as these are in the middle of the club. The large 3rd tier are excellent for bigger groups and those who don't want to pay up for the upper or lower dance floor sections.
Cons: Although the large 3rd tier booths cost less than dance floor seating, they're still quite pricey. Additionally, you'll be further back with these as you'll have two rows in front of you. And like the regular 3rd tier couches, there's a walkway in front of these that gets congested.
---
3rd Tier Section
Cost: $2,000+
Guests: 8
Pros: The XS 3rd tier couches offer an excellent value for being in the middle of the club. You'll have a decent view from here and more room than at a back wall booth. So they're a better choice if you want to invite other guests to join you. We're also big fans of the 3rd tier couches on the right side of the venue as they're close to the restrooms.
Cons: The walkway between the upper dance floor and the 3rd tier couches gets jammed! So you'll likely have a constant flow of guests walking (and stopping) in front of your table all night long. Some guests may also not like having the 4 top tables directly behind their VIP space.
---
Back Wall
Cost: $1,500+
Guests: 6
Pros: A back wall table is one of the best bottle service values in the club. They're more comfortable than a 4 top, and you won't have anyone behind you either. There's also a ledge at the back of each booth. So you're welcome to sit up there and enjoy a better view of the DJ.
Cons: Depending on where you get seated, a few have a column in front of them, which may slightly block your view. Also, the back wall may not be the best for tall guests as there's not much room between the tabletop and booth.
---
4 Top
Cost: $1,000+
Guests: 4
Pros: The 4 tops are the most budget-friendly bottle service option. And they're a steal for getting in the main room at this price! You'll find about half of these between the 3rd row and the back wall. And the other half are just about parallel with the DJ booth.
Cons: A 4 top table is pretty small, and there's not a lot of seating. Additionally, some of the 4 tops face away from the stage, which means you'll have to turn around to see the DJ.
---
XS Nightclub Seating Chart: Outside
XS Nightclub's outdoor floor plan features a large pool, gaming area, jacuzzi, and two bars. You can only get in the pool and jacuzzi during Nightswim events, though. There's also an outdoor dance floor space now too.
---
Side Stage Patio
Cost: $2,000-$3,000+
Guests: 6
Pros: The side stage patio tables are one of my favorite options as they offer excellent value for the money. Sure, they're outside, but you'll have a great experience here as you'll be close to the stage. And you'll be just steps away from the main room. These are exclusive access, too.
Cons: With a patio table, you'll be off to the sides and behind the DJ booth, so the visibility might not be the best. (Of course, if it's Nightswim, then you'll have a better view from here.) These are also on the smaller side – they're similar in size to the main room 4 top and back wall booths.
---
Platform Section
Cost: $3,500+
Guests: 15
Pros: The platform section is a relatively new addition to the club. Not only will you have direct sightlines of the DJ booth from here, but you'll also be on the outdoor dance floor. Another excellent feature of a table here is the proximity you'll have to the gaming area.
Cons: Some guests don't like that these face the back of the DJ booth. But the performers do try to give some attention to both areas. It's also a different vibe out here, so look to the main room for a traditional clubbing experience instead.
---
Premium Section
Cost: $3,500+
Guests: 12
Pros: The premium section is excellent for bigger group sizes. And they're centrally located in the outside area. From here, you'll be close to the outdoor dance floor space, and you'll have a great view of the DJ booth, too. These are also a top pick for Night Swim events during the summer.
Cons: There isn't much to say that's negative about getting bottle service here. They're a good value, and you'll feel like you're in the action. The premium section may not be the best option during the slower season as there are fewer people. But that's pretty much the case with all outside seating.
---
Poolside Section
Cost: $1,500+
Guests: 12
Pros: The poolside section is around the XS pool, so you'll have a decent view from here. You'll also be pretty close to the gaming area, which is great if you want to take a break and play some card games. And with these, you'll be near the daybeds in the water.
Cons: These seats are further from the action on a regular XS Nightclub evening. But they're still a fantastic spot if you're coming during a Nightswim event.
---
Lower Cabana
Cost: $1,500+
Guests: 10 – 12
Pros: The lower cabanas are excellent if you have a large group and want a more private club experience. They're also reasonably priced, with convenient access to the outside restrooms. I often recommend the lower cabanas for Night Swim evenings.
Cons: The lower cabanas are pretty far away from the action on a regular nightclub night. In fact, they're one of the furthest bottle service options from the main room.
---
Upper Cabana
Cost: $1,500+
Guests: 6 – 10
Pros: The upper cabanas are excellent if you have a lot of people in your group and don't want to be around a big crowd. About half of these have a view of the DJ, while the other cabanas are above the outside bar. Getting to the main room from the upper cabanas is a breeze as a staircase connects the two areas.
Cons: You'll be on the second level with these, so you'll be watching the party going on below you instead of being in it. Additionally, some upper cabanas have a tree in front of them, making it difficult to see much of anything.
---
Pool Deck/Lawn (formerly Outside Tables)
Cost: $1,000+
Guests: 6
Pros: If you want bottle service but want to keep costs low, the pool deck and lawn tables may be worth considering. These are fantastic for Night Swim events or groups that want a gathering spot with a place to sit. Lawn seating is close to the gaming area and jacuzzi, whereas a pool deck table will be closer to the pool.
Cons: Because most of these are far from the main room, you won't be near the action on a regular XS nightclub evening. Also, the view from these sections isn't typically the best.
---
Best Available
Cost: $1,000+
Guests: 6
Pros: Best available tables are no specific location tables. A potential benefit of booking one of these is that you may end up with a better (i.e., upgraded) location for the money. So you could get seated in the main room or the outside section.
Cons: You won't know where you'll sit until you arrive at the club. Additionally, although you could score a better spot, you may end up with an equivalent table for the price. So if you want a specific location, it's best to book that table type instead.
---
Bottle Service Menu
Below you'll find the current bottle menu at XS Nightclub. Please note that prices and offerings are subject to change without notice. Additionally, bottle service prices are often higher during holidays and special events.
Table Service FAQs
Below is a list of questions that often get asked about bottle service at XS.
What's Included With My XS Seating Reservation?
With a bottle service reservation, you'll receive the following benefits.
Complimentary and expedited entry through the bottle service line
Reserved table with seating for the night
Free mixers at your seat, like juice and tonic water
A designated cocktail server to take your bottle orders
Security staff
How Many Bottles Will I Get?
The easiest way to calculate how many bottles you'll get is to subtract the cost of alcohol from your table's minimum spend. (Please refer to the bottle menu above for the club's current offerings and prices.)
For example, let's say you book a table with a $3,000 minimum spend. And your group decides to buy bottles averaging $725 each. So, at this minimum, you'll get a total of four bottles ($725 x 4 = $2,900).
And you'll still have $100 leftover to buy bottles of water or energy drinks!
How Do I Calculate The All-In Cost?
To get a close approximation of the total cost for bottle service, take the minimum spend and multiply it by 1.38. This factor takes into account the venue fee, sales tax, and gratuity.
Keep in mind, though – if you go over your minimum spend, the extra fees are calculated on the higher amount. So, for instance, if your table has a $1,500 minimum, but you think you'll buy $2,000 worth of bottles, you'll need to multiply $2,000 by 1.38.
How Fast Will I Get Into XS?
XS is a busy club. Even though you'll make it inside the club faster with a seating reservation, there still may be a wait. So I always recommend arriving at the club's opening for the fastest entry. This is usually 10:30 pm.
If you come around this time, it takes about 10-15 minutes to check-in, go through security, and get seated.
And no, sorry – there isn't any way to skip the security line.
What's The Latest I Can Arrive At XS?
Per the XS Nightclub Terms, all bottle service guests are asked to arrive by 11:30 pm on most nights. The club typically provides a little bit of leeway here, though.
So it's best to get to XS no later than midnight because your table is at risk of being released for resale after that. However, the nightclub may try to contact deposit reservations before releasing a table.
That said, on holiday weekends like New Year's Eve, you'll want to arrive by the time listed on your confirmation. This is because these evenings are jam-packed, and XS may not hold tables as long on these nights.
Where Is XS VIP Check-In?
XS table check-in is not at the front of the club, but instead, the VIP line is next to the Encore restaurant, Jardin. So all you need to do is get in line there and show your confirmation on your phone. Or you can print it out if you'd like. There should be a sign out front, too.
How Far In Advance Can I Make An XS Table Reservation?
XS Nightclub releases its table pricing and event schedule about three to four months in advance. So even if you want to book a table six months ahead of time, you can't. (I know. I wish you could too!)
Can I Book A Table If I'm Over The Guest Limit?
In most cases, yes! All seating options have a set number of people allowed at walk-in for the price. But often, if you have a few more guests in your group than the table allows, you can still book that section.
However, the minimum spend may increase some to accommodate the extra people. If this is your situation, you can contact an XS VIP Host, and they can go over options with you.
Are There Heat Lamps At The XS Outdoor Tables?
The club has some heaters spread throughout the outside section during the winter months. It can still feel quite chilly, though, depending on the time of year. So if you want to stay warm the entire night, I recommend making a reservation for a main room table instead.
Can I Get An XS Bottle Presentation?
Most definitely! XS Nightclub has a bottle presentation menu that you can review once you get seated. Just ask your cocktail server for the menu, and she'll take care of the rest.
Also, there's a cost for bottle parades, but they'll count towards your minimum spend requirement.
Can The Price Of My Table Change?
Table prices tend to increase closer to the event date. So even if you receive a quote for XS Las Vegas bottle service or put your name in for a table, rates are subject to change.
However, there is one way to lock the minimum spend, and that's by paying a deposit.
This is why I always request deposit links for my clients, so you're protected from any price increases. The deposit amount is typically 20% of the bottle service minimum spend. And it's refundable as long as you follow the club's cancellation requirements.
What Are The Best Tables At XS In Las Vegas?
It's no secret that the best table locations at all nightclubs in Las Vegas are the dance floor tables. So whether it's the lower or upper dance floor, you'll have a fantastic experience.
And, if you want the absolute best location, make a reservation for an owner's table. But, of course, "best" doesn't come with an inexpensive price tag. On some nights, these tables go as high as $15,000 – $20,000+ when The Chainsmokers perform.
Which Tables Offer The Best Value?
I consider a few tables hidden gems at XS in Las Vegas. These are the stage patio tables and back wall booths, and they offer an excellent combination of price and location.
XS Nightclub patio tables are behind the DJ booth to the right and left sides. So you'll see the DJ from here. But they're outside, so if you don't want to be outdoors, it's better to make a reservation inside.
You can save a grand or two in the main room by choosing a back wall table over a 3rd tier section. Of course, these are further back, but you'll still have an excellent view from here.
And there's a ledge behind every back wall table providing even more seating. You'll also have ample opportunity to meet other guests as there's a walkway in front.
Are There Bad Seating Locations At XS Nightclub?
I wouldn't call any table "bad" at XS Nightclub. But, I'd say that the 4 top tables may not be ideal for some groups because of their ultra-small size. Additionally, some face away from the dance floor, making it harder to see the DJ.
That said, if you have a small party size, a 4 top table is a fantastic way to get main room seating. Other clubs in Las Vegas don't even come close to matching XS's prices with these!
Outside, the pool deck and lawn tables are far from the action on a regular nightclub night. But don't discount them for Night Swim as they're a decent location for this event.
---