On The Record is one of the most remarkable and unique nightclubs in Las Vegas. It has surprises at every turn – like a hidden speakeasy, karaoke rooms, a double-decker bus, and even weekly dance competitions!
This place is all about the music, and the club's management focuses solely on packing the venue and throwing a great party.
So in this guide, I'll be covering it all, from entry options to the best tables and even bottle deals. By the time I'm done, you won't want to miss a night of partying here!
On The Record: Overview
On The Record is a boutique nightclub that feels like you're hanging out in a cool record store. The operational music shop entrance takes you up a set of escalators to a red hallway filled with nostalgic cassette tapes.
There are jukeboxes, old-time phone booths, a DJ booth that's a vintage Rolls Royce, pinball machines, private karaoke rooms, and a hidden speakeasy.
You'll find the most music selection out of any club in Vegas here too.
There's top 40 in the main room, throwback and new hip-hop in the living room, and a mix of everything in the speakeasy. And if you don't like any of that, you can always pick your own tunes in a karaoke room.
There's so much going on at OTR that no one can possibly be bored here. It's the only club that I can say has something for everyone!
Quick Facts
Days Open: Wednesday, Friday, and Saturday
Hours: 10 pm until close
Bottle Service: $ – $$
Music: Top 40 (Main Room) & Hip-Hop (Patio & Living Room)
DJs: Neva, Kaos, G-Squared, Tony Tone, and more
Special Events: Industry Wednesdays
Location
On The Record Speakeasy & Club is inside the Park MGM hotel. The address is 3770 S Las Vegas Blvd, Las Vegas, NV 89109.
directions
From Park MGM's main valet, enter the property and take a right to walk through the hotel lobby. Go past the elevators and keep walking until you see Starbucks. Turn right before reaching Starbucks and head towards the West Bar.
You'll soon see Bavette's Steakhouse Bar and Juniper Cocktail Lounge on your left. The venue is just after that, past the restrooms on the left.
If in doubt, look up, and there will be signs guiding you.
Dress Code
You may have heard that On The Record doesn't really have a dress code. And that's mostly true. It's definitely considered "open" compared to other clubs.
For example, if you want to wear shorts, you can. Even sneakers, t-shirts, and sandals are acceptable. Additionally, if you have a table service reservation, you'll have more leeway than if you're on the guest list or a ticket holder.
With that in mind, though, don't wear anything that exposes yourself. That means avoiding wearing completely see-through clothing.
Flip-flops are also never okay at OTR. And stay away from athletic gear or anything with a sports team's logo. That one is a steadfast rule at most clubs.
Tickets
The prices listed below are the starting ticket prices only and may be subject to change. In addition, all tickets sales are also subject to a Live Entertainment Tax and nominal processing fee.
Female: $10
Male: $20
Guest List
On The Record's guest list gets ladies into the club for free.
Men can also receive complimentary entry with an even ratio (or better) of women to men in the group. For instance, in a group with two women and two men, everyone will get in without paying a cover.
There are also some nights when guys will get free admittance without the ratio requirement.
The club's current list rules are as follows:
Ladies: Free before 1 am
Even ratio: Free before midnight
To get on OTR's guest list, you'll need to reach out to a club promoter at least a few hours before the club opens. We recommend the day before, though, to allow enough time for a response.
And make sure to check with your promoter to confirm the cut-off times as these are subject to change.
If you miss the guest list cut-off time, then you'll be charged a cover. Cover charges on most nights typically run $30 for guys and $20 for ladies.
On The Record Vegas Map
On The Record features four distinct areas.
Main Room: DJ booth, dance floor, main bar, and private karaoke rooms
Hidden Speakeasy: serving up craft drinks with open seating
Living Room: Hip-hop room with a bar and bottle service tables
Patio: Outdoor space for dance competitions and a double-decker bus with a DJ and bartender
The current layout of On The Record, including table numbers, is shown below.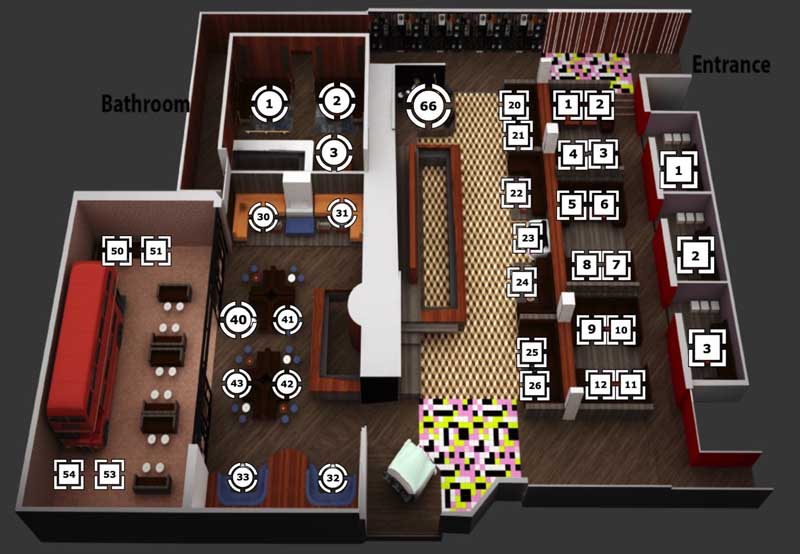 Bottle Service & Tables
On The Record has some of the most budget-friendly bottle service pricing in town. For instance, on most nights, rates start as low as a $500 minimum spend and go up to around $2,000 for a prime location.
And due to the club's smaller size, you'll feel like you're in the action at any table because there's a party going on everywhere.
Additionally, you can leave your table anytime and make your way to another room whenever you'd like. Just be sure to notify your cocktail server first.
What You'll Get With A Table Service Reservation
Complimentary and expedited VIP entry
Reserved table for the entire night
Choice of three unlimited and free mixers
Storage for your belongings
Cocktail server & busser
Security staff
OTR offers many table options, including dance floor, upper dance floor, stage, and living room tables. I'll cover each one in detail next.
Dance Floor
Cost: $1,000 – $1,500+
Guests: 6 – 8
Location: Main Room
Table Numbers: 20 – 26
Description: If you want to be in the party, look no further than the dance floor tables. These booths are in the main room, parallel to the club's main bar. So, tables 25 & 26 are the closest you can get to the dance floor, while 20 & 21 are the furthest away. All are excellent locations, but it's different from other clubs where the tables are in a half-circle around the DJ.
---
Upper Dance Floor
Cost: $500 – $1,000+
Guests: 6
Location: Main Room
Table Numbers: 1 – 12
Description: On The Record's upper dance floor tables are one of our favorite spots in the entire club. From here, you'll look out over the party and be just steps from a karaoke room. There's a walkway behind these tables, too, so if you want to meet other guests, it's easy to strike up a conversation. Your view of the DJ is also unobstructed from here, thanks to the elevation.
---
Stage Table
Cost: $1,500+
Guests: 10
Location: Main Room
Table Number: 66
Description: Recently added to OTR's table mix is the stage table. This spacious booth sits above the crowd and looks out over the main room. So if you want to feel like you own the place, this is the table for you! There's only one available each night, though, so if you're interested in reserving it, it's best to book in advance.
---
Karaoke Room
Cost: $500 – $1,000+
Guests: 15
Location: Main Room
Table Numbers: 1 – 3
Description: On The Record's karaoke rooms are super popular. There are only three available each night, but you can rent the room hourly. You'll find the karaoke rooms hidden behind jukeboxes in the main room. The rooms are pretty spacious, too, with lots of seating, including a large booth and bar stools. And, of course, there's even some space for dancing.
---
Vintage Center Table
Cost: $500 – $750+
Guests: 2
Location: Main Room
Table Numbers: 23
Description: The vintage center table is the perfect date night spot. It's in the center of the main room – perhaps the best location in the entire club. And it's super cute too! The table looks like the front end of a vintage car. We love that OTR has thought about small groups and included this intimate table option for two guests. There aren't any other clubs in Vegas that have done this!
---
Living Room
Cost: $500+
Guests: 6
Location: Hip-Hop Room
Table Numbers: 30 – 33, 40 – 43
Description: The living room is the club's hip-hop room. Seating here is along the sides and in the middle of the room. Most are U-shaped booths or tables like the ones shown in the photo below. With a living room table, you'll be just steps away from the club's outdoor patio with its double-decker bus and dance space. From here, you'll also have quick access to the main room.
---
Best Table Locations
Our favorite spots are the center dance floor tables (table numbers 25 & 26) or the stage table, which sits above the crowd and looks over the main room. This seating location is sure to have everyone's attention on you!
I also really like table 12 due to its proximity to the dance floor and DJ booth. And you'll have some privacy here as you won't have a constant flow of traffic going by your table all night.
Bottle Menu
On The Record has the lowest nightclub bottle prices in Las Vegas! Because of this, you'll get far more for your money here than you will at another venue.
Take, for example, XS Nightclub. You'll get roughly double the bottles at OTR as compared to XS.
---
Speakeasy
On The Record's hidden speakeasy is my favorite spot in the entire nightclub. Surprisingly, many guests don't even know about it, and it's a little tricky to find unless you know where to look.
So if you want to hang out here, you'll find the entrance to the speakeasy along the club's cassette wall. There isn't a door handle, so you'll have to push on the cassettes to get inside.
Now I don't want to spoil all the fun and tell you the exact location. Instead, I'll let you discover the entrance on your own. It shouldn't take you too long to find.
Inside, there are three couches and vintage vinyls in glass cases all over the walls. You'll even hear different music playing in this room.
OTR's speakeasy features top-shelf liquor brands and unique ingredients. And you'll find two bartenders giving their full attention to whipping up some fantastic craft cocktails. You won't find high-end drinks like these at any other nightclub in Vegas!
Of course, because it's higher-quality liquor, expect prices in the speakeasy to cost more than drinks at the club's bars. For instance, starting prices are typically around $20 – $30.
Another excellent feature of this room is that seating is first come, first served. So if you see an open spot, feel free to sit down.
And then, lastly, if you want to rent out the room, it's available for bookings. Or you can reserve a table in the speakeasy too.
Club Features
On The Record has so many features that it's uniqueness far surpasses the other clubs in town. Here are some of our favorites.
Record Store
A little known fact about On The Record is that the entrance to the club is a functioning record store. So you'll see vinyls on display before you go up the escalators to the nightclub.
Feel free to take your time and check out the merchandise here. And if you see a vinyl that you like, you can buy it. For pricing information, talk with a door host, and they'll assist you.
Social Media Mirror
For the socially savvy, OTR makes checking in at the club easy! For example, the nightclub has a social media mirror that takes your photo with some fantastic lighting. It's so bright it's like being on set, so you won't have any shadows – guaranteeing a great pic!
You can also post your photo directly to your social media accounts or email it to yourself as well. There's often a line that forms here, so taking your picture earlier in the night is advised.
Don't worry – it's not like how it looks in the photo below. This picture was taken before the club turned it on.
Open Seating
Most clubs in Las Vegas don't offer any seating for guests that aren't booking bottle service. So if you're on the guest list or you purchased a ticket, then you'll be standing all night. Not great if you're wearing heels!
Thankfully though, OTR does things a little bit differently. For instance, there's open seating inside the club's hidden speakeasy.
And you didn't hear this from me, but the club typically allows guests to sit at patio tables until they're sold. For reference, these are table numbers 50 – 54.
On slower nights, it's also usually okay to sit at booths in the living room until they get sold.
Break Dance Competitions
Every other Wednesday on industry night, On The Record has break dancing competitions. That's right – the venue brings in professional dance teams to compete against each other!
It's a ton of fun for guests to watch the dance battles, and there are even prizes given out. You can catch all the action on the club's outside patio next to the double-decker bus.
Pinball Machines
If you thought On The Record couldn't get any cooler, you might want to head to the arcade next to the dance floor in the main room. There, you'll find three pinball machines ready and waiting for you to play.
Be sure to bring some change with you, though – it costs $0.75 per game. So when you get tired of the dancing, take a break and challenge your friends to a pinball competition!
Outside Patio
OTR's patio is one of my favorite spots in the entire nightclub. Here, you'll see the venue's famous double-decker bus with its bar and DJ.
There's also a super cool Queen mural on the side of the building and white lights that are strung high above. Looking up, you'll catch a glimpse of some of the hotels and maybe even see some stars.
It's a fantastic place for dancing and meeting other people.
Industry Wednesdays
If you're in town on a Wednesday, you might want to consider checking out On The Record's industry night. It's always a great crowd because only a couple of top clubs (like EBC Night Swim) compete against OTR on this day.
During OTR Wednesdays, you'll get to party with staff from other nightclubs and see a lot of Las Vegas locals too.
On these nights, locals get free entry, and there are often deals on bottle service like lower minimum spends or sometimes complimentary bottles. This is also the night when On The Record hosts its dance battles!
Usher After Party
For guests going to see Usher at Park MGM, your concert ticket may get you free entry into OTR for the after concert party. But it's best to check with the venue directly for availability.
Additionally, if you're not going to the concert, you can still go to the OTR after-party, and you may see Usher there. He usually attends!
The venue's event calendar lists the after concert party dates. Currently, Usher is scheduled to perform on select nights through October 2023.
OTR Las Vegas: FAQs
Here are some of your most frequently asked questions about the club.
Can You Smoke At On The Record?
The club is located at Park MGM, and the hotel is a smoke-free establishment. So that means smoking is also prohibited inside the nightclub.
That said, if you want to smoke, you're welcome to do so on the club's outdoor patio, next to the double-decker bus.
Which Club Is OTR Most Like?
On The Record is most like Hyde Nightclub, without the gorgeous Bellagio fountains view. So if you enjoyed spending nights at Hyde before it closed down, you'll love OTR. The nightclub's intimate feel and music selection are comparable to Hyde's.
It's also similar to Lavo Party Brunch in that the venue is a boutique club with a unique theme. And, like Lavo, you'll mostly find local DJs at On The Record.
What's The Crowd Like?
On The Record attracts a diverse crowd of all ages, so no matter how old you are, you'll feel comfortable here.
You won't find many guests with attitudes either. Instead, On The Record is all about the music and having a good time together.
Conclusion
OTR is not the right club for you if you want to hear electronic music or see a top-name DJ at a mega-club. But, if you're like me and want a fantastic party atmosphere that's different from other nightclubs, then I think you'll enjoy On The Record.
The club's LA vibe and smaller size make for a much more intimate clubbing experience. And you can't beat the table pricing either. I also love all of the different spaces and things to do inside the club.
If there's anything negative to say, it's that the location of the main room's dance floor isn't ideal. For instance, it's connected to the club's living room, and so you'll have people walking between the two rooms and using the dance floor as a walkway.
But, overall, it's genuinely unforgettable and worth checking out in my book!