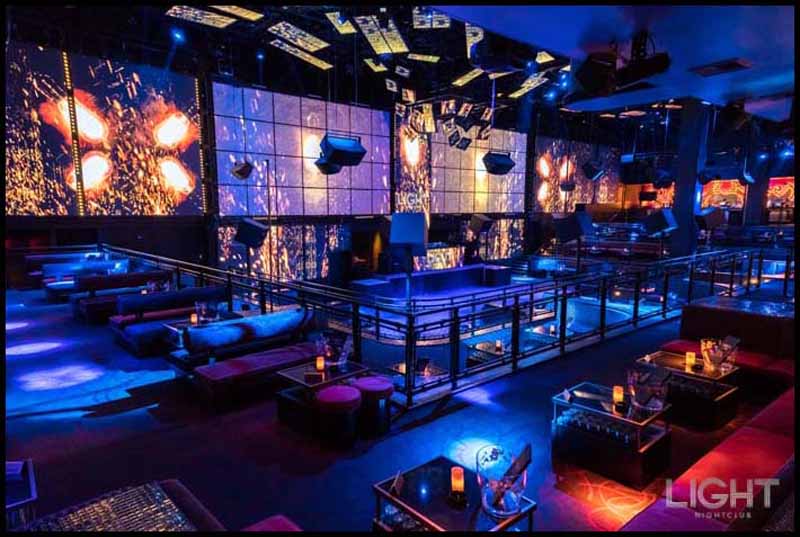 I'm going to go out on a limb here and say that Light Nightclub is the most underrated venue in all of Las Vegas. I might even go so far as to call it a unicorn in the club world.
To give you an idea of where I'm coming from, The Light Vegas isn't some small nightclub. Instead, it's massive and features the largest LED screens on the strip. These screens immerse you and add an X factor that isn't found at any other venue.
Not only that, but when I go to most Vegas nightclubs, I hear a few good songs and then a few not-so-good songs. At Light, though, that's not the case. It's one fantastic song after the next.
Besides their brilliant house DJs, Light also has top acts like Wyclef Jean and Sam Hunt.
Now, if that's not enough to make you want to go to Light Nightclub, then maybe this will do it for you. Bottle service is actually reasonable. I'm talking bottles starting around $500.
So in this primer, we're covering everything you need to know to make your Light experience one for the books!
The Light Las Vegas: Overview
Nights Open: Friday and Saturday
Hours: 10:30 pm until 4:00 am
Bottle Service: $-$$
Music: Hip-hop and Top 40
Special Events: Sports Viewing Parties
Property Specs
If you're like me and like to nerd out over the specs of a place, you'll appreciate these.
Light has 700 video panels, 150 moving lights, 50 stationary lights, and 68 tables on the main floor. There are also three (yes, three) full-service bars and even acrobats on the big nights.
At 38,000 square feet overall, Light Nightclub is one monster of a venue.
Where Is Light?
Light is well located on the Mandalay Bay property. The address is 3950 S Las Vegas Blvd, Las Vegas, NV 89119. You'll find the entrance to the nightclub easily accessible from Mandalay's West Valet.
You can have your ride-share driver drop you off here, and you'll have the shortest walk to any club in all of Las Vegas. (We'd estimate your walk time to be 20 seconds or less!)
Enter through the hotel doors when you get dropped off, and the Light Las Vegas will be on your right.
Dress Code
The dress code at Light Nightclub is more lenient than at other clubs.
For instance, at Drai's, there's no way you're getting through security wearing Timberlands. (Or any other type of work boot, for that matter).
But, if you have a bottle service reservation at Light, it's generally acceptable to wear them. You can also get away with wearing a hat or even ripped clothing for guys. (Torn clothing is okay for ladies at most venues but rarely ever allowed for men.)
Although Light's dress code is a bit lax for table reservations, you shouldn't wear some clothing items.
For example, sports jerseys are never allowed. And that goes for everyone – bottle service reservation or not.
That said, it's up to Light's security to decide what's acceptable. If you have doubts about something, it's best not to wear it. Because nothing kills a night faster than having to go back to your hotel room and change your clothes!
Examples: What To Wear
Tickets
Buying a Light Nightclub ticket often gets you faster entry into the venue than being on the guest list.
On house DJ nights, expect ticket prices to run $30 for males and $20 for females.
For performance nights, prices are usually around $100 – $150 for guys and $50 – $75 for ladies.
If you don't get a presale ticket, then Light's cover charge can go up every 30 minutes on the most popular nights. And yes, it can happen even while you're standing in line.
Because of this, it's best to get your tickets in advance (you can buy them online from the club's website). Or come to the club early.
Guest List
Light Nightclub offers a guest list on most evenings. If you're on the list, you'll get free entry into the club.
Please keep in mind, though, that guest list entry is NEVER guaranteed. Light's security may deny access for several reasons.
Here are some examples of things that'll prevent you from making it inside the club. This is by no means a comprehensive list.
Showing up intoxicated or on drugs
Wearing attire that's out of dress code
Exhibiting rude behavior to the staff or other club-goers
Missing the guest list cut-off times
Carrying any illegal items or substances
The club's capacity limit has been reached
Having said this, most people don't have any issues with Light's guest list.
Who Can Get On The List
At most venues, only women are allowed on the guest list. Sometimes, groups of guys who have at least an even ratio of women in their party can get on a list as well.
But, at Light Nightclub in Vegas, both men and women can get on the guest list. And for guys, there isn't a requirement to have women in your party either.
There aren't many clubs that offer free guest list entry to men, so this is just another reason we're big fans of Light.
Light Nightclub's Guest List Cut-Off Times
The following are the current cut-off times for guest list entry. Please note that times (and rules) may be subject to change.
Guys only: 11:00 pm
Even ratio of women to men: midnight
Women only: 1:00 am
Drink Prices
If you're on the guest list or a ticket holder, you're probably wondering how much drinks cost. Well, they're actually quite reasonable compared to some of the other clubs in town.
At Light, beer generally runs around $8 – $10, and drinks are $12 – $18.
Light Nightclub Bottle Service
Light Nightclub offers some of the best values in town when it comes to table service. And thanks to Light's excellent design, every table in the main room will feel like you're in the action.
Better still, since the mezzanine is only open on holidays, you'll get seated in the main room on almost all nights. (If you're new to Vegas clubs, the mezzanine is the upstairs section.)
Video: What You Need To Know About Light
Light features a stadium-style design which means that each table tier is higher than the row in front of it. This helps to ensure that all tables will have a decent view.
For instance, the dance floor tables are on the same level as the dance floor. The upper dance floor tables are elevated above the dance floor tables. And then the 2nd tier tables are higher than the upper dance floor tables.
Table Prices
On most DJ nights, Light's pricing is as follows. Of course, pricing is always subject to change. Additionally, rates are often higher when there's a performer or if you have a large party size.
2nd Tier Tables
Cost: $500+
Guests: 6-8
Description: Second tier tables are one of the best values in the entire club. A common misconception is that people think they're on the 2nd level (i.e., mezzanine). But they're actually in the main room behind the upper dance floor tables. These VIP booths are an excellent option for a party size of up to eight guests. And for guests that are looking for a lower-cost bottle service option.
Upper Dance Floor Tables
Cost: $750 – 1,500+
Guests: 12
Description: The upper dance tables are one of our favorite table locations. You'll get a fantastic view, and you're close to the dance floor. But it's still private because you won't have people on the dance floor entering your space. At Light, upper dance floor tables are a steal, too, as they usually start around a $1,000 minimum spend.
Dance Floor Tables
Cost: $2,000+
Guests: 12
Description: These booths are located right on the dance floor itself. So if you want to be in the party and meet lots of people, there's no better choice. There's virtually zero separation between your table and the dance floor. This makes it ideal for those that love to dance. Or for guests who want to invite other club-goers to join their table.
What's Included
We answer emails almost every day from clients asking if the table rates include any alcohol. It seems as though this is a major point of confusion for many people. Often, guests think that the price listed is for the table only and that they'll have to buy bottles on top of that.
Luckily, that's not the case.
Here's the easiest way to understand how bottle service works:
In exchange for spending a predetermined amount (i.e., the minimum spend), the club provides a free table.
Let's take a second tier VIP booth as an example. Second tier tables typically start around a $500 minimum spend.
So if you book this table type, you'll be required to buy at least $500 worth of bottles at the venue. For reference, this will get you one bottle.
You can order any items from the bottle menu (listed below), and they'll count towards the spend requirement.
Now, if you don't buy at least $500 of beverages, then you'll still be charged $500. And if you buy more than that, then you'll be responsible for the overage as well.
Free Mixers & More
At your table, you'll have a dedicated cocktail server to take your bottle orders and pour your drinks. There's also a busser to keep your table clean and well-stocked with ice and cups.
Security staff is always close by should you need any help.
And you'll get your choice of three free and unlimited mixers (i.e., cranberry, orange, and pineapple juice). Tonic water is complimentary as well.
Light Nightclub Table Map
Below you'll find the Light Nightclub table layout and floor plan.
Best Table Locations
Now for the most critical question – which tables are the best?
So we usually don't talk about specific table numbers because clubs won't guarantee them. But you're welcome to submit a request.
That said, Light considers everyone's experience when plotting tables. The club tries to find the optimal location for each group based on the spend amount.
Let's look at a few examples.
Bachelor Party & Groups of Guys
Let's say you're coming to town for a bachelor party and you want to meet some ladies at Light. What are the ideal table options for your group?
Well, we're big fans of table numbers 17, 20, 48, 50, 63, and 64.
On the table map above, you'll notice that all the tables I just mentioned are on either side of the staircase.
Why is this ideal?
Because being next to the stairs means you'll get to see a lot of women as they head down to the dance floor. And these table locations make it easy to start up a conversation or invite guests to join your table.
Now, if you're at table 17 or 20, don't forget to look behind you. Many ladies are standing next to the ledge as they sip on their drinks from the bar.
Other notable options for guy groups include tables in the 40s, specifically 43 – 46. (Ladies often like to dance on the platforms of table numbers 61 & 62.)
Couples
Now, if you're a smaller group or a couple and you'd like some privacy, some excellent table options are tables 1 – 7 and 31 – 35.
These table numbers feature some of the coziest booths in the club and offer a great view of the stage too.
Corporate Parties
Light also does a fantastic job of accommodating large parties and corporate groups.
For instance, an ideal spot is the corner dance floor tables 65, 66, and 67. These can hold up to 30 – 40 guests as the club will section off these tables just for you.
And the price is quite nice too. On most nights, you can get all three tables for a $3000 minimum spend. Again, one of the best values in town.
Bottle Menu
Here's the current Light Nightclub bottle service menu.
Bottle Presentations
For those new to the Las Vegas club scene, a bottle presentation is when a club makes a big deal over a bottle purchase. These "big deals" may include sparklers, signs, costumes, or even getting your name on the LED screen. Without a doubt, it's the ultimate attention-getter, and a presentation is sure to have everyone's eyes on you.
At some nightclubs in Las Vegas, bottle presentations can cost upwards of $2,000 or more. But Light likes to do things a little differently!
Their reasonably priced bottle parades are just one of the things we love about this club. For instance, you can get a sparkler presentation with a small table fee on most evenings.
Or, if you want to get your name on the big screen, book a table for at least $1,000 on a house DJ night. (On performance evenings, pricing is often higher.)
If you'd like one, all you need to do is talk to your cocktail server when you arrive at the venue. She'll let you know the available options and rates for the night.
Bachelorette Party Packages
If I were coming to town with a bachelorette party, Light Nightclub would be a top choice. Because the amount of value you get with a table reservation here is simply outstanding.
For example, packages start at a $500 minimum, and they include a free bottle of champagne. (It's like getting two bottles for the price of one!)
Not only that, but Light has some pretty epic "add-ons." Case-in-point, for $150, you can get a personal photographer. The photographer will be on hand to take pictures of your group throughout the night. Additionally, the price even includes editing of your ten favorite photos.
If you're interested in booking, please email us for a list of Light's bachelorette packages. And we'll also include pricing for the exclusive "add-on" options that you won't find anywhere else in town.
More Things To Know About Light Nightclub
Viewing Parties
If you're wondering where to watch the Super Bowl, a UFC fight, March Madness, or a boxing match, then look no further than Light!
You'll have one of the best viewing experiences on The Strip while you watch the event on Light's LED screens. At around $150 per person, it's a steal.
Additionally, if you want to stay for the club after, there may be a deal for you.
Performer Meet & Greet
Are you interesting in getting some one-on-one time with a performer like Ludacris or Rick Ross?
Well, good news! At Light, you can.
For a minimum spend of around $10,000, you'll get to do a meet and greet with the performer and snap some photos.
Proximity To 5 Star Restaurants
If you'd like dinner at a nice restaurant before you head to the club, Mandalay Bay has some great options. One of our favorites is KUMI, with its phenomenal sushi.
But, if you're looking for a quick bite to eat after the club, we highly recommend Citizens. In all honesty, their food quality is impressive for a fast-food spot. It's also one of the only choices available because the restaurant is open late.
New Year's Eve
Light Nightclub is one of our top picks for best value clubs on New Year's Eve. For example, you'll get an unbeatable table location for the price and get to see some top-notch talent too.
Even sweeter, if you're a Maroon 5 fan, keep your eyes peeled. The group makes an annual appearance at Light after their Mandalay Bay performance.
Conclusion
Light is a fantastic choice if you're looking for a budget-friendly club. The venue's reasonable VIP tables coupled with their bottle prices make it one of the best values on The Strip.
You'll get to see top talent, too, with performances by some of the best hip hop artists of our time.
We also appreciate that Light's DJs play old-school hip hop music throughout the night as well. So you'll get to hear the new stuff along with the throwbacks.
Lastly, most of the guests that come to Light Nightclub are friendly and approachable. And the staff here is excellent, too.
Overall, Light throws one of the best parties in Las Vegas!