A few months ago I was at a house party. One of the girls there talked about how she had gone to XS Las Vegas recently. She joked about it, saying, "old people going to an old club with no one there."
I almost spit out my drink when she said it.
Honestly, it made me question if she had even gone because, honey, EVERYONE IS AT XS. And if you don't believe me, head there on a Chainsmoker's night, and you'll see what I mean.
XS is not only one of the top clubs in town, but it's arguably the best nightclub in Vegas. And for a Vegas local not to know that, well, I have no words.
Now there's a whole lot of information you need to know to make the most of your XS Las Vegas experience. So much that this is our most extensive article to date. Get ready because it's a doozy!
Before we begin, though, we're an independent VIP hosting company in Las Vegas. This means that we book bottle service reservations at XS. If we can assist with a price quote, please click on the link below, and we'll get back to you promptly!
XS Las Vegas 2021: Overview
If you ask us, we think XS is the best-looking club in Vegas. It's sexy and classy. In fact, from the moment you step inside the venue, you'll notice that it's designed with the female body in mind. From its curving tables and dancer poles to its golden statues of women, XS is one seductive nightclub.
The club's exceptional EDM talent attracts guests from all over the world too. So you'll get to meet a diverse mix of club-goers.
XS is also the only nightclub that makes you feel like royalty. That's partly because bottle service guests get to make a grand entrance as they transcend the staircase into the club's main room. But it's also because the nightclub is dripping in gold.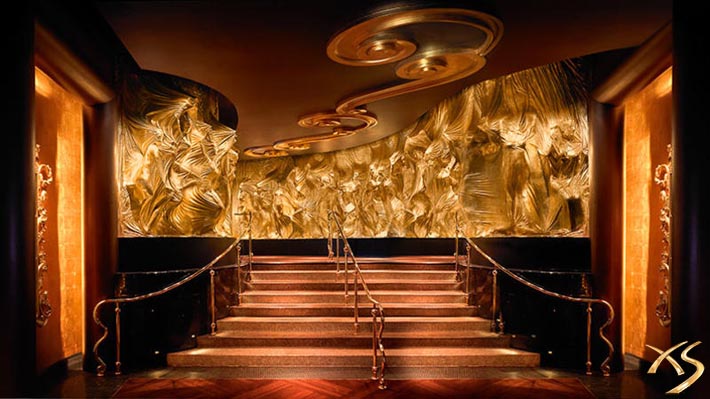 Outside
If you head outside, you'll experience one of the best outdoor clubbing environments ever created. And it's entirely unexpected with its string lights and canopy of trees.
At the center is a large pool with two-story cabanas and daybeds surrounding it. There's also a gaming area if you feel the need for some poker or blackjack.
If you're concerned about missing out on the action in the main room while you're outside partying, don't be. The DJs and performers give their attention to both areas.

Property Information
At over 40,000 SF, XS is one of the biggest nightclubs in Las Vegas.
Inside, you'll find various bottle service options, including lower and upper dance floor tables, 3rd tier couches, back wall tables, and 4 tops tables. Outside, there are lower and upper cabanas, daybeds, and immediate patio tables.
And for ordering drinks, there are two bars in the main room and two bars outside.
Quick Facts
Nights open: Friday, Saturday, and Sunday
Ages: 21+
Hours of operation: 10:30 pm – 4:00 am
Bottle service: $1,500 – $20,000
Music: House
DJs: Kygo, The Chainsmokers, Alesso, David Guetta, Diplo, RL Grime, Drake, and more
Special Events: XS Nightswim, Art of the Wild, EDC Week
Location
XS Nightclub is at the Encore hotel. The address is 3131 S. Las Vegas Blvd, Las Vegas, NV 89109.
Directions
From Encore's Main Valet, enter the hotel and turn right. Make a left before reaching the gaming tables and head straight until you can't walk any further (or you'll walk into the restrooms).
Take a left here and then a right in front of the restaurant, Jardin. The main entrance to XS will be directly in front of you. And, if those directions sound too confusing, there are signs overhead to guide you to the club.
Dress Code
The official dress code for XS is "upscale casual." Keep in mind, though, that some clothing items are prohibited. Specifically, there aren't any baggy jeans or pants with holes allowed. However, if you're a girl, you can usually get away with wearing jeans that have some rips as long as you pair them with dress shoes and a nice top.
Also, no athletic wear is permitted inside the club. This includes hats, tennis shoes, shorts, and flip-flops. Additionally, you'll want to avoid wearing anything with a sports team logo on it.
And although it's upscale casual, XS is one of the most high-end clubs. People dress up here, especially on Saturdays and Sundays. On these nights, you'll be hard-pressed to find ladies not wearing dresses and heels or men without button-ups and dress pants.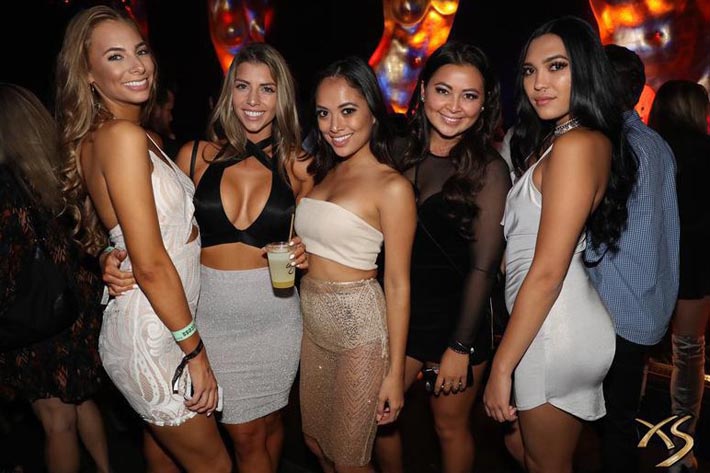 How To Get Into XS Nightclub
There are three ways to get into XS Nightclub: buy tickets, get on the guest list or make a bottle service reservation.
XS Las Vegas Tickets
The price for entry into XS varies depending on the night. The more in-demand the DJ is, the higher the ticket price. Here's the current range of presale ticket prices you can expect for 2021. The best place for club XS Las Vegas tickets is to purchase them online on the official website.
Ladies: $50 – $75+
Guys: $75 – $100+
You'll want to arrive early if you're buying tickets at XS. At most clubs, purchasing a ticket will get you in the club fast, but that's not necessarily the case here. Guests often find that they have to wait in line for over an hour.
So it's best to get to the club when it opens (10:30 pm) to avoid any hassles. Be sure to bring your printed ticket with you to show at the door (or have the email confirmation on your phone).
Also, if you're a guest staying at Encore or Wynn, you can sometimes get preferred entry (meaning you'll get in the club quickly) with a ticket purchase through the concierge. Contact the Wynn concierge for more information.
Guest List
If you're on any other club's guest list in Las Vegas, you'll get free entry into the venue. And you'll have access to every part of the club too.
Unfortunately, that's not always the case at XS, though. Sure, you'll get free entry into XS (if you qualify and follow the rules below), but if it's a high-demand night, you might be limited to the outside area only.
If the main room is open for guest list groups, then you'll want to get to the club early. Once you're in XS's outside area, head to the backside of the DJ booth for entry into the main room. The main room fills fast, so once you're in the main room, stay there – unless you don't care about waiting an hour or two to get back inside.
If you're going on a night that limits guest list groups to the outside area only, but you want to be in the main room, then the best thing to do is to buy tickets.
Guest List Rules
The following are the current guidelines for XS's guest list. Please note that these rules are for informational purposes only and are subject to change without notice.
Also, making a guest list reservation is not a guarantee of free entry as entrance into the club is ultimately up to the club. For example, if you're not dressed appropriately or you're intoxicated, you can kiss your guest list reservation goodbye.
Ladies: Free before 1:00 am.
Guys: Free for even ratio parties until midnight. (Even ratio means that you have at least the same number of women as you have men in your group). After midnight, guys may pay a reduced price until 1:00 am.
You'll want to make your guest list reservations in advance. Guest lists close early, so it's best to put in a request by 6:00 pm on the day you'd like to attend.
Also, we recommend arriving at XS before 11:00 pm, because on the big nights the guest list line may take an hour or more. Coming early at 10:30 pm (or even 10:00 pm) is highly encouraged, especially for The Chainsmokers.
XS Las Vegas Bottle Service
XS's bottle service prices are some of the highest on the strip. Usually, you'll find the most expensive pricing on Saturdays and Sundays or when the most in-demand DJs are there.
Also, booking a table in the main room almost always costs more than the outside area. (Unless it's XS Nightswim, then pricing is higher outside.)
Additionally, the closer you are to the dance floor and DJ booth, the more you'll pay.
Table Service Options
XS offers the following main room table options: 4 tops, back wall, 3rd tier couches, upper dance floor, and lower dance floor tables.
Outside, there are immediate patio tables, daybeds, and lower and upper cabanas. All tables at XS come with drawers underneath the seats to store your belongings.
Below you'll find photos of the various bottle service table options and descriptions, including capacity limits and pricing estimates.
XS Las Vegas Floor Plan: Main Room
One of the best features of XS Nightclub's main room is the table layout. The club is designed so that all main room table locations are elevated above the previous row. This helps to ensure that almost every table location has a good view.
Another fantastic feature about XS's main room tables is that many tables have ledges behind them. This is great because you can fit more people comfortably at the table as guests can sit in the seats or above on the shelf. And, at some tables, the ledge provides an additional standing area.
XS Nightclub Bottle Service Prices & Tables – Main Room
Please note that the prices shown below are the bottle service minimum spends only. Additionally, the costs are averages only and may be higher or lower depending on the night.
4 Tops
Cost: $2,000+
Capacity: 6 people
Description: 4 Tops tables are the smallest table option at XS. These tables are between the 3rd tier couches and the back wall tables. They're perfect for small groups. It's important to know, though, that many of the 4 tops tables face the back wall. So the only way to see the DJ is to turn around. That said, you can certainly stand on the seats and have an excellent view. There are also a few 4 tops tables parallel to the DJ. These have better sightlines, and offer one of the closest locations to the DJ booth in the entire venue.
Back Wall
Cost: $3,000+
Capacity: 8 people
Description: These tables are self-explanatory. They're located against the back wall inside XS's main room. With a back wall table, you'll still get a good view of the DJ, and you're decently close to the dance floor too. The only negative with these tables is that the distance between the tabletop and the seat is tight. If you're tall, you might be a bit uncomfortable. Additionally, although these tables hold up to eight guests, it's almost impossible to get eight in the booth. We estimate five or six comfortably. But, you can fit more people by having some guests sit on top of the ledge.
3rd Tier Couch & 3rd Tier Big Couch
Cost: $4,000 – $5,000+
Capacity: 10 – 12 people
Description: XS's 3rd tier couches are behind the upper dance floor tables. The 3rd tier couches hold up to 10 people, and the 3rd tier big couches hold 12. The big couches are located in the center of the club. One thing that's cool about these tables is that there's a walkway in front of you. So you'll get a lot of traffic in this location. If you're looking for girls (or guys) to join you, you'll have a parade of guests all night long. And you're just a few short steps away from the dance floor too.
Upper Dance Floor
Cost: $6,000+
Capacity: 15 people
Description: Compared to the lower dance floor tables, the upper dance floor tables will save you at least a thousand or two. You'll still get an exceptional view of the club and be close to the dance floor. The only potential negative with the upper dance floor tables is that sometimes ladies dance on the ledge above the dance floor tables. So your view may be somewhat obstructed during the night.
Lower Dance Floor
Cost: $7,000+
Capacity: 15 people
Description: The most sought-after (and most expensive) table options at XS are the lower dance floor tables. As their name suggests, they're right on the dance floor and have the absolute best view of the DJ. You will have people standing directly behind you from the upper dance floor tables, though. If this is something that you don't want, opt for the upper dance floor tables instead. The only thing that's behind the upper dance floor tables is a walkway.
Owner's Table
Cost: $8,000+
Capacity: 20 people
Description: The largest bottle service option in the club, these two tables are XS Nightclub gold. Located in the middle of the lower dance floor tables, they're known as the "owner's tables" as this is where the executives sit when they come to XS. The owner's tables provide the optimum view as they offer a direct eye line to the DJ. Even better, everyone in the club walks by these tables to get to the dance floor.
XS Las Vegas Floor Plan: Outside
Below is the map of available table options in XS's outside area. (You may notice that there are red couches that we have not identified on the map. These tables are rarely available as they're only listed as a bottle service option on big nights during the summer.)
XS Nightclub Bottle Service Prices & Tables – Outside
Outside, XS's bottle service locations include immediate patio tables, daybeds, lower cabanas, and upper cabanas.
Daybed
Cost: $2,000 – $3,000+
Capacity: 8 – 10 people
Description: Daybeds are along the perimeter of XS's pool. Some are pretty close to the DJ booth, while others are closer to the gaming area. There are even some daybeds that are in the pool. Daybeds are the most sought-after (and highest priced) bottle service option on Nightswim evenings. But, on regular nights, daybeds offer a reduced price compared to main room tables.
Immediate Patio / Patio Booth
Cost: $2,000+
Capacity: 8 people
Description: The immediate patio tables are one of our favorite locations at XS. They're behind the DJ booth, so you'll still be able to see the DJ. If you're headed to XS during the summer months, these tables are quite nice.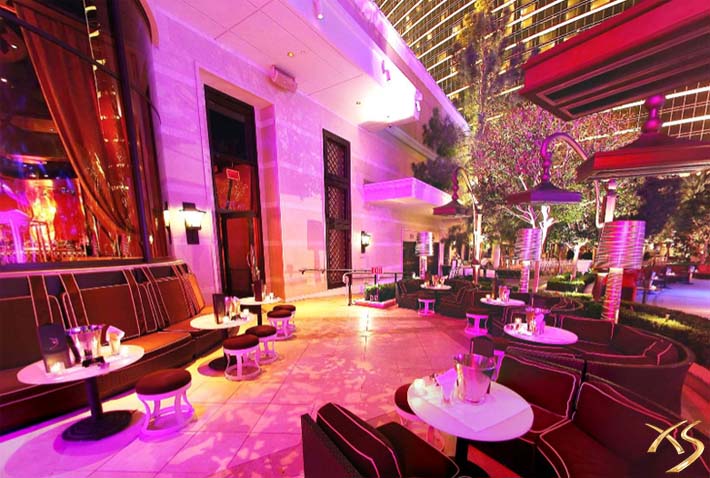 Lower Cabana
Cost: $2,000+
Capacity: 10 people
Description: Lower cabanas are further from the party as they're along the outside edge of XS's outdoor area. They're the perfect option if you have a big group and don't care about being with the crowd.
Upper Cabana
Cost: $1,500+
Capacity: 8 people
Description: Upper cabanas offer the same features as lower cabanas, except they're located on the second level. To some, they may seem less desirable because they're even further from the action (you're not even on the same level), but the cabanas overlooking the bar are some of our favorites. With these, many guests are below you, so it still feels like you're in the party with these cabanas. They're also an excellent choice if you're coming with a big group and want to hang out together and keep the party to yourselves.
2nd Row Daybed
Cost: $1,500+
Capacity: 6 people
Description: 2nd row daybeds are further from the pool than the daybeds, but you'll save some money sitting here instead. So you'll still get the same table, just further back.
Calculating The Total Table Service Cost
At all clubs in Vegas, a service (or venue) fee is charged and sales tax. The cocktail server's gratuity is at your discretion, although the recommended amount is typically 20%.
These fees total somewhere between 35 – 37% on top of the bottle service minimum. For XS, we recommend adding 37% to the minimum spend quoted. As an illustration, if you were to reserve a $2,000 minimum daybed, the total cost you'll pay is approximately $2,740.
Best Table Locations At XS Las Vegas
It's no secret that the best table locations at all nightclubs in Las Vegas are the dance floor tables. Whether it's the lower or upper dance floor tables, you'll have a fantastic experience.
And, if you want the absolute best tables, reserve the owner's tables. Of course, "best" doesn't come with an inexpensive price tag. On some nights, these tables go as high as $15,000 if The Chainsmokers are performing.
Best Value Tables
There are a few tables that we consider to be "hidden gems" at XS Las Vegas. These tables offer an excellent combination of price and location.
Immediate Patio Tables – located directly behind the DJ booth. You can see the DJ from here (although from behind). That said, if it's cold outside, you'll want to avoid these tables and opt for a location in the main room instead. Pricing for immediate patio tables on non-Nightswim nights starts at around $2,000.
Back Wall Tables – you can save a few thousand dollars or more by selecting a back wall table over a third tier couch. They're not as much in the party, but you'll still have an excellent view and have a lot of people walking by your table.
Less Desirable Table Locations
We wouldn't call any table "bad" at XS. However, we'd say that the 4 tops tables may not be ideal because of their ultra-small size and their location, with some facing away from the dance floor. If you have a small group, though, these are a fantastic option to get inside the main room at a more reasonable price.
Also, there are a few support columns between the third tier couches and the back wall tables. So if you get a back row table, a column may somewhat obstruct your view.
XS Las Vegas Bottle Menu
Below you'll find the current bottle offerings at XS Las Vegas. Prices and offerings are subject to change without notice.
Essential Things To Know About XS
Wait Times
XS has some of the longest lines in Las Vegas, especially on a Chainsmokers night. For example, the guest list line can take an hour or two. And in some cases, the ticket line can move slowly as well. Because of this, we recommend arriving as close to the club's opening (10:30 pm) as possible.
Of course, the bottle service line moves faster. Expect 15 – 30 minutes to get seated if you have a table service reservation.
Price Changes
The closer it gets to your date, the higher bottle service prices may rise. Paying a deposit protects you in the event of a price hike. We recommend doing this as it locks in the minimum spend and table location.
Getting Stuck Outside
If you're in the main room and want to see the DJ, don't go to the outside section after midnight. Honestly, I don't even really feel comfortable listing midnight as a cutoff time as the main room can reach capacity at any point, and then you'll be stuck outside for potentially hours.
Case in point – one night, my friend and I headed to the gaming tables for a bit, and when we lined up to get back inside, security wasn't letting anyone into the main room. After about 30 minutes, I decided to go home, but my friend waited there for over two hours.
And if you think that having a bottle service reservation will get you back inside with no issues, think again. You'll have to text your host to come and get you. Hopefully, he'll be available to help you out. If not, security won't let anyone pass until they receive the okay from management.
How To Get Back Inside The Main Room
One idea you may want to consider to get back inside the main room is to exit the club through the guest list entrance and make your way inside the Encore hotel. Then return to XS's main entrance and try for re-entry at the door.
Keep in mind that re-entry is up to the club's discretion, so you want to be careful here. The club typically doesn't like people going in and out because, quite frankly, it looks like you're doing something you shouldn't.
But, if you're willing to take the risk and don't want to wait an indeterminate amount of time in the outdoor area, it might work out well for you. We make no guarantees, though, so attempt this at your own risk.
Headlining DJ Performance Times
The complaint we hear most from people at clubs is having to wait for the DJ to take the stage. Most people think that as soon as the club opens, the headlining DJ is there. This is not the case. At all clubs in Vegas, a warm-up DJ will play before the headlining DJ. You can expect to see the main event around 1:30 am.
XS Nightclub Drink Prices
Individual drinks start at around $16 and go up from there.
What's Cool About XS Las Vegas
Bottle Service Presentations
XS is the only club that does bottle service presentations as you walk into the club. It's one of the coolest things because they block off the stairs to showcase the bottle service guests entering the club.
There are LED lights and drummers, and it lasts for a good while, too, as each guest gets to make an entrance one at a time. In our opinion, it's one of the best bottle service presentations on the Las Vegas Strip, as all eyes are on you.
Of course, there are some fantastic bottle presentations once you're at your table as well.
Nightswim
XS Nightswim is one of the best nighttime pool parties in Vegas. It's been so popular that Wynn decided to add another full-time Nightswim at Encore Beach Club. (If you've never been to a Nightswim, you really must go. These parties are legendary.)
The dress code is open, so you can wear whatever you want – swim attire, casual clothes, or you can even dress up if you'd like.
Guests are in the pool all night long. And the DJ performs in the outside area instead of the main room. So, it's like the club reverses with the most sought-after bottle service tables in the outdoor section and the main room with lower minimums. But, don't think that the inside area won't have a lot of people. It most definitely will as XS Nightswims are packed!
(Be careful not to slip if you're in heels and you're walking near the pool. There's water everywhere!)
Bathrooms
If you like taking selfies, head to the XS bathrooms. The lighting in the restrooms is phenomenal.
Gaming Area
XS and Encore Beach Club at Night are the only nightclubs with gaming areas. You might not think that a gambling section would fit into a club, but it's a lot of fun, and the tables are almost always full.
Just a reminder, though – don't pull out your phone while sitting at the tables. Somehow I kept forgetting that minor (well, major) detail one night and got yelled at a few times.
Seating
At almost all clubs in Vegas, there isn't anywhere to sit down unless you have a bottle service reservation. But at XS, there are some areas where you can take a quick break. Near the trees, there are planters to sit on.
And sometimes you can relax on the daybeds that aren't yet purchased. But, you'll have to keep a watchful eye on security. If they ask you to move, you'll need to get up!
Music
No matter where you are in XS, you'll get to hear the main room music. This is an excellent feature because you can't hear the headlining DJ from the outside at many other clubs in Las Vegas. For example, at Omnia, their outdoor terrace has a different DJ.
So not only will you get to listen to the headlining DJ at XS, but you'll also get to see them, too.
Air Quality
Lastly, XS's main room has better air quality than most clubs in Vegas. This is partly because XS is somewhat open to the outside, but it's also because the main room has fans that keep the air circulating. So, if you're not a big fan of smoke, XS is an excellent choice.
Conclusion
XS is the perfect club for you if you want to see the most popular EDM DJs.
You'll party in luxury and meet people from all over the world. So if you're looking for a diverse group of people to celebrate with, XS is it!
Guests dress to the nines here, too, so make sure your attire meets the dress code.
Because of the top-notch talent, though, pricing is much higher than other clubs in Vegas. Specifically, bottle service rates are off the charts.
But even if you're not getting table service, it's worth a visit! You won't want to miss the energy here, especially on a Chainsmokers night.