I have a love-hate relationship with Jewel Nightclub. Now I know that might sound bad so let me explain. Jewel is near the top of my list of favorite clubs in Vegas. It's high-end, draws a diverse crowd, and feels like a party even if you arrive early.
It's not as big as the mega-clubs, though. But the venue has some of the most exceptionally appointed VIP rooms on Las Vegas Blvd. (Yes, I wrote "rooms").
Now, the hate. Scratch that – let's go with "reluctance" instead. See, without fail, I stay for way longer than I intend every time I go. There's just something about Jewel's energy that sucks me in and makes me never want to leave.
So I'm warning you now: if you're going to Jewel Nightclub, get ready for a night of your life. And maybe a morning too!
Jewel Las Vegas: Quick Facts
Nights Open: Monday, Friday, and Saturday
Hours: 10:30 pm – 4:00 am
Bottle Service: $$ – $$$
Music: Mostly hip-hop
DJs/Special Guests: Kid Conrad, DJ Bamboozle, E-Rock, Angie Vee, Lil Jon and more
What It's Like
Jewel, in a word, is enchanting. Upon hearing the name, you instantly know that the club features a gem theme. And you don't have to wait until you get inside to see it. Even at the main entrance of the club, you'll find the royal motif apparent.
For instance, an entry staircase with glass and mirrors leads guest list groups and ticket holders into the club. The stairs also feature an ever-changing LED display that lights up the walls and steps.
Not only that but bottle service guests get to enter the venue through a private hallway. As you walk down the hall, you'll see beveled mirrors and a royal chandelier. Talk about making a grand entrance!
And although Jewel is in Aria, the club feels like you're in some far-off land in an underground castle.
Take, for example, the hallways that resemble dark and winding tunnels. And if you didn't look up at the track lighting above, you'd swear lanterns lit up the walkways. Not to mention the DJ booth with its backdrop of square screens that mimic facets of a diamond.
But perhaps the top reason why Jewel is so captivating is that it's full of hidden treasures. It's genuinely one of the most extraordinary clubs on Las Vegas Blvd.
Music
Jewel features a mix of top 40 and hip-hop sounds with an occasional EDM night. And since Jewel Nightclub is a Hakkasan Group property, you'll see some of the best performers on The Strip too.
For instance, previous guest performers include Tyga, Steve Aoki, Brody Jenner, Faed, Playboi Carti, and more.
Property Specs
At 24,000 square feet, the nightclub is more modest in size compared to Vegas' mega-clubs. But don't let that deter you. Jewel packs a big punch for its size. So no matter where you're at in the club, you'll feel the intense energy.
Jewel has two levels with the main room and a mezzanine level (balcony) to explore.
All in all, there are 40 bottle service tables and five exceptionally themed VIP rooms. One of which is so exclusive there aren't even any photos of it.
Location
Jewel Nightclub is near the North Valet at the Aria hotel. Feel free to tell your driver to drop you off here for the fastest entry.
Once you enter the hotel, you'll see a laughing Buddha. (You can rub his belly for good luck!) Then take a left at the statue and head down the escalator. The entrance to Jewel will be in front of you.
If you're coming from Aria's front desk, walk through the casino and take a right after Aria Patisserie. Then take another right before reaching the Buddha statue. Directly in front of you will be the escalator that leads down to Jewel Nightclub.
Dress Code
Upscale, fashionable attire is required at Jewel. For ladies, a dress with heels is the standard. If you're a gentleman, a dress shirt (think collared) and nice pants are the way to go.
Everyone can get away wearing jeans, though, as long as they're paired with dress shoes and a nice shirt. It's important to note that ripped jeans are okay for ladies but frowned upon for men.
Management prohibits certain types of shoes. These include sneakers (i.e., Nike, Adidas) and work boots like Lugz or Timberlands.
You'll also want to avoid wearing any athletic attire. And nothing with a sports team logo on it.
Additionally, hats like fedoras are acceptable.
Tickets
Below are the current advance sale ticket prices for Jewel Nightclub. These prices are for informational purposes only and may be subject to change depending on the DJ. Taxes and fees are included.
Female: $26
Male: $39
Who Should Buy Tickets?
Guys
You'll need to buy a ticket if you're a group of guys (with no women in your party) and you're not getting bottle service. But if you have some ladies with you, check out the guest list rules below.
We recommend buying tickets online in advance as doing so usually gets you the lowest price. Purchasing tickets at the door often comes at a higher cost.
Late Arrivals
Tickets are also an excellent option for men and women arriving after the guest list cut-off time. Be careful here, though.
If Jewel nightclub reaches capacity, they won't let anyone else into the club even if you have a ticket. Thankfully, though, that rarely happens unless it's a holiday weekend or a big event.
Guest List
If you're on the Jewel Nightclub guest list, you'll get free admission into the club. You'll need to follow specific guidelines to take advantage of the complimentary entry, though.
Keep in mind that not everyone is eligible. Here's who can make it on the list.
Jewel Nightclub Guest List Rules
Ladies: Free before 1:00 am.
Guys: Free before midnight with at least an even ratio of women to men in the group.
To further clarify "even ratio," if you have two ladies and two guys in your party, then everyone will get free entry. But if you come with five guys and two ladies, it's not going to work. Some of the group will get in for free, but the club may charge a cover for the three extra guys.
Jewel Nightclub offers a guest list on most nights. But on big weekends, Jewel may provide a limited list for ladies only. Sometimes too, on holidays, there may not be a list at all.
How To Get On The List
To get on Jewel Nightclub's guest list, send a text message to a Jewel Nightclub promoter.
Please include the following information with your request.
One name for the reservation (first and last, must match ID for entry)
The number of men and women in your group
Confirmation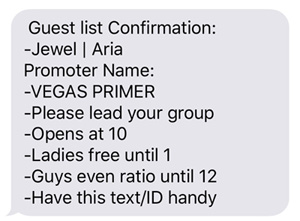 On the day, you'll receive a confirmation text that has your promoter's name, the time the line opens, and when it closes.
For the fastest entry, have the text handy to show it at the door to the Jewel host. Most importantly, though, make sure everyone brings their IDs.
Also, please don't copy the confirmation example and text it to yourself. (It's for illustration purposes only.) Your name must be on the Jewel guest list to get entry into the club.
Where To Go
When you arrive at the club, you'll get in the guest list line. If you're facing the entrance, it's the one to the right.
Once you're at the front of the line, a host will greet you. You'll tell them your name and the list you're on (i.e., the promoter name). Taking the confirmation text example above, you'd be on our list.
The Guest List Mistake Almost Everyone Makes
If there's one guest list rule we wish all groups would follow, it's this: please arrive at the club's opening. I can't tell you how many texts we get from groups stating that the line is crazy long. And without fail, everyone wants to know if we can help them skip the line since they don't want to wait.
We hear you. Nobody wants to wait in line. But, unfortunately, there's nothing we can do if you arrive late. That's why we always recommend arriving at 10:30 pm. If you come later, it's at your own risk.
To give you an idea of just how long the wait may be, Jewel's guest list line can take up to an hour on some nights. Take a look at the photo below. The line on the right is the guest list line, and it goes back even further behind the escalator. We took this photo at 11 pm on a MONDAY. Weekends are much worse than this.
So you can see that if you don't want to be standing in this madness, it's best to arrive early. I'd rather be inside the club getting my drink on and listening to some sweet music than outside the club waiting.
Bottle Service & VIP Tables
Enough about the guest list; let's get to our favorite way to enjoy Jewel Nightclub, and that's with a bottle service reservation. With a table booking at Jewel nightclub, you'll get a designated place to party for the entire night.
And it's also the only way to sit down inside the club as there are no stools or chairs for general admission ticket holders or guest list groups.
Here's what's included with a Jewel bottle service reservation.
Expedited Entry: A dedicated line is reserved exclusively for Jewel table service guests. You'll receive complimentary entry through a private hallway that leads straight to the dance floor.
Table: A comfortable and private booth for your group. (Feel free to stand on the seats and dance.)
Bottle Service Tab: You can spend the minimum (i.e., the price quoted) any way you'd like – on bottles, wine, water, energy drinks, etc.
Unlimited Mixers: Tonic water, orange, cranberry, and pineapple juice are on hand to mix up the perfect concoction.
Cocktail Server: A server takes your orders and pours drinks for everyone in your group.
Busser: This person keeps your table clean and free of any messes. Need extra cups or ice? He's your guy.
Security: These gentlemen make sure no unwanted guests are at your table. They also make sure everyone has a safe time at the club.
Storage: Easily store your valuables securely, so you're free to dance or move about the club.
Demand-Based Pricing Model
It used to be that you could make a Jewel bottle service reservation and then pay at the club when you arrived. But since Covid has entered the picture, the venue is only taking pre-paid bookings.
So to reserve a table, you'll have to pay the minimum spend, sales tax, and venue fee upfront. The server gratuity, though, you can pay on the night.
The great thing about paying in advance is that your location and price are guaranteed. But, of course, you'll need to make sure that you follow the club's rules.
Additionally, Jewel table rates are based on demand. So typically, the earlier you book, the lower the price you'll pay.
Other Factors That Influence The Cost
Prices for Jewel's tables vary based on the time of year, your table location inside the club, the number of people in your group, and the DJ.
You'll find the lowest pricing on Jewel's industry night which is on Mondays. Weekends will command higher prices.
How Much Is Bottle Service At Jewel?
Jewel Nightclub features a variety of table options in their main room and upstairs area. The main room will command the highest prices (as they're closest to the DJ and dance floor), while the most budget-friendly tables are upstairs on the balcony.
Generally speaking, the further you are from the DJ booth and dance floor, the lower the price. Jewel Las Vegas table prices typically start around $1,000 and go up to $5,000 or more.
Important Note: In Vegas, bottle service tables are quoted regarding a minimum spend requirement. There's no cost for the table as it's provided free of charge for agreeing to spend a certain amount on bottle service.
For example, if you get a table with a $1,000 minimum, you'll need to spend at least that amount at the club. If you spend less, you'll be charged $1,000, and if you spend more, you'll be responsible for the $1,000 plus the additional amount.
Main Room Tables
Jewel's main room features the dance floor, owners, stage, 2nd tier, and 3rd tier tables. Let's take a look at each table option in detail below.
Dance Floor
Cost: $3000+
Guests: 12
Description: With a Jewel dance floor table, you'll be right in the action. Jewel's dance floor tables are much closer to the dance floor than other Las Vegas clubs. How close? Try one step away. You can't get any closer to the party than you can at Jewel.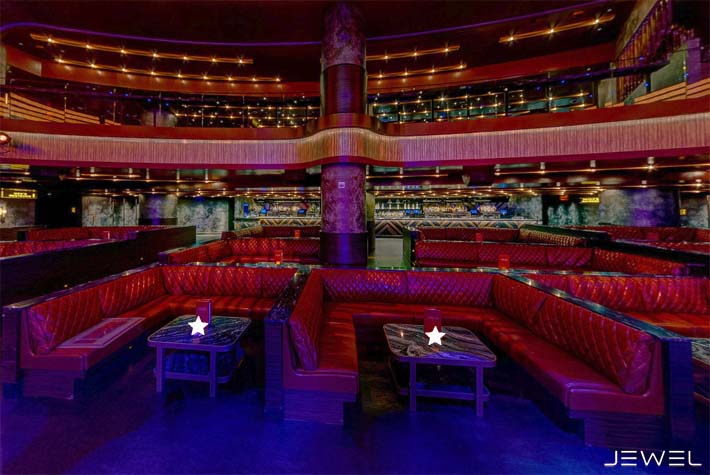 Owners
Cost: $3000+
Guests: 15
Description: Almost all clubs in Las Vegas have owner's tables. These tables are reserved exclusively for the owners of the venue when they visit the club. You'll find owner's tables offering a superior nightclub experience. They're optimally located inside the venue to take advantage of the lighting, sound, and view. When owners are not in town, the tables are up for grabs. Careful here, though – pricing tends to fluctuate for these tables as they're in high demand.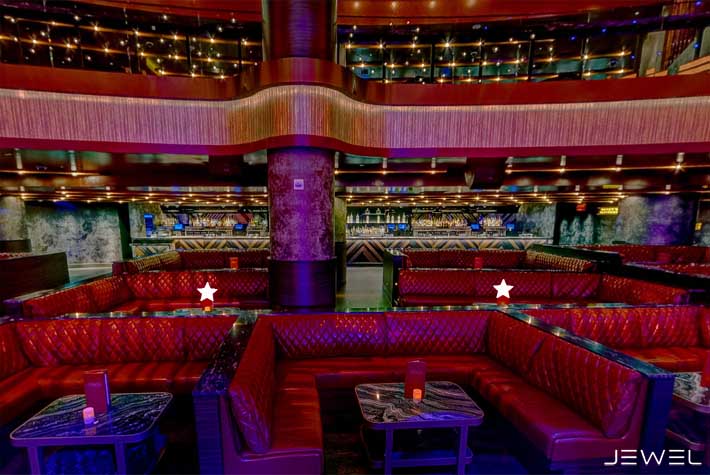 Stage
Cost: $3000+
Guests: 12
Description: The stage tables are some of the most overlooked booths in the entire club, but they offer one of the best locations. For instance, these tables will make you feel like you're the DJ! You'll take in the entire club from this vantage point as you party next to the headliner.
2nd Tier
Cost: $2000+
Guests: 15
Description: 2nd tier tables are behind the dance floor tables in Jewel's main room. And if you think other guests may obstruct your view, think again. These elevated tables provide just as good of a view, if not better, as the dance floor tables themselves. These are one of my favorite best "bang for your buck" table locations.
3rd Tier
Cost: $1500+
Guests: 12
Description: You'll find the third tier tables along the outer edge of the main room close to the back wall (thus the name "back wall" tables). The tables are excellent if you want to mingle with other guests as you'll have a walkway directly behind you. Some of these tables are elevated as well. Additionally, they're the most budget-friendly option if you want to be in the main room.
Mezzanine
Jewel's mezzanine level houses balcony tables for both small and large groups as well as five ultra-private VIP suites.
Balcony
Cost: $750+
Guests: 8
Description: On the second floor, you'll find Jewel Nightclub's small and large balcony tables. From here, you'll have an all-encompassing view of the main room. We recommend the tables shown in the photo below as these are directly behind the glass railing giving you an optimum view. (There are tables behind these as well, but the view isn't as good.) Additionally, because the balcony tables are on the mezzanine level, they come with a slightly lower price tag, making them ideal for groups on a tighter budget.
Skybox
Cost: $2000+
Guests: 20
Description: The skyboxes are themed VIP suites that offer one of the most exclusive and private VIP experiences in town. No club on The Strip has VIP rooms like this. For instance, there's the Gallery that features a collection of photos, the Blind Tiger designed after a speakeasy, the Studio that resembles a recording studio, and my favorite – the G.O.A.T., which stands for "Greatest Of All Time." In the G.O.A.T., you'll find treasures like jerseys and memorabilia from some of the most significant sports legends of our time. We recommend these rooms for groups that want to keep the party to themselves. But don't worry about missing out on the action from these suites. Each room features a glass railing that overlooks the party. And you can quickly head downstairs to the dance floor anytime you'd like.
Other Fees
All clubs in Las Vegas charge three additional fees on top of the table price. These fees are the venue fee (sometimes referred to as the service fee), tax, and tip. You'll want to factor in these costs to calculate the total amount you'll pay.
For instance, the average of the three fees across all clubs in Las Vegas is 37%. So with a $1,000 table, the total cost will be roughly $1,370 (assuming you don't spend more than $1,000 at the club).
Floor Plan
One of the best features about Jewel is that you can't go wrong with picking a table location, especially in the main room. You'll feel like you're in the party no matter where your table is located.
Jewel Bottle Menu
You can order any items from Jewel's bottle service menu and have it count towards the spend requirement of the table. The lowest priced bottles start around $600 for a 750 ml bottle.
What's Cool About Jewel
Here are some of our favorite features about Jewel Nightclub.
Mezzanine Level
One of our favorite things about Jewel Nightclub is that the second level features a make-shift dance floor that overlooks the main room. From this vantage point, you'll get an unobstructed view of the dance floor and DJ booth, thanks to the glass railings.
There are even tabletops to set your drinks on or lean up against to take a quick break. Jewel offering tabletops is quite commendable, too, as not many clubs offer a place to hang out for their ticket holders or guest list groups. We love that Jewel cares about every guest's experience, no matter how much they spend at the club.
Guards
In true royal fashion, guards protect the entrances to the skyboxes. These bouncers monitor who enters the VIP suites to make sure any unwanted guests don't burden you. There isn't any other club in Vegas that has guards. Now, how cool is that?!
Stage Tables
It's a rarity in Las Vegas to find bottle service tables next to the DJ booth. I can only count three nightclubs that offer this close of a proximity to the DJ.
To give you an idea, if you reserve a stage table, you could hop over and be inside the DJ booth. (Please don't do that, I'm just trying to paint a picture here.)
You're so up close and personal, and it'll feel like you're the star of the night as you overlook the entire club. Not to mention you'll have the best view in the house of Jewel's dancers.
Flawless Mondays
Currently, you've got two choices for nightclubs on Monday nights – Jewel and Marquee. Now Marquee Nightclub plays mostly EDM on Mondays, but Jewel is all about the upscale hip-hop life. (And by "upscale," we mean the dress code is strictly enforced.) So if you want a hip-hop party, Jewel is where you want to go.
Now Jewel Nightclub's Monday night event is an industry party known as "Flawless Mondays." But don't think it's just for industry people.
Sure, you'll find VIP hosts, cocktail servers, and a slew of employees showing their support from other Vegas clubs, but it's also a night for any non-industry guest to enjoy as well.
We highly recommend Jewel Nightclub on Monday nights. It's just got a different vibe than on the weekends with everyone more relaxed and having a good time together.
Table 12
There's a particular table inside Jewel Nightclub known as Table 12. This table is where some prominent industry people hang out. Now you might be thinking – cool, but how's that going to benefit me?
Well, my friend, if you want to make some Las Vegas connections – like a doorman from XS or that super cute server from Wet Republic – you now know exactly which table to hang out around.
Feel free to mingle and meet some of the most influential people in town. And if you're worried about figuring out which table is #12, don't be. The club makes sure everyone knows where it's at with the plethora of industry bottle presentations and signs. 🙂
Aria Restaurants
Another bonus to going to Jewel is that if you want to eat dinner at a nice restaurant beforehand, there's no need to search for a restaurant elsewhere on the strip. Instead, you can head directly to Aria and have an ultra-short walk to Jewel nightclub after. In our opinion, Aria has the best variety of restaurants out of all the hotels. And even better – they're all top-rated too.
For instance, there's Thai food at Lemongrass, seafood and steak selections at Mastro's Ocean Club, Italian at Carbone, Chinese at Blossom, American at Sage, and Mexican at Javier's. And I'm not even naming them all!
What's more, if you're running late to the club, you can pick up a fantastic (and quick) bite to eat at the Five50 Pizza Bar or Aria Cafe.
Conclusion
If you want a night out that has an intimate vibe, Jewel nightclub should be at the top of your list. Some clubs in Las Vegas are intimidating because they're enormous. And it can feel like you almost get swallowed up by the masses of people at these venues.
In contrast, Jewel is welcoming to all and features an excellent mix of DJs and artists, although the club mainly focuses on hip-hop sounds. And you'll also find Jewel to be classy with club-goers dressed to the nines.
The price point for VIP table service at this club is moderately priced, making it one of our top picks for value clubs in Las Vegas.