You know your night is going to be phenomenal when you're at a top Las Vegas hotel. But even if Marquee Nightclub weren't inside The Cosmopolitan, the club would stand on its own. Not only is the talent exceptional, but it offers one of the best parties in town.
And if you're looking for a nightclub that'll give you the biggest bang for your buck, Marquee is it! You'll get fantastic DJs and hip-hop artists as well as excellent pricing on tables.
So in this guide, I'm covering everything you need to know about this top nightclub, including tickets, guest list, tables, and pricing estimates. Let's get to it!
Marquee Nightclub: Overview
Marquee offers a fantastic indoor/outdoor experience. And, in my opinion, it's one of the best-designed clubs in Vegas. I love it so much that it's the only nightclub I make a beeline to the outside area the second I arrive.
It's just got a cool vibe with its intimate setting and low-level lights. Frankly, it almost makes you forget you're on The Strip. But if you do happen to look out beyond the club, you'll see one of the most beautiful views of Las Vegas Blvd.
Inside, you'll find the club to have a more European-type feel. It's dark and moody with a heavy focus on music. You'll get a nice mix of EDM and hip-hop here too.
Marquee Is For Music Lovers
If you're big into music, you'll instantly recognize the DJ talent. But, if you're more of a casual listener, you might not have a clue. But that's not necessarily a bad thing either.
At times, the megastar DJs can have repetitive sets, which can get a little annoying. But, at Marquee, that's not the case. Instead, you'll get lots of variety with fresh and unique mixes. Definitely no cookie-cutter DJ sets here!
On the other hand, the artist and rapper talent is a different story. Marquee has some of the most notable hip-hop performers, including Travis Scott and French Montana.
Quick Facts
Nights Open: Friday, Saturday, and Sunday
Hours: 10:00 pm – 4:00 am
Bottle Service: $ – $$$
Music: EDM and Hip-Hop
DJs: DJ Pauly D, Alan Walker, Afrojack, Deorro, Mustard, and more
Special Events: Lowkey in the Library (most Wednesdays)
Location
You'll find Marquee inside the Cosmopolitan hotel at 3708 S Las Vegas Blvd.
If you're getting dropped off at the Main Valet, walk past the first set of escalators. Keep walking until you see the Chandelier bar. (You can't miss it – it's two million crystals of pink light spanning three floors.)
From there, take the escalators up to the second floor. Turn right off the elevator and then right again. The entrance to Marquee will be in front of you.
Dress Code
The dress code at Marquee Nightclub is like all nightclubs in Vegas, with one exception – no t-shirts. The Tao Group runs Marquee, and they're opposed to anyone wearing one. So it's best not even to try it. Instead, dress up, and you'll get in just fine.
Guys
A button-up shirt with pants (jeans are okay) and dress shoes are the outfit of choice. Please remember that hats, sneakers, or clothing with a sports team's logo are not allowed.
Ladies
For women, we recommend wearing a dress and heels. You can also get away with pants and a nice top. Additionally, ladies often have more leeway than guys, so you can wear just about anything as long as your shoes look nice. That said, be sure to stay away from any see-through attire that would expose yourself.
Tickets
Tickets are the right option for you if you're not on the club's guest list or getting bottle service. Purchasing tickets online will get you the best price as cover charges are usually higher at the door.
We recommend buying your tickets from Marquee's official website. But don't wait too long; presale tickets are often only available for a limited time.
Marquee Las Vegas Ticket Prices
Most nights, presale ticket prices are around $20 for ladies and $30 for guys. All ticket purchases are also subject to a Live Entertainment Tax and a surcharge. So the total ticket cost is around $27 for women and $40 for men.
But, remember that ticket rates are usually higher on holiday weekends or when there's a big event in town.
The club also recently added a VIP ticket option that includes a $100 bar card. The price is currently $100 plus applicable fees for both males and females. So, right now, the total cost ends up being about $117 per person.
Guest List
Marquee Nightclub offers a guest list almost every Wednesday, Friday, Saturday, and Sunday night. If you're on the list, you'll get into the club for free. Here are the current list rules. Please note that these are subject to change.
Ladies: free entry until 1:00 am
Guys: free entrance into the club before midnight (or first hour) with an even ratio or better
Although Marquee's guest list offers free entry for a few hours, it's a good idea to arrive around 10:30 pm. If you come later than this, you risk a line forming and a potentially longer wait time. If you ask us, we'd rather be inside the club than outside waiting in line.
Also, be sure to contact a Marquee promoter by 6 pm on the day you wish to attend so he can get you on the list. Guest list reservations close a few hours before the club's opening which means you can't just walk up and ask to get on it.
Marquee Bottle Service
Sometimes people get so focused on seeing a top-name that they overlook Marquee. And the funny thing is they'd likely have a much better time here because their money will go a lot further.
For instance, you can get a dance floor table for thousands less than at XS. And, because Marquee always has a fantastic crowd and excellent DJs, it's our pick for the best value!
How Much Is Table Service At Marquee In Las Vegas?
The table prices listed below are average minimum spends based on weekend rates.
These prices are provided for informational purposes only and may be higher or lower depending on the day. Rates may also be higher for bigger group sizes.
Bottle Service Prices
Salon: $750+
Cloud: $1,000+
Third Tier Main Room: $1,500+
Upper Dance Floor: $2,500+
Dance Floor Table: $4,000+
How To Calculate The Total Bottle Service Cost
In addition to your table's minimum spend, Marquee also charges a 12% admin fee and sales tax of 8.375%. (The sales tax is calculated on the minimum spend plus the admin fee.) The server gratuity is at your discretion, but the recommended amount is typically 20%.
So using these percentages, an easy way to calculate the total cost for any Marquee table is to take the minimum spend and multiply it by 1.4138. So $1,000 x 1.4138 = $1413.80.
Total Cost Calculation
Here's an example of the total cost breakdown.
Minimum Spend: $1,000.00
Admin Fee: $120.00
Recommended Gratuity: $200.00
Sales Tax: $93.80
Total: $1,413.80
$1,413.80 is the total price you'll pay (assuming you only spend $1,000 at the club). If you spend more than $1,000, the fees are calculated based on the higher amount.
What You Get With A Marquee Bottle Service Reservation
Making a bottle service reservation at Marquee in Las Vegas gets you a lot of benefits.
Complimentary and expedited VIP entry
A cocktail server and busser for your table
Choice of three unlimited and free mixers
Reserved table with seating for the entire night
Security staff
So with these perks, if bottle service is within your budget, there's no better way to enjoy Marquee!
Marquee Table Map
Below you'll find the floor plan for Marquee Nightclub. This map shows the table locations inside Marquee's Main Room, Cloud Room, and Salon. Please note that the table numbers are subject to change.
And although we're showing table numbers here, Marquee won't guarantee a specific location. So, for example, if you reserve a dance floor table, you can expect a table in the 50s or 60s, but you can't pick the specific table number. However, getting to the club early may help with your seating location.
The only exception to this rule is on big nights like New Year's Eve. During these times, the club will sell each table separately, so you can pick your specific table number then.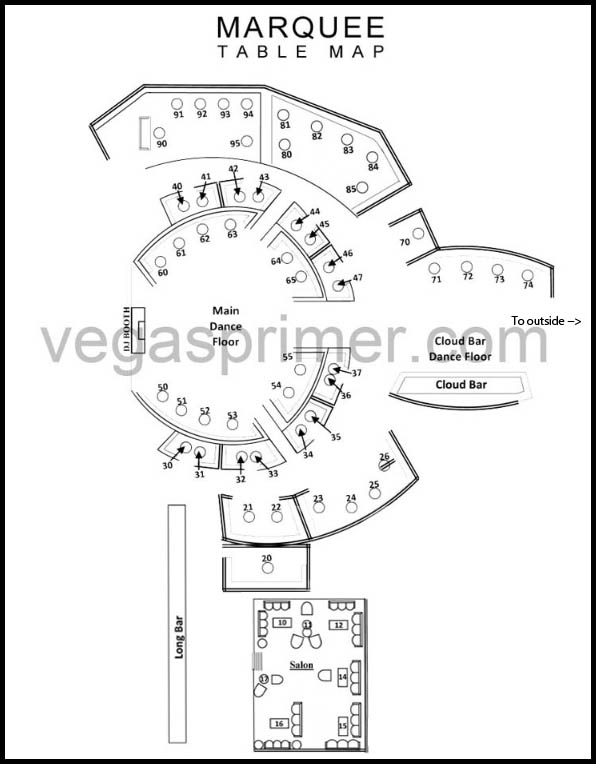 Best Table Locations At Marquee Las Vegas
The best table locations at Marquee Nightclub are any of the dance floor tables. These are tables in the 50s and 60s.
Dance floor tables offer the best view of the DJ since they're closest to the DJ booth. They're also right in the action as the tables border the dance floor.
The dance floor tables command the highest prices in the club. But they're a steal compared to Omnia or XS's dance floor booths, which are as high as $15,000 or more on some nights.
Best Value Tables
If you're looking for the best combination of price and table location, then you'll appreciate our picks for best value tables. Tables in the 30s and 40s (upper dance floor tables) are a great deal.
With these tables, you've got some of the best seats in the house – directly behind the dance floor tables. And they're elevated, so you'll have an unobstructed view.
You'll also save a lot as compared to the dance floor tables. For example, on a recent night, dance floor tables started at $3,000, but the upper dance floor booths went for $1,500. That's more than a 50% savings once you consider the additional fees for just a few feet difference!
We're also big fans of the third tier tables. Anytime we do bottle service at Marquee, we choose these. The third tier tables on the map are numbers 21 – 26, 70, and 80s and 90s. Our favorites, though, are tables 21 – 26. We like these best because you'll have a lot of people walking by your table.
Worst Table Locations
I wouldn't say that there are any bad table locations at Marquee. It just comes down to the type of experience you want.
For instance, if you want to be in the action and close to the DJ, we don't recommend reserving a Salon, Cloud, or outside table. (This is because these sections are furthest from the dance floor.)
Instead, you'd want to book a main room table – so any of the dance floor, upper dance floor booths, or third tier tables would be ideal.
Budget-Friendly Tables
If you want the lowest pricing on bottle service, look no further than tables in the Salon or Cloud Room or outside on the Patio.
Between the three, we prefer tables in the Cloud Room. Now, although the Cloud booths aren't technically in the Main Room, you'll still have some view of the DJ. (This is in contrast to the Salon and Outside Patio tables where you won't be able to see much of anything.)
There's also a dance space between the Cloud Bar and the tables, so you'll feel more in the action here. And you'll enjoy easy access to Marquee's outdoor terrace too.
On nights when Marquee's hip-hop room is open (the Boom Box Room), you can get lower prices on bottle service. The Boom Box Room is available on select evenings throughout the year. Prices usually start around $600 here.
Marquee Bottle Price List
The menu below is a sampling of the bottles available at Marquee Nightclub. Please note that we're providing it here for informational purposes only. Although it's the most recent menu, prices and offerings are subject to change.
Bottle Service Presentations
With certain bottle purchases, Marquee will make a big display when bringing out your bottle. (These are also referred to as bottle parades.)
For instance, if you order a bottle presentation from the parade menu, you may get sparklers, LED lights, signs, or flags. There are even birthday cakes and giant cupcakes.
Marquee's presentations aren't as over the top as some of the other clubs in Vegas, but they're still excellent! And they're priced reasonably too.
Another cool thing about Marquee is that the cocktail servers are often allowed to drink with you. We're all for this because it makes it feel more like a full-on party when the staff participates in the fun.
Lowkey In The Library
On Wednesday nights, Marquee now offers a unique club experience in their Library. In here, you'll listen to electronic and deep house sounds in an intimate setting.
It's such a different vibe than any other spot in Las Vegas too. With its bookcases lining the walls, a real working fireplace, and a pool table, it's easy to see why it's named "The Library." It's a great venue if you're looking for a more chill environment on Wednesdays.
Bottle service rates are pretty reasonable here as well. For instance, table prices typically start around a $750 minimum spend.
What's Cool About Marquee
From guest list benefits to its proximity to award-winning restaurants, Marquee Nightclub offers some unique features. Here are a few of our favorites.
Free Champagne
Yes, it's true. If you're a woman and you're on Marquee's guest list, you'll want to head to the third floor.
Next to the Beauty & Essex restaurant is a complimentary champagne table. Just look for the carpeted area with seating and a cocktail server in a dress. You can't miss it.
She'll be handing out free champagne to the ladies before the club opens. We recommend arriving around 10 pm to take full advantage of this freebie. And, sorry gents, this is for women only.
Please note that the complimentary champagne table may not be available on all nights.
Beauty & Essex Las Vegas
If you're looking for an excellent dinner spot before heading to Marquee, we highly recommend Beauty & Essex. It's one of our favorite restaurants in Las Vegas because the food is so exceptional. And, even better, it's one floor above the nightclub on Cosmopolitan's level three.
A word of caution, though. If you want an intimate, quiet setting, this is NOT the restaurant for you. It can get really loud because of its smaller size and concrete flooring. There may even be times when you have to shout to talk.
If you'd like to make a reservation here, plan on booking it as soon as possible (even a month out is advised). And if you want to go before your night out at Marquee, we recommend making a reservation around 8:30 pm. Because sometimes, even if you have a reservation, there may be a wait to get seated.
Also, Beauty & Essex's menu offers shareables. So get ready to try a bunch of different food!
Bungalow Suites
Marquee is one of the only clubs that has hotel rooms connected to the nightclub itself. These bungalow suites provide the ultimate party experience with direct access to Marquee.
The three-story townhomes feature bedrooms, living areas, balconies, and hot tubs. You can even get bottle service in your room.
But the best part about the bungalows is that when you're ready to head to the club, you're only steps away. All you have to do is exit out the back of your suite, and you'll be immediately inside Marquee's outdoor terrace.
Prices for a night in a bungalow suite will set you back a few grand.
Marquee Dayclub
During the summer months, Marquee has a daytime pool party. Open from 11 am until sunset, you'll find a lot of the same DJs at the day club as you will in the nightclub.
Marquee's day club is one of the most packed on Las Vegas Blvd. In fact, it's often in the top three with Encore Beach Club (EBC) and Wet Republic.
Conclusion
Marquee in Las Vegas is the right choice if you're looking for a venue that plays electronic music with an occasional hip-hop night. We love that the nightclub rotates its talent, so you'll get to experience both genres during the week.
And like I mentioned above, Marquee kills it when it comes to value for the money! There isn't a better spot in town to get bottle service. Make sure to show up early, though, as it can make a big difference in your table location.
Lastly, we appreciate that Marquee is at the Cosmopolitan, often recognized as the best hotel in Vegas. So you'll have plenty of things to do before and after the nightclub.
---