Usually, I write lengthy introductions about each club. But today, I'm going to cut to the chase about Marquee Las Vegas. This club throws the best party in Vegas hands down, especially on Monday night.
And if you're looking for a nightclub that'll give you the biggest bang for your buck, Marquee is it. You'll get fantastic DJs and hip-hop artists as well as excellent pricing on tables.
Now there's a lot more to tell you about, and I'll get into it in a minute. But for now, I want you to know that we're here to help you. If you have questions about Marquee, please contact us. We're happy to assist.
Marquee Las Vegas
What It's Like
You know your night is going to be phenomenal when you're partying at a top Vegas hotel. But even if Marquee Nightclub wasn't inside The Cosmopolitan, the club would stand on its own. Not only are the acts amazing, but it has one of the best outdoor clubbing experiences in town.
In fact, it's the only venue I make a beeline to the outside area the second I arrive. It's just got a cool LA vibe with its intimate setting and low-level lights. Frankly, it almost makes you forget you're on the strip. But if you do happen to look out beyond the club, you'll see one of the most beautiful views of Las Vegas Blvd.
Inside, you'll find the club to have a more European type feel. It's dark and moody with a heavy focus on music. You'll get a nice mix of EDM and hip-hop here too.
Marquee Is For Music Lovers
If you're big into music, you'll instantly recognize the DJ talent. But, if you're more of a casual listener, you probably won't have a clue. And that's not necessarily a bad thing either.
At times, the powerhouse DJs (like Calvin and Tiesto) have repetitive sets which can get a little annoying. But, at Marquee, that's not the case. You'll get lots of variety with fresh and unique mixes. Definitely, no cookie cutter DJ sets here.
On the other hand, the artist and rapper talent is a different story. Marquee has some of the most notable hip-hop talent including Travis Scott and French Montana.
Marquee Las Vegas Quick Facts
Nights Open: Monday, Friday, Saturday
Hours: 10:30 pm – 4:00 am
Bottle Service: $550 – $4,000
Music: EDM and Hip-Hop
DJs: DJ Ruckus, DJ Mustard, DJ Vice, Dash Berlin, French Montana, Travis Scott, Don Diablo and more
Special Events: Marquee Mondays and Halfway to EDC
Where Is Marquee Las Vegas located?
You'll find Marquee Las Vegas inside the Cosmopolitan hotel at 3708 S Las Vegas Blvd. If you're getting dropped off at the Main Valet, walk past the first set of escalators. Keep walking until you see the Chandelier bar. You can't miss it – it's two million crystals of pink light spanning three floors. From here, take the escalators up to the second floor. Turn right off the elevator and then right again. The entrance to Marquee will be in front of you.
Marquee Las Vegas Dress Code
The dress code at Marquee Nightclub is like all nightclubs in Vegas with one exception. No t-shirts. The Tao Group owns Marquee, and they're opposed to anyone wearing a t-shirt. It's best not even to try it. Dress up, and you'll get in just fine.
For guys, a button-up shirt with pants (jeans are okay) and dress shoes is the outfit of choice. Please remember no hats, sneakers, or clothing with sports teams.
For ladies, a dress and heels are recommended. You can also get away with jeans and a top. My advice is that you can wear just about anything as long as your shoes look nice.
Marquee Presale Tickets Las Vegas
Who Should Buy Tickets
If you don't want bottle service and you're a guy or a group of men, then buying tickets is your best option. (It's also your only option.)
Purchasing tickets online will get you the best deal as ticket prices are usually higher at the door. You can get your tickets from the Marquee website here.
Tickets are also a good option for ladies if you're not on the guest list. Or if you're past the Marquee guest list cut-off time of midnight or 1:00 am.
Marquee Las Vegas Ticket Prices
$20 for ladies and $30-$40 for guys depending on the night. Please note that these are presale prices. Like I just mentioned, the cost may go up at the door.
Marquee Guest List
Marquee Nightclub offers a guest list almost every Monday, Friday, and Saturday night. If you're on the list, you'll get free entry into the club. Here are Marquee's current guest list rules. Please note that these are for informational purposes only and may be subject to change.
Ladies: free entry before 1:00 am
Guys: free entry before midnight with at least an even ratio of women to men in the party
Heads up! There are some nights that ladies will get access to an open bar with a guest list reservation. There aren't many clubs that do this. So if you're down for some free drinks, we highly recommend signing up for the Marquee guest list. It's truly one of our favorite clubs.
Now although Marquee's guest list offers free entry for a few hours, we recommend arriving around 10:30 pm. If you come later than this, you risk a line forming and a potentially longer wait time. Personally, I'd rather be inside the club hanging out than outside the club waiting in line. But, hey, that's just me.
Also, be sure to contact a Marquee promoter by 6 pm on the day you wish to attend so that he can get you on the list. (Guest list reservations close before club opening which means you can't walk up to the club and ask to get on it.)
Please note: There are a few times during the year when Marquee's guest list isn't available. For example, closures may occur on big holidays like New Year's Eve or Memorial Day weekend.
Marquee Bottle Service
For some reason, people seem to sleep on Marquee. They're so focused on XS or Omnia that they overlook this club entirely. And the funny thing is they might have a better time at Marquee because their money will go a lot further.
For instance, you can get a dance floor table for THOUSANDS less than at XS or Omnia. And, because Marquee attracts a good size crowd and brings in some excellent DJs, it's our top pick for best bang for your buck clubs.
How Much Is Bottle Service At Marquee Las Vegas?
In general, pricing for Marquee Las Vegas table service is as follows. Please note that prices are subject to change and may be higher on holiday or event weekends. Additionally, the rates listed are minimum spends only.
Marquee Las Vegas Bottle Service Prices
Patio Table: $550+ (5 guests)
Patio Table (large): $1,000+ (10 guests)
Boom Box Room Table: $550+ (5 guests) – table located downstairs in Marquee's hip-hop room
Boom Box Room Table (large): $1,100+ (10 guests) – table located downstairs in Marquee's hip-hop room
Back Wall Table: $1,100+ (8 guests)
Cloud Room Table: $1,100+ (10 guests)
Cabana: $1,100+ (15 guests)
Back Wall Table: $1,100+ (10 guests)
Elevated Dance Floor Table: $1,500+ (12 guests)
Dance Floor Table: $2,500+ (12 guests)
Please note: Bottle service minimums may increase from the above estimates. As I mentioned, if it's a busy weekend (like a holiday), then pricing may go up. Also, the talent or DJ may change the price. For instance, the more popular the performer, the higher the cost will be. Lastly, if you have more people than the table allows, the minimum spend will increase.
How To Calculate The Total Bottle Service Cost
Often, Marquee bottle service prices are quoted regarding a minimum spend requirement only. Just like in our pricing example above, each table type has a minimum you must meet. For instance, if you book a back wall table with a $1,100 minimum then you'll need to spend at least $1,100 on alcohol. However, it's important to know that the minimum is not the final price you'll pay.
All Las Vegas day and nightclubs charge fees on top of the minimum spend. These include the club's service fee (also known as an admin or venue fee), sales tax, and gratuity. Altogether, these charges add up to approximately 37%. You can use this percentage at all clubs to get a close estimate of the final bottle service price.
Here's how to calculate the total bottle service cost.
Total Cost Calculation
Back Wall Table: $1,100 minimum
Add: 37% service/tax/tip fee: $500
Total: $1,500
Around $1,500 is the total price you'll pay (assuming you don't go over your minimum spend of $1,100).
What You Get With A Marquee Bottle Service Reservation
Making a bottle service reservation at Marquee Las Vegas gets you a lot of perks. You'll enjoy expedited entry through the VIP line and you won't have to pay a cover charge. You'll also have a dedicated cocktail waitress and busser for your table. Additionally, you'll get unlimited and complimentary mixers (juices). If bottle service is within your budget, there's no better way to enjoy a Las Vegas club.
Marquee Table Map
Below you'll find the floor plan for Marquee Nightclub. The map shows the table locations inside Marquee's Main Room, Cloud Room, and Salon. Please note that table numbers are subject to change.
And, although we're showing specific table numbers here, Marquee won't guarantee a location. So, for example, if you reserve a Dance Floor Table, then expect a table in the 50s or 60s. If you want to try for a specific table number, though, you can certainly put in a request.
Now if you're interested in an outdoor table or cabana, you'll find these tables located right outside the Cloud Room.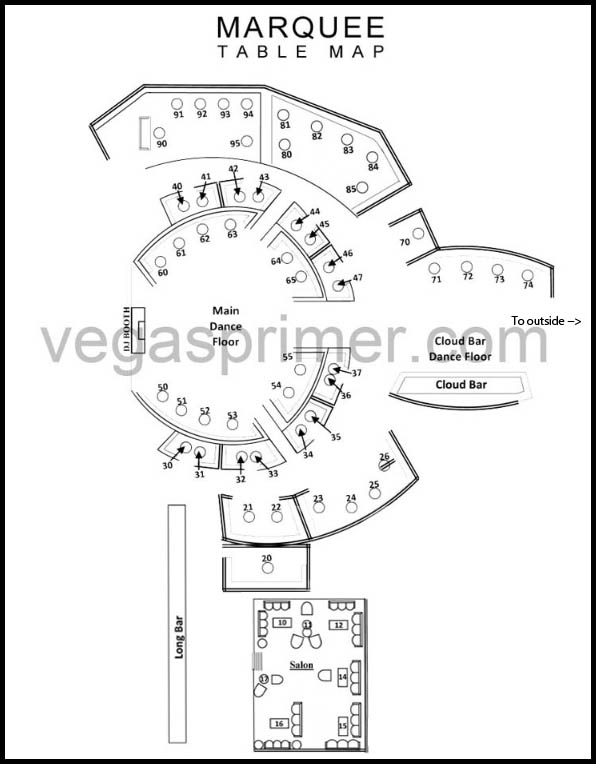 Best Table Locations At Marquee Las Vegas
The best table locations at Marquee Nightclub are any of the Dance Floor Tables. These are tables in the 50s and 60s. Dance Floor Tables offer the best view of the DJ since they're closest to the DJ booth. They're also closest to the action as the tables are right on the dance floor. Dance Floor Tables command the highest prices in the club. Expect bottle service pricing to be around $2,500 – $3,500. Quite frankly, this is a steal compared to Omnia or XS's Dance Floor Tables which on some nights are as high as $10,000 or more.
Best Value Table Locations At Marquee Las Vegas
If you're looking for the best combination of price and table location, then you'll appreciate our picks for best value tables. Tables in the 30s and 40s (also called Elevated Dance Floor Tables) are a great deal.
With these tables, you've got some of the best seats in the house, directly behind the Dance Floor Tables. And, you'll save a lot as compared to the Dance Floor Tables. For example, on an upcoming March night, Dance Floor Tables are $3,500, but the Elevated Dance Floor Tables go for only $2,000. That's a savings of $1,500 for just a few feet difference.
We're also big fans of the Back Wall Tables. In fact, anytime I do bottle service at Marquee I opt for these tables. Refer to table numbers 21 – 26, 70, and the 80s and 90s on the map. My personal favorites are tables 21 – 26.
Worst Table Locations At Marquee Las Vegas
I don't know if I'd say there are "bad" table locations at Marquee. It depends on what type of environment you want. For instance, if you'd like to be in the action near the DJ, then I'd steer clear of the Salon, Cloud Room and Outside Patio.
Least Expensive Table Locations
If you want bargain bottle service, look no further than tables in the Outside Patio, Salon or Cloud Room.
Although the Cloud Room Tables aren't technically in the Main Room, you'll still get a bit of a view of the DJ. (This is in contrast to the Salon and Outside Patio tables where you won't be able to see much of anything.) There's also a smaller dance area between the Cloud Bar and your table. Plus, you'll enjoy easy access to Marquee's Terrace.
Also, on nights when Marquee's hip-hop rooms are open (the Boom Box Room and The Library) you can get lower prices on bottle service. The Boom Box Room is open on select evenings throughout the year. Prices usually start at $550 in here.
The Library, on the other hand, is rarely, if ever, open. But, if it happens to be open, it's worth checking out. It's such a different vibe than any other club in Las Vegas. With its bookcases lining the walls, a real working fireplace and a pool table it's easy to see why it's named "The Library." This club is right for you if you want a clubbing spot that's more chill. Is it just me or does The Library remind anyone else of the board game "Clue"?
Marquee Las Vegas Bottle Price List
Below is Marquee's bottle menu. Please note that this menu is for informational purposes only. Although it's the most current menu, prices and offerings are subject to change.
Marquee Bottle Service Presentations
With certain bottle purchases, Marquee will make a big display when bringing out a bottle. (These are also often referred to as bottle parades.) For instance, if you order a bottle presentation, you may get sparklers, LED lights, signs, or flags. There are even lighted birthday cakes and giant cupcakes.
Marquee's presentations aren't as over the top like some of the other clubs in Vegas, but they're still excellent. And the cool thing about Marquee is that the waitresses are often allowed to drink with you. We're all for this because it makes it feel more like a full-on party when the staff is participating in the fun too.
What's Cool About Marquee Las Vegas
Free Champagne
Yes, it's true. If you're a woman and you're on Marquee's guest list, you'll want to head to the third floor. Right next to the Beauty & Essex restaurant is a complimentary champagne table. Just look for the carpeted area with seating and a cocktail waitress in a dress. You can't miss it. She'll be handing out free champagne to the ladies before the club opens. We recommend arriving around 10 pm to take full advantage of this freebie. And, sorry gents, this is only for the ladies.
Beauty & Essex Las Vegas
As a side note, if you're looking for an excellent dinner spot before heading to Marquee, we highly recommend Beauty & Essex. In fact, it's one of our favorite restaurants in Las Vegas because the food is so exceptional.
A word of caution though, if you're looking for an intimate, quiet setting this is not the restaurant for you. It can get really loud because of it's smaller size and concrete flooring. There may even be times when you have to shout to talk.
If you'd like to make a reservation here, plan on booking it as soon as possible (even a month out is advised). And if you want to come here before your night out at Marquee, we recommend making a reservation around 8:30 pm. Sometimes, even if you have a reservation, there may be a wait.
Marquee Cocktail Waitresses
The servers at Marquee Las Vegas are some of the nicest in town. At a lot of clubs, you may notice that the waitresses are a bit standoffish. That's not the case at Marquee. They're friendly and will talk with you.
Bungalow Suites
Marquee is one of the only clubs that has hotel rooms connected to the nightclub itself. These bungalow suites provide the ultimate party experience with direct access to Marquee. The three-story townhomes feature tons of bedrooms, living areas, balconies, and hot tubs. You can even get bottle service in your room.
But the best part about the bungalows is that when you're ready to head to the club, you're only steps away. All you have to do is exit out the back of your suite, and you'll be immediately inside Marquee's outdoor terrace.
Prices for a night in a bungalow suite will set you back a few grand.
Marquee Mondays
On Mondays, Marquee has one of the best industry night parties on the strip. In fact, if you're looking for a club on Monday night, Marquee throws an epic party. They also have some cool events on Mondays. For example, this past March, Marquee hosted their first-ever Industry School Night party, Sadie Hawkins style. It's a girl ask guy event with the best matching couple winning a getaway to Los Angeles. To read more about industry nights in Vegas, check out our article here.
Marquee Dayclub
During the summer months, Marquee has a daytime pool party. Open from 11 am until dusk, you'll find a lot of the same DJs at the day club as you will in the nightclub.
Marquee's day club is one of the most packed on the strip. In fact, it's in the top four with Encore Beach Club (EBC), Wet Republic and Daylight Beach Club.
And that wraps up our guide on Marquee Las Vegas. If you found this post helpful, check out our other articles on XS Nightclub and Tao Las Vegas.