So, you're interested in getting Omnia bottle service at Caesar's Palace? Congratulations, you have exceptional taste! Omnia is one of the best nightclubs in Las Vegas.
Before you make that table reservation, though, you'll want to check out this guide. There are just so many things to know about being a VIP there that it can feel overwhelming. But don't worry, we're here to help and make sure your night goes off without a hitch!
Factors That Influence Omnia's Table Prices
Pricing for Omnia bottle service varies depending on which DJ is performing, the table location, and if it's a big night like a holiday weekend.
For instance, the more popular the DJ, the higher the bottle service minimum spends. In contrast, lesser-known DJs will have lower-priced table options available.
No matter what night you go, though, the least expensive bottle service options will almost always be located on the Terrace (Omnia's rooftop) or in the club's hip-hop room, Heart of Omnia.
The most expensive options are in the Main Room, closest to the DJ booth. For instance, the Main Room's dance floor tables are prime real estate and, as such, command the highest prices.
Las Vegas is also busiest during the summer months and on holiday weekends. During these times, the prices for bottle service go up as more people create increased demand for the tables.
Lastly, at Omnia, you may incur an extra charge if you have more people in your party than the table allows. For example, the club may charge the price of entry for each person over the limit, or the club may require your group to increase the minimum spend of the table. If it's a minimum spend increase, it's usually $250 per person.
How Much Is Bottle Service At Omnia?
On average, Omnia's table prices start at around a $2,000 minimum spend and go up to about $10,000. Please keep in mind that the table service cost is subject to change, and the following prices are for informational purposes only.
Main Room
Omnia's Main Room is where you'll find the headlining DJ and the dance floor.
Dance Floor: $10,000
Upper Dance Floor: $9,000
2nd Tier: $8,000
3rd Tier: $6,000
Balcony
The Balcony is on the second level, and it overlooks the Main Room. So from here, you'll have an excellent view of the Main Room and DJ.
Skybox: $6,000
Large Balcony: $5,000
Small Balcony: $4,000
Heart Of Omnia
Heart is Omnia's hip-hop room. It's on the same level as the Main Room, but you'll have a different DJ inside this room.
Owner's Table: $3,500
Dance Floor: $3,000
2nd Tier: $2,000
Terrace
The Terrace is Omnia's outside patio, and you'll enjoy a view of Las Vegas Blvd from here. The music is also different outdoors with a separate DJ.
2nd Tier: $4,000
Cabana: $3,000
Strip View: $2,000
Understanding The Minimum Spend
When you inquire about bottle service pricing at Omnia nightclub, you'll receive a quote for a minimum spend amount. For instance, booking a $2,000 minimum table means that you'll need to buy at least $2,000 worth of alcohol.
If you don't spend this amount, the club will charge you the $2,000 regardless. And, of course, if you go over $2,000, then you'll have to pay the overage as well.
Calculating The Total Price
It's important to point out that the bottle service minimum is not the total cost. All clubs in Vegas also charge an admin fee, sales tax, and a gratuity on top of the minimum.
At Omnia, these fees total 41.38%, so you'll want to make sure you add this to the spend requirement to get an estimate of the final cost.
So let's take an example with a famous DJ. On a Steve Aoki night, if you want an Omnia Main Room table in a good location, you can get bottle service for around $6,000.
Also, please note that each table has a set number of guests allowed for the price. So in this example, we'll say that the table pricing is valid for up to 12 guests. Any more than that, and you may be required to increase the minimum.
Here's how to calculate the total Omnia bottle service cost:
Bottle Service Minimum Spend: $6,000
Add: Venue fee, sales tax, and tip (41.38%): $2,483
Approximate Total Bottle Service Cost: $8,483
Omnia Bottle Service Menu
Listed below are the prices from Omnia's most recent bottle menu. Please note that the rates and offerings may be subject to change. Bottle prices start at around $800 and go up from there.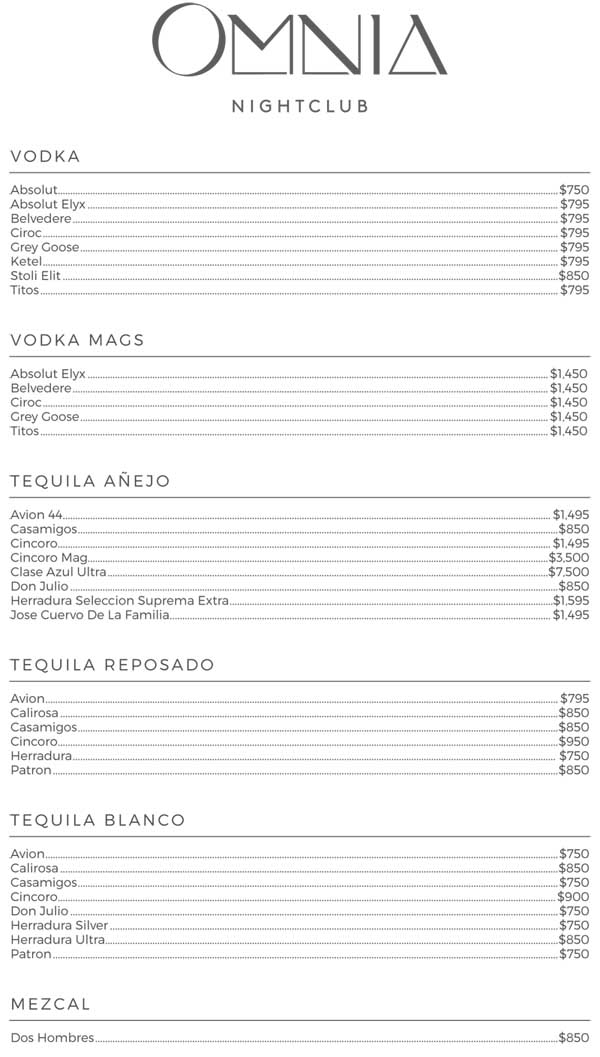 Picking An Omnia Table Location
There are four areas for bottle service at Omnia Nightclub: the Main Room, Balcony, Heart of Omnia, and the Terrace.
If you want to see the headlining DJ, you'll want to reserve a table in the Main Room or on the Balcony. In almost all cases, though, Main Room bottle service will be priced higher than the other locations in the club.
Heart of Omnia offers lower-priced bottle service options in a smaller club environment if you like hip-hop music. Heart is a different club adjacent to Omnia's Main Room, but it's still within the nightclub itself.
Available during the warmer months, Omnia's Terrace offers a fantastic view of Las Vegas Blvd, where you can dance under the stars. Keep in mind, though, that the Terrace doesn't feature the Main Room's DJ.
Instead, you'll be listening to the sounds of a local DJ. But the Terrace is still a fantastic spot, and it gets packed out here too.
Omnia Table Maps: Level One
The first floor of Omnia Nightclub houses the Main Room and Omnia's hip-hop room, Heart of Omnia.
Our favorite table service locations on the first floor in the Main Room are table numbers one and two (stage tables). These booths are directly behind the DJ, so you'll feel like you're actually in the DJ booth itself.
Table number 15 (owner's table) is incredible because you'll have an enormous booth with tons of space. Not only that, but you'll also get a fantastic view of Omnia's chandelier, and you'll be on the dance floor too. Hands down, table 15 offers the best club experience around!
On most nights, tables 1, 2, and 15 are shared with another group. So half of a table might go for around an $8,000 minimum during the summer. If you want the table to yourself, you may need to shell out $15,000 – $16,000+.
If sharing isn't your thing, or you don't want to pay up to get the entire owner's booth, we recommend selecting a dance floor table instead.
---
As for Heart, we like the owner's tables the best. But this room is much smaller than the Main Room, so any table location is fantastic here.
---
Omnia Floor Plans: Level Two
The second level of Omnia features the Balcony tables and skyboxes (these are extra-large booths) overlooking the Main Room. The Terrace is also on the second floor, and it's great for warmer nights if you want to be outside on the club's rooftop.
The best table locations on the club's Balcony are, without question, the skyboxes. Not only are they larger than the other booths on the second level, but they also provide a unique view, almost as if you're suspended over the DJ booth.
---
If you want bottle service outside, table numbers 351, 352, 353, and 354 are our picks for Omnia's Terrace due to their proximity to the dance floor. However, any of the tables on the Terrace will provide an outstanding view.
And like I mentioned before, the Terrace doesn't feature the Main Room DJ. So if you book bottle service here, do so for the atmosphere and not the DJ, as you probably won't know who they are.
---
Table Reservation Arrival Times
We get that nobody wants to show up at the club's opening (10:30 pm). And we understand why. It's nice to make an entrance and show up to a party already in progress!
However, on certain nights you'll want to get to Omnia as close to the club opening time as possible. If you don't, you may be required to increase your minimum spend, or you could lose your table altogether.
Where To Find The VIP Check-In
There are three lines at every club in Las Vegas. So getting in the correct line is vital. Otherwise, you'll waste a lot of time.
For Omnia bottle service reservations, head to the table check-in at the front of the club. If you have any doubts about where to go, you can ask someone that works there. There should also be a sign.
It's important to point out that the VIP check-in isn't always a line at Omnia. It's more like a large group of people congregating around the front ropes. So to check in for your table, make your way to the front.
You'll see some VIP hosts there with clipboards. (To identify a host, just look for people wearing suits.) Speak with one of them, and they should get you into the club quickly.
What Happens At Check-In
At Omnia's table check-in, a host will ask for your identification and form of payment. Every member of your group must be 21 and over with a valid government-issued ID. There are no exceptions to this rule.
After everyone has provided their IDs and gotten a hand stamp, the host will ask if you'll be paying with a credit card or cash (no checks are accepted). If you're paying via a credit card, the host will verify that the name on your card matches your identification. The club may also run a preauthorization on the card.
You'll then sign off on a paper that shows your name, bottle service minimum, party size, table number, and gratuity. Once you sign this form, you're set to go through security and into the club.
Although bottle service guests receive expedited entry, the entire process can take a few minutes, so please be patient. Any rude behavior may cause Omnia to deny access to the venue.
What To Expect At The Table
Once you're at the table, a cocktail server will be on hand to take your orders and pour your drinks. A busser will also keep your table stocked with ice and cups and ensure that your area stays clean.
Additionally, there's security nearby if you need any assistance. And if your minimum is high enough, you may even get a personal escort to the bathrooms when needed.
You'll also receive complimentary and unlimited mixers like juices and club soda.
Omnia Bottle Service Deals
On the most popular nights (like Fridays and Saturdays), Omnia doesn't usually offer discounts on bottle service. That's not to say that Omnia never has reduced rates, though. If a bottle service deal is available, it'll be on a Sunday or Tuesday night.
For instance, during Omnia's Deseo Latin Sundays, you may get discounted prices on bottles. So if you want to experience one of the best Latin clubs in Las Vegas, this is the place to come.
Or sometimes, if you have a very high minimum spend on a Saturday night, then there might be the possibility of a complimentary bottle. Again, this isn't guaranteed, but they do happen occasionally.
Bottle Presentations
If you want to make your Omnia night extra special, you can ask your cocktail server about getting a bottle service parade. Presentations are available on all nights the club is open. But they typically require a certain minimum spend amount or a purchase from the parade menu.
The price for an Omnia bottle service parade may also vary depending on the DJ. For example, if it's an Aoki night, a presentation might be available for table reservation minimums of $2,000 or more. But when Calvin used to perform at Omnia, it was around $5,000.
Again, these are just examples, so you'll want to check with your server for the exact amount required.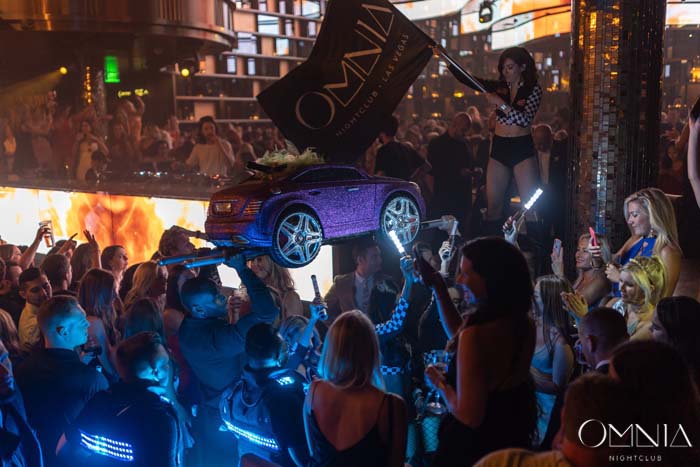 Omnia offers many bottle service presentations, but all of them are undoubtedly cool. And they're available for birthdays, bachelor parties, or for any reason.
Also, if you're spending enough and want a custom presentation, Omnia will make almost anything happen. There's even the ultimate bottle presentation with an acrobat that drops from the ceiling to deliver your bottle. Talk about getting all eyes on you!
---
---
Conclusion
Omnia is one of our favorite nightclubs in Vegas. Unfortunately, Calvin Harris is no longer performing here. But the venue still offers exceptional talent like Steve Aoki, Party Favor, and Kaskade.
Another great feature about the club is that you can club hop between the main room, hip-hop room, and terrace and hear different music in all three spots.
So if you're looking for a club that will offer something for everyone, Omnia is worth checking out. And if you're after the best rates on bottle service, head to the club on a Sunday, Tuesday, or Thursday night.