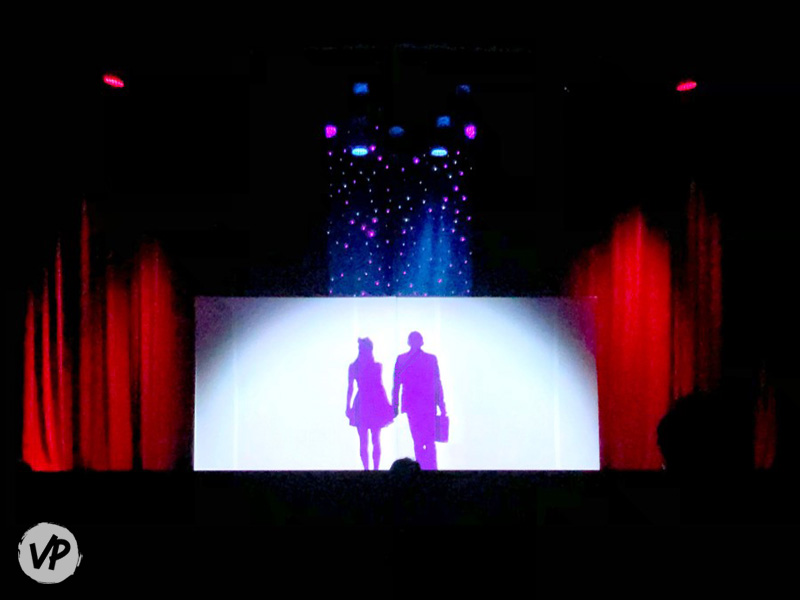 I write about things I love to do in Las Vegas. If you click a link and make a purchase, I may receive a small commission, which helps to support my work. Learn more
Xavier Mortimer's Las Vegas show isn't your typical magic show. So if you're expecting to see back-to-back tricks or lots of levitation acts, you're in for a big surprise!
In The Dream Maker show, Xavier focuses on storytelling with magic woven in between. So you'll get to enter a whimsical dream world, where you'll meet his dream girl, Belle. And go on a wild adventure of unrequited love, evil twins, and even encounter a haunted hand.
The show is 100% original, funny, and family-friendly. So keep reading if you want to learn more about Xavier's performance and find out if it's a good fit for you.
About Xavier Mortimer
Xavier is a masterful storyteller and performer (he's like a one-man show)! And that's all thanks to his hard work growing up and dedication to his craft.
The talented magician began as a street performer when he was a child and went on to study dance and music. He also studied acting and mime at schools in Paris and London.
But perhaps his most unusual ability comes from his background as a Cirque performer – making him the first Cirque Du Soleil star to have a headlining show in Vegas.
Xavier's been on countless television shows, too, including America's Got Talent and Penn & Teller's Fool Us.
For Xavier, magic doesn't mean anything without a story. And that's evident in his Las Vegas show, where he focuses on love and incorporates it into the storyline.
Where Does Xavier Perform In Vegas?
The Xavier Mortimer show is at the STRAT Theater inside the Stratosphere Hotel. The address is 2000 Las Vegas Blvd. S, Las Vegas, NV 89104.
Directions To The Theater
Whether you're driving or getting dropped off by a rideshare service, the walk to the STRAT theater is a hike!
So from the taxi and rideshare drop-off, enter the hotel and take a left. Follow the pathway and walk past the high limit area, casino cashier, and hotel registration. You'll then see a Starbucks in front of you and the STRAT Café.
From there, take the escalator up to the second level and turn right. The entrance to the theater will be in the far right corner.
Now, if you're parking, you'll enter the hotel from level 3 of the parking garage. From here, head down the escalator and walk towards the high-limit room. And then just follow the directions above. There are lots of signs overhead, too, that will guide your way to the theater.
Show Dates & Times
The Xavier Mortimer Las Vegas show typically runs at least four to five days a week. And the schedule varies depending on the month. But when Xavier's not performing, it's usually on a Tuesday or Friday. You can view the show schedule by clicking on the button below.
There's one showtime for The Dream Maker each night, and that's at 6:00 pm. And the show length is approximately 75 minutes.
STRAT Theater Information
The STRAT Theater is quite a bit larger than it appears on the seating map. So I was pretty surprised by its size. And it's not the most up-to-date theater that I've ever been in, either. It kind of reminded me of a high school auditorium. But the seats are much more comfortable than other shows I've been to in Vegas.
Because it's a larger space, I think it's worth paying up for seats closer to the stage here. And at Xavier's show, the price difference between the sections is reasonable, too. For instance, it's often less than $10 per ticket for upgraded seats.
What Are The Seats Like?
There are four seating options at the Xavier Mortimer Las Vegas show. You can choose from a booth, table, half-table, or stand-alone chair. All are pretty comfortable as they're faux leather and have excellent padding.
The only seats I have some hesitation with are the half-circle tables (P50-60). These tables are small, and there's not a lot of seating room, so you're going to be right on top of the person next to you.
And that might be okay if you're with a group of people you know. But not so great if you're sharing the space with another party. Also, the chairs at these tables have an angled backrest, and they sit a little low, too. So it might feel like you're leaning back the entire time.
Xavier Mortimer Tickets
Xavier Mortimer's show tickets are one of the best values in Las Vegas. In fact, I haven't found many shows more reasonable than this for the talent you'll get to see!
Now, there are four sections at The Dream Maker Show – VIP, VIP Booth, Preferred, and Rear. And tickets are priced according to how close you are to the stage. Overall, you can expect ticket prices to range from around $30 to $80, plus applicable service and processing fees.
If budget isn't an issue, the VIP Booth tickets are my favorite seats in the entire theater. They're centrally located, close to the stage, and super comfy.
The Preferred section is my pick for the best value tickets – specifically row C seats 19 through 26. These seats are individual chairs, and they're in the middle of the venue. I thought the view from here was decent, too, and there's a ton of legroom.
And then, for the best chance of being in an act, anywhere in the VIP or VIP Booth sections is where you'll want to get tickets. (Even Belle confirmed that volunteers get chosen from these sections during the show!)
Where To Pick Up Your Tickets
Once you've bought your Xavier Mortimer tickets online, you'll need to pick them up at the Stratosphere's box office before the show starts. Tickets are usually available for pick up one hour after you've purchased them. But you can also get them on the night of the event.
Just remember that you'll have to stop off at the box office at least 15 minutes before showtime, or they'll be forfeited. So to ensure you have enough time, it's best to arrive at the hotel at least 30 minutes before the show.
What's The Dream Maker Show About?
The Dream Maker show is a mix of storytelling and magic that takes you into Xavier's dream world. Throughout the production, you'll follow Xavier as he attempts to win the heart of his dream girl, Belle. And through a series of comical mishaps and magical moments, you'll discover if they get together in the end.
Now, this isn't going to be a show where it's one magic trick after the next. It's more of a musical production with magic assisting in the story.
And, to me, it felt like Xavier got some creative inspiration from Mary Poppins, Harry Potter, and Peter Pan. So I think you'll find that it's a cute and whimsical story with uplifting music that kids (and adults) will enjoy.
But fear not. You'll still get to see the tricks that Xavier is most known for – like levitating and moving objects through the air!
When the dream world becomes possible… there's this girl Belle, and she's always here, always in my dreams because she's my dream girl.

-Xavier Mortimer, The Dream Maker Show
Xavier Mortimer Magic Tricks
Ironed Away
In this trick, Xavier is ironing his clothes when Belle stops by and takes over to show him how it's done. The pressing gets steamy fast, so Xavier uses a squirt bottle on her, getting water everywhere.
Belle then starts ironing his clothes while they're on him (please don't do this at home). And she ends up burning Xavier, hitting him on the head, and knocking him out with the iron. So she places him on the board and begins to iron again. But this is where things get weird – someone's body starts to disappear!
The act is incredible to watch because the trick moves so fast. And at the end of the illusion, there's another surprise, too. You may think there's only one person left, but could there be two?
Mirror Mirror
This illusion was one of my favorites of the entire show. The eerie number starts with Xavier alone in a room with a mirror. But, of course, it's not just any mirror – it's a magic mirror!
As Xavier starts to relax and read a newspaper, a figure appears in the mirror next to him. Now the image looks just like him, so I'm pretty sure it's Xavier's evil twin. And the twin starts causing all sorts of chaos.
It gets intense as the evil twin tries to take more and more of his things. And it looks like Xavier might not prevail in the end. There's a BIG surprise in this act, too, but you'll just have to see that to believe it!
Video: Watch Xavier Mortimer Walk On A Streetlight
Frequently Asked Questions
Here are some of the most asked questions about the Xavier Mortimer Las Vegas show.
Are Belle And Xavier A Real Couple?
The on-stage chemistry between Belle (played by Allie Sparks) and Xavier is off the charts. So it may have you wondering if they're a real-life couple.
And, as far as I know, which was also confirmed by Allie on YT, they are! But, of course, you can also ask them directly during the meet and greet after the show.
What Happened To Xavier Mortimer's Magical Dream?
Xavier's Las Vegas show premiered as Magical Dream at Planet Hollywood in 2016, and then two years later, the production moved to Bally's. Now, it's relocated again to the Stratosphere, where Xavier performs almost nightly in his biggest theater yet.
The Dream Maker is the name of his new show at the Strat. And the production is similar to Magical Dream, but with a few adjustments.
Xavier had to think outside the box during the pandemic because Vegas was shut down for months. So he started coming up with new illusions and performing them in public.
And some of those tricks were such a hit that he's incorporated a few of them into The Dream Maker. So even if you've seen Magical Dream, you might want to check out his show again!
Is There A Meet And Greet?
Yes! Now that things are back to normal in Las Vegas, the cast is available for a meet and greet after the show. The Strat has a picture area set up just outside the theater doors. So you can get in line there to get your picture taken with Xavier and Belle.
There isn't a professional photographer, but you can take photos on your phone. And the photo set-up is pretty great, too, with a show-themed backdrop and ring light for excellent lighting!
Is The Show Family-Friendly?
Yes, Xavier Mortimer's Las Vegas show is perfect for families. There isn't anything in the production that I would be hesitant for kids to see. So I think they'll love it and be very impressed with the tricks. There is, however, a minimum age requirement, and that's five years of age and older.
Other excellent family-friendly shows in Vegas include Piff The Magic Dragon and AGT Las Vegas.
Can You Take Photos Or Video?
Unfortunately, there aren't photos or video recordings allowed during the show. But, of course, if you'd like, you're welcome to take pictures before it starts or at the very end. And then again, you can also take your picture with Xavier and Belle after the show is over.
What Time Should I Arrive?
You'll need to pick up your tickets from the Strat box office no later than 15 minutes before showtime (5:45 pm). Otherwise, you'll forfeit the tickets.
I don't recommend cutting it close here, so it's best to arrive at the hotel around 5:30 pm. This will give you enough time to find your way to the box office and the theater.
Can You Volunteer For Tricks?
Xavier will call on volunteers to help out with his mind-reading tricks during the show. He'll also need a strong volunteer to swing a bat for his cardboard box trick. And Belle will call an audience member up to the stage to dance with her.
There are also a lot of ball tosses throughout the performance, so if you catch a ball, you'll get to be part of the act. And then everyone in the audience will play a game of "repeat after me."
But, that said, most of the audience selection came from the VIP ticket areas. So if you want the best chance of being part of the show, I recommend getting tickets in these sections.
Are Drinks Allowed?
No outside food or drink is allowed inside the theater (although I did see a few Gatorade bottles that people snuck in). So if you're abiding by the rules, you can purchase drinks at the theater bar.
The bar is conveniently located just outside the main entrance of the Strat theater. You won't want to miss the action once the show starts, so grab your drinks before showtime!
Where Are The Restrooms?
You won't have to walk far if you need to use the restrooms during the show, but they're a little tricky to find. So what you'll need to do is head back out the way you came in, but take a right before exiting the theater and go down the stairs.
At the bottom of the stairs, you'll see a hallway in front of you. (Don't walk down this hallway, though, unless you're trying to leave the theater.) Instead, take an immediate right, and tucked in the corner, you'll find the entrance to the men's and women's restrooms.
Are There Souvenirs?
There are some fantastic souvenirs available for purchase. For instance, you can get t-shirts, tote bags, signed posters, coloring books, and more. And you can also buy the soundtrack to the show, which, fun fact – Xavier composed with his friend Max! Magical merchandise prices typically start around $10 to $15.
Has The Show Won Any Awards?
The Dream Maker show (previously Magical Dream) has won many awards from the Las Vegas Review-Journal.
Best Magic Show 2018, 2019 & 2020
Best Family-Friendly Show 2019 & 2020
Best Headliner 2020
Best Value Show 2020
Xavier mortimer las vegas
Get Your Tickets Now
Thanks so much for stopping by my site and checking out my show review! If you've found it helpful, I'd greatly appreciate your support. The button below is my affiliate link where you can get tickets. It doesn't change the price you'll pay, but it helps me out a lot! ♥ Jenna
Conclusion
Xavier's show was different from what I was expecting! I thought it would be more like the tricks he does on social media with one stunt after the next. But what I saw ended up being even better.
The Dream Maker storyline makes for a cute and original magic show that's unique from other Vegas shows. And there were many illusions that I had never seen him perform before.
I enjoyed the music throughout the production too. It had everyone clapping and dancing in their seats. I was also impressed with Xavier and Allie's acting abilities. They're both phenomenal talents, and their chemistry together really shows. (Allie also has the prettiest voice!)
Overall, The Dream Maker is worth seeing. I think you'll have a better experience being in the VIP sections, but it's still worth going no matter where you sit. It's easily one of the best value shows in town.
---