With so many DJs and hip hop clubs in Las Vegas, it can sometimes feel overwhelming to decide on a venue, especially if it's your first time in town. And when you're in the mood for hip hop, there's no way you want to end up at an EDM club accidentally. That could ruin a night!
Now, we're not getting paid to promote any of the clubs here. So, these are our picks for the five best hip hop nightclubs in Las Vegas.
(Side note –  if you're looking for a hip hop pool party, there's a great one in Vegas, and it's Daylight Beach Club on Sundays. Also, if you like electronic music, check out our article on the best EDM clubs in Vegas.)
#1 Drai's Nightclub
Nights Open: Thursday, Friday, Saturday, and Sunday
Hours: 10:30pm – 4:00am
Bottle Service: $$$$
Music: Hip Hop
DJs: DJ Esco, DJ Franzen and more
Special Guests: Lil Wayne, TIP, Miguel, Jeremih, to name a few
Location
Drai's is inside The Cromwell Hotel in the center of The Strip. From the main entrance, proceed straight, and Drai's will be on your right-hand side.
The actual club itself is on the Cromwell roof and sits at 11 stories high, with panoramic views of Las Vegas Blvd. You'll take the Drai's elevator to get to it.
Why Drai's Takes Our #1 Spot
Venue
Drai's is BIG. At 70,000 square feet, it's one of the largest on The Strip. It also has a fantastic club design with indoor and outdoor spaces that house the main room and a pool area.
But what makes Drai's stand out from the crowd is the 80-sided LED disco ball in the middle of the dance floor and the club's epic views.
View
Surprisingly, many people don't even see the view of The Strip because they're so caught up with the party in the main room. However, you'll find the fantastic view Drai's is known for beyond the pool area. (This is also home to Drai's Beach Club during the day). So be sure to make your way over there before the night is over.
Keep in mind, though, that the outdoor pool area closes on certain nights. Closures tend to happen on slower weekday nights or during the winter months. So your best bet to take in the view is to head to Drai's on a weekend night during the summer months.
Dancers
Drai's offers a unique energy that isn't replicated at any other Vegas club. You won't just see a DJ at Drai's. Instead, you'll be captivated by their dancing team, which is without a doubt the best in the city.
And if you think who cares about the dancers, you might want to rethink that. Their energy is contagious, and they're also a big reason why Drai's stands out from the competition.
Top Talent
Drai's has "Live In Concert" performances which means you'll see your favorite hip hop artists perform. For example, many top names are contracted at Drai's, including TIP, 50 cent, Nelly, Big Sean, Future, Chris Brown, Fabolous, Jeremih, and Trey Songz.
Celebrities
At Drai's, celebrity sightings are the norm, especially among athletes and sports teams. In most cases, you can catch your favorite sports team here during their offseason.
Popularity
Overall, Drai's is the most popular hip hop club on The Strip. So to put it simply, if you're looking for a crowd, Drai's has it. But fair warning – it's the most crowded of any of the hip hop clubs in Las Vegas.
Especially this year, Drai's is off the charts. Every time we've gone during the live performances, you can barely move inside the main room. I'm talking a snail's pace here, so you'll want to get there early. For the best experience possible on these nights, we recommend getting a table with a bottle service reservation.
Drai's After Hours
Drai's has an After Hours club. And if we're keeping it real, it's the only After Hours club worth going to in Las Vegas. So to keep the party going after Drai's Nightclub closes, head to the After Hours' hip hop room located outside of Drai's nightclub on the casino level of The Cromwell.
But be careful not to miss the entrance as it's seductively secretive. You'll want to keep an eye out for a gold elevator featuring a curvy woman in a red dress. That's the entrance to the club. Once you're inside, be sure to turn right to get to the hip hop room; otherwise, you'll be in the EDM room.
After Hours is fantastic with DJs that play the real hip hop music, not just the radio stuff. The only problem you'll have here is that you may want to leave and get your sleep, but you won't be able to because the music is JUST THAT GOOD. Better still, there are zero attitudes at After Hours.
Drai's After Hours is open from around 2:30 am until 10 am.
#2 Heart of Omnia & Hakkasan's 3rd Floor Club (Tie)
Our #2 spot is a tie between Heart of Omnia and Hakkasan's 3rd Floor Club (formerly Ling Ling Club). And although they're not stand-alone Vegas clubs per se, these "clubs within a club" are off the charts.
Heart Of Omnia
Nights Open: Tuesday, Friday, and Saturday
Hours: 10:30 pm – 4:00 am
Bottle Service: $$
Music: Hip Hop and some Top 40
DJs: Lesser known
Location
Heart of Omnia (aka Heart) is inside Omnia Nightclub at Caesar's Palace. To get to Heart, enter Omnia and take your first right. You'll find the entrance to Heart directly in front of you.
Why Heart Of Omnia Takes Our #2 Spot For Best Hip Hop Clubs In Las Vegas
The Best Party
Out of all the hip hop clubs on Las Vegas Blvd., we'd say Heart of Omnia hands down throws the best party. But it's not about the glitz and glam in here. Instead, it's all about the music and having fun.
Heart plays both radio and underground hip hop, and you'll catch some top 40 here as well. You better be ready to dance, though, because you will be moving.
Of course, the best parties always draw the biggest crowds. And Heart of Omnia is no exception. It gets crazily packed here. And that's because Omnia is one of the newest clubs on The Strip and one of the most popular, thanks to the megastar DJs they bring in.
Now it's true that many people come to Omnia for the EDM DJs, but you'll find that club-goers split their time between the hip hop room and the main room.
And it wouldn't be a party without a photographer. Okay, so not exactly a photographer, but Heart of Omnia does have a photo booth inside the club. So make sure you take some pics before the night is over. Because there isn't anything better than drunk photos, am I right?!
Reasonable Pricing
Since Heart of Omnia isn't the main attraction at Omnia Nightclub, you can score a reasonable price on bottle service. In addition, dance floor tables are much more affordable in Heart of Omnia than Omnia's main room prices.
Additionally, all the tables are near the dance floor at Heart, so you'll be right up in the action giving you a better experience for the money.
Wild At Heart
If you're thinking about coming to Vegas for a weekend, you might want to consider extending your stay or coming during the week instead.
On Tuesdays, Heart of Omnia throws their "Wild At Heart" party. And, quite frankly, if I didn't know iLoveMakonnen's "Tuesday" song came out before the opening of Omnia, I would have sworn the music was written about Heart. That's how good the Tuesday party is.
Even better, the Wild At Heart party draws a great crowd. This is mainly because most VIP hosts and cocktail servers go on their "outings" on Tuesday nights. An outing is when the staff of a Vegas club go out and show support for another venue.
For example, the staff at Light might have an outing on a Tuesday and will go out to support Heart of Omnia. (Most beach clubs and nightclubs in Las Vegas have outing requirements during the week.)
They do this for networking purposes and to ensure the clubs are always packed, even on a weeknight. Lucky for you, the ladies and guys that work for the clubs are entertaining and love to have a good time!
So, if you want to go to a hip hop club on a Tuesday night in Vegas, Heart of Omnia is it. There's nothing better.
Celebrities
If you're a fan of the Biebs, Justin Bieber has been known to make an appearance and perform here from time to time. There are numerous sports team sightings as well.
3rd Floor Club
Nights Open: Most Fridays and Saturdays
Hours: 10:30pm – 4:00am
Bottle Service: $$
Music: Radio Hip Hop
DJs: Lesser known
Location
The 3rd Floor Club is inside Hakkasan Nightclub at the MGM Grand Hotel. To enter, you'll take the elevator up to the third floor and turn right. Keep in mind that Hakkasan is one big property and can be quite the maze. So if you get lost, ask a staff member for assistance.
Why The 3rd Floor Club Takes Our #2 Spot
It's Packed
Like Heart of Omnia, the large crowds in the 3rd Floor Club stem more from the spillover main room effect than being an actual hip hop club destination.
On Hakkasan's big nights, guests tend to wander downstairs where they discover that there's a better party going on in the 3rd Floor Club.
Of course, part of the reason for this is the 3rd Floor Club's size. Like Heart of Omnia, it's a much smaller room than Hakkasan's main room, so it gets crowded. But who cares about the reason. This place is packed, and that's all that matters.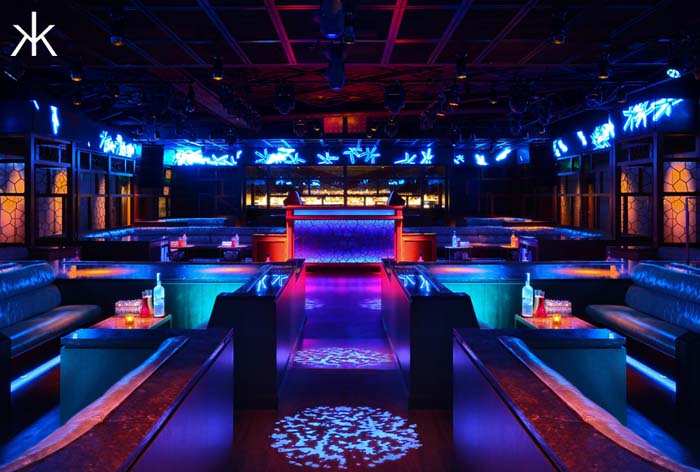 Music
The 3rd Floor Club has a universal appeal because they play more radio hip hop than off-market beats. So, you'll find some serious dancing in here.
Lighting
While EDM makes lighting a considerable part of the production, you'll find that hip hop clubs focus less on the lighting. However, the 3rd Floor Club is an exception.
The lighting director for the 3rd Floor Club has done a phenomenal job with the LED lighting system. The lights move with the music, and the ceiling glows in what we like to describe as Vegas Northern Lights.
Atmosphere
If you have any doubts about how good the 3rd Floor Club is, just look at the actions of the VIP hosts that work there. (Yes, we're putting you guys on blast!) We know that the hosts routinely sneak downstairs to the 3rd Floor Club to catch a break from the main room and get in on the party.
Additionally, what makes the atmosphere even more remarkable is that everyone is in a good mood – the club just seems to have a way of making people happy.
Special Guests
The 3rd Floor Club hosts a slew of athletes and celebrities. In particular, we've personally met the Dallas Cowboys and the Patriots. Other recent football team sightings include the Seahawks, the Raiders, and the Browns. In addition, celebrities such as JLo, Drake, Dr. Dre, and Mayweather have made appearances here.
Perhaps it's the fact that Hakkasan Group owns both Omnia and Hakkasan, but whatever the reason, they're doing something right with Heart and the 3rd Floor Club.
#3 Best Hip Hop Clubs in Las Vegas: Light Nightclub
Location
Light Nightclub is on the lower level of Mandalay Bay at the south end of The Strip across from the Delano entrance. (The fastest way to get to Light is through the parking garage.)
We want to point out that Light Nightclub was so incredibly close to the #2 spot in our best hip hop clubs in Las Vegas list that the only reason we didn't put it as #2 is that Heart of Omnia and the 3rd Floor Club do a slightly better job at drawing a crowd.
Why Light Nightclub Is #3
Established Mainstream Talent
Play Management took over Light from the Hakkasan Group a few years back, and they have shaken things up for the better. For example, Play has done a phenomenal job of booking new talent. You'll find Metro Boomin, Ludacris, T-Pain, and Rick Ross, to name a few.
It's A Party
Similar to Heart of Omnia, Play Management knows how to throw a party. Most noteworthy are their keg stands (although we haven't seen them done lately), but we'd be willing to bet you can get a keg upon request with a table service reservation. They're the only club in Vegas that we know of that offers them.
Light also plays top 40 music with hip hop, so you'll get a great mix here.
Additionally, the lighting itself is an attraction. Light Nightclub has the most prominent LED screen in all of Las Vegas. And be sure to look up when you're at Light. You definitely won't want to miss the acrobats that fly from the ceiling. Light's a straight-up circus.
Excellence In VIP Service
Light offers a tiered club format which makes every table service location a great location which we can't say for all nightclubs in Vegas. And if you're in the market to book a VIP bottle service reservation and want the best service possible, Light Nightclub is your place.
Play Management makes sure to treat their VIP guests exceptionally well – we're talking full customization here. For instance, one of our clients booked a table, and we worked with Light to make custom t-shirts for all the guests. It's also important to point out that nothing is out of the realm of possibilities with Light. Generally speaking, if it's legal, they'll make it happen.
#4: On The Record
On The Record Las Vegas is one of the newest nightclubs in town. Since it opened right before the pandemic, many people don't even know about it yet. But it's definitely worth checking out as it's one of the most unique venues ever built.
Here you'll find old and new hip-hop music in On The Record's living room. There's also a patio space connected to it, so you'll get an indoor/outdoor clubbing experience as well. And there are even karaoke rooms if you'd like to choose your own songs.
Location
On The Record is located on level one of the Park MGM hotel. If you know where the Park Theater is, it's right across from that.
Why On The Record Takes Our #4 Spot For Best Hip Hop Clubs In Las Vegas
Industry Wednesdays
Industry locals (those who work at the Las Vegas dayclubs and nightclubs) often come to OTR on Wednesdays. Now I'm pretty sure I don't need to tell you just how big of a party it gets when industry people are involved. But, in case you don't know, the turn up is real!
The venue also hosts cool events like breakdancing competitions between professional dance teams. These dance battles take place every other Wednesday on industry night.
Talent
You'll get to see a lot of local DJs at On The Record. And the club's dancers make appearances every 45 minutes in the main room and living room. They add a lot to the party!
---
Get A Bottle Service Quote
Please complete the form below, and we'll get back to you with rates and availability.