I made my first party trip to Vegas six years ago. After ending a relationship, my friend and I decided we needed a girls' getaway. (Las Vegas is the best medicine for that sort of thing.) Anyway, we were on a budget and ended up coming to town during the week.
Looking back, I'm embarrassed to admit that we almost didn't go because we had some serious concerns about how many people would be in town. I mean, it's Monday through Thursday. There can't be that many people at the clubs.
Oh, how wrong we were. Not only was there a fantastic crowd, but we had one of the best vacations of our lives. And now, partying at clubs on weekday nights (aka industry nights in Las Vegas) is my favorite tip to share with clients. On these nights, you'll get perks like reduced bottle service prices, shorter wait times, and a higher level of customer service too.
So, today I'm sharing everything there is to know about Las Vegas industry nights and why this is one of the best times you can go to a nightclub.
But first, what exactly is an industry night?
Definition: Industry Night In Las Vegas
Industry nights are when people who work in the clubs go out and show their support for other venues. In exchange for coming, a nightclub will reward industry personnel with free entry, bottle service, premium table locations, and a fun-filled night out with their friends. Almost all clubs participate in an industry night, so you'll find them happening all week long.
To give you an example, the staff at Light Nightclub might need to visit one competing club during the week. (This is also called an "outing.") So let's say that the Light team decides to go to On The Record on a Wednesday night.
They'll arrive at OTR around 11 pm, get free entry and score a superb table location. And they'll also stay most of the night, work on building relationships with the other On The Record employees, party it up, and provide a gratuity for the excellent service they receive.
Why Clubs Host Industry Nights
A club will host an industry night because they know that bottle service guests don't typically want to party at the same nightclub night after night. So establishing good working relationships with other nightclubs' personnel is a great way to get referral business sent to their venue.
For example, a VIP host that works at Hakkasan Nightclub might have a client interested in bottle service at another club. This Hakkasan host is much more likely to send a client to a contact he knows and trusts. The Hakkasan host will also likely get client referrals from the competing club if he sends clients their way.
Another reason that clubs host industry nights is to get more people to the property. Nobody wants to party at an empty club, so inviting industry staff is an excellent way to have many bodies in attendance.
When Are Las Vegas Industry Nights?
Most industry nights in Las Vegas run Monday through Thursday. However, it's important to note that not all nightclubs are open every day of the week. Instead, they're all open on at least one weekday in addition to the weekends.
For instance, Tao Las Vegas is open on Thursday nights but not on Monday, Tuesday or Wednesday. Likewise, Omnia is open on Tuesdays but not Monday, Wednesday, or Thursday evenings.
Now you may be thinking, this all sounds excellent if you work in the industry, but unfortunately, I don't. So how can a Las Vegas industry night benefit me?
Oh, young grasshopper, I was just getting to that.
Benefits For Guests
Just like industry folks reap benefits on industry nights in Vegas, so too do other club guests. For example, industry nights typically bring lower bottle service minimums, better table locations, and some of the best crowds in Vegas. At times, even the most in-demand DJs perform during the week too.
Lower Bottle Service Minimums
If you want specials on bottle service, weekdays are the days to do it. For instance, some clubs may offer a buy one, get one deal, or reduced bottle service prices.
Complimentary Table Service
Additionally, if you're a woman, industry nights are when promoter tables are occasionally offered to groups of ladies. Now it's important to note that these tables aren't entirely free.
For instance, it's a nice gesture to tip your server if you're seated at a promoter table. We recommend $100 per bottle for each group.
Keep in mind that complimentary and promoter tables aren't guaranteed to last the entire night. So you may get a table anywhere from a few minutes to a couple of hours. It all comes down to how long it takes the club to sell the table to a paying party. But then again, they may not sell it, which means that you can stay at the table for the entire night.
Better Table Locations
You'll also receive better table locations for the money as compared to the weekends. Pricing on industry nights may be up to 40% less than on weekends.
For example, at XS, a back wall table on a Friday or Saturday night might go for a $3,500 minimum spend, whereas that same table on an industry evening might be only $2,000.
Top DJs
There's no shortage of DJ talent on the weekdays, either. And at some clubs, you'll even get to see some of the most popular ones. For instance, you might catch Zedd on select Tuesdays at Omnia.
Late Arrival
On industry days, the clubs are typically more lenient with arrival times. So if you love to make an entrance, showing up at midnight (or sometimes even later) may not be a problem. And that goes for ticket holders, guest list reservations, and table service patrons.
Best Las Vegas Nightclubs On A Monday
So now that you know what industry nights are and the benefits, it's time to reveal the best clubs by day of the week.
Now Monday night is our go-to choice for industry nights. And that's because there's only one open club, and it's Jewel Nightclub. Since there's limited availability this night, Jewel is almost always packed. (Marquee used to be the go-to spot on Mondays, but the venue no longer hosts its industry night on these evenings.
Jewel Nightclub
Location: Aria
Hours Open: 10:30 pm – 4:00 am
Bottle Service: Prices often start as low as a $750 minimum spend*
Jewel Nightclub is one of the newer clubs, making it quite popular as many people are curious to see it. And because it's more modest in size, you can count on Jewel being packed on Mondays.
Bottle service at Jewel offers an experience unlike many of the other clubs in Vegas. For example, the bottle service tables are more in the action here. (There's almost no space between the VIP ropes and the dance floor.) In contrast, there's a lot of spacing between the tables and the dance floor at other venues. So we're big fans of Jewel's design because we prefer to be in the party rather than watching it.
Additionally, Jewel's stage tables offer one of the best VIP experiences in Las Vegas. Although the stage tables are elevated, they're right next to the DJ booth and dance floor. At other venues, you may notice that the stage tables aren't nearly as close to the DJ, making it feel like you're a bystander than an actual party-goer. All in all, we appreciate how Jewel makes their VIP tables feel like they're right in the action.
Jewel also has fantastic DJ talent. As the Hakkasan Group owns Jewel, you'll see top DJs like Kid Conrad, Four Color Zack, and O.T. Genasis.
Best Clubs On A Tuesday
Currently, there's only one nightclub option on Tuesdays, and that's fine with us because it's one of the best clubs in Vegas. The venue I'm referring to is Omnia Nightclub, and its Tuesday night parties are incredible!
Omnia Nightclub
Location: Caesars Palace
Hours Open: 10:30 pm – 4:00 am
Omnia Bottle Service: Prices typically start around $1000 – 1,500*
Although the Main Room is open on Tuesday nights, you might want to consider trying a different room instead – Omnia's hip-hop room, Heart. This place is where you'll experience the real Tuesday night party.
Heart Of Omnia
Heart is known for throwing some of the wildest parties on The Strip. They've even named their Tuesday industry night accordingly, calling it "Wild at Heart." So if you want the craziest industry party of the entire week, Heart of Omnia is where you'll want to go!
The who's who of the Las Vegas nightclub industry goes to Heart on Tuesdays. Because of this, you'll find some seriously fun people here. And it's why the venue is the self-proclaimed "hottest industry weekly party."
Additionally, the Tuesday party was designed with females in mind. The vibrant pink and purple colors with a heart motif make it one of the most playful spots in town. You'll find many local ladies here as well as cocktail servers from other venues.
And with hip-hop music that you can effortlessly dance to, it's easy to see why it's so popular. But, of course, if you don't want to hear hip-hop, then you'll want to avoid Heart altogether. Heart is exclusively a hip-hop venue.
(If you like Heart, you may also want to check out our picks for the best hip hop clubs in Vegas.)
Best Nightclubs On Wednesdays
Wednesday offers industry night parties at Light, On The Record (OTR), and EBC at Night. Of the three, EBC at Night typically draws the bigger crowd during the summer months, but Light and OTR often have excellent deals.
For EDM, you'll want to head to EBC at Night, but if you prefer hip-hop and top 40, check out On The Record or Light.
Light Nightclub
Location: Mandalay Bay
Hours Open: 10:30 pm – 4:00 am
Bottle Service: Prices start at $500* (sometimes less)
Okay, so Light isn't the newest club in Vegas, but the music is some of the best in town. We've been to every hip-hop club (too many times to count), and in our opinion, Light Nightclub beats them all in song selection.
Additionally, Light is a very welcoming venue. You won't find many attitudes here as everyone is dancing and singing together. So if you want one of the best club experiences you can have in Vegas, we highly recommend Light Nightclub.
The club has a cool LED screen with amazing graphics choreographed to the music too. In fact, it's the biggest indoor screen out of all the nightclubs.
And, on big event nights, you might even see acrobats hanging from the ceiling. The venue also features dancer poles with entertainers that perform throughout the evening.
On The Record
Location: Park MGM
Hours: 10:30 pm – 4:00 am
Bottle Service: Prices start around a one bottle minimum spend and go up to about $2,000 for a prime table
On The Record offers a different experience around every corner. The main room has a vintage car for the DJ booth, a hidden speakeasy, and a hip-hop room, including an outdoor patio.
You can take a break from all the action and play in the club's arcade or reserve some time in a private karaoke room. Our favorite feature of the club, though, is the dancers. Both guys and gals perform nightly every 45 minutes.
We also appreciate the variety of music here. The club has top 40 playing in the main room, hip-hop in the living room, and a mix in the speakeasy.
EBC at Night
Location: Encore hotel
Hours: 10:30 pm – 4:00 am (on some nights, the club may open early at 10:00 pm)
Bottle Service: Prices start around a $750 – $1000* minimum spend, depending on the time of year
Encore Beach Club's evening bash is open early spring through early fall. You'll get to experience a nighttime pool party here, so feel free to wear your swimming suits. And jump in the pools!
Encore Beach Club at Night has phenomenal EDM DJ talent as well. You'll see top acts like Gryffin, Dillon Francis, Elephante, and one of my all-time favorite DJs – Diplo.
Sometimes the club offers bottle deals on select nights too.
Best Las Vegas Clubs On A Thursday
Two clubs compete for your attention on Thursdays: Hakkasan and Tao.
I need to point out here, though, that Hakkasan's industry night is technically Sunday, but since we're focusing on where to go on the weekdays, we've included it here. (You'll still score fantastic rates on Thursdays at Hakkasan as compared to Fridays and Saturdays.)
Hakkasan often has a more well-known DJ than Tao, but bottle service prices are slightly higher.
That said, though, Tao throws some excellent themed parties on Thursdays – like a sneaker formal! And you'll score a much better table location for the money. Not to mention that Tao sometimes offers an open bar for guest list ladies, as well.
Hakkasan Nightclub
Location: MGM
Hours Open: 10:30 pm – 4:00 am
Bottle Service: Prices usually start around $1,000*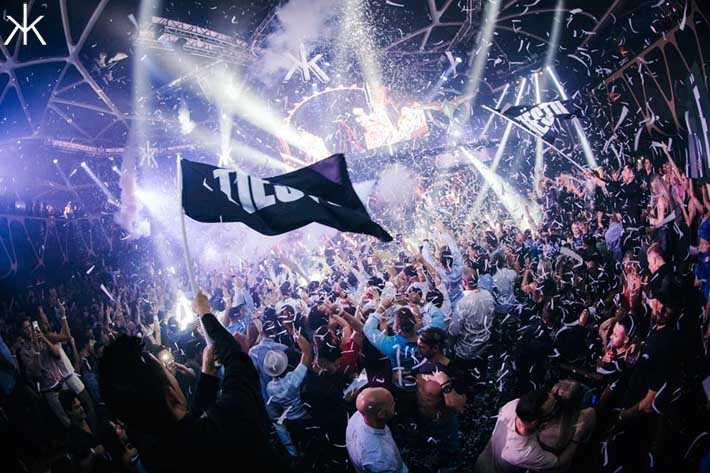 Hakkasan opened in 2013, and it's been popular ever since. The club's design is also one of the best on The Strip. With five floors, you can get lost in this place!
On most Thursdays, the main room is the only open room. But that's fine with us because this room features some of the best DJ talent in the business.
That's one thing we appreciate about the Hakkasan Group. Even though it's a weekday, you'll still get to experience top names like Steve Aoki and Lil Jon.
And, as I'm sure you can tell from the DJs I just listed, the type of music for their industry parties changes. Hakkasan switches between EDM and hip-hop, depending on the day. So be sure to check Hakkasan's schedule before you go to see who will be performing.
Lastly, if you're looking to get the best prices on bottle service, Sundays are worth a look. As this is Hakkasan's official industry day, you'll often get better pricing, but the artists are usually lesser-known.
Tao Nightclub
Location: The Venetian
Hours Open: 10:30 pm – 4:00 am
Bottle Service: Prices start at $600* for an entry-level table
Tao Las Vegas is the oldest club on our list of industry nights in Vegas. And as the name implies, you can expect an Asian theme. Although it's a more mature club, this venue has some pretty cool features.
Take, for example, the women bathing in a bathtub surrounded by rose petals. Or the outside balcony that you can escape to and see a gorgeous view of The Strip. Be sure to check out the gondolas below too. Not many people know about the balcony, so look for it on the left side once you're inside the club.
Tao's bottle service prices are some of the most reasonable on The Strip, as well. You can often get seated in the main room at a $600 minimum spend. Standard and prime tables typically range from $1200 – $2000+. Not many clubs in Vegas offer such fantastic pricing!
Additionally, you can expect to hear a mix of all types of music with lesser-known (although still excellent) house DJs. On most nights, the club does tend to play more hip-hop and top 40, though.
You'll find an excellent mix of ages here too. So if you don't want to be with only 20-somethings, this is the club for you!
Conclusion
Well, that does it for the best clubs for industry night in Las Vegas! We hope that this article has inspired you to come to Vegas during the week. You'll find some excellent parties with more reasonable rates than on the weekends.
If we had to pick only one day of the week to go out, we'd pick Monday! Tuesday, though, comes in at a close second as we're big fans of Omnia's "Wild At Heart" party!
*Bottle service prices are subject to change. All clubs in Vegas also charge approximately 38% on top of the minimum spend (or total spend, if higher) for their admin fee (may also be referred to as a service or venue fee), sales tax, and gratuity. The tip, though, is at your discretion, but 15 – 20% is generally recommended.
---